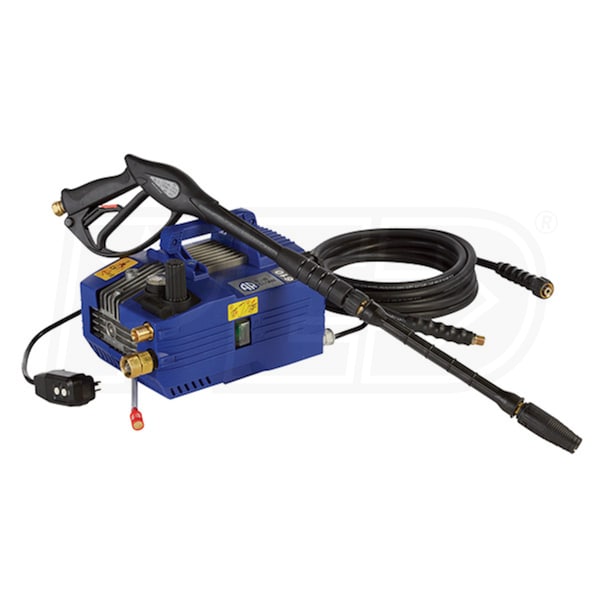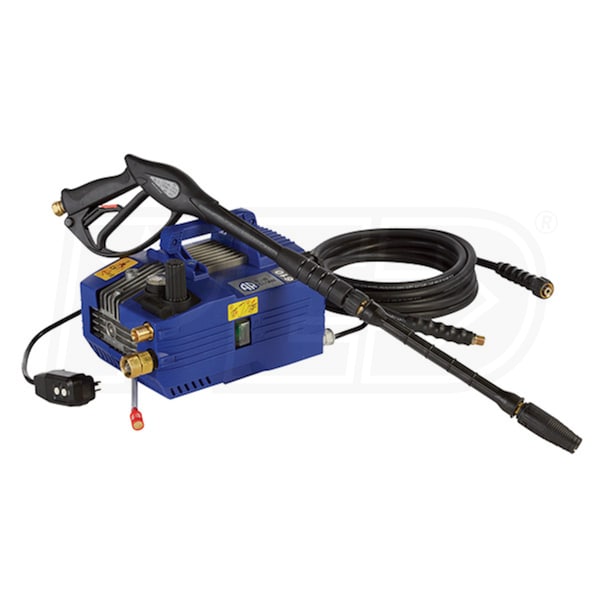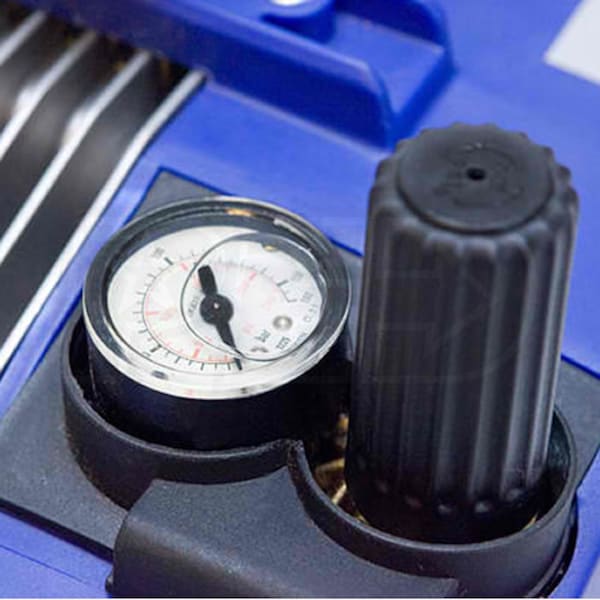 Hover to zoom
1 Of 5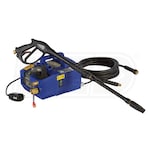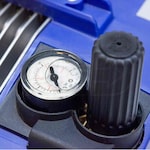 AR Blue Clean Semi-Pro 1350 PSI (Electric-Cold Water) Hand Carry Pressure Washer
Product Description

Specs

5

Reviews

5

Product Q&A

Recommended Accessories

How-To Articles

Manuals
Features
Features
Renowned Annovi Reverberi (AR) Quality

Famous for high performance pressure washers

Triplex Pump With Ceramic Plunger

Ceramic plungers run cooler and last longer

Durable and cost effective

Adjustable Pressure With Pressure Gauge

Tailor the pressure to suit the task

Built-In 7oz. Detergent Tank Uses Pressure Washer Safe Soap

Automatically mixes proper water to detergent ratio

Versatile Hi-Low Adjustable Spray Wand

Rotates from wide spray to pencil jet, low pressure soap

Quick Connector Between Pressure Hose And Unit

Allows quick removal & detachment of hose, less wear on coupling

Automatic Safety Valve With Low Pressure By-Pass

Protects the pump by venting overheated recirculated water

Additional Features

Includes 25 foot hose, wand, and trigger gun with safety lock

Also includes a detergent hose and filter kit
Specifications
Motor
Motor Voltage
120-Volt Single-Phase
Power Cord Length
35 ft GFCI
Consumer Motor Warranty
1 Year
Engine
Pump
Pump Type
Triplex Plunger
Chemical Injection
Single Detergent Tank
Housing
Hose
Hose Connections
Threaded
Spray Gun
Spray Gun Connection
Threaded
Spray Gun Grade
Professional
Spray Gun Wand
Adjustable
Turbo Nozzle
Sold Separately
Overview
Commercial Warranty
1 Year
Product Height
9.5 Inches
Features
Features
Renowned Annovi Reverberi (AR) Quality

Famous for high performance pressure washers

Triplex Pump With Ceramic Plunger

Ceramic plungers run cooler and last longer

Durable and cost effective

Adjustable Pressure With Pressure Gauge

Tailor the pressure to suit the task

Built-In 7oz. Detergent Tank Uses Pressure Washer Safe Soap

Automatically mixes proper water to detergent ratio

Versatile Hi-Low Adjustable Spray Wand

Rotates from wide spray to pencil jet, low pressure soap

Quick Connector Between Pressure Hose And Unit

Allows quick removal & detachment of hose, less wear on coupling

Automatic Safety Valve With Low Pressure By-Pass

Protects the pump by venting overheated recirculated water

Additional Features

Includes 25 foot hose, wand, and trigger gun with safety lock

Also includes a detergent hose and filter kit
Specifications
Motor
Motor Voltage
120-Volt Single-Phase
Power Cord Length
35 ft GFCI
Consumer Motor Warranty
1 Year
Engine
Pump
Pump Type
Triplex Plunger
Chemical Injection
Single Detergent Tank
Housing
Hose
Hose Connections
Threaded
Spray Gun
Spray Gun Connection
Threaded
Spray Gun Grade
Professional
Spray Gun Wand
Adjustable
Turbo Nozzle
Sold Separately
Overview
Commercial Warranty
1 Year
Product Height
9.5 Inches
Specifications
Motor
Motor Voltage
120-Volt Single-Phase
Power Cord Length
35 ft GFCI
Consumer Motor Warranty
1 Year
Engine
Pump
Pump Type
Triplex Plunger
Chemical Injection
Single Detergent Tank
Housing
Hose
Hose Connections
Threaded
Spray Gun
Spray Gun Connection
Threaded
Spray Gun Grade
Professional
Spray Gun Wand
Adjustable
Turbo Nozzle
Sold Separately
Overview
Commercial Warranty
1 Year
Product Height
9.5 Inches
Search Product Q&A's
Answered by Jim. the Pressure Washer Expert
Mike, I'm looking for a good quality electric power washer for washing my cars. I have had several 1500 PSI so I think that's where I want to be. I want to mount it on the wall in my garage. I have a gas powered washer for big jobs. I do need 50' of hose so I can wash my cars anywhere on the driveway. What do you recommend? I'm looking at the AR washers? I'll build a shelf to set the machine on.
Tom Maadigan
from Maryland
April 28, 2014
Answer
AR makes one of the best Pressure Washers in the industry today. They are huge pump manufactures and many brands use their pumps on their units due to their reliability. I would not hesitate to recommend this unit for your application. As for an extension hose, we do have a 25FT one that would work. It also comes with the adapter needed to connect the 2 hoses together. I have attached a link to the extension hose you can use with the unit.
Extension Hose
Was this answer helpful?
Yes
0
No
0
Could you please tell me the overall length of the spray gun? Is it adjustable? Thank you. Steve
Steve Guerrero
from California
February 02, 2014
Answer
The spray gun 'barrel' to the outside of the trigger/handle is 17" with the actual trigger/handle to the hose connection is another 5". This makes the gun and lance a total of 22" long. The length of this is not adjustable. This is a vario spray wand though so you can adjust the fan from a 0 degree pencil jet to a 60 degree fan that will dispense soap.
Was this answer helpful?
Yes
0
No
0
I would like to purchase this machine and hand carry it back to India. I will need therefore to purchase a voltage transformer converter to go from 110 to 220 volts. Can you tell me what the Watts rating for the machine is please.
Kerry Hilton
from
April 13, 2011
Answer
This machine uses 15 amps at 120 volts. This machine uses 1800 watts.
Was this answer helpful?
Yes
0
No
0
I brought the 1350 psi ar 1400 model from qvc. The show said that this was good for brick cleaning on homes> so I take that is not true?
James
from Georgia
April 02, 2011
Answer
This pressure washer is a very good quality pressure washer for sure. If you are trying to just do a general cleaning of brick and remove common dirt and dust, then yes this pressure washer will perform well. However, brick is very hard and porous and usually requires about 2200 psi or higher to complete a deep cleaning. It really just depends on how much you are trying to accomplish when cleaning your brick.
Was this answer helpful?
Yes
0
No
0
what is a proper psi for cleaning a brick home and driveway. Thanks
James
from Georgia
April 01, 2011
Answer
For general cleaning of a brick siding and/or driveways, I would recommend a pressure washer with at least 2000 psi. Now if you have 2nd story levels to reach or if you have embedded stains that need to be removed, I would suggest you purchase a gas pressure washer with at least 2600 psi. Regardless, I would suggest you use a detergent to assist in your cleaning. This will always make the job alot easier to complete.
Was this answer helpful?
Yes
0
No
0
Expert Recommended Accessories
Hand Picked By Our Expert Jim
Required Accessories
Add All Required
+
Ask Jim, Our Product Expert, A Question!
*Required Fields
+
Thank You For Submitting Your Question
Your submission has been sent successfully. Please give our experts up to two business days to respond.
Media Gallery
AR Blue Clean Semi-Pro 1350 PSI (Electric-Cold Water) Hand Carry Pressure Washer