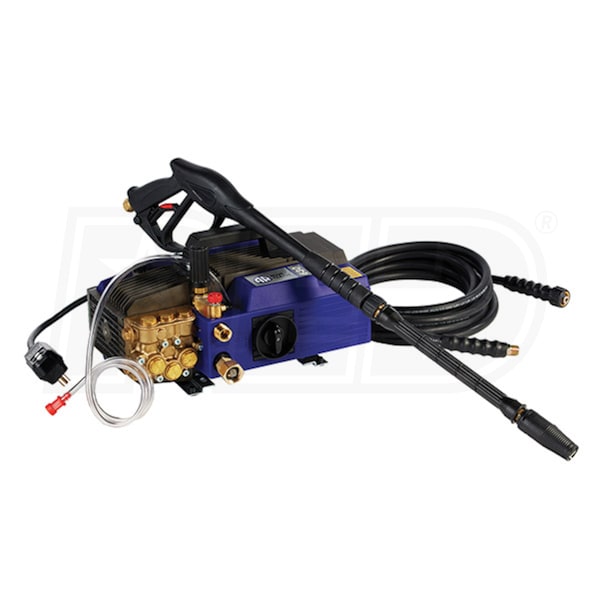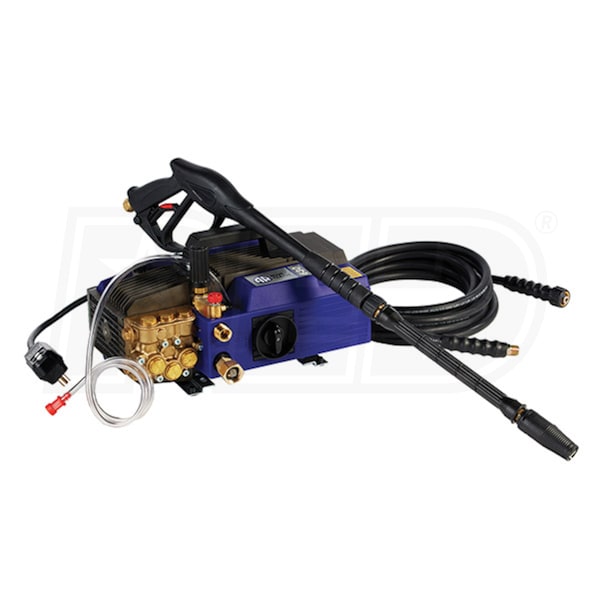 Hover to zoom
1 Of 5
AR Blue Clean Professional 1900 PSI (Electric-Warm Water) Hand Carry Pressure Washer W/ Brass Head
Product Description

Specs

6

Reviews

4

Product Q&A

Recommended Accessories

How-To Articles

Manuals
Features
Features
Renowned Annovi Reverberi (AR) Quality

Famous for high performance pressure washers

Warm Water Triplex Pump With Ceramic Plunger

Can handle water up to 180 F degrees

Ceramic plungers run cooler and last longer

Brass head is more durable than plastic components

Adjustable Hi-Low Variable-Spray Pressure

Tailor the pressure to suit the task

Siphon Tube Allows Use Of Pressure Washer Safe Detergents

Automatically mixes proper water to detergent ratio

Versatile Vari-Spray Adjustable Spray Wand

Rotates from wide spray to pencil jet

Quick Connector Between Pressure Hose And Unit

Allows quick removal & detachment of hose, less wear on coupling

Automatic Safety Valve With Low Pressure By-Pass

Protects the pump by venting overheated recirculated water

Additional Accessories

Includes 25 foot hose, wand, and trigger gun with safety lock
Specifications
Motor
Motor Voltage
120-Volt Single-Phase
Power Cord Length
15 ft GFCI
Consumer Motor Warranty
1 Year
Engine
Pump
Pump Type
Triplex Plunger
Chemical Injection
Siphon Tube
Housing
Hose
Hose Connections
Threaded
Spray Gun
Spray Gun Connection
Threaded
Spray Gun Grade
Professional
Spray Gun Wand
Adjustable
Turbo Nozzle
Sold Separately
Overview
Commercial Warranty
1 Year
Product Height
13.5 Inches
Features
Features
Renowned Annovi Reverberi (AR) Quality

Famous for high performance pressure washers

Warm Water Triplex Pump With Ceramic Plunger

Can handle water up to 180 F degrees

Ceramic plungers run cooler and last longer

Brass head is more durable than plastic components

Adjustable Hi-Low Variable-Spray Pressure

Tailor the pressure to suit the task

Siphon Tube Allows Use Of Pressure Washer Safe Detergents

Automatically mixes proper water to detergent ratio

Versatile Vari-Spray Adjustable Spray Wand

Rotates from wide spray to pencil jet

Quick Connector Between Pressure Hose And Unit

Allows quick removal & detachment of hose, less wear on coupling

Automatic Safety Valve With Low Pressure By-Pass

Protects the pump by venting overheated recirculated water

Additional Accessories

Includes 25 foot hose, wand, and trigger gun with safety lock
Specifications
Motor
Motor Voltage
120-Volt Single-Phase
Power Cord Length
15 ft GFCI
Consumer Motor Warranty
1 Year
Engine
Pump
Pump Type
Triplex Plunger
Chemical Injection
Siphon Tube
Housing
Hose
Hose Connections
Threaded
Spray Gun
Spray Gun Connection
Threaded
Spray Gun Grade
Professional
Spray Gun Wand
Adjustable
Turbo Nozzle
Sold Separately
Overview
Commercial Warranty
1 Year
Product Height
13.5 Inches
Specifications
Motor
Motor Voltage
120-Volt Single-Phase
Power Cord Length
15 ft GFCI
Consumer Motor Warranty
1 Year
Engine
Pump
Pump Type
Triplex Plunger
Chemical Injection
Siphon Tube
Housing
Hose
Hose Connections
Threaded
Spray Gun
Spray Gun Connection
Threaded
Spray Gun Grade
Professional
Spray Gun Wand
Adjustable
Turbo Nozzle
Sold Separately
Overview
Commercial Warranty
1 Year
Product Height
13.5 Inches
Search Product Q&A's
Answered by Jim. the Pressure Washer Expert
Is this pump replaceable?
Jason
from Iowa
July 01, 2016
Answer
Yes
Was this answer helpful?
Yes
1
No
0
Does this unit require a 20-amp outlet (120 volt)? (not clearly stated in specs
Rob
from Illinois
April 24, 2014
Answer
This will have a standard 3-prong household outlet (120 volt), but will draw 19 amps so a 20 amp circuit would be necessary.
Was this answer helpful?
Yes
5
No
0
Bill. I would like to add 25ft or more to a 25ft pressure washer hose. I have the ar630 hot model and want to add another 25ft to the existing 25f hoset that comes with the unit. Do you have such a hose or can you lead me in the right direction. Part number or link would be great.
Scott Malmstrom
from Minnesota
September 22, 2012
Answer
Yes, we carry a couple hoses that would work as an extension hose for the model AR630-HOT. The model #'s are PW1021, EXT102F1, and 30.0130. These are all 1/4" high pressure hoses that could be used with your pressure washer as an extension hose. You would need to purchase adapter part# D10040 if you went with the MTM Hydro hose model 30.0130.

Let me know if you have any further questions.
Was this answer helpful?
Yes
2
No
0
What is the difference between AR630 and AR630-HOT? Can the AR630-HOT still be used with cold water? What componets on the HOT is different than just the cold water AR630
Answer
The AR630-HOT can definitely be used with just cold water if you wanted to. The only difference between the AR630 and the AR630-HOT is that the "hot" version has a hot water seal kit installed on the pump which allows the pump to accept water up to 180 F degrees. The AR630 can only accept water up to 104 F degrees.
Was this answer helpful?
Yes
2
No
0
Expert Recommended Accessories
Hand Picked By Our Expert Jim
Required Accessories
Add All Required
+
Ask Jim, Our Product Expert, A Question!
*Required Fields
+
Thank You For Submitting Your Question
Your submission has been sent successfully. Please give our experts up to two business days to respond.
Media Gallery
AR Blue Clean Professional 1900 PSI (Electric-Warm Water) Hand Carry Pressure Washer W/ Brass Head