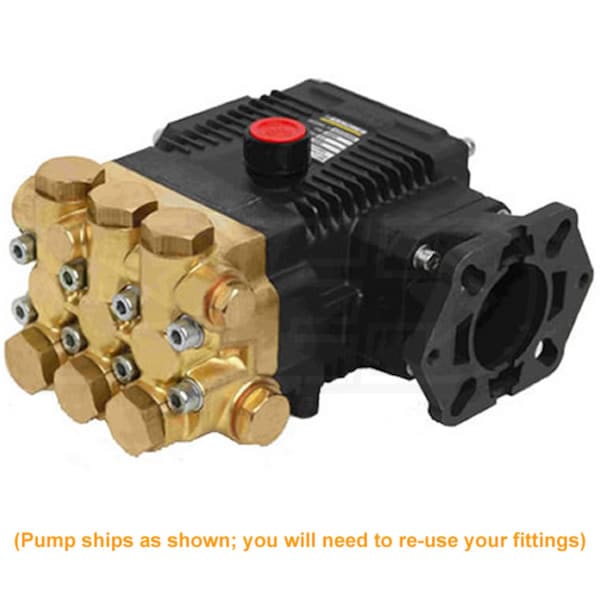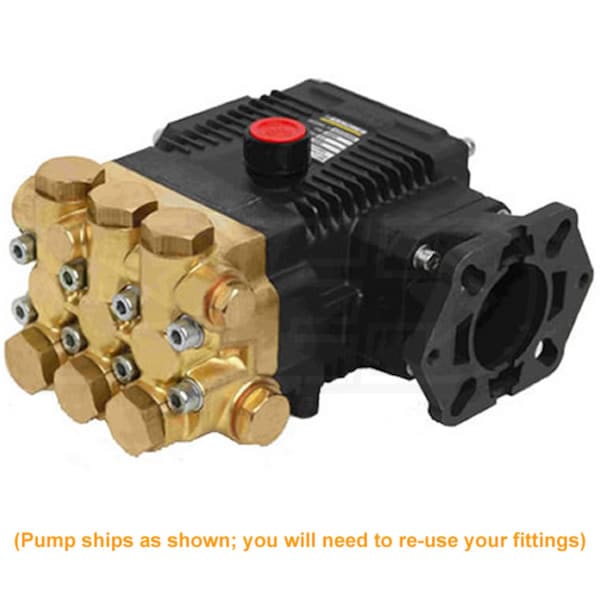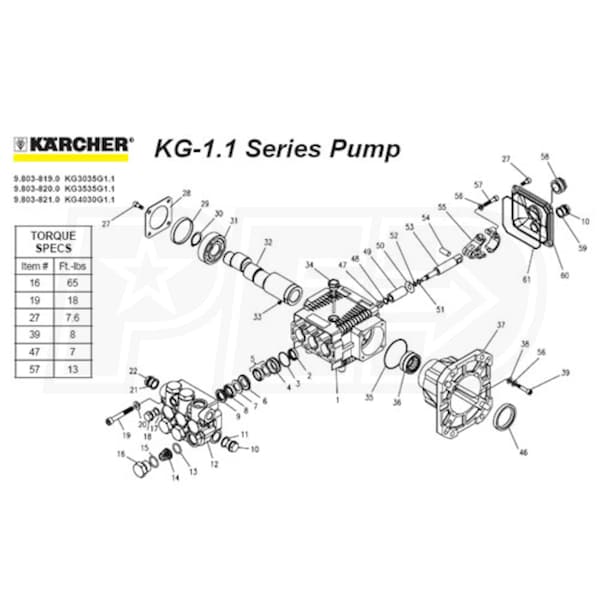 Hover to zoom
1 Of 5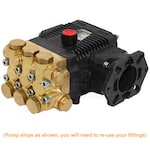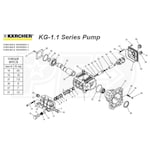 Karcher KG3035G1.1 3500 PSI 3.0 GPM Replacement Triplex Pressure Washer Pump
Product Description

Specs

Reviews

1

Product Q&A

Recommended Accessories

How-To Articles

Manuals
Grade
Style

Inflow
1/2" Threaded (Female)
Outflow
3/8" Threaded (Female)
Inflow
1/2" Threaded (Female)
Outflow
3/8" Threaded (Female)
Features
Features
Karcher KG-1.1 Replacement Triplex Plunger Pump

1" hollow shaft diameter

Designed for 3500 PSI discharge at 3 GPM & 3400 RPM

Maximum inlet pressure: 125 PSI; max temperature: 185°F; 15mm bore; 7.8mm stroke

Die Cast, Anodized Aluminum Crankcase

Large capacity 14 oz. oil bath prolongs pump life

Forged crankshaft & heavy-duty crankshaft bearing last longer

Unloader, Inlet & Outlet Fittings Not Included

Forged brass manifold has an exclusive lifetime warranty

Solid Ceramic Plungers

Mirror finish & corrosion resistance for maximum performance

Precision Oil Dipstick

Allows proper ventilation of the crankcase

Rugged Components

Stainless steel inlet & discharge valves, long-life seals

Connecting rods have lubrication channels to prevent wear

Be Sure To Measure The Shaft & Flange Bolt Holes Accurately!

Pump is shipped as shown; you will need to re-use your fittings or purchase them separately

There is a 25% restock fee on returned pumps

Please refer to the Spec Sheet PDF under the Specs tab

Please Call Us For Sizing Assistance w/ Information Below:

1. Age of Pump and Model # (must be no more than 15-yrs old)

2. Is the pump Vertical or Horizontal

3. Shaft Size - 3/4", 7/8" (vertical ONLY), 1", or Belt Drive XXmm

4. Engine Brand and HP (model # if available would be helpful)

***Shaft Size Measurements Must Be Precise***
Specifications
Accessories
Pump Type
Triplex Plunger
Accessory Grade
Professional
Inflow
1/2" Threaded (Female)
Outflow
3/8" Threaded (Female)
Maximum GPM
Gallon per Minute
3
Chemical Injections
Sold Separately
Overview
Consumer Warranty
7 Years
Product Length
8.5 Inches
Product Height
6.5 Inches
Grade
Style

Inflow
1/2" Threaded (Female)
Outflow
3/8" Threaded (Female)
Inflow
1/2" Threaded (Female)
Outflow
3/8" Threaded (Female)
Features
Features
Karcher KG-1.1 Replacement Triplex Plunger Pump

1" hollow shaft diameter

Designed for 3500 PSI discharge at 3 GPM & 3400 RPM

Maximum inlet pressure: 125 PSI; max temperature: 185°F; 15mm bore; 7.8mm stroke

Die Cast, Anodized Aluminum Crankcase

Large capacity 14 oz. oil bath prolongs pump life

Forged crankshaft & heavy-duty crankshaft bearing last longer

Unloader, Inlet & Outlet Fittings Not Included

Forged brass manifold has an exclusive lifetime warranty

Solid Ceramic Plungers

Mirror finish & corrosion resistance for maximum performance

Precision Oil Dipstick

Allows proper ventilation of the crankcase

Rugged Components

Stainless steel inlet & discharge valves, long-life seals

Connecting rods have lubrication channels to prevent wear

Be Sure To Measure The Shaft & Flange Bolt Holes Accurately!

Pump is shipped as shown; you will need to re-use your fittings or purchase them separately

There is a 25% restock fee on returned pumps

Please refer to the Spec Sheet PDF under the Specs tab

Please Call Us For Sizing Assistance w/ Information Below:

1. Age of Pump and Model # (must be no more than 15-yrs old)

2. Is the pump Vertical or Horizontal

3. Shaft Size - 3/4", 7/8" (vertical ONLY), 1", or Belt Drive XXmm

4. Engine Brand and HP (model # if available would be helpful)

***Shaft Size Measurements Must Be Precise***
Specifications
Accessories
Pump Type
Triplex Plunger
Accessory Grade
Professional
Inflow
1/2" Threaded (Female)
Outflow
3/8" Threaded (Female)
Maximum GPM
Gallon per Minute
3
Chemical Injections
Sold Separately
Overview
Consumer Warranty
7 Years
Product Length
8.5 Inches
Product Height
6.5 Inches
Specifications
Accessories
Pump Type
Triplex Plunger
Accessory Grade
Professional
Inflow
1/2" Threaded (Female)
Outflow
3/8" Threaded (Female)
Maximum GPM
Gallon per Minute
3
Chemical Injections
Sold Separately
Overview
Consumer Warranty
7 Years
Product Length
8.5 Inches
Product Height
6.5 Inches
Be the First to Write a Review
Do you own this product?
Please share your insights with fellow shoppers.
Search Product Q&A's
Answered by Jim. the Pressure Washer Expert
We have a Karcher 3500 PSI Pressure washer 13 HP that stopped working. Want to replace it.
Jerald Greenberg
from New York
June 04, 2014
Answer
I am sorry to say that Karcher hasn't given us a cross-reference for which of their replacement pumps fit their units.

However, if you'd like to give Karcher a call, toll free, at (800) 537-4129 they should be able to tell you if this pump will work with your pressure washer, or recommend one that will.

Please be sure to have the serial number of your pressure washer handy so they can use that for reference.
Was this answer helpful?
Yes
0
No
0
Expert Recommended Accessories
Hand Picked By Our Expert Jim
Required Accessories
Add All Required
+
Ask Jim, Our Product Expert, A Question!
*Required Fields
+
Thank You For Submitting Your Question
Your submission has been sent successfully. Please give our experts up to two business days to respond.
Media Gallery
Karcher KG3035G1.1 3500 PSI 3.0 GPM Replacement Triplex Pressure Washer Pump