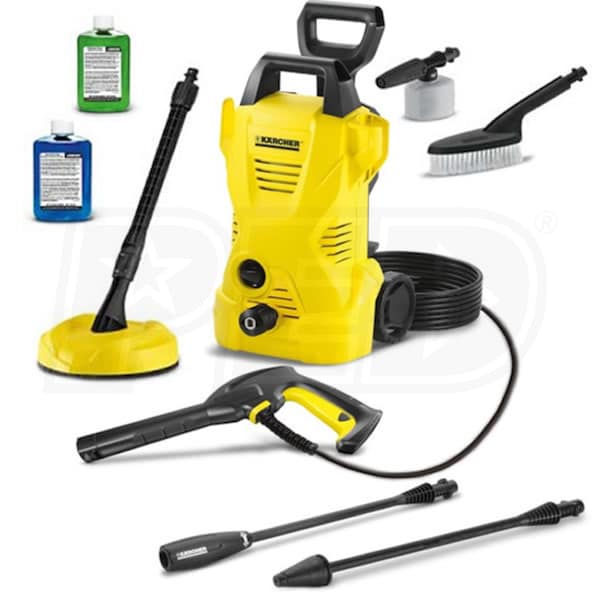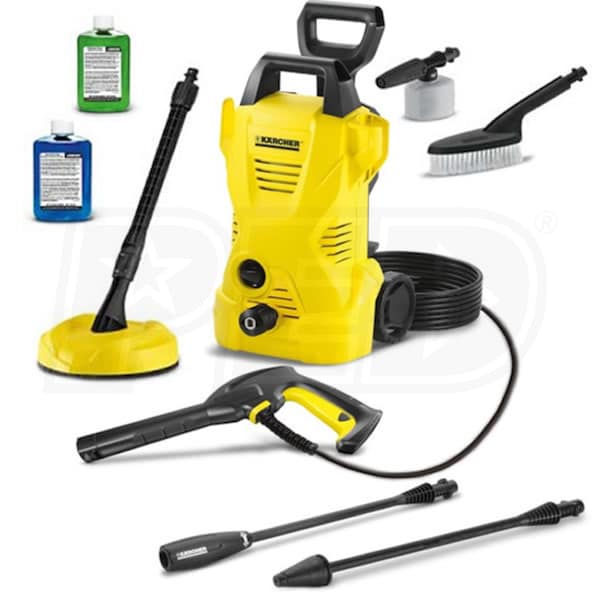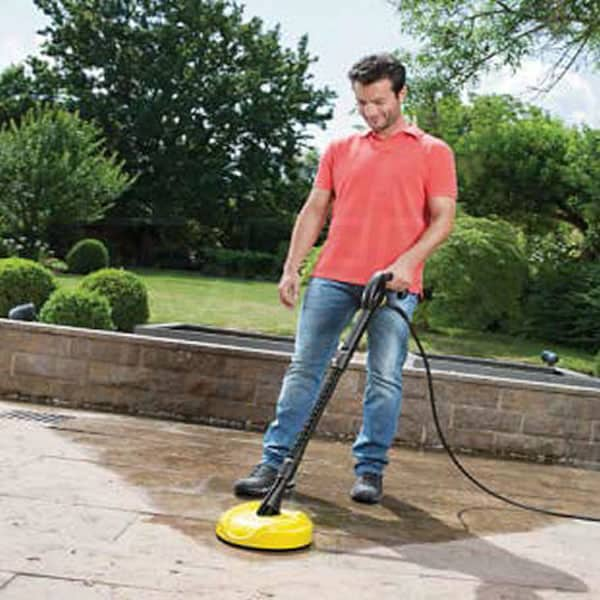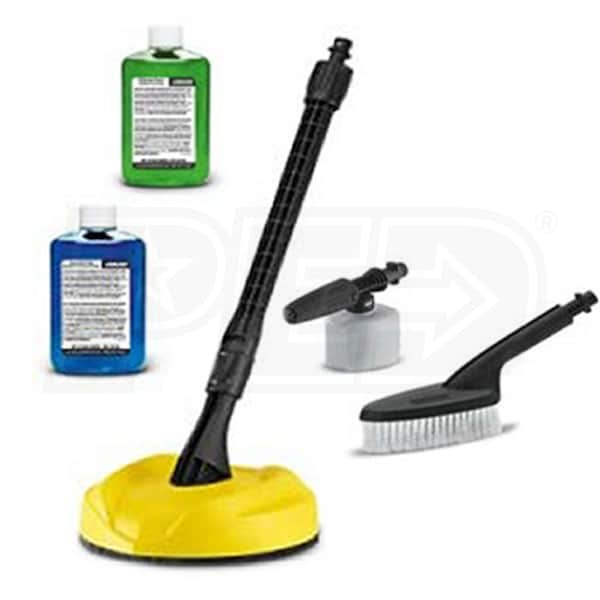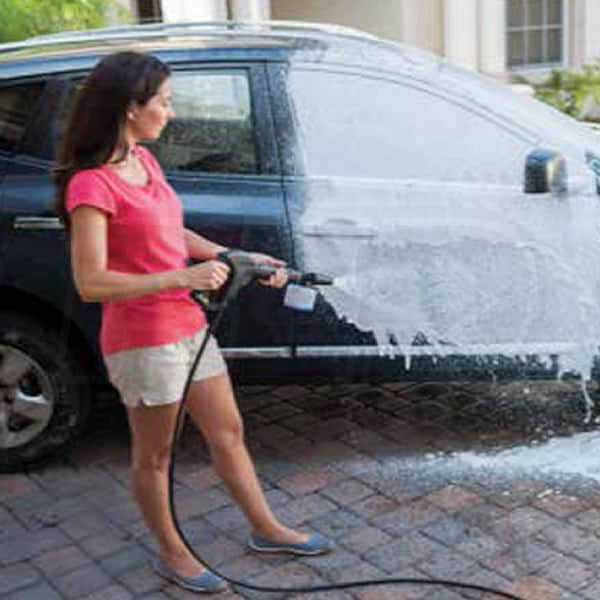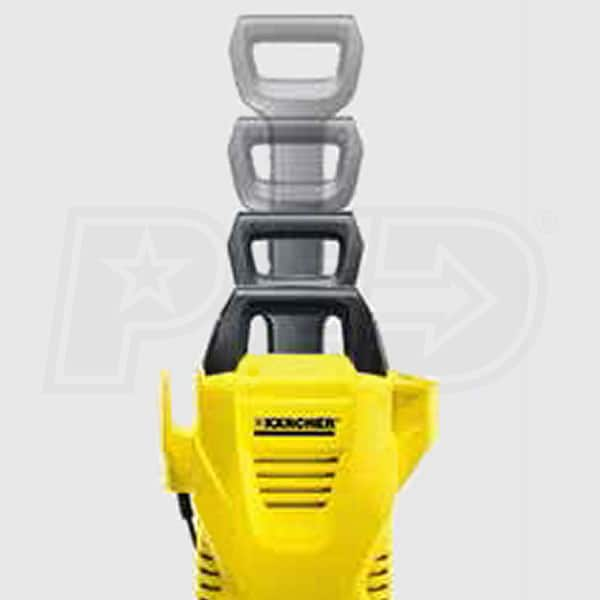 Hover to zoom
1 Of 5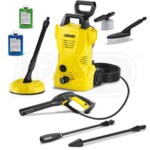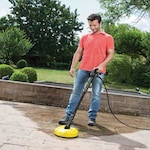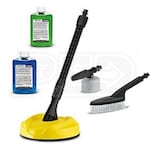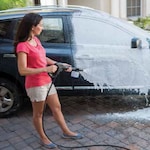 Karcher 1600 PSI (Electric - Cold Water) K2 CHK Pressure Washer w/ Car & Home Kit
Product Description

Specs

14

Reviews

1

Product Q&A

Recommended Accessories

How-To Articles

Manuals
Features
Features
1600 PSI Pressure Washer With Car Care Accessories

Strong cleaning power for jobs around the house

Plugs into standard 120-volt household outlets on 13 amp circuits

Patented Karcher N-CORŪ Pump

Maintenance-free 1.25 GPM pump resists corrosion

Telescopic Handle Design

Reduces bending & strain; stores compactly

2 Spray Wands

Vario spray adjusts the spray shape & dispenses soap

DirtblasterŪ Turbo's rotating spray tackles the hardest jobs in half the time

4 Piece Car & Home Care Kit

Foamer bottle lets you use a wider variety of cleaners & waxes

Soft bristle brush quickly removes grit & grime

Karcher vehicle detergent won't harm the pump or your paint

Surface cleaner for flat surfaces doesn't leave zebra stripes

25 Foot High-Pressure Hose

Lets you work in a wide area

Siphon tube included for detergent application

2 Year Factory Warranty

Part of the no-hassle Rapid Exchange program
Specifications
Motor
Motor Voltage
120-Volt Single-Phase
Power Cord Length
35 ft GFCI
Pump
Chemical Injection
Siphon Tube
Housing
Hose
Hose Material
PVC/Plastic
Hose Connections
Threaded
Spray Gun
Spray Gun Connection
Karcher Bayonet
Spray Gun Grade
Residential
Spray Gun Wand
Single Wand
Overview
Consumer Warranty
2 Years
Product Length
19.4 Inches
Product Width
11.5 Inches
Product Height
14.3 Inches
Additional Model Numbers
K2CHK, 1.602-317.0
Features
Features
1600 PSI Pressure Washer With Car Care Accessories

Strong cleaning power for jobs around the house

Plugs into standard 120-volt household outlets on 13 amp circuits

Patented Karcher N-CORŪ Pump

Maintenance-free 1.25 GPM pump resists corrosion

Telescopic Handle Design

Reduces bending & strain; stores compactly

2 Spray Wands

Vario spray adjusts the spray shape & dispenses soap

DirtblasterŪ Turbo's rotating spray tackles the hardest jobs in half the time

4 Piece Car & Home Care Kit

Foamer bottle lets you use a wider variety of cleaners & waxes

Soft bristle brush quickly removes grit & grime

Karcher vehicle detergent won't harm the pump or your paint

Surface cleaner for flat surfaces doesn't leave zebra stripes

25 Foot High-Pressure Hose

Lets you work in a wide area

Siphon tube included for detergent application

2 Year Factory Warranty

Part of the no-hassle Rapid Exchange program
Specifications
Motor
Motor Voltage
120-Volt Single-Phase
Power Cord Length
35 ft GFCI
Pump
Chemical Injection
Siphon Tube
Housing
Hose
Hose Material
PVC/Plastic
Hose Connections
Threaded
Spray Gun
Spray Gun Connection
Karcher Bayonet
Spray Gun Grade
Residential
Spray Gun Wand
Single Wand
Overview
Consumer Warranty
2 Years
Product Length
19.4 Inches
Product Width
11.5 Inches
Product Height
14.3 Inches
Additional Model Numbers
K2CHK, 1.602-317.0
Specifications
Motor
Motor Voltage
120-Volt Single-Phase
Power Cord Length
35 ft GFCI
Pump
Chemical Injection
Siphon Tube
Housing
Hose
Hose Material
PVC/Plastic
Hose Connections
Threaded
Spray Gun
Spray Gun Connection
Karcher Bayonet
Spray Gun Grade
Residential
Spray Gun Wand
Single Wand
Overview
Consumer Warranty
2 Years
Product Length
19.4 Inches
Product Width
11.5 Inches
Product Height
14.3 Inches
Additional Model Numbers
K2CHK, 1.602-317.0
Search Product Q&A's
Answered by Jim. the Pressure Washer Expert
My specific cleaning concern is concrete. Driveway, porch, etc. What's the best electric pressure washer to accomplish this?
Raul
from Texas
June 27, 2016
Answer
Any of our Top 3
Cold Water Electric Pressure Washers
would do a great job with cleaning hard surfaces around the house. Smaller units would do the job too- but with less PSI (pressure) and less GPM (volume) it will take longer.
Since it's flat surfaces you're looking to clean, the Karcher K5 premium edges out the others since it will work with the new
Karcher T300 Surface Cleaner
. A surface cleaner leaves a nice, smooth finish instead of the stripey one made by regular (and turbo) nozzles, and it cleans an 11 inch wide strip at a time.
Was this answer helpful?
Yes
0
No
0
Expert Recommended Accessories
Hand Picked By Our Expert Jim
Required Accessories
Add All Required
+
Ask Jim, Our Product Expert, A Question!
*Required Fields
+
Thank You For Submitting Your Question
Your submission has been sent successfully. Please give our experts up to two business days to respond.
Media Gallery
Karcher 1600 PSI (Electric - Cold Water) K2 CHK Pressure Washer w/ Car & Home Kit