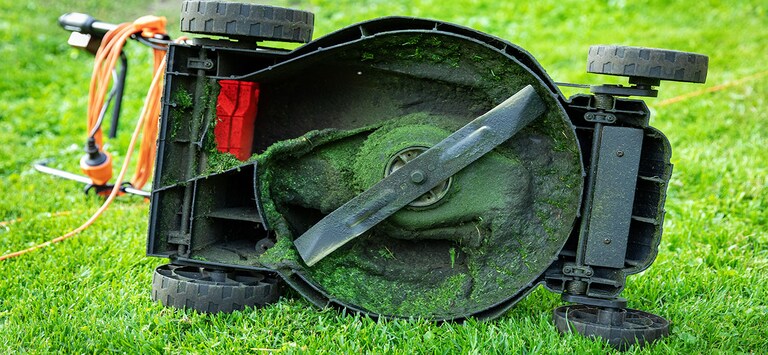 The Cheap Way to Get A Brand New (Looking) Mower
How to Pressure Wash A Lawn Mower
Clean, trimmed, well-maintained lawns are a sight to behold. Many home owners pride themselves in the quality of their lawn. Lawn mowers are built tough, but the simple task of maintaining your lawn can leave an unsightly build-up of dirt, mud, grass clippings and grime. This can easily be taken care of using a pressure washer, and quickly enough your lawn mower will be looking as good as new. Preperation

It's extremely important to disconnect the engine's spark plug lead before doing any power washing. You should also remove your mower's blade(s) for added safety. Prop up push mowers or use a lift for riding mowers to start cleaning the underside of the deck.

View & Shop All Lawn Mower Lifts
Washing Under the Deck
Multi-purpose detergent will be most effective for cleaning the underside of the deck of your mower. Begin spraying at the top, working your way to the bottom. Once the detergent has been applied, let it to sit for 5-10 minutes. Afterwards, rinse the detergent using a general high pressure spray pattern. When cleaning the tires, make sure the spray nozzle is at least 6 inches away. The tires are very sensitive and you could puncture them.
Washing on Top

Set the mower back in its upright position and wash the top. A heavy-duty degreaser will be most effective for cleaning your engine. Apply the detergent and give it 5-10 minutes to work. When rinsing the top of the mower, it's best to start at a distance. You don't want to damage any engine parts or remove warning decals. To increase the power, move closer.
Dry
After a good rinsing, set your mower in a sunny place to dry. When the mower is fully dry, put the blade on, reattach the spark plug lead and you're ready to go.

Shop All Pressure Washer Degreaser Soaps
Was this article helpful?