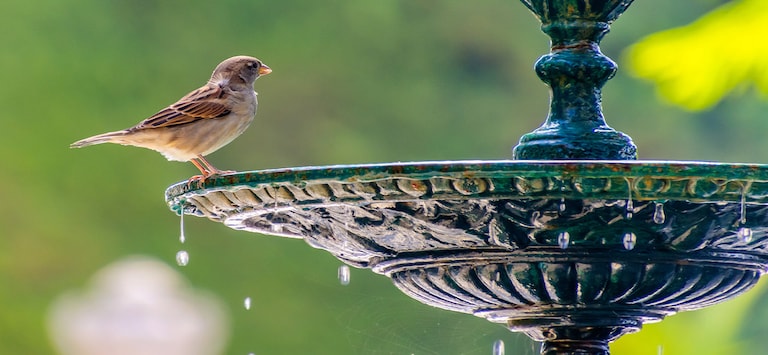 Pressure Washing a Bird Bath
How to Pressure Wash a Bird Bath
A bird bath is a great complement to any lawn or garden, keeping your yard full of life and energy.

Being an outdoor accessory, bird baths can quickly accumulate dirt, mold, mildew, moss, and of course bird droppings.

If you have a pressure washer, taking care of this nasty build-up is not a problem and will leave your birdbath looking like new again.
Spray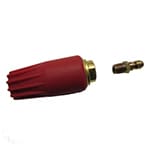 Start spraying from a distance. Use a delicate low-pressure spray pattern and move closer as more power is needed. A basic spray with your pressure washer is usually all that's needed to get rid of the dirt and grime.

For especially dirty concrete bird baths, you can try using a turbo nozzle to help strip away deep down dirt. Just be careful, as turbo nozzles create a great deal of pressure. These attachments spin a high-pressure orifice at turbo speeds to remove embedded dirt fast.

Shop All Turbo Nozzles
Rotating Scrub Brush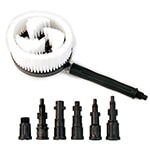 If spraying doesn't do the trick, you may need a rotating scrub brush attachment. A rotating brush uses the power of your pressure washer to spin the inner bristles of the attachment. This added cleaning power will make removing those tough stains a breeze.

Adding detergent to the mix will help too. If you have an onboard detergent tank, you can pair the scrubbing power of your rotating brush with the detergent from your tank to really make your bird bath look new again.

Shop All Pressure Washer Brushes
Mold / Algae

Don't worry if you find mold or algae on your bird bath. Whip up a mixture of bleach and water, 1-part bleach to 4-parts water, and start scrubbing.

Mold or algae needs to be removed by hand and your pressure washer should not be used. Bleach can cause damage to the inside of your machine. Rinse well, and your birdbath will look good as new.

NEXT: How to Pick the Perfect Pressure Washer
Was this article helpful?