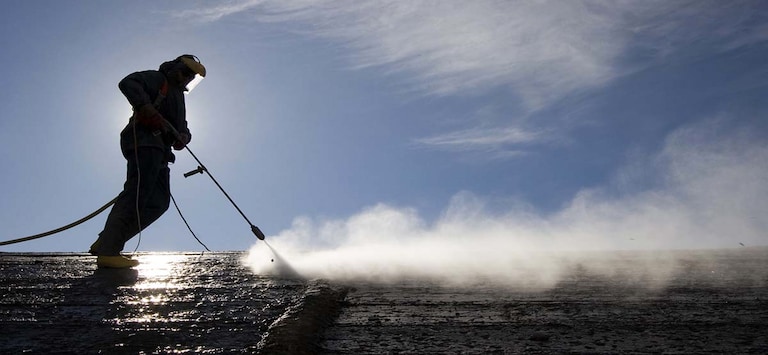 Best Hot Water Pressure Washers of 2023
Top-Rated & Best-Selling Hot Water Pressure Washers
If you've found your way here, you're not looking for any hot water pressure washer. You're looking for the best on the market.

To help you pick the perfect hot water washer, we've compiled the Best Hot Water Pressure Washers of 2023 based on our best-selling, highest-rated models with expert recommendations to ensure you get the perfect type for your needs.

Click through the tabs below to discover the pressure washer you've been searching for. Or, read up on How to Pick the Perfect Professional Hot Water Pressure Washer first.

Happy cleaning! 
---
Best Hot Water Pressure Washers List

You can scroll through the full recommended list of hot water pressure washers below. Or, simply click on the link for the model that interests you the most.


Best Portable Hot Water Pressure Washer
1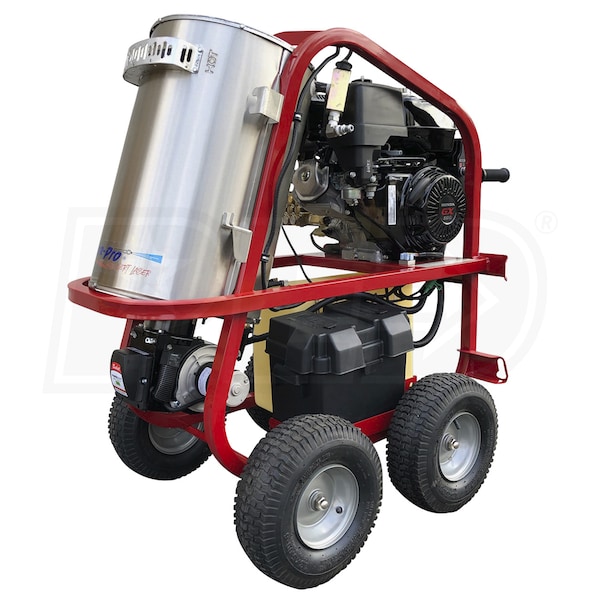 Expert Review
This Hot2Go SH40004HH model gets to work quickly with electric start! It is extremely effective at grease-cutting with hot water and steam! With a Honda GX engine and AR pump, it has the goods to deliver on quality washing! If you are looking for a large burner, this would be the way to go. With a max of 250 degrees, you will be able to heat water quickly and really bring the HEAT to use steam for a hard-to-clean surface. This unit comes with a heavy-duty 4-wheel frame and a 50ft high-pressure hose. Plus, the adjustable temperature coils make it simple to have all the cleaning control you'd ever need.
Features
High-Temperature Industrial Pressure Washer
Cleans at up to 250° F with high-pressure water & wet steam
Effective grease-cutting with hot water & steam
AR Triplex Ceramic Plunger Pump
Runs cooler & lasts longer than axial pumps; can be rebuilt
Adjustable pressure lets you tailor the spray to the job
Adjustable Temperature, Diesel-Fueled Burner
Work longer between refills with 8 gallons, rust-free fuel tank
Includes a 25° wide steam nozzle for 250°F saturated steam spray
12 Volt DC Igniter
Includes a charging circuit to maintain steady heat
Requires Group 24 / 550 CCA battery (not included)
Honda GX390cc Commercial Electric Start Engine
Automatic mechanical decompression system is easy to start
(Downstream detergent injection kit AC340 sold separately)
---
Best Truck-Mount (Skid) Hot Water Pressure Washer
2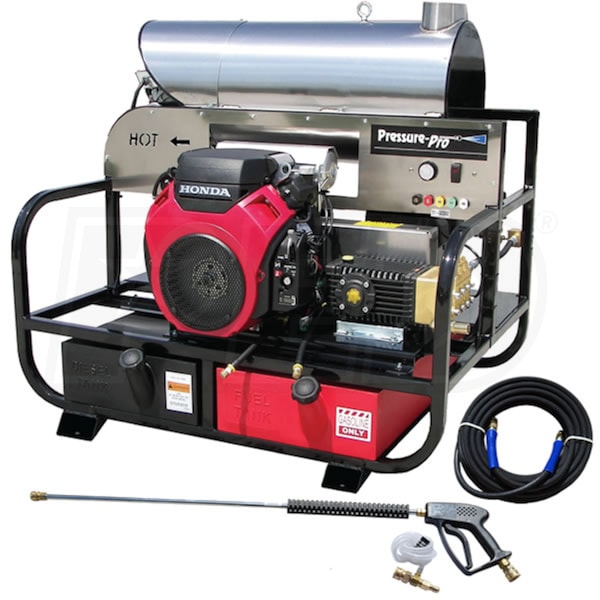 Expert Review
The Pressure-Pro Super Skid belt drive model is one of the best in the industry in terms of quality and reliability. This pressure washer gives you 3,500 PSI to clean most any surface, and a flow rate of 8 GPM to allow for the use of two guns simultaneously for industrial-grade cleaning. Powered by a GX690 engine, a General Pump TSF2021 pump and heated by a Beckett Burner, this model has all the brand components you need to tackle even the most difficult jobs. This washer is for the pros and not the joes, so prepare to experience cleaning power like you never have before.
Features
Skid Mounted Power For Industrial Use
8 gallons per minute gets large jobs done efficiently
Powerful 688cc Honda GX 690 Engine With Electric Start
Starts with the turn of a key; Includes marine battery box (12V Battery Sold Separately)
TSF2021 Triplex Plunger Pump by General Pump
Adjustable pressure adds versatility
Rugged steel low-profile frame; powder coated finish resists rust
Reliable Beckett Burner
Adjustable thermostat to suit the task at hand
High limit overtemp protection & safety relief valve for your protection
Super efficient insulated schedule 80 coil
Dual Built-In Fuel Tanks
Two convenient 12 gallon tanks: one for diesel, one for gas
---
Best Hot Water Pressure Washer Trailer
3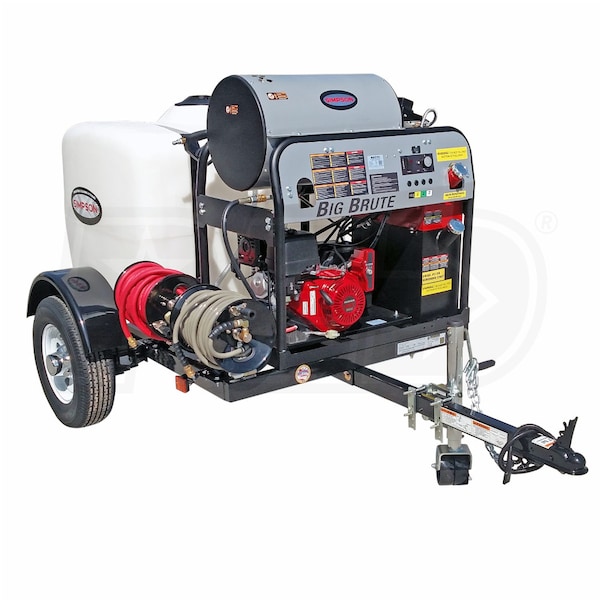 Expert Review
What gives you top-of-the-line performance with no water supply on-site? This is the machine you need! This trailer-mounted washer is equipped with a Honda GX390 engine with an electric start, a Comet pump, and a burner for hot water washing performance that can't be beaten. You can take your water supply on-the-go with this 200-gallon tank. Once you park, you can rely on the garden and high-pressure hose reels on board to give you the cleaning range you need.
Features
Hot Water Mobile Washing Simpson Trailer Pressure Washer
Engineered with power and performance
Perfectly suited for contractors, municipalities, resorts, etc.
12V oil fired burner uses #2 diesel or Kerosene and has a max heat rise of 120°
Commercial-Grade Honda GX390 OHV Engine w/ Electric Start
Full pressure lubrication with spin-on oil filter
GX Series offers premium features and quality
More power, quieter performance and lower fuel consumptio
Requires 12-Volt 14AH Battery (Not Included)
High-Performance Comet Triplex Plunger Pump
Ceramic pistons run cooler & last longer
Commercial quality & durability; can be rebuilt
Adjustable pressure and thermal relief valve
Welded Box Steel DOT Construction
Large 13" pneumatic tires for easy towing
3500 lb. single axle construction & 2" ball coupling
LED lighting package with metal license plate holder
200-Gallon Water Tank
Easy to read water levels, steel straps & drain petcocks
Makes job-site setup a snap; no need to hunt for water hookup
---

 View: All Hot Water Pressure Washers

Was this article helpful?