Power washing professionals rely on their equipment as much as any profession.

Without reliable machines, they can't make a living.

So it's no surprise gas-powered cold-water pressure washers are the most commonly used machines by the pros.

With more than 80 models, it's our largest category. These high-powered workhorses must exceed the most critical expectations, while delivering high-performance on a routine basis.

Professional Features

Everything about these pressure washers is top of the line. One feature to shop for is a thermo-sensor. To prevent damage, this detects when the pump is overheating.
Another similar feature is a low-oil shutdown. Running any small engine, whether on a push mower or a car, with low or no oil is asking for trouble. Oil cools and lubricates the engine, so the low-oil shutdown will turn off the unit when low engine oil is detected.
Engine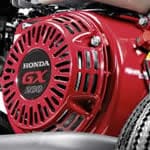 A feature you will find on all these professional pressure washers, is a commercial-grade engine. The most common, and widely sought-after engine is the Honda GX.
Commercial-grade engines start more easily, are more reliable and quieter than lesser-quality engines. Some engines feature oil monitor levels, which makes maintenance easier. Another benefit of a commercial engine is a longer warranty for repairs.

Shop All Professional Cold-Water Gas Pressure Washers