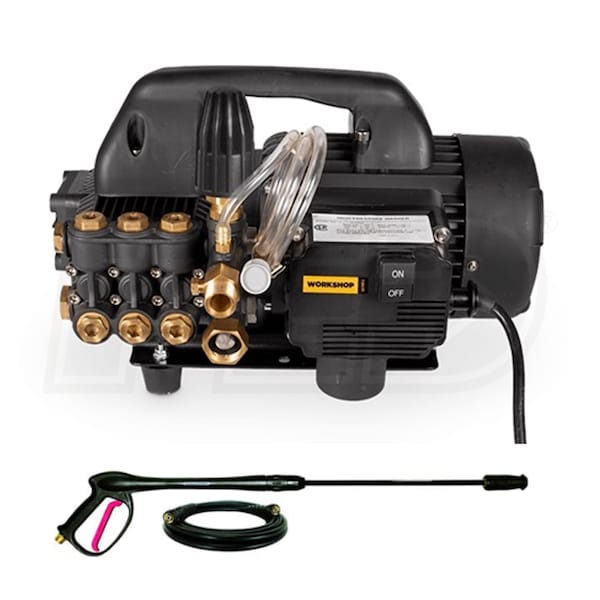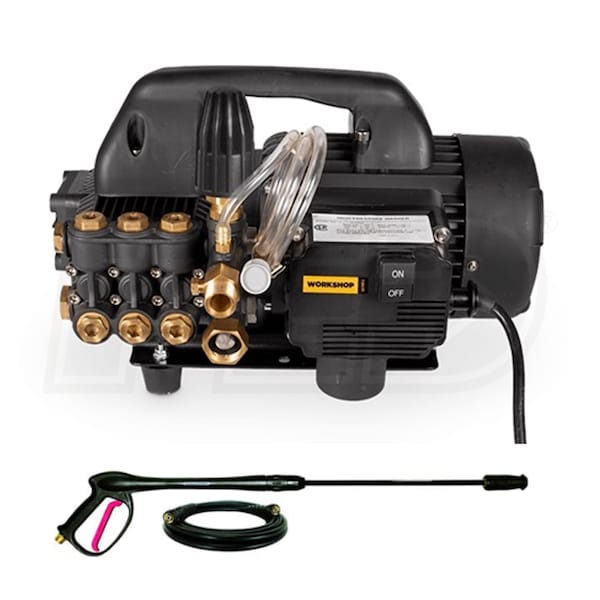 Hover to zoom
1 Of 5
BE 1500 PSI Hand Carry (Electric - Cold Water) Pressure Washer
Product Description

Specs

32

Reviews

1

Product Q&A

Recommended Accessories

How-To Articles

Manuals
Features
Features
1.5 HP PowerEase 110V Electric Motor

Plugs into regular 3 prong outlets on 14 amp & up circuits

No messy gas engine to maintain; safe around livestock

Low RPM Motor

Extends the life of your pump

Convenient Carry Handle

Easy to transport & store

1.6 GPM Triplex Plunger Pump

Runs cooler, lasts longer; can be rebuilt

Adjustable Pressure

Adjustable unloader lets you suit the pressure to the job

Pro-Grade M22 Spray Gun & Hose

Spray nozzle adjusts width of spray; allows soap application

25' steel braid reinforced hose has easy-grip threaded connectors

Siphon Tube Soap Application

Drop the end of the tube in a bucket of pressure washer safe soap

Engage low-pressure nozzle to add soap to the water stream

35-Foot Power Cord

Work safely in a large area
Specifications
Motor
Motor Voltage
120-Volt Single-Phase
Power Cord Length
35 ft GFCI
Consumer Motor Warranty
2 Years
Engine
Pump
Pump Type
Triplex Plunger
Chemical Injection
Siphon Tube
Consumer Pump Warranty
5 Years
Housing
Hose
Spray Gun
Spray Gun Grade
Professional
Spray Gun Wand
Single Wand
Turbo Nozzle
Sold Separately
Overview
Consumer Warranty
90 Days
Additional Model Numbers
P1515EPN, P1515EPNS
Features
Features
1.5 HP PowerEase 110V Electric Motor

Plugs into regular 3 prong outlets on 14 amp & up circuits

No messy gas engine to maintain; safe around livestock

Low RPM Motor

Extends the life of your pump

Convenient Carry Handle

Easy to transport & store

1.6 GPM Triplex Plunger Pump

Runs cooler, lasts longer; can be rebuilt

Adjustable Pressure

Adjustable unloader lets you suit the pressure to the job

Pro-Grade M22 Spray Gun & Hose

Spray nozzle adjusts width of spray; allows soap application

25' steel braid reinforced hose has easy-grip threaded connectors

Siphon Tube Soap Application

Drop the end of the tube in a bucket of pressure washer safe soap

Engage low-pressure nozzle to add soap to the water stream

35-Foot Power Cord

Work safely in a large area
Specifications
Motor
Motor Voltage
120-Volt Single-Phase
Power Cord Length
35 ft GFCI
Consumer Motor Warranty
2 Years
Engine
Pump
Pump Type
Triplex Plunger
Chemical Injection
Siphon Tube
Consumer Pump Warranty
5 Years
Housing
Hose
Spray Gun
Spray Gun Grade
Professional
Spray Gun Wand
Single Wand
Turbo Nozzle
Sold Separately
Overview
Consumer Warranty
90 Days
Additional Model Numbers
P1515EPN, P1515EPNS
Specifications
Motor
Motor Voltage
120-Volt Single-Phase
Power Cord Length
35 ft GFCI
Consumer Motor Warranty
2 Years
Engine
Pump
Pump Type
Triplex Plunger
Chemical Injection
Siphon Tube
Consumer Pump Warranty
5 Years
Housing
Hose
Spray Gun
Spray Gun Grade
Professional
Spray Gun Wand
Single Wand
Turbo Nozzle
Sold Separately
Overview
Consumer Warranty
90 Days
Additional Model Numbers
P1515EPN, P1515EPNS
Search Product Q&A's
Answered by Jim. the Pressure Washer Expert
Hello, do you sell a Turbo or rotating nozzle for this? http:www.pressurewashersdirect.comImagesBEP1515EPNPressureWasheri10248.html Regards, Joel
Joel
from Nevada
February 13, 2014
Answer
This has a vario spray wand at the end so there is no where for the turbo nozzle to attach to currently. You can unscrew and remove the lance and add a lance that has a turbo nozzle on it. I have attached the link for you.
Turbo Wand Lance
If you read the features it says not meant for electrics, but that is when it is a consumer grade model, this is a Prosumer. The BE P1515EPN has an M22 fitting at the end of gun to connect to the existing lance. This turbo nozzle lance has a M22 fitting as well so they will just screw together.
Was this answer helpful?
Yes
0
No
0
Expert Recommended Accessories
Hand Picked By Our Expert Jim
Required Accessories
Add All Required
+
Ask Jim, Our Product Expert, A Question!
*Required Fields
+
Thank You For Submitting Your Question
Your submission has been sent successfully. Please give our experts up to two business days to respond.
Media Gallery
BE 1500 PSI Hand Carry (Electric - Cold Water) Pressure Washer