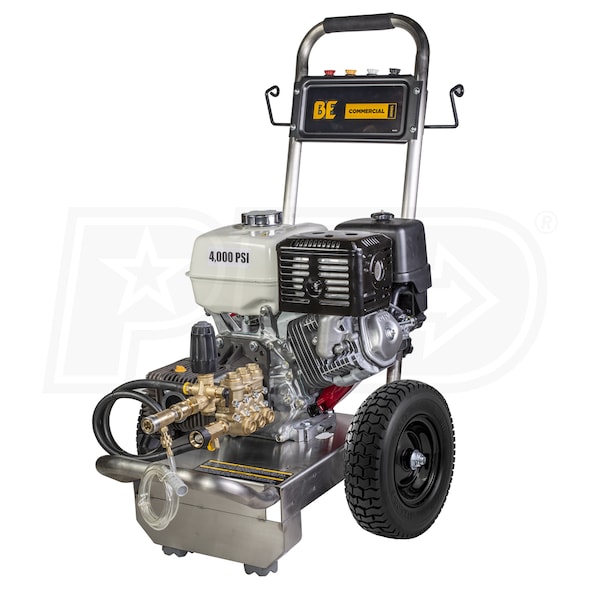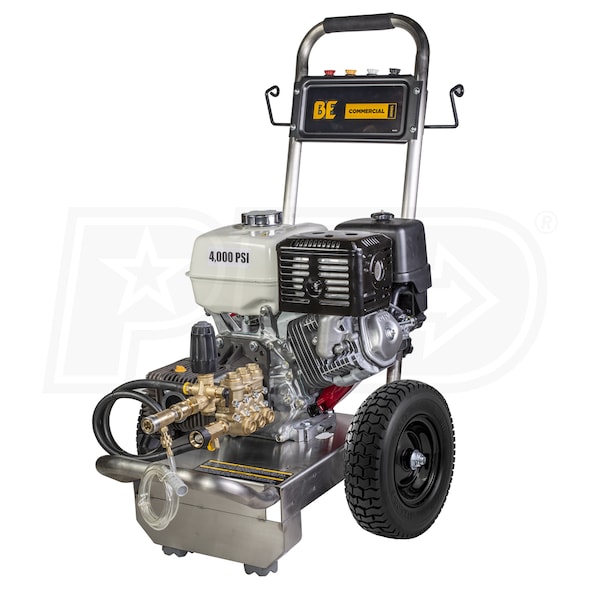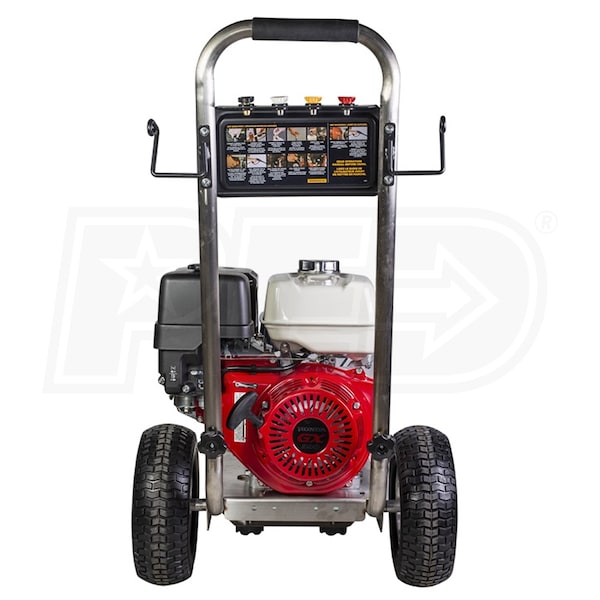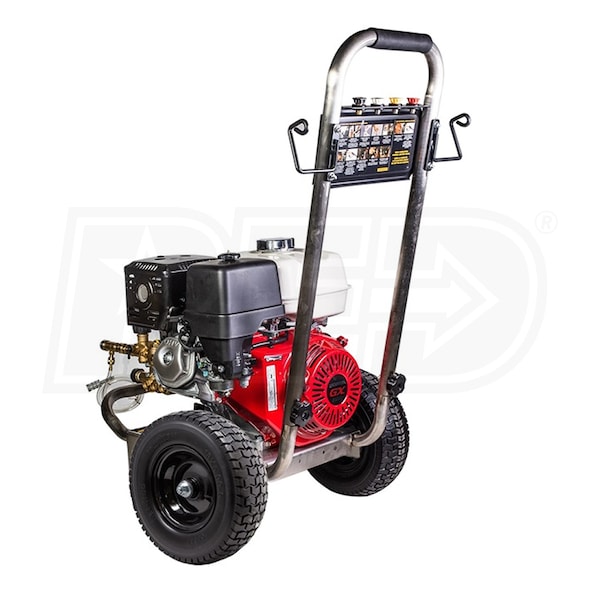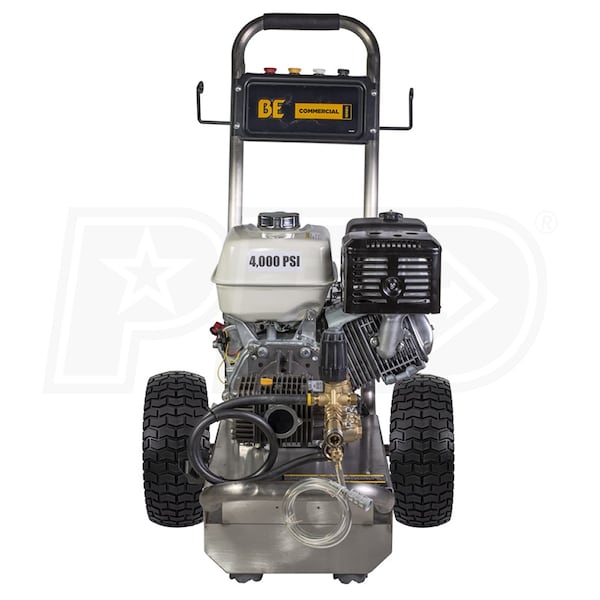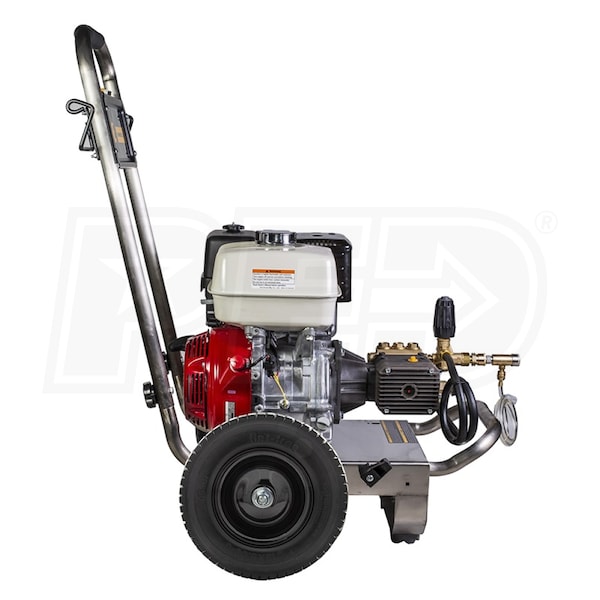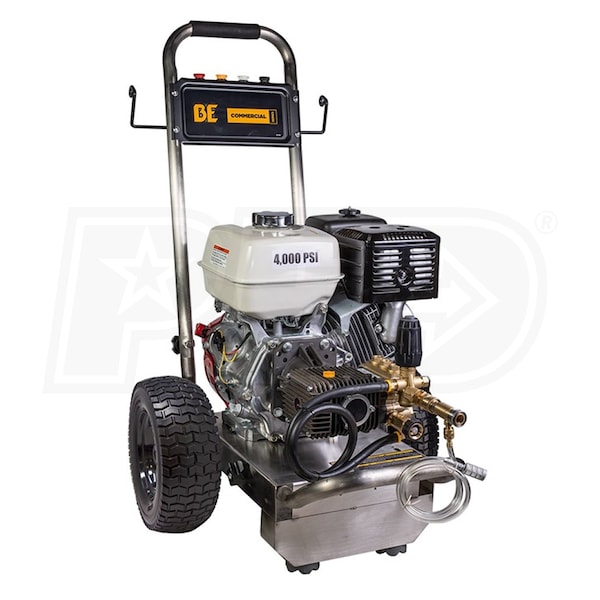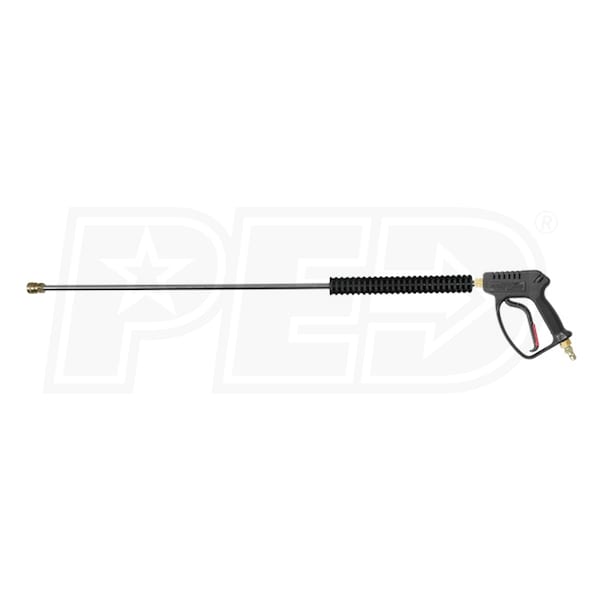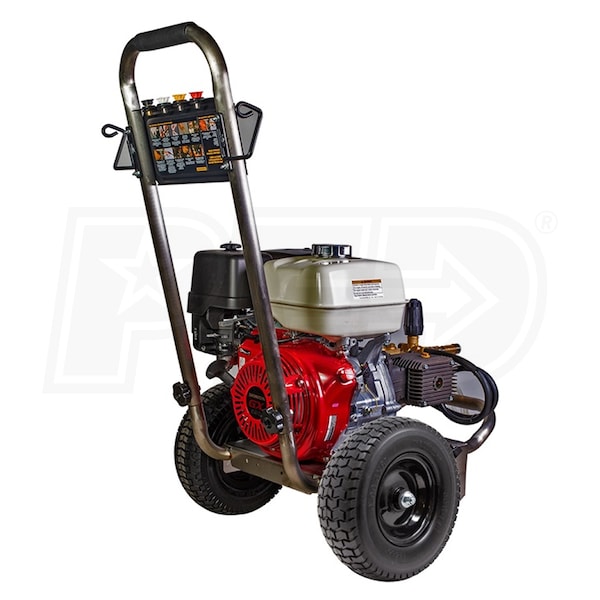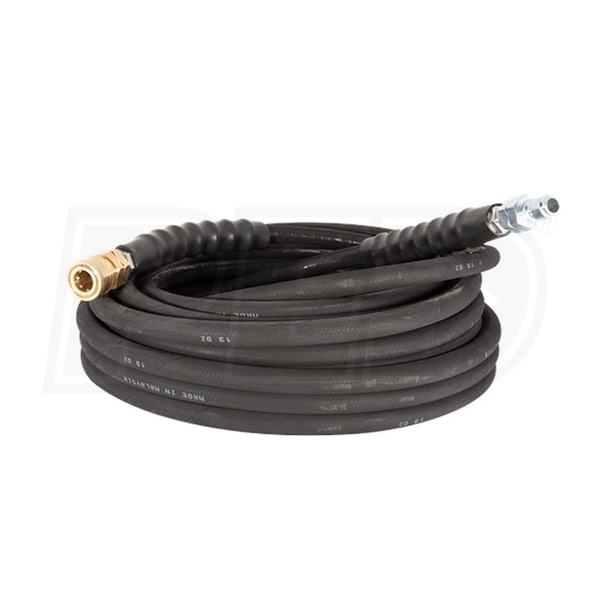 Hover to zoom
1 Of 5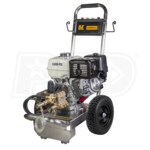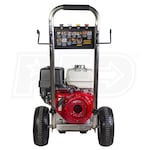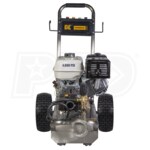 BE Professional 4000 PSI (Gas-Cold Water) Pressure Washer w/ Honda GX390 Engine & Stainless Steel Frame
Product Description

Specs

12

Reviews

1

Product Q&A

Recommended Accessories

How-To Articles

Manuals
Features
Features
Powered By A Reliable Honda GX 390 Gas Engine

13 HP handles a wide variety of cleaning tasks

Commercial Grade Comet ZWD4040G Triplex Pump

4 gallons per minute gets the job done quickly & efficiently

Oil drain plug, sight glass & clear filter bowl for easy care

External bypass & thermal relief valve protect from overheating

Industrial Grade Spray Gun

36 inch spray lance with insulated grip fights fatigue

4 quick-connect nozzles in 0°, 15°, 40°, and soap nozzle

Convenient on-board tip storage

Low pressure chemical injection applies soap effectively

50 foot steel wire braided hose w/quick connects & storage hook

Durable Stainless Steel Frame

Compact design with easy carrying & transport

Solid welded anti-vibration rubber foot quiets & stabilizes unit
Specifications
Engine
Fuel Tank Size
1.6 Gallons
Consumer Engine Warranty
3 Years
Commercial Engine Warranty
3 Years
Pump
Pump Type
Triplex Plunger
Chemical Injection
Siphon Tube
Consumer Pump Warranty
5 Years
Commercial Pump Warranty
5 Years
Housing
Wheels
Pneumatic with Tube
Hose
Hose Material
Wire Reinforced
Hose Connections
Quick-Connect
Spray Gun
Spray Gun Connection
Quick-Connect
Spray Gun Grade
Professional
Spray Gun Wand
Single Wand
Spray Tips
Quick Connect Tips (4)
Turbo Nozzle
Sold Separately
Overview
Commercial Warranty
90 Days
Features
Features
Powered By A Reliable Honda GX 390 Gas Engine

13 HP handles a wide variety of cleaning tasks

Commercial Grade Comet ZWD4040G Triplex Pump

4 gallons per minute gets the job done quickly & efficiently

Oil drain plug, sight glass & clear filter bowl for easy care

External bypass & thermal relief valve protect from overheating

Industrial Grade Spray Gun

36 inch spray lance with insulated grip fights fatigue

4 quick-connect nozzles in 0°, 15°, 40°, and soap nozzle

Convenient on-board tip storage

Low pressure chemical injection applies soap effectively

50 foot steel wire braided hose w/quick connects & storage hook

Durable Stainless Steel Frame

Compact design with easy carrying & transport

Solid welded anti-vibration rubber foot quiets & stabilizes unit
Specifications
Engine
Fuel Tank Size
1.6 Gallons
Consumer Engine Warranty
3 Years
Commercial Engine Warranty
3 Years
Pump
Pump Type
Triplex Plunger
Chemical Injection
Siphon Tube
Consumer Pump Warranty
5 Years
Commercial Pump Warranty
5 Years
Housing
Wheels
Pneumatic with Tube
Hose
Hose Material
Wire Reinforced
Hose Connections
Quick-Connect
Spray Gun
Spray Gun Connection
Quick-Connect
Spray Gun Grade
Professional
Spray Gun Wand
Single Wand
Spray Tips
Quick Connect Tips (4)
Turbo Nozzle
Sold Separately
Overview
Commercial Warranty
90 Days
Specifications
Engine
Fuel Tank Size
1.6 Gallons
Consumer Engine Warranty
3 Years
Commercial Engine Warranty
3 Years
Pump
Pump Type
Triplex Plunger
Chemical Injection
Siphon Tube
Consumer Pump Warranty
5 Years
Commercial Pump Warranty
5 Years
Housing
Wheels
Pneumatic with Tube
Hose
Hose Material
Wire Reinforced
Hose Connections
Quick-Connect
Spray Gun
Spray Gun Connection
Quick-Connect
Spray Gun Grade
Professional
Spray Gun Wand
Single Wand
Spray Tips
Quick Connect Tips (4)
Turbo Nozzle
Sold Separately
Overview
Commercial Warranty
90 Days
Search Product Q&A's
Answered by Jim. the Pressure Washer Expert
I have a small gas powered unit now i want a unit that puts out more flow i assume mine is about 2.5 gpm. Do i have to worry about not having enough water supply (volume) to supply a 3.5 to 4.0 gpm unit from a household supply. I am looking at the campbell / karcher/ or BE units with the 13hp honda. All in the 1200 bucks price range what do you suggest i see the be unit is 70 lbs more at 200lbs. i suspect the triplex pump is this worth the extra or is axial better.
Kurt Nicol
from North Dakota
June 05, 2011
Answer
As long as you are on city water, you should be fine on water supply. If you are on a well, this could be a problem, you would have to do the bucket test to see how much water you have.

In terms of units, any of those companies would be good units to look at. I would suggest going with a tri-plex plunger pump as well. This is going to be the better quality pump. Some other units to look at can be the DeWalt and Simpson models as well.

Thanks,

Pressure Washers Direct
Was this answer helpful?
Yes
0
No
0
Expert Recommended Accessories
Hand Picked By Our Expert Jim
Required Accessories
Add All Required
+
Ask Jim, Our Product Expert, A Question!
*Required Fields
+
Thank You For Submitting Your Question
Your submission has been sent successfully. Please give our experts up to two business days to respond.
Media Gallery
BE Professional 4000 PSI (Gas-Cold Water) Pressure Washer w/ Honda GX390 Engine & Stainless Steel Frame