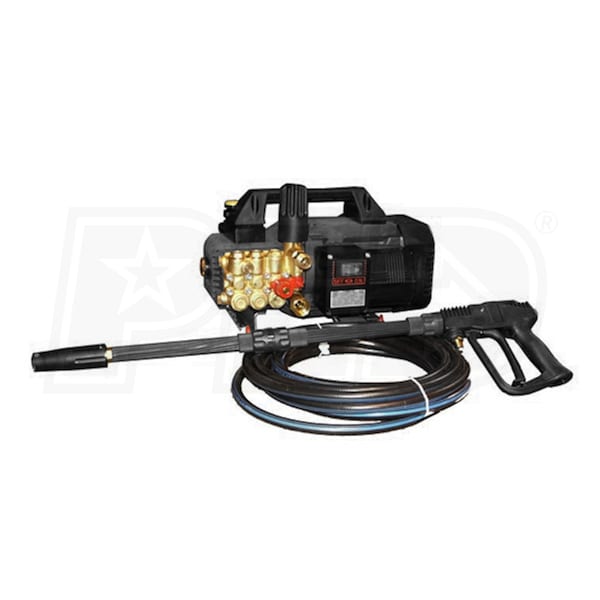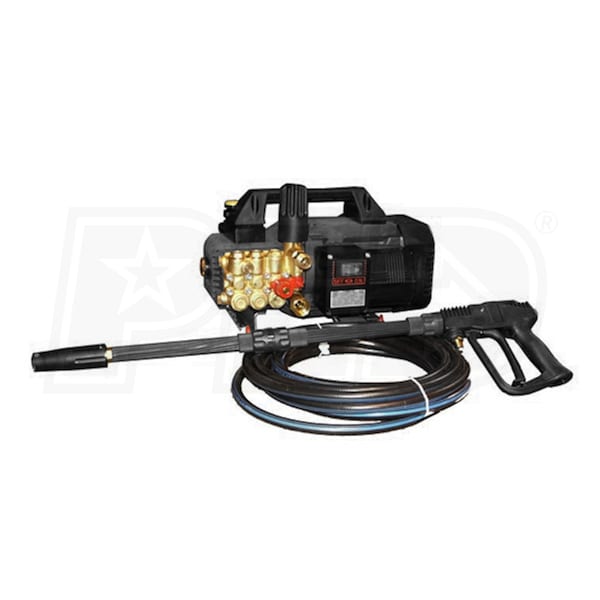 Hover to zoom
1 Of 5
Cam Spray Semi-Pro 1450 PSI Hand Carry (Electric-Cold Water) Pressure Washer
Product Description

Specs

9

Reviews

1

Product Q&A

Recommended Accessories

How-To Articles
Features
Features
Power And Versatility In A Small Package

Continuous duty motor for extended run times

General Pump Commercial Grade Pump

Triplex plunger pump lasts a long time; can be rebuilt

Ceramic plungers and stainless steel valves extend pump life

140° F maximum inlet water temperature

Adjustable Pressure Takes On Any Task

Turn down the pressure for small jobs; crank it up for tough duty

Adjustable Spray Nozzle

Spray from pinpoint to 60 degrees with a twist of the nozzle

Non-Marking 25 Foot Hose

Work in a wide area around the pressure washer

Siphon Tube Chemical Injection

Pulls pressure washer safe detergent from a bucket

American Pride

Assembled in USA
Specifications
Motor
Motor Voltage
120-Volt Single-Phase
Power Cord Length
35 ft GFCI
Consumer Motor Warranty
1 Year
Commercial Motor Warranty
1 Year
Pump
Pump Type
Triplex Plunger
Chemical Injection
Siphon Tube
Consumer Pump Warranty
1 Year
Commercial Pump Warranty
1 Year
Housing
Hose
Hose Connections
Threaded
Spray Gun
Spray Gun Connection
Threaded
Spray Gun Grade
Professional
Spray Gun Wand
Single Wand
Turbo Nozzle
Sold Separately
Overview
Commercial Warranty
1 Year
Features
Features
Power And Versatility In A Small Package

Continuous duty motor for extended run times

General Pump Commercial Grade Pump

Triplex plunger pump lasts a long time; can be rebuilt

Ceramic plungers and stainless steel valves extend pump life

140° F maximum inlet water temperature

Adjustable Pressure Takes On Any Task

Turn down the pressure for small jobs; crank it up for tough duty

Adjustable Spray Nozzle

Spray from pinpoint to 60 degrees with a twist of the nozzle

Non-Marking 25 Foot Hose

Work in a wide area around the pressure washer

Siphon Tube Chemical Injection

Pulls pressure washer safe detergent from a bucket

American Pride

Assembled in USA
Specifications
Motor
Motor Voltage
120-Volt Single-Phase
Power Cord Length
35 ft GFCI
Consumer Motor Warranty
1 Year
Commercial Motor Warranty
1 Year
Pump
Pump Type
Triplex Plunger
Chemical Injection
Siphon Tube
Consumer Pump Warranty
1 Year
Commercial Pump Warranty
1 Year
Housing
Hose
Hose Connections
Threaded
Spray Gun
Spray Gun Connection
Threaded
Spray Gun Grade
Professional
Spray Gun Wand
Single Wand
Turbo Nozzle
Sold Separately
Overview
Commercial Warranty
1 Year
Specifications
Motor
Motor Voltage
120-Volt Single-Phase
Power Cord Length
35 ft GFCI
Consumer Motor Warranty
1 Year
Commercial Motor Warranty
1 Year
Pump
Pump Type
Triplex Plunger
Chemical Injection
Siphon Tube
Consumer Pump Warranty
1 Year
Commercial Pump Warranty
1 Year
Housing
Hose
Hose Connections
Threaded
Spray Gun
Spray Gun Connection
Threaded
Spray Gun Grade
Professional
Spray Gun Wand
Single Wand
Turbo Nozzle
Sold Separately
Overview
Commercial Warranty
1 Year
Search Product Q&A's
Answered by Jim. the Pressure Washer Expert
hey bill. just wondering what type of oil i need to put in my 1500A and where do i put it
Joe Botos
from Pennsylvania
May 08, 2012
Answer
The pump on this pressure washer will require a fully synthetic 30W / non detergent, pump oil. We carry a Briggs & Stratton pump oil which is listed on our site as a model # 6033.

The pump on this machine should have a fill cap on the top of the pump and a drain plug underneath the pump.

If you are having problems locating the fill cap or need further assistance, you could always contact Cam Spray directly at (800) 648-5011.


Was this answer helpful?
Yes
0
No
0
Expert Recommended Accessories
Hand Picked By Our Expert Jim
Required Accessories
Add All Required
+
Ask Jim, Our Product Expert, A Question!
*Required Fields
+
Thank You For Submitting Your Question
Your submission has been sent successfully. Please give our experts up to two business days to respond.
Media Gallery
Cam Spray Semi-Pro 1450 PSI Hand Carry (Electric-Cold Water) Pressure Washer