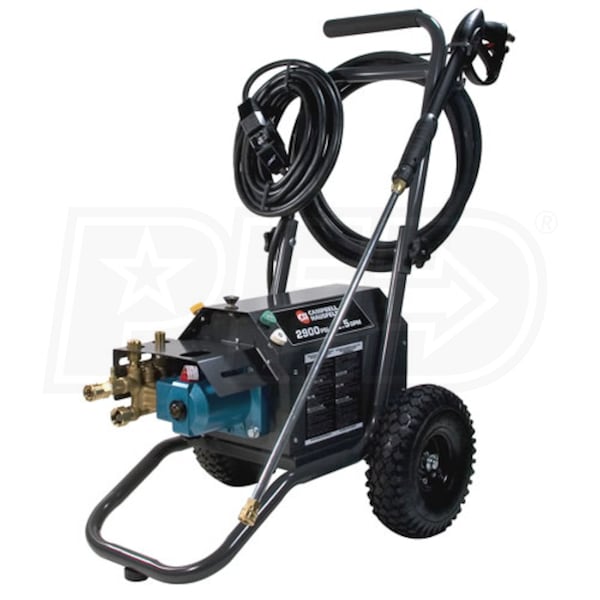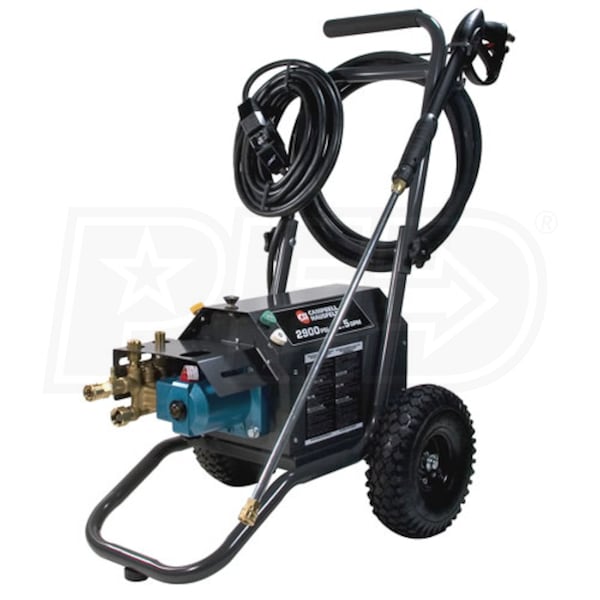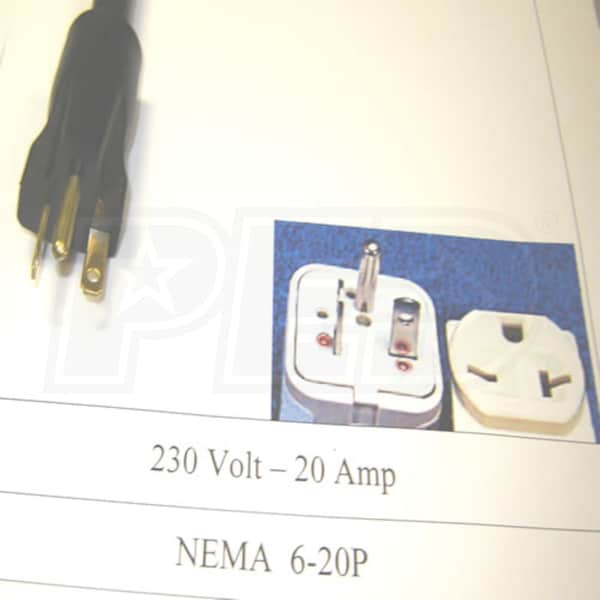 Hover to zoom
1 Of 5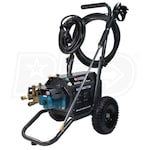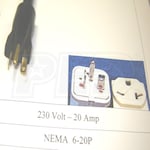 Campbell Hausfeld Professional 2900 PSI (Electric-Cold Water) Pressure Washer (230V 1-Phase)
Product Description

Specs

8

Reviews

1

Product Q&A

Recommended Accessories

How-To Articles

Manuals
Features
Features
Heavy Duty 5-HP, 230V Induction Motor

Outperforms other electric motors

Gas-like performance without fuel emissions or noise

ETL Approved to UL & CSA Standards

Secure steel vented cover keeps water out & air circulating

Can Be Used Indoors And Outdoors

Great for commercial kitchens, stables, screen printers, marinas

Reliable CAT Triplex Plunger Pump With Adjustable Pressure

Ceramic plungers run cooler, last longer

3 Year Factory Warranty

Quiet, no emissions, low vibration mean less stress & fatigue

Heavy Duty Cart With Fold Down Handle

Durable steel construction saves on storage space

Pneumatic tires handle rough terrain; won't mark floors

Built in holders for gun, hose, & spray tips

4 Quick Connect Spray Tips & Chemical Tube

Soap, 15, 25, & 40 degree tips handle most tasks

Chemical injector draws from 1 or 5 gallon containers

Needs A 230V, 20 Amp Dedicated Circuit w/NEMA 6-20P Outlet

Refer to additional picture for proper fit; 35' cord & GFCI
Specifications
Motor
Motor Voltage
230-Volt Single-Phase
Power Cord Length
35 ft GFCI
Pump
Pump Type
Triplex Plunger
Chemical Injection
Siphon Tube
Housing
Hose
Hose Connections
Quick-Connect
Spray Gun
Spray Gun Connection
Quick-Connect
Spray Gun Grade
Professional
Spray Gun Wand
Single Wand
Spray Tips
Quick Connect Tips (4)
Turbo Nozzle
Sold Separately
Overview
Consumer Warranty
3 Years
Features
Features
Heavy Duty 5-HP, 230V Induction Motor

Outperforms other electric motors

Gas-like performance without fuel emissions or noise

ETL Approved to UL & CSA Standards

Secure steel vented cover keeps water out & air circulating

Can Be Used Indoors And Outdoors

Great for commercial kitchens, stables, screen printers, marinas

Reliable CAT Triplex Plunger Pump With Adjustable Pressure

Ceramic plungers run cooler, last longer

3 Year Factory Warranty

Quiet, no emissions, low vibration mean less stress & fatigue

Heavy Duty Cart With Fold Down Handle

Durable steel construction saves on storage space

Pneumatic tires handle rough terrain; won't mark floors

Built in holders for gun, hose, & spray tips

4 Quick Connect Spray Tips & Chemical Tube

Soap, 15, 25, & 40 degree tips handle most tasks

Chemical injector draws from 1 or 5 gallon containers

Needs A 230V, 20 Amp Dedicated Circuit w/NEMA 6-20P Outlet

Refer to additional picture for proper fit; 35' cord & GFCI
Specifications
Motor
Motor Voltage
230-Volt Single-Phase
Power Cord Length
35 ft GFCI
Pump
Pump Type
Triplex Plunger
Chemical Injection
Siphon Tube
Housing
Hose
Hose Connections
Quick-Connect
Spray Gun
Spray Gun Connection
Quick-Connect
Spray Gun Grade
Professional
Spray Gun Wand
Single Wand
Spray Tips
Quick Connect Tips (4)
Turbo Nozzle
Sold Separately
Overview
Consumer Warranty
3 Years
Specifications
Motor
Motor Voltage
230-Volt Single-Phase
Power Cord Length
35 ft GFCI
Pump
Pump Type
Triplex Plunger
Chemical Injection
Siphon Tube
Housing
Hose
Hose Connections
Quick-Connect
Spray Gun
Spray Gun Connection
Quick-Connect
Spray Gun Grade
Professional
Spray Gun Wand
Single Wand
Spray Tips
Quick Connect Tips (4)
Turbo Nozzle
Sold Separately
Overview
Consumer Warranty
3 Years
Search Product Q&A's
Answered by Jim. the Pressure Washer Expert
Hi, I am considering buying the CH electric pressure washer (#CP5321) listed on your website which is rated at 2900 psi. My next door neighbor has the exact model and he let me borrow it to see if I liked it. Today I used it to pressure wash my driveway. After using it continuously for about an hour the motor stopped and I realized that the thermal overload protection automatically shut off the motor to avoid overheating. I let it cool down and I restarted the unit but it shut off again after about an hour of continuous use. I then asked my neighbor about this and he indicated that this had always happened to him even when the unit was new. Is this typical of this pressure washer? I plugged it in directly to a 240 V wall outlet using no extension cords and the voltage from this outlet was about 242 V, measured using my voltmeter. Also, I made sure to always turn the motor off if I was not spraying water. By the way, I live in south Florida and the outside temperature today was 80 deg F. Thank you! Mario
Mario Nadal
from Florida
April 12, 2011
Answer
Yes this is somewhat typical of all electric pressure washers. You should be gettting about an hour and a half to two hours before that kicks in but this feature is there to protect the motor and is common on all electric powered models.
Was this answer helpful?
Yes
0
No
0
Expert Recommended Accessories
Hand Picked By Our Expert Jim
Required Accessories
Add All Required
+
Ask Jim, Our Product Expert, A Question!
*Required Fields
+
Thank You For Submitting Your Question
Your submission has been sent successfully. Please give our experts up to two business days to respond.
Media Gallery
Campbell Hausfeld Professional 2900 PSI (Electric-Cold Water) Pressure Washer (230V 1-Phase)