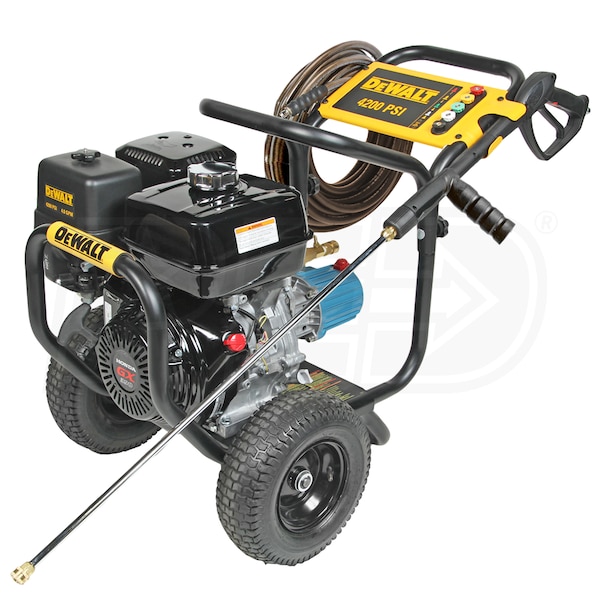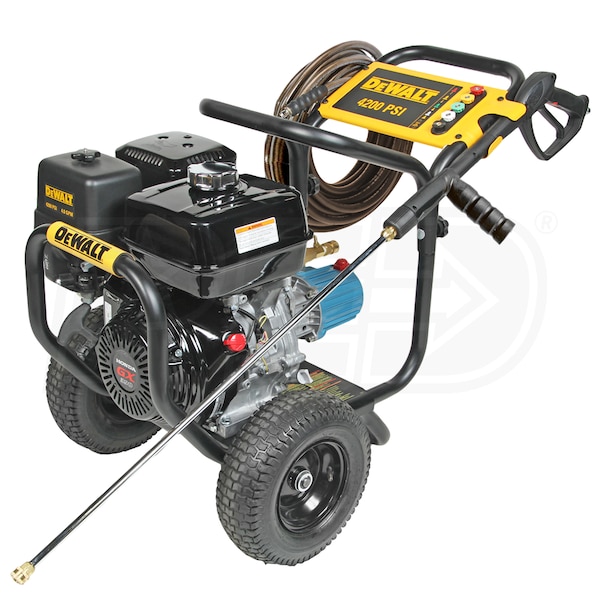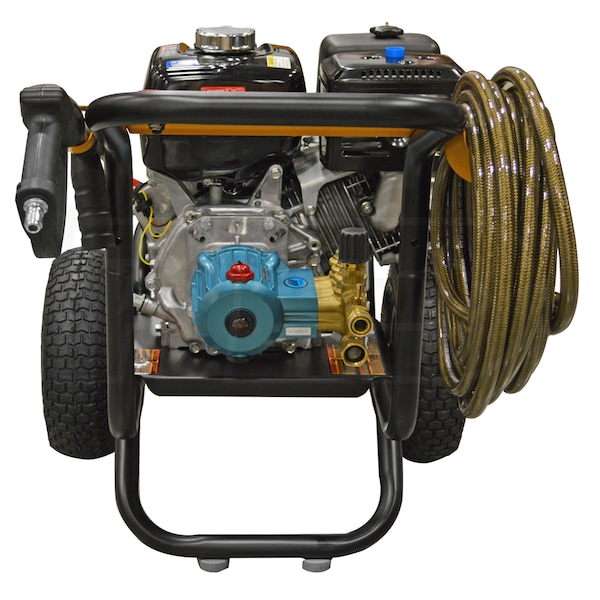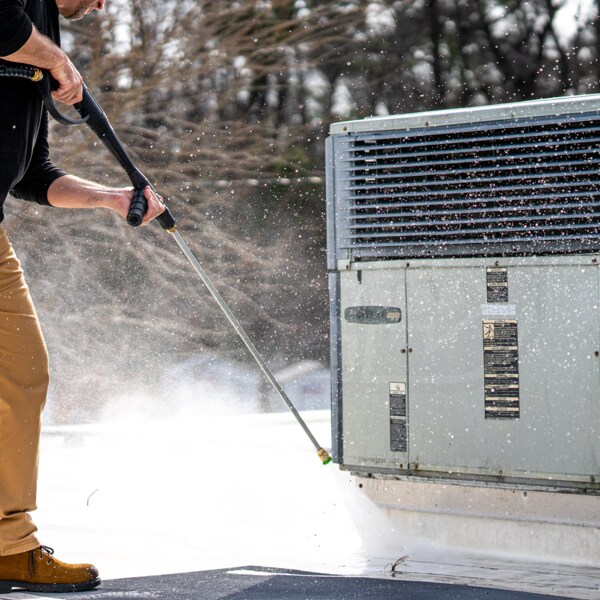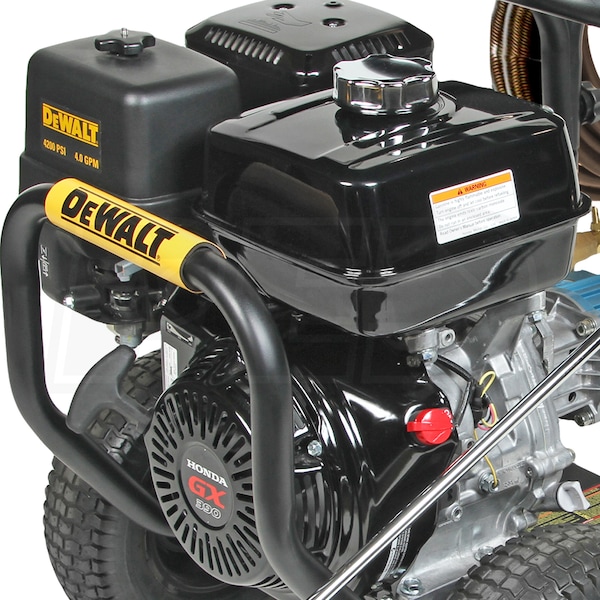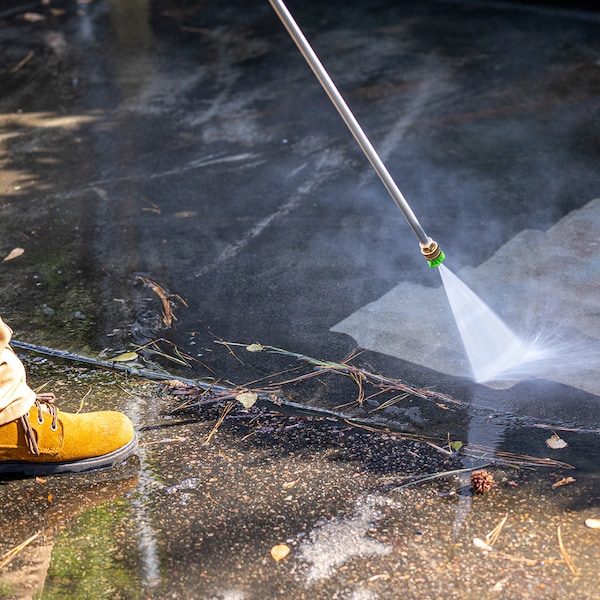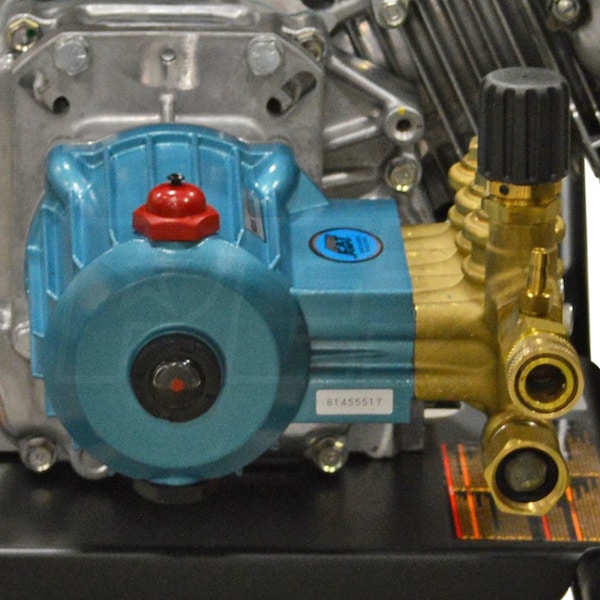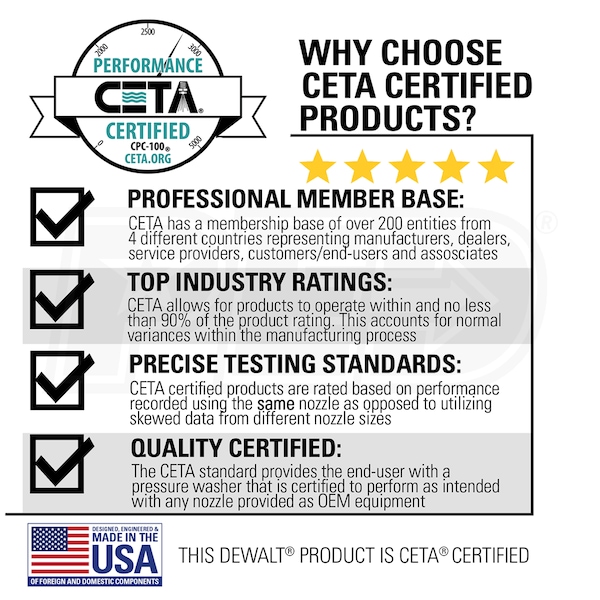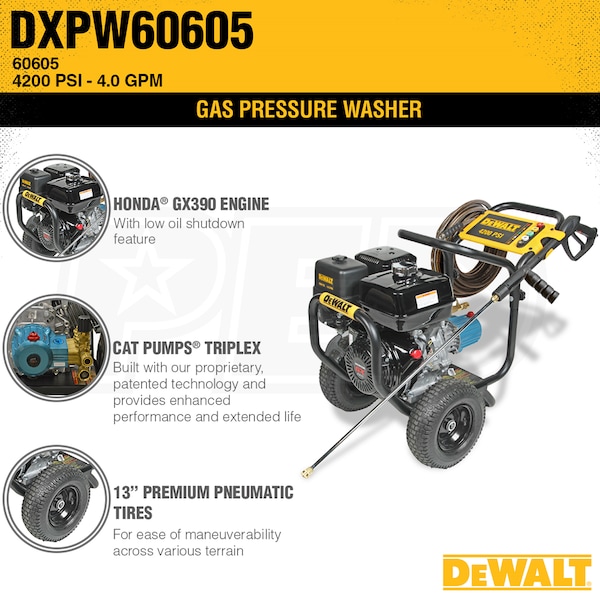 Hover to zoom
1 Of 5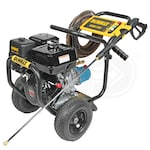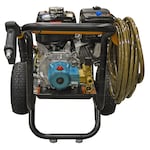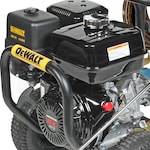 DeWalt Professional 4200 PSI (Gas- Cold Water) Pressure Washer w/ Honda GX390 Engine & CAT Pump
Product Description

Specs

13

Reviews

3

Product Q&A

Recommended Accessories

How-To Articles

Manuals
Features
Features
11.7-HP Honda GX390 Commercial Series Engine

Powerful 389cc 4-cycle engine is easy to start, quiet & reliable

Oil Alert monitors oil level, makes maintenance easier

CAT Brand 4.0 GPM Triplex Plunger Pump

Direct drive for streamlined power transmission

Ceramic pistons run cooler, last longer, & can be rebuilt

Adjustable pressure; thermal relief valve protects the pump

1-1/4" Tubular Steel Frame

Sturdy welded construction w/ 12 ga. steel engine plate

Rugged 13" premium pneumatic tires on a solid steel 5/8" axle

50 Feet Of 3/8" Steel-Braided High Pressure Hose

Quick connect saves time & your knuckles

Non-marring, kink and abrasion resistant

Pro-Style Spray Gun w/ Steel Wand

Comes with 5 quick connect tips: 0°, 15°, 25°, 40°, & Soap

Tackle dirt/mud, mildew, algae, mold, stains, watermarks, and moss

Downstream Detergent Injection System

Allows for a wider choice of cleaners

Draws chemicals or soap into the water stream after the pump

1-Year Limited Factory Warranty Overall

90-days on spray gun & wand, hose, and nozzles

10-years on frame; limited to defects in materials & workmanship
Specifications
Engine
Fuel Tank Size
1.6 Gallons
Consumer Engine Warranty
3 Years
Commercial Engine Warranty
3 Years
Pump
Pump Type
Triplex Plunger
Chemical Injection
Down-Stream
Consumer Pump Warranty
5 Years
Commercial Pump Warranty
5 Years
Housing
Hose
Hose Material
Wire Reinforced
Hose Connections
Quick-Connect
Spray Gun
Spray Gun Connection
Quick-Connect
Spray Gun Grade
Professional
Spray Gun Wand
Single Wand
Spray Tips
Quick Connect Tips (5)
Turbo Nozzle
Sold Separately
Overview
Consumer Warranty
90 Days
Commercial Warranty
90 Days
Product Length
28.5 Inches
Product Height
26.25 Inches
Additional Model Numbers
DXPW60605, 60605
Features
Features
11.7-HP Honda GX390 Commercial Series Engine

Powerful 389cc 4-cycle engine is easy to start, quiet & reliable

Oil Alert monitors oil level, makes maintenance easier

CAT Brand 4.0 GPM Triplex Plunger Pump

Direct drive for streamlined power transmission

Ceramic pistons run cooler, last longer, & can be rebuilt

Adjustable pressure; thermal relief valve protects the pump

1-1/4" Tubular Steel Frame

Sturdy welded construction w/ 12 ga. steel engine plate

Rugged 13" premium pneumatic tires on a solid steel 5/8" axle

50 Feet Of 3/8" Steel-Braided High Pressure Hose

Quick connect saves time & your knuckles

Non-marring, kink and abrasion resistant

Pro-Style Spray Gun w/ Steel Wand

Comes with 5 quick connect tips: 0°, 15°, 25°, 40°, & Soap

Tackle dirt/mud, mildew, algae, mold, stains, watermarks, and moss

Downstream Detergent Injection System

Allows for a wider choice of cleaners

Draws chemicals or soap into the water stream after the pump

1-Year Limited Factory Warranty Overall

90-days on spray gun & wand, hose, and nozzles

10-years on frame; limited to defects in materials & workmanship
Specifications
Engine
Fuel Tank Size
1.6 Gallons
Consumer Engine Warranty
3 Years
Commercial Engine Warranty
3 Years
Pump
Pump Type
Triplex Plunger
Chemical Injection
Down-Stream
Consumer Pump Warranty
5 Years
Commercial Pump Warranty
5 Years
Housing
Hose
Hose Material
Wire Reinforced
Hose Connections
Quick-Connect
Spray Gun
Spray Gun Connection
Quick-Connect
Spray Gun Grade
Professional
Spray Gun Wand
Single Wand
Spray Tips
Quick Connect Tips (5)
Turbo Nozzle
Sold Separately
Overview
Consumer Warranty
90 Days
Commercial Warranty
90 Days
Product Length
28.5 Inches
Product Height
26.25 Inches
Additional Model Numbers
DXPW60605, 60605
Specifications
Engine
Fuel Tank Size
1.6 Gallons
Consumer Engine Warranty
3 Years
Commercial Engine Warranty
3 Years
Pump
Pump Type
Triplex Plunger
Chemical Injection
Down-Stream
Consumer Pump Warranty
5 Years
Commercial Pump Warranty
5 Years
Housing
Hose
Hose Material
Wire Reinforced
Hose Connections
Quick-Connect
Spray Gun
Spray Gun Connection
Quick-Connect
Spray Gun Grade
Professional
Spray Gun Wand
Single Wand
Spray Tips
Quick Connect Tips (5)
Turbo Nozzle
Sold Separately
Overview
Consumer Warranty
90 Days
Commercial Warranty
90 Days
Product Length
28.5 Inches
Product Height
26.25 Inches
Additional Model Numbers
DXPW60605, 60605
Search Product Q&A's
Answered by Jim. the Pressure Washer Expert
Does the motor only run when activated by trigger on wand?
John C.
from New York
May 16, 2018
Answer
This motor will keep running once the unit is turned on. This unit is not equipped with an auto-start/stop.
Was this answer helpful?
Yes
4
No
0
what kind of gas do i use ? Do I need a gas treatment ?
Rose Moore-rajab
from Georgia
May 15, 2015
Answer
Clean fresh unleaded gasoline
A minimum of 87 octane
Gasoline with up to 10% ethanol is acceptable

You can find all these details in the owners manual located under the specs tab.
Was this answer helpful?
Yes
0
No
0
What CAT model pump is on this machine?
Bill Gammel
from New York
April 13, 2015
Answer
This will have a 67DX series CAT pump on it.
Was this answer helpful?
Yes
1
No
0
Expert Recommended Accessories
Hand Picked By Our Expert Jim
Required Accessories
Add All Required
+
Ask Jim, Our Product Expert, A Question!
*Required Fields
+
Thank You For Submitting Your Question
Your submission has been sent successfully. Please give our experts up to two business days to respond.
Media Gallery
DeWalt Professional 4200 PSI (Gas- Cold Water) Pressure Washer w/ Honda GX390 Engine & CAT Pump