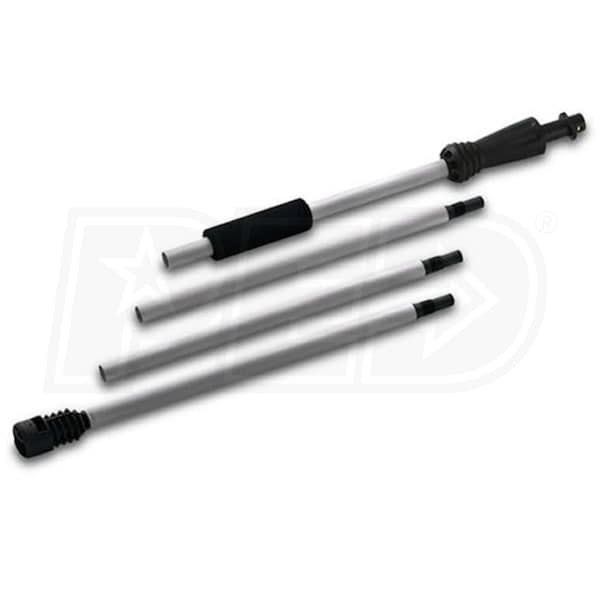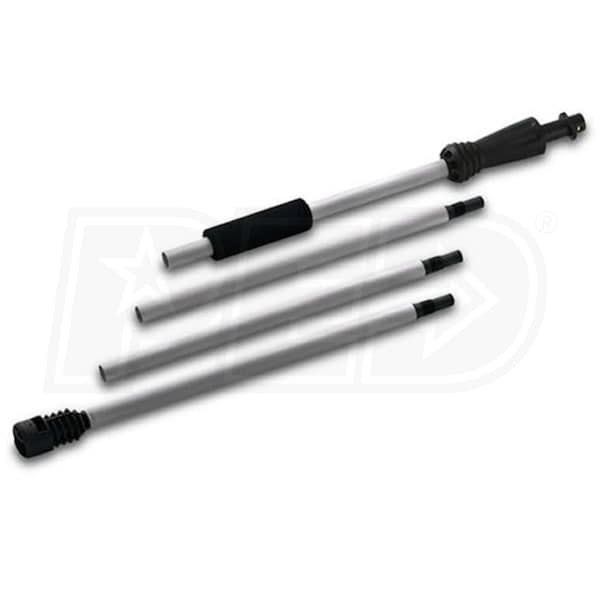 Hover to zoom
1 Of 5
Karcher 4 Piece Wand Extension Set (Bayonet)
Product Description

Specs

22

Reviews

3

Product Q&A

Recommended Accessories

How-To Articles
Grade

Style

Inflow
Karcher Bayonet (Male)
Outflow
Karcher Bayonet (Female)
Inflow
Karcher Bayonet (Male)
Outflow
Karcher Bayonet (Female)
Features
Features
Karcher Compatible

Exclusively designed for Karcher electric (not gas) washers

Extend Your Reach

Will NOT connect to other electric pressure washers

Perfect for cleaning second story windows and large vehicles

Will NOT connect to gas-powered pressure washers

Four Extension Pieces

Use 1, 2, or 3 sections; use all 4 sections for 67 inches

Then add your existing nozzle or accessory

Accepts Other Karcher Accessories (not included)

Use with Underbody Wand to clean gutters without a ladder

Use with Rotating Brush to clean tall RVs & basketball backboards
Specifications
Accessories
Accessory Style
Karcher Electric
Inflow
Karcher Bayonet (Male)
Outflow
Karcher Bayonet (Female)
Extension Length
67 Inches
Overview
Consumer Warranty
90 Days
Grade

Style

Inflow
Karcher Bayonet (Male)
Outflow
Karcher Bayonet (Female)
Inflow
Karcher Bayonet (Male)
Outflow
Karcher Bayonet (Female)
Features
Features
Karcher Compatible

Exclusively designed for Karcher electric (not gas) washers

Extend Your Reach

Will NOT connect to other electric pressure washers

Perfect for cleaning second story windows and large vehicles

Will NOT connect to gas-powered pressure washers

Four Extension Pieces

Use 1, 2, or 3 sections; use all 4 sections for 67 inches

Then add your existing nozzle or accessory

Accepts Other Karcher Accessories (not included)

Use with Underbody Wand to clean gutters without a ladder

Use with Rotating Brush to clean tall RVs & basketball backboards
Specifications
Accessories
Accessory Style
Karcher Electric
Inflow
Karcher Bayonet (Male)
Outflow
Karcher Bayonet (Female)
Extension Length
67 Inches
Overview
Consumer Warranty
90 Days
Specifications
Accessories
Accessory Style
Karcher Electric
Inflow
Karcher Bayonet (Male)
Outflow
Karcher Bayonet (Female)
Extension Length
67 Inches
Overview
Consumer Warranty
90 Days
Search Product Q&A's
Answered by Jim. the Pressure Washer Expert
How long is the extension lance ?
Chinook
from
November 03, 2012
Answer
This extension lance set is 67 inches long.
Was this answer helpful?
Yes
0
No
0
What is the difference between a Lance and an extension. Will a Lance fit on a electric pressure washer.(Karcher)
Shelly
from
August 31, 2012
Answer
Not much......You can actually have a spray lance and/or an extension lance. A spray lance will have some sort of nozzle on the end and an extension lance just extends/adds on to the length of the spray lance.
An AR brand extension lance will not work with any Karcher electric pressure washers.
Follow the links below to find extension and spray lances for Karcher electric pressure washers. See below:
Karcher Spray Lances
Karcher Extension Lance
Let me know if you have any further questions.
Was this answer helpful?
Yes
0
No
0
I just bought a Karcher electric 1,800 PSI pressure washer, K 3.48 M and want to double check to make sure this is the correct extension for my model. Thanks!
Kristin Smith
from California
April 24, 2011
Answer
Yes, this Karcher extension wand is definitely compatible with your model pressure washer along will all Karcher electric models.
Was this answer helpful?
Yes
0
No
0
Expert Recommended Accessories
Hand Picked By Our Expert Jim
Required Accessories
Add All Required
+
Ask Jim, Our Product Expert, A Question!
*Required Fields
+
Thank You For Submitting Your Question
Your submission has been sent successfully. Please give our experts up to two business days to respond.
Media Gallery
Karcher 4 Piece Wand Extension Set (Bayonet)