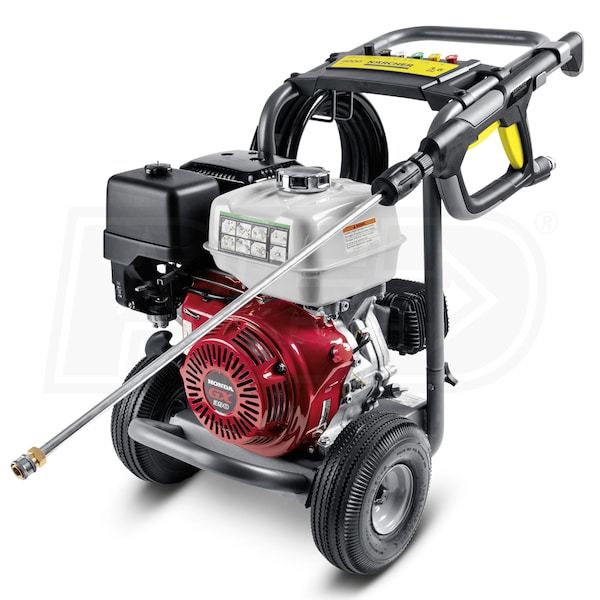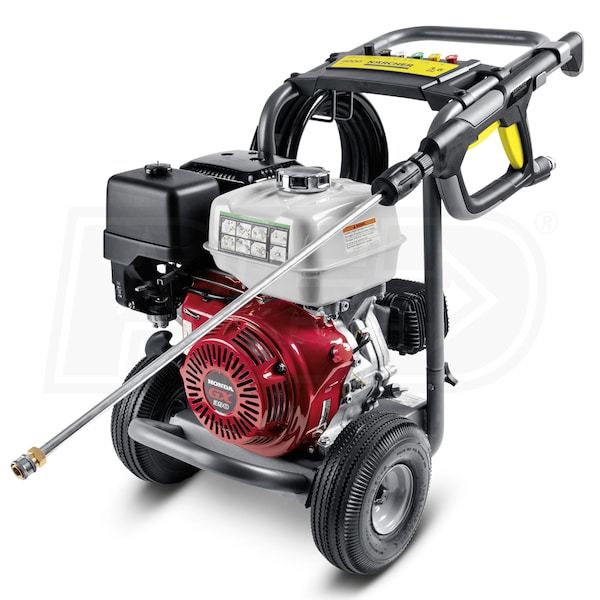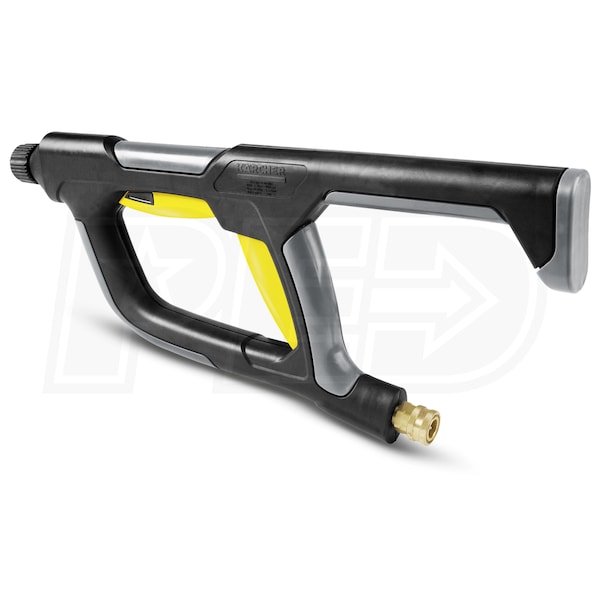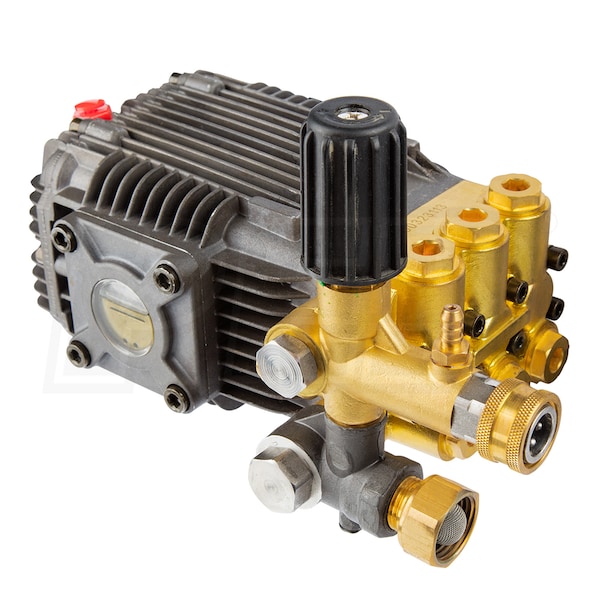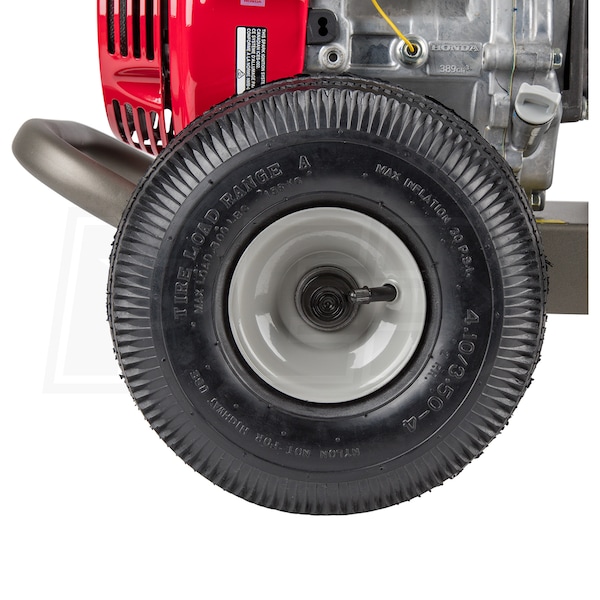 Hover to zoom
1 Of 5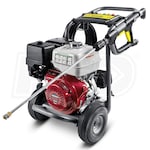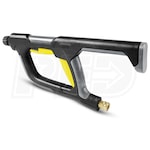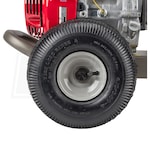 Karcher 4000 PSI (Gas-Cold Water) Pressure Washer w/ Honda GX390 Engine
Product Description

Specs

11

Reviews

3

Product Q&A

Recommended Accessories

How-To Articles

Manuals
Features
Features
High Performance Pressure Washer

Perfect for estates, farms, stables, small business, etc.

Honda GX390 Engine

Powerful commercial-grade 390cc engine blasts through tough jobs

Revolutionary Remote Pressure Control

Adjust the pressure right on the wand

No need to stop & walk back to the unit to change the pressure

Karcher Industrial Grade Axial Pump

German engineered direct drive with durable brass head

Stainless Steel Spray Wand

Pro style lets you work longer with less fatigue

Patented Karcher quick connect nozzles: 0°, 15°, 25°, 40° & soap

50 feet of high quality, non-marking rubber hose

Low Profile Frame

Chip resistant crinkle finish, compact and easy to transport

12" pneumatic tires easily take on tough terrain

Actual Color Of Unit May Be Different Than Pictured

Engine cover may be red or black
Specifications
Engine
Fuel Tank Size
1.6 Gallons
Consumer Engine Warranty
2 Years
Pump
Chemical Injection
Siphon Tube
Consumer Pump Warranty
2 Years
Housing
Hose
Spray Gun
Spray Gun Grade
Professional
Spray Gun Wand
Single Wand
Spray Tips
Quick Connect Tips (5)
Turbo Nozzle
Sold Separately
Overview
Consumer Warranty
90 Days
Product Length
36.5 Inches
Product Width
23.5 Inches
Product Height
30.5 Inches
Additional Model Numbers
G4000OH, 1.194-801.0
Features
Features
High Performance Pressure Washer

Perfect for estates, farms, stables, small business, etc.

Honda GX390 Engine

Powerful commercial-grade 390cc engine blasts through tough jobs

Revolutionary Remote Pressure Control

Adjust the pressure right on the wand

No need to stop & walk back to the unit to change the pressure

Karcher Industrial Grade Axial Pump

German engineered direct drive with durable brass head

Stainless Steel Spray Wand

Pro style lets you work longer with less fatigue

Patented Karcher quick connect nozzles: 0°, 15°, 25°, 40° & soap

50 feet of high quality, non-marking rubber hose

Low Profile Frame

Chip resistant crinkle finish, compact and easy to transport

12" pneumatic tires easily take on tough terrain

Actual Color Of Unit May Be Different Than Pictured

Engine cover may be red or black
Specifications
Engine
Fuel Tank Size
1.6 Gallons
Consumer Engine Warranty
2 Years
Pump
Chemical Injection
Siphon Tube
Consumer Pump Warranty
2 Years
Housing
Hose
Spray Gun
Spray Gun Grade
Professional
Spray Gun Wand
Single Wand
Spray Tips
Quick Connect Tips (5)
Turbo Nozzle
Sold Separately
Overview
Consumer Warranty
90 Days
Product Length
36.5 Inches
Product Width
23.5 Inches
Product Height
30.5 Inches
Additional Model Numbers
G4000OH, 1.194-801.0
Specifications
Engine
Fuel Tank Size
1.6 Gallons
Consumer Engine Warranty
2 Years
Pump
Chemical Injection
Siphon Tube
Consumer Pump Warranty
2 Years
Housing
Hose
Spray Gun
Spray Gun Grade
Professional
Spray Gun Wand
Single Wand
Spray Tips
Quick Connect Tips (5)
Turbo Nozzle
Sold Separately
Overview
Consumer Warranty
90 Days
Product Length
36.5 Inches
Product Width
23.5 Inches
Product Height
30.5 Inches
Additional Model Numbers
G4000OH, 1.194-801.0
Search Product Q&A's
Answered by Jim. the Pressure Washer Expert
Hi Bill, Can another brand name pump like General or AR or Cat pump replace the Karcher 4000 axial cam pump? If yes, is it just to take out and change or do you have to modify? Thanks in Advance, Melvin.
Melvin Walters
from Florida
September 29, 2011
Answer
Unfortunately you could not purchase this machine with another brand of pump, meaning the machine could not be customized from the factory. However, you could definitely purchase a General Pump, CAT PUMP, or AR brand pump and install it on this machine with no modifications needed. You would just have to make sure that the replacement pump you purchased accepted a 1" diameter shaft and was designed for a horizontal installation.
Was this answer helpful?
Yes
0
No
0
How does the Karcher compare to something with a general or cat pump? what's the difference between a axial & triplex pump? How much does a new pump for it cost? or to rebuild the one thats on it?
Scott
from Indiana
May 19, 2011
Answer
When it comes to a unit with a General or Cat pump, the difference in quality is going to be much different. It really comes down to the type of pump. The General and Cat pumps are going to be a tri-plex plunger pump made of ceramic. Going to be much more durable as well as a better quality. Axial Cam pumps are made from aluminum and not going to give you the durability you are looking for the long term.

Replacement pumps are typically going to be anywhere from $250-$500. The plus side to a tri-plex pump, you can actually rebuild these, where an axial cam cannot be rebuilt.

Thanks,

Pressure Washers Direct
Was this answer helpful?
Yes
0
No
0
Bill I am going to buy a pressure washer, and the Karcher( 4000) I was told was the best from some friends. I went to a couple of shops and the owners didn't recomend buying the Karcher. What do you think, I just don't want to buy something that won't last.
Bob Bradford
from Oregon
March 27, 2011
Answer
Karcher actually makes really good quality pressure washers, especially their gas models. Karcher uses their own branded German engineered pumps on all of their gas pressure washers. With this model having a Honda GX engine on it, you are absolutely getting a quality pressure washer. You might have heard some negative comments on Karcher products due to an issue Karcher was having a couple years ago with their after sales support. Since then, Karcher has drastically improved their warranty procedures.

I would have no problem at all recommending Karcher's gas models or their higher end electric models. We have had good luck with selling their products.
Was this answer helpful?
Yes
0
No
0
Expert Recommended Accessories
Hand Picked By Our Expert Jim
Required Accessories
Add All Required
+
Ask Jim, Our Product Expert, A Question!
*Required Fields
+
Thank You For Submitting Your Question
Your submission has been sent successfully. Please give our experts up to two business days to respond.
Media Gallery
Karcher 4000 PSI (Gas-Cold Water) Pressure Washer w/ Honda GX390 Engine