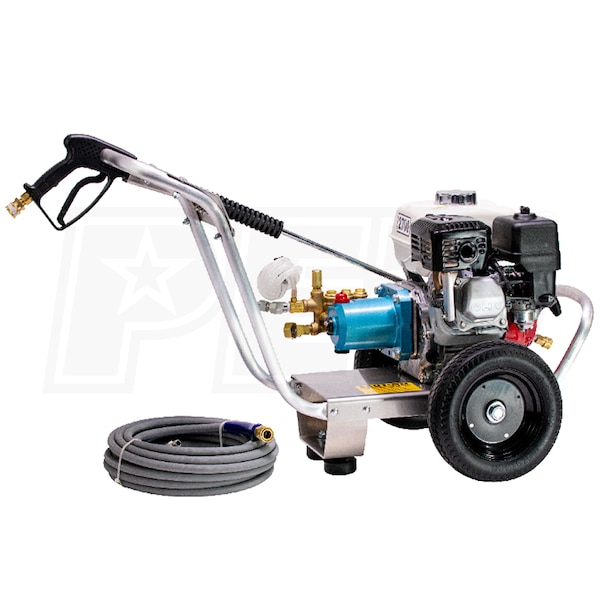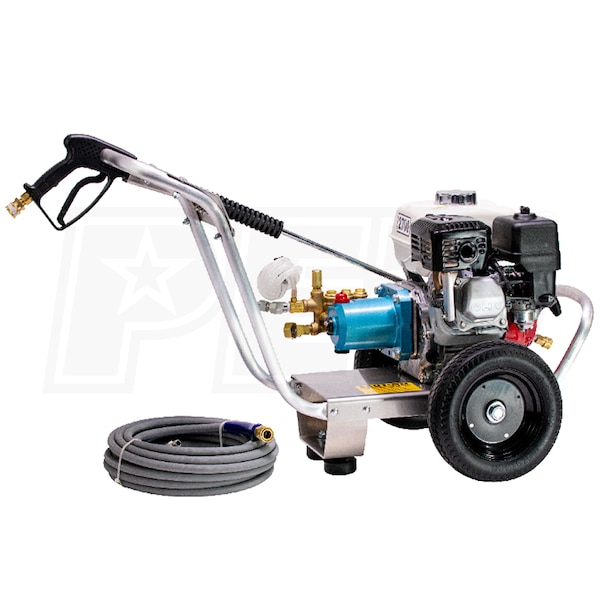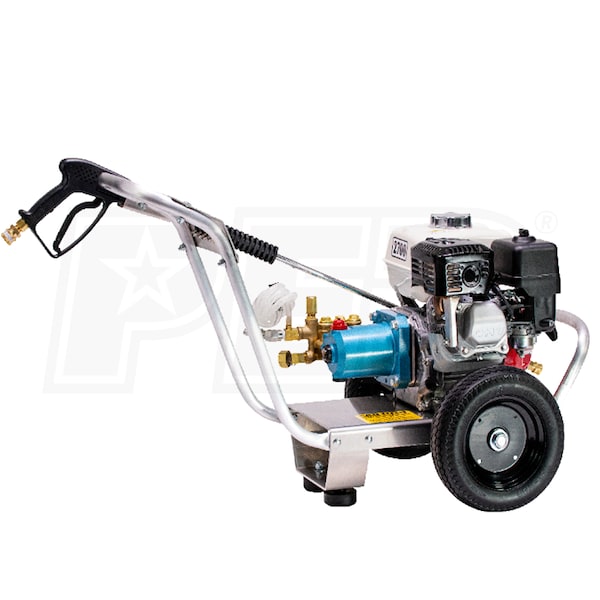 Hover to zoom
1 Of 5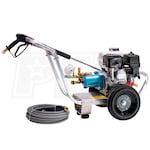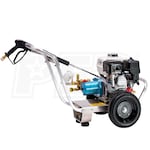 Pressure-Pro Eagle II Series 2700 PSI (Gas-Cold Water) Aluminum Frame Pressure Washer w/ Honda GX200 Engine with CAT Pump
Product Description

Specs

43

Reviews

8

Product Q&A

Recommended Accessories

How-To Articles

Manuals
Features
Features
Pressure-Pro Eagle II Series

Ergonomic design for easy portability with height and balance

Extra-strong, cold rolled hardened axle will not break due to incidental dropping while loading and unloading

Powerful Honda GX200 Engine

Starts easy, runs smoothly, & delivers high output

Oil Alert monitors oil level, makes maintenance easier

CAT Brand Triplex Plunger Pump

Ceramic components run cooler, last longer

Easy to maintain and rebuild

Updated inlet/outlet access for simple hookup

Revolutionary Aircraft Grade Aluminum Frame

Light weight; no welds to crack, break, or fail

Includes lifetime frame warranty

Thermo Sensor

Prevents overheating in bypass mode

Low oil shutdown protects motor and pump

Professional Quality Gun/Wand Assembly

5 quick connect nozzles: 0º, 15º, 25º, 40º, chemical application

50 feet of grey non-marking steel reinforced high pressure hose

NEW Onboard Dash Panel w/ Integrated Gun, Wand & Spray Tips

Keeps spray tips organized and easily accessible

Heavy-duty gun & wand holder for reliability and safety

Never-Flat Wheels

Easily handles rough terrain; reduce noise & vibration

Dual padded shock absorbing feet so the machine does not walk
Specifications
Engine
Fuel Tank Size
0.825 Gallons
Consumer Engine Warranty
3 Years
Commercial Engine Warranty
3 Years
Pump
Pump Type
Triplex Plunger
Chemical Injection
Siphon Tube
Consumer Pump Warranty
2 Years
Commercial Pump Warranty
2 Years
Housing
Hose
Hose Material
Wire Reinforced
Hose Connections
Quick-Connect
Spray Gun
Spray Gun Connection
Quick-Connect
Spray Gun Grade
Professional
Spray Gun Wand
Single Wand
Spray Tips
Quick Connect Tips (5)
Turbo Nozzle
Sold Separately
Overview
Consumer Warranty
90 Days
Commercial Warranty
90 Days
Product Width
21.5 Inches
Features
Features
Pressure-Pro Eagle II Series

Ergonomic design for easy portability with height and balance

Extra-strong, cold rolled hardened axle will not break due to incidental dropping while loading and unloading

Powerful Honda GX200 Engine

Starts easy, runs smoothly, & delivers high output

Oil Alert monitors oil level, makes maintenance easier

CAT Brand Triplex Plunger Pump

Ceramic components run cooler, last longer

Easy to maintain and rebuild

Updated inlet/outlet access for simple hookup

Revolutionary Aircraft Grade Aluminum Frame

Light weight; no welds to crack, break, or fail

Includes lifetime frame warranty

Thermo Sensor

Prevents overheating in bypass mode

Low oil shutdown protects motor and pump

Professional Quality Gun/Wand Assembly

5 quick connect nozzles: 0º, 15º, 25º, 40º, chemical application

50 feet of grey non-marking steel reinforced high pressure hose

NEW Onboard Dash Panel w/ Integrated Gun, Wand & Spray Tips

Keeps spray tips organized and easily accessible

Heavy-duty gun & wand holder for reliability and safety

Never-Flat Wheels

Easily handles rough terrain; reduce noise & vibration

Dual padded shock absorbing feet so the machine does not walk
Specifications
Engine
Fuel Tank Size
0.825 Gallons
Consumer Engine Warranty
3 Years
Commercial Engine Warranty
3 Years
Pump
Pump Type
Triplex Plunger
Chemical Injection
Siphon Tube
Consumer Pump Warranty
2 Years
Commercial Pump Warranty
2 Years
Housing
Hose
Hose Material
Wire Reinforced
Hose Connections
Quick-Connect
Spray Gun
Spray Gun Connection
Quick-Connect
Spray Gun Grade
Professional
Spray Gun Wand
Single Wand
Spray Tips
Quick Connect Tips (5)
Turbo Nozzle
Sold Separately
Overview
Consumer Warranty
90 Days
Commercial Warranty
90 Days
Product Width
21.5 Inches
Specifications
Engine
Fuel Tank Size
0.825 Gallons
Consumer Engine Warranty
3 Years
Commercial Engine Warranty
3 Years
Pump
Pump Type
Triplex Plunger
Chemical Injection
Siphon Tube
Consumer Pump Warranty
2 Years
Commercial Pump Warranty
2 Years
Housing
Hose
Hose Material
Wire Reinforced
Hose Connections
Quick-Connect
Spray Gun
Spray Gun Connection
Quick-Connect
Spray Gun Grade
Professional
Spray Gun Wand
Single Wand
Spray Tips
Quick Connect Tips (5)
Turbo Nozzle
Sold Separately
Overview
Consumer Warranty
90 Days
Commercial Warranty
90 Days
Product Width
21.5 Inches
Search Product Q&A's
Answered by Jim. the Pressure Washer Expert
confused. have a flag lot with long drive, large parking area and two patios. All surfaces are poured concrete, Proibably 4000 sq ft. generally dirt, moss/algae and leaf stains, no paint or oil. Want something efficient with $800 more than I budgeted before doing research. Looking at Simpson 3228, concerned with pump and short hose and water flow. Pressure pro 2533, high pressure, low flow or PP3027 high flow/lower pressure. Any significant jump in flow is out of my budget. Thoughts??
Pat Anderson
from Oregon
June 23, 2016
Answer
You will need 3.0 GPM in order to properly power surface cleaner
GENERAL PUMP MODEL DCFSCP20GZ
. The model you have chosen here will have the proper flow rate, along with a long enough hose to complete your task.
Was this answer helpful?
Yes
0
No
0
I purchased this washer. Love it. But one complaint and maybe you have a solution. How to I keep it from walking and leaving black skid marks on the ground?
Dirk
from Pennsylvania
June 19, 2015
Answer
The tires and rubber feet help absorb vibration, but scuff marks can be annoying.

You might find putting something as simple as a piece of cardboard under the rubber feet will help cut down on scuffing; pieces of fabric-coated neoprene from old can holders work well, too.

If you're having trouble cleaning up the black marks you may find a degreaser works better than water alone.
Was this answer helpful?
Yes
0
No
0
I ordered this Pressure washer. I forgot to check, do I need to order pump oil or anything to go with it? Or does it come with everything I need to run it?
Dirk
from Pennsylvania
June 17, 2015
Answer
It will come ready to run. Just check the oil level and add fresh gasoline.
Was this answer helpful?
Yes
0
No
0
Does this unit have a downstream chemical injector. Or does the detergents, etc go through the pump
Dirk
from Pennsylvania
June 06, 2015
Answer
Yes, this unit comes with a siphon downstream injection system. However, the chemicals will not go through the pump, but it will go through the high pressure hose and spray wand.
Was this answer helpful?
Yes
0
No
0
Two questions, what is the exact pump model? I'm having a hard time finding any CAT pump listed that is rated for 3.0 gpm at 2700 psi. Also what size tip orifice does it have? Is it a 3.5 or 4.0? I'm looking at ordering a turbo tip too and want to get the correct size. Thanks.
Bill
from Michigan
June 03, 2015
Answer
This unit will use a 4.0 orifice spray tip. The turbo nozzle that would operate the best, would be a 4.0 orifice.

Also, this pump is the 4DNX CAT pump. The unloader is adjusted to achieve 3 GPM and 2700 PSI
Was this answer helpful?
Yes
0
No
0
Mike, can you tell me where the service centers are in my area? Merrimack, NH 03054
Al
from New Hampshire
April 26, 2015
Answer
Pressure Pro does not have a nation wide network for their units. However, the Honda engine can be taken to any Honda service center. If it is a pump issue, you would want to give the folks at Pressure Pro a call. They can be reached at (772) 461-4486
Was this answer helpful?
Yes
0
No
0
Any chance I can add my 25' 2600psi hose onto the 50' hose on the 2700psi E3027HC for a 75' line?
Pete Huster
from Ohio
November 07, 2014
Answer
Yes, you can use any 3/8" diameter hose with Quick Connects to extend your current hose. For this unit, I would recommend the MTM Hydro 25FT hose model 29.0121. I have attached a link for you to view the model I am recommending.
25FT MTM Hydro Hose
Was this answer helpful?
Yes
0
No
0
what model cat pump is on the pressure=pro model #3027H and does it come with adjustable pressure?
Mike Galassini
from Florida
May 16, 2011
Answer
The pump on this model should be a 3DX or close to. The pressure would be adjustable on this unit.

Thanks,

Pressure Washers Direct
Was this answer helpful?
Yes
0
No
0
Expert Recommended Accessories
Hand Picked By Our Expert Jim
Required Accessories
Add All Required
+
Ask Jim, Our Product Expert, A Question!
*Required Fields
+
Thank You For Submitting Your Question
Your submission has been sent successfully. Please give our experts up to two business days to respond.
Media Gallery
Pressure-Pro Eagle II Series 2700 PSI (Gas-Cold Water) Aluminum Frame Pressure Washer w/ Honda GX200 Engine with CAT Pump