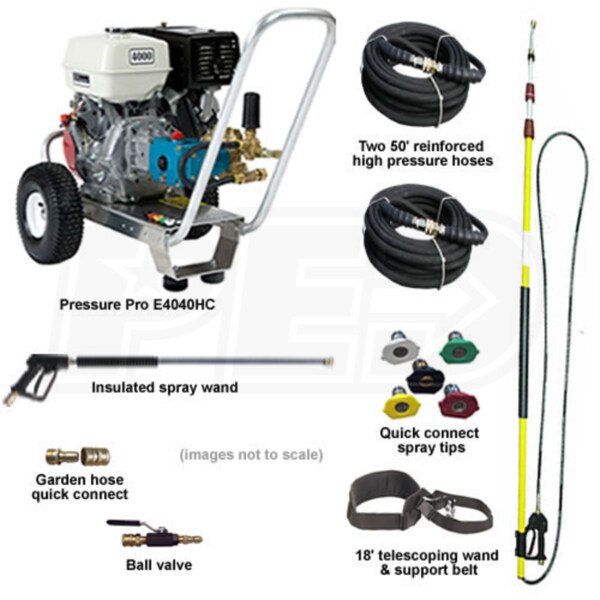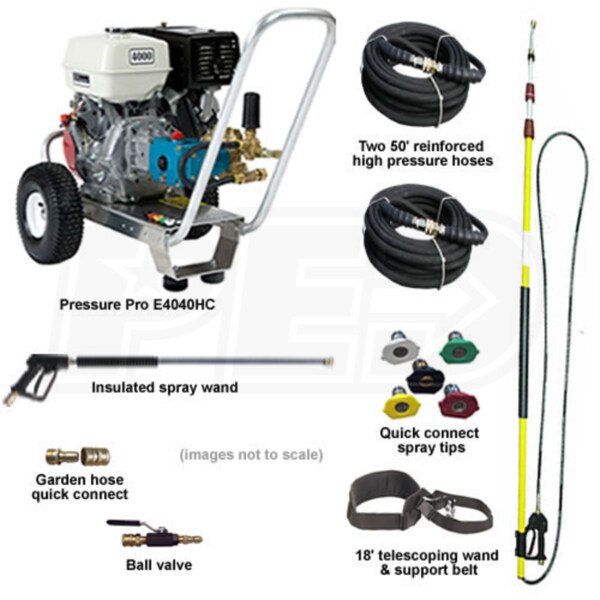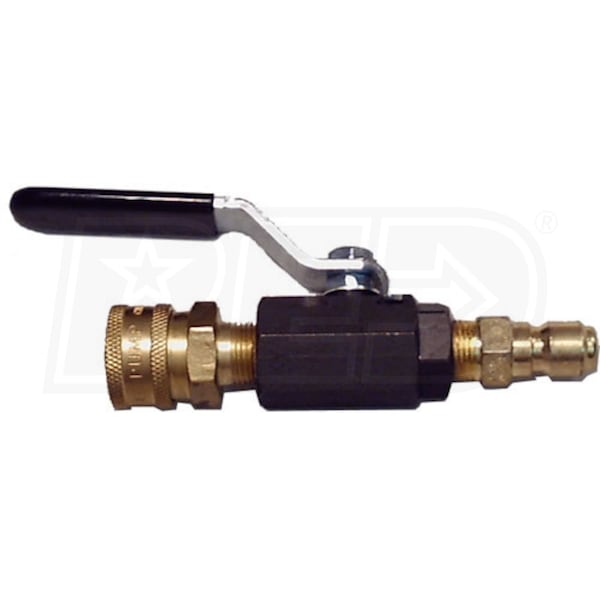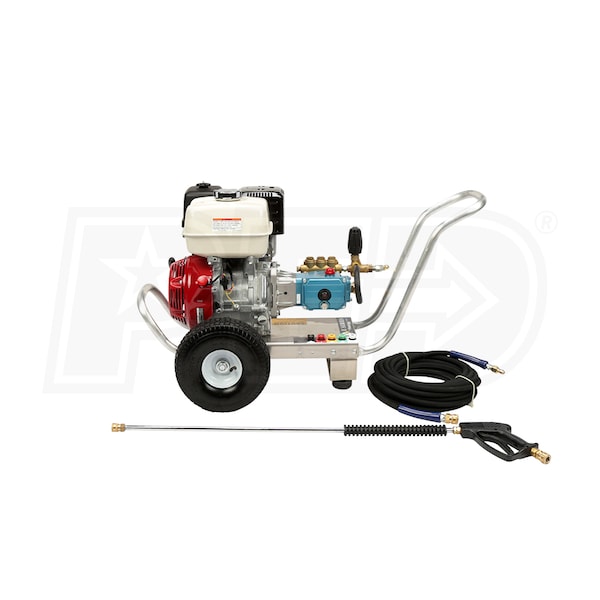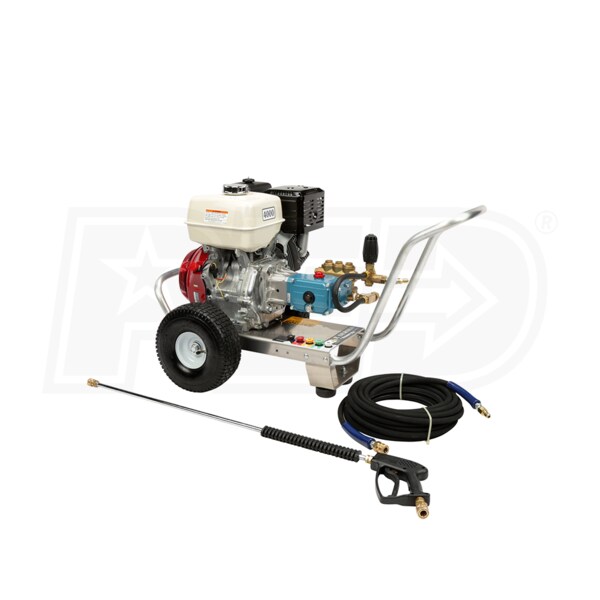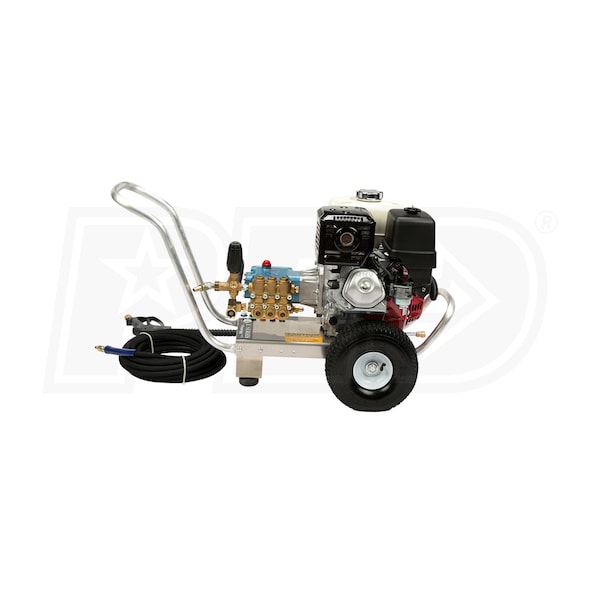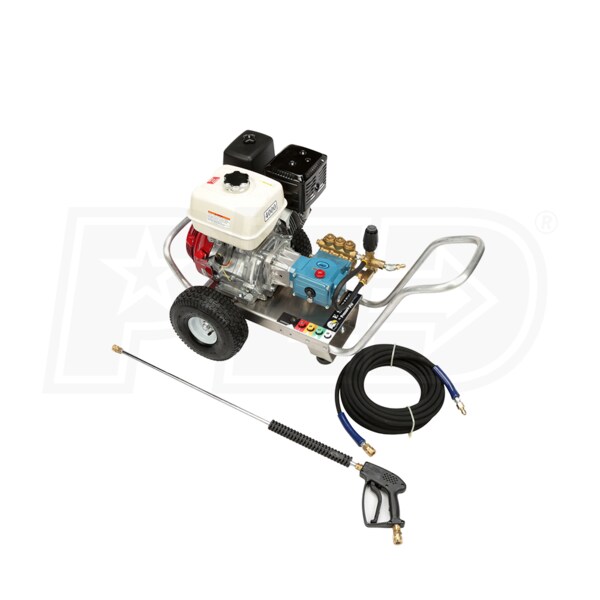 Hover to zoom
1 Of 5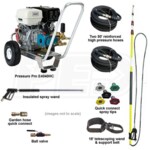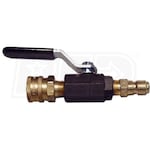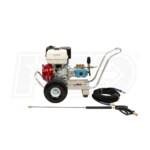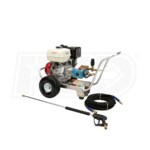 Pressure-Pro 4000PSI Basic Start Your Own Pressure Washing Business Kit w/ Aluminum Frame, Honda GX Engine & CAT Pump
Product Description

Specs

18

Reviews

3

Product Q&A

Recommended Accessories

How-To Articles

Manuals
Features
Features
Start Your Own Business With Quality Equipment

One easy order starts you working right away

Pressure Pro E4040HC Eagle Cold Water Pressure Washer

13 HP Honda GX commercial engine starts easy, runs quiet

Aircraft aluminum cart is rust-free with lifetime warranty

CAT brand direct-drive triplex pump is durable & rebuildable

Adjustable pressure & thermal relief valve for all kinds of jobs

36" Insulated Pro Lance With Molded Grips

Work longer with less fatigue

5 quick connect nozzles: 0º, 15º, 25º, 40º, chemical application

Two 50 Foot Steel Braid Hoses With Quick Connects

Abrasion resistant and flexible for easy handling

Join the hoses for 100 feet of cleaning area

18' Telescoping Fiberglass Extension Wand With Belt

Clean heights safely and efficiently

Ball Valve

Helps you work efficiently

Switch wands or hoses without shutting down your pressure washer

Garden Hose Quick Connect

Easy hookup to water supply with no busted knuckles
Specifications
Engine
Fuel Tank Size
1.6 Gallons
Consumer Engine Warranty
3 Years
Commercial Engine Warranty
3 Years
Pump
Pump Type
Triplex Plunger
Chemical Injection
Siphon Tube
Consumer Pump Warranty
2 Years
Commercial Pump Warranty
2 Years
Housing
Hose
Hose Material
Wire Reinforced
Hose Connections
Quick-Connect
Spray Gun
Spray Gun Connection
Quick-Connect
Spray Gun Grade
Professional
Spray Gun Wand
Single Wand
Spray Tips
Quick Connect Tips (5)
Turbo Nozzle
Sold Separately
Overview
Consumer Warranty
90 Days
Commercial Warranty
90 Days
Features
Features
Start Your Own Business With Quality Equipment

One easy order starts you working right away

Pressure Pro E4040HC Eagle Cold Water Pressure Washer

13 HP Honda GX commercial engine starts easy, runs quiet

Aircraft aluminum cart is rust-free with lifetime warranty

CAT brand direct-drive triplex pump is durable & rebuildable

Adjustable pressure & thermal relief valve for all kinds of jobs

36" Insulated Pro Lance With Molded Grips

Work longer with less fatigue

5 quick connect nozzles: 0º, 15º, 25º, 40º, chemical application

Two 50 Foot Steel Braid Hoses With Quick Connects

Abrasion resistant and flexible for easy handling

Join the hoses for 100 feet of cleaning area

18' Telescoping Fiberglass Extension Wand With Belt

Clean heights safely and efficiently

Ball Valve

Helps you work efficiently

Switch wands or hoses without shutting down your pressure washer

Garden Hose Quick Connect

Easy hookup to water supply with no busted knuckles
Specifications
Engine
Fuel Tank Size
1.6 Gallons
Consumer Engine Warranty
3 Years
Commercial Engine Warranty
3 Years
Pump
Pump Type
Triplex Plunger
Chemical Injection
Siphon Tube
Consumer Pump Warranty
2 Years
Commercial Pump Warranty
2 Years
Housing
Hose
Hose Material
Wire Reinforced
Hose Connections
Quick-Connect
Spray Gun
Spray Gun Connection
Quick-Connect
Spray Gun Grade
Professional
Spray Gun Wand
Single Wand
Spray Tips
Quick Connect Tips (5)
Turbo Nozzle
Sold Separately
Overview
Consumer Warranty
90 Days
Commercial Warranty
90 Days
Specifications
Engine
Fuel Tank Size
1.6 Gallons
Consumer Engine Warranty
3 Years
Commercial Engine Warranty
3 Years
Pump
Pump Type
Triplex Plunger
Chemical Injection
Siphon Tube
Consumer Pump Warranty
2 Years
Commercial Pump Warranty
2 Years
Housing
Hose
Hose Material
Wire Reinforced
Hose Connections
Quick-Connect
Spray Gun
Spray Gun Connection
Quick-Connect
Spray Gun Grade
Professional
Spray Gun Wand
Single Wand
Spray Tips
Quick Connect Tips (5)
Turbo Nozzle
Sold Separately
Overview
Consumer Warranty
90 Days
Commercial Warranty
90 Days
Search Product Q&A's
Answered by Jim. the Pressure Washer Expert
Hi Mike, I'm starting a mobile RV detailing business...which power washer would give me the best value and reliability for the buck. Thanks
G Parker
from Texas
July 11, 2016
Answer
The Start Your Own Business kits are a great value, and would let you do many different kinds of cleaning.
No matter what brand you choose, I would recommend a Honda commercial grade GX engine and a triplex plunger pump since they will last a long time- if you take care of them.They will cost a little more up front, but will deliver the day in, day out performance you'll need to keep your business going.
Once you find a brand that fits the bill, I would also suggest using our
Service Center Locator
to make sure there is Warranty Service in your area. Getting local help when you need it is important when you're running your own business.
To clean large vehicles efficiently you may want to also check into a
Detergent Foamer
.
Good luck with your new business!
Was this answer helpful?
Yes
0
No
0
Hi mike my name is Gus I'm looking for a pressure washer that can clean solar panels which one would you recommend... Or this ones would do it?
Guss
from California
October 16, 2014
Answer
This would be a great choice for you. The Honda Engine paired with the CAT pump is the best in the industry today. Also, different manufactures require different cleaning requirements, and this unit has the ability to be adjusted down to approximately 500 PSI. I would not hesitate to recommend this unit for your application.
Was this answer helpful?
Yes
0
No
0
How much gas does the pressure-pro 4040 hold?
Scott
from California
March 25, 2013
Answer
The fuel tank on this model pressure washer holds 6.4 quarts.
Was this answer helpful?
Yes
0
No
0
Expert Recommended Accessories
Hand Picked By Our Expert Jim
Required Accessories
Add All Required
+
Ask Jim, Our Product Expert, A Question!
*Required Fields
+
Thank You For Submitting Your Question
Your submission has been sent successfully. Please give our experts up to two business days to respond.
Media Gallery
Pressure-Pro 4000PSI Basic Start Your Own Pressure Washing Business Kit w/ Aluminum Frame, Honda GX Engine & CAT Pump