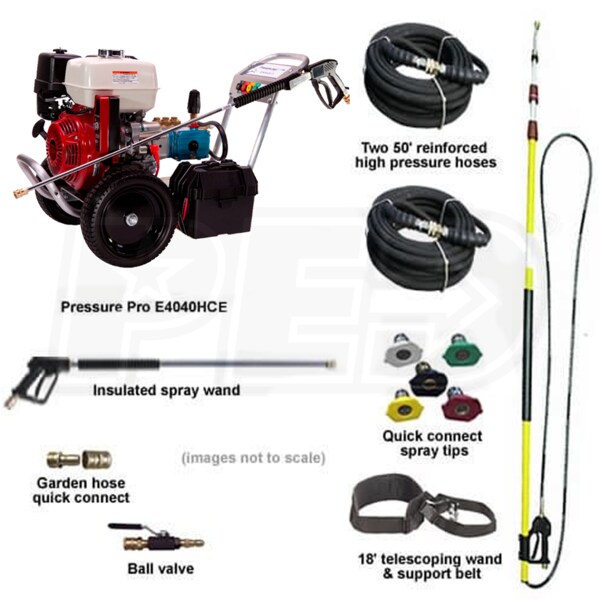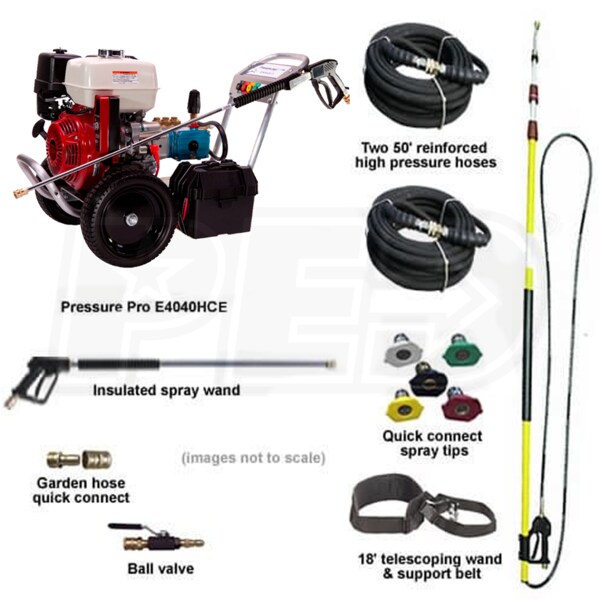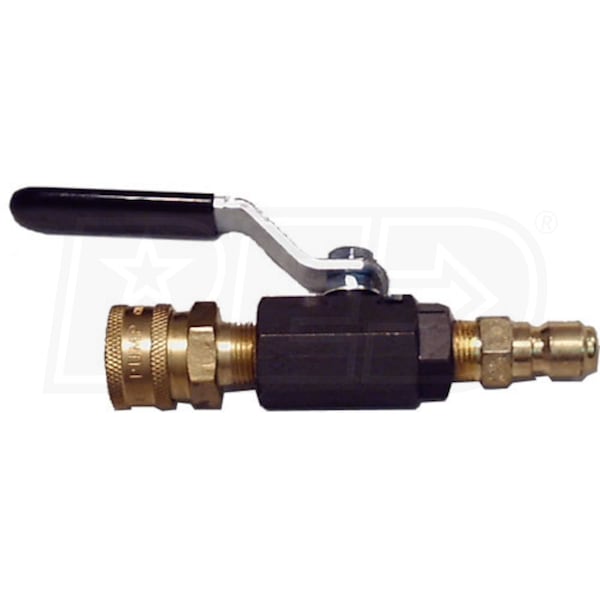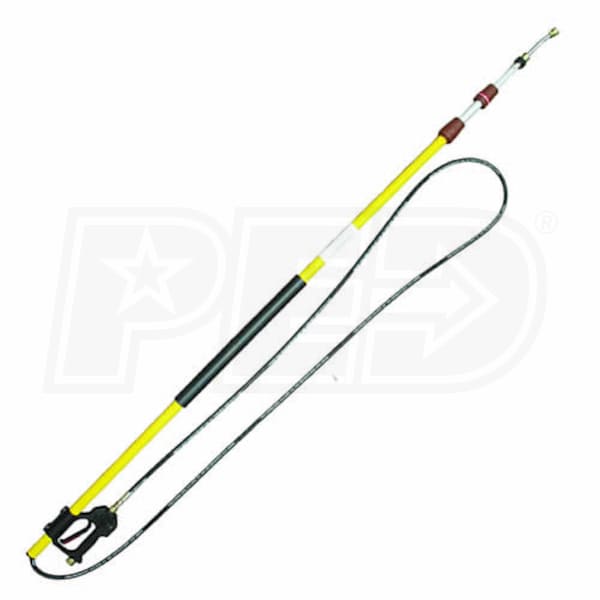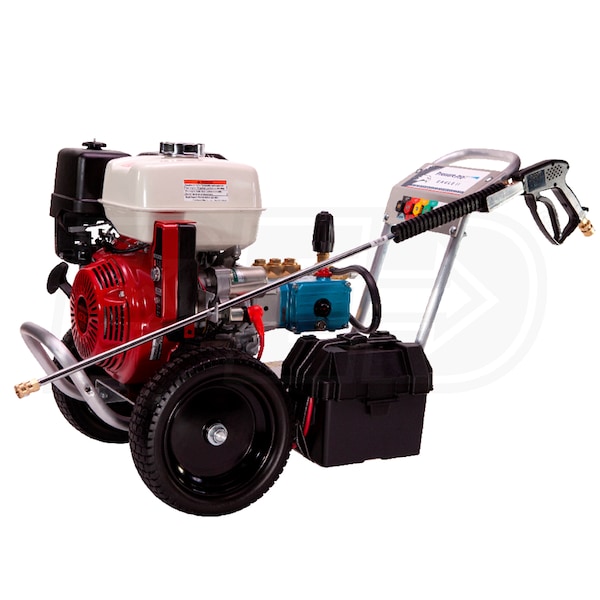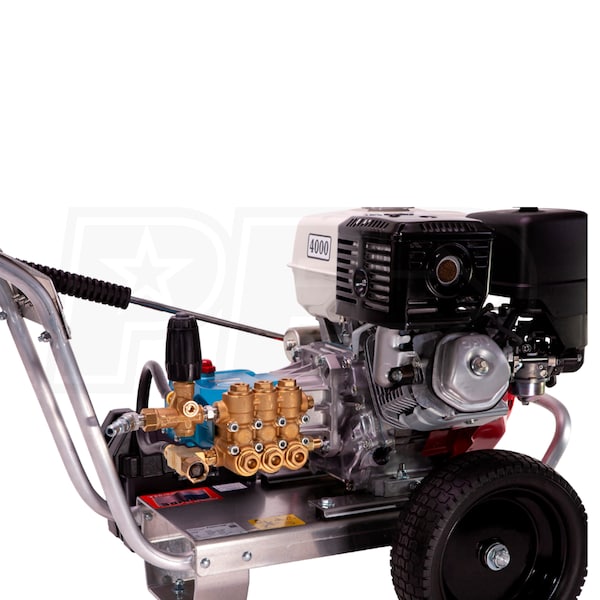 Hover to zoom
1 Of 5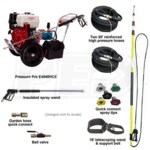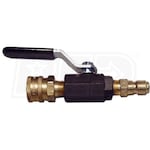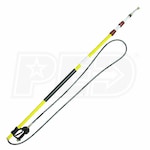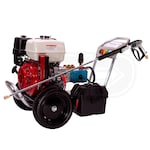 Pressure-Pro 4000PSI Basic Start Your Own Pressure Washing Business Kit w/ Aluminum Frame, CAT Pump & Electric Start Honda GX390 Engine
Product Description

Specs

6

Reviews

2

Product Q&A

Recommended Accessories

How-To Articles

Manuals
Features
Features
Start Your Own Business With Quality Equipment

One easy order starts you working right away

Aircraft aluminum cart is rust-free with lifetime warranty

Extra-strong, cold rolled hardened axle will not break due to incidental dropping while loading and unloading

Powerful Honda GX390 13 HP Engine w/ Electric Start

Starts easy, runs smoothly, & delivers high output

Precision engineered components result in lower vibration

12V Battery and marine battery box are included

CAT Brand Triplex Plunger Pump

Easy to maintain and rebuildable

Updated inlet/outlet access for simple hookup

Adjustable pressure & thermal relief valve for all kinds of jobs

36" Insulated Pro Lance With Molded Grips

Work longer with less fatigue

5 quick connect nozzles: 0º, 15º, 25º, 40º, chemical application

Ball valve lets you swap nozzles or hoses while unit is running

Two 50-Foot Steel Braid Hoses With Quick Connects

Abrasion resistant and flexible for easy handling

Join the hoses for 100 feet of cleaning area

18' Telescoping Fiberglass Extension Wand With Belt

Clean heights safely and efficiently

NEW Onboard Dash Panel w/ Integrated Gun, Wand & Spray Tips

Keeps spray tips organized and easily accessible

Heavy-duty gun & wand holder for reliability and safety

Never-Flat Wheels

Easily handles rough terrain; reduce noise & vibration

Dual padded shock absorbing feet so the machine does not walk
Specifications
Engine
Fuel Tank Size
1.6 Gallons
Consumer Engine Warranty
3 Years
Commercial Engine Warranty
3 Years
Pump
Pump Type
Triplex Plunger
Chemical Injection
Down-Stream
Consumer Pump Warranty
2 Years
Commercial Pump Warranty
2 Years
Housing
Hose
Hose Material
Wire Reinforced
Hose Connections
Quick-Connect
Spray Gun
Spray Gun Connection
Quick-Connect
Spray Gun Grade
Professional
Spray Gun Wand
Single Wand
Spray Tips
Quick Connect Tips (5)
Turbo Nozzle
Sold Separately
Overview
Consumer Warranty
90 Days
Commercial Warranty
90 Days
Features
Features
Start Your Own Business With Quality Equipment

One easy order starts you working right away

Aircraft aluminum cart is rust-free with lifetime warranty

Extra-strong, cold rolled hardened axle will not break due to incidental dropping while loading and unloading

Powerful Honda GX390 13 HP Engine w/ Electric Start

Starts easy, runs smoothly, & delivers high output

Precision engineered components result in lower vibration

12V Battery and marine battery box are included

CAT Brand Triplex Plunger Pump

Easy to maintain and rebuildable

Updated inlet/outlet access for simple hookup

Adjustable pressure & thermal relief valve for all kinds of jobs

36" Insulated Pro Lance With Molded Grips

Work longer with less fatigue

5 quick connect nozzles: 0º, 15º, 25º, 40º, chemical application

Ball valve lets you swap nozzles or hoses while unit is running

Two 50-Foot Steel Braid Hoses With Quick Connects

Abrasion resistant and flexible for easy handling

Join the hoses for 100 feet of cleaning area

18' Telescoping Fiberglass Extension Wand With Belt

Clean heights safely and efficiently

NEW Onboard Dash Panel w/ Integrated Gun, Wand & Spray Tips

Keeps spray tips organized and easily accessible

Heavy-duty gun & wand holder for reliability and safety

Never-Flat Wheels

Easily handles rough terrain; reduce noise & vibration

Dual padded shock absorbing feet so the machine does not walk
Specifications
Engine
Fuel Tank Size
1.6 Gallons
Consumer Engine Warranty
3 Years
Commercial Engine Warranty
3 Years
Pump
Pump Type
Triplex Plunger
Chemical Injection
Down-Stream
Consumer Pump Warranty
2 Years
Commercial Pump Warranty
2 Years
Housing
Hose
Hose Material
Wire Reinforced
Hose Connections
Quick-Connect
Spray Gun
Spray Gun Connection
Quick-Connect
Spray Gun Grade
Professional
Spray Gun Wand
Single Wand
Spray Tips
Quick Connect Tips (5)
Turbo Nozzle
Sold Separately
Overview
Consumer Warranty
90 Days
Commercial Warranty
90 Days
Specifications
Engine
Fuel Tank Size
1.6 Gallons
Consumer Engine Warranty
3 Years
Commercial Engine Warranty
3 Years
Pump
Pump Type
Triplex Plunger
Chemical Injection
Down-Stream
Consumer Pump Warranty
2 Years
Commercial Pump Warranty
2 Years
Housing
Hose
Hose Material
Wire Reinforced
Hose Connections
Quick-Connect
Spray Gun
Spray Gun Connection
Quick-Connect
Spray Gun Grade
Professional
Spray Gun Wand
Single Wand
Spray Tips
Quick Connect Tips (5)
Turbo Nozzle
Sold Separately
Overview
Consumer Warranty
90 Days
Commercial Warranty
90 Days
Search Product Q&A's
Answered by Jim. the Pressure Washer Expert
What are the dimensions of the tires?
Margaret Mulberry
from Illinois
March 26, 2015
Answer
The tires on this unit are 11 x 4 x 4
Was this answer helpful?
Yes
0
No
0
Looking at thr presssure-pro ml#e4040hce-htqb . I have a trailer and going to put a 250gal water tank what will I need to connect watwr tank tohave the eater flow to use this unit
Oral Bragg
from Tennessee
June 23, 2011
Answer
The pump on this unit would not be a self priming pump, so you would need to be close to the water source and make sure you have plenty of pressure so you don't get a decrease of water. I would say make this a gravity feed for the tank and you may have to add a booster pump as well, if you need more pressure, because what can happen is when the tank starts to go down on water, you willl start to lose flow.

Thanks,

Pressure Washers Direct
Was this answer helpful?
Yes
0
No
0
Expert Recommended Accessories
Hand Picked By Our Expert Jim
Required Accessories
Add All Required
+
Ask Jim, Our Product Expert, A Question!
*Required Fields
+
Thank You For Submitting Your Question
Your submission has been sent successfully. Please give our experts up to two business days to respond.
Media Gallery
Pressure-Pro 4000PSI Basic Start Your Own Pressure Washing Business Kit w/ Aluminum Frame, CAT Pump & Electric Start Honda GX390 Engine