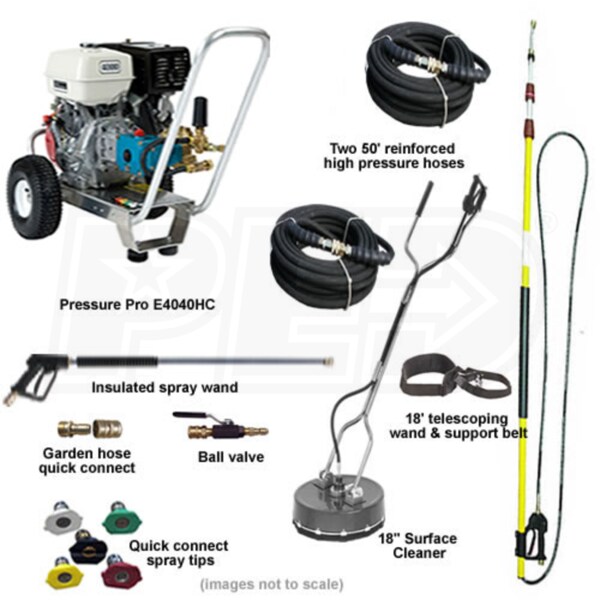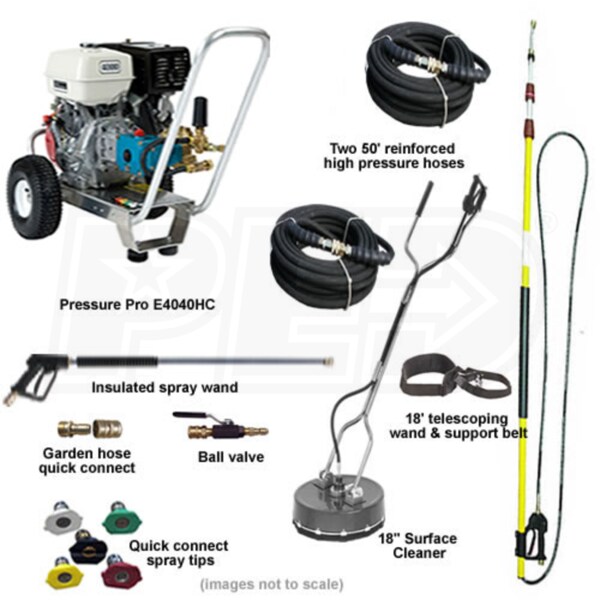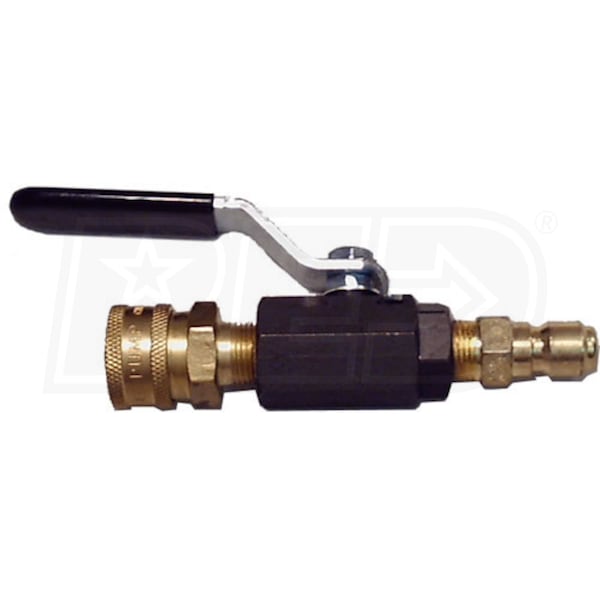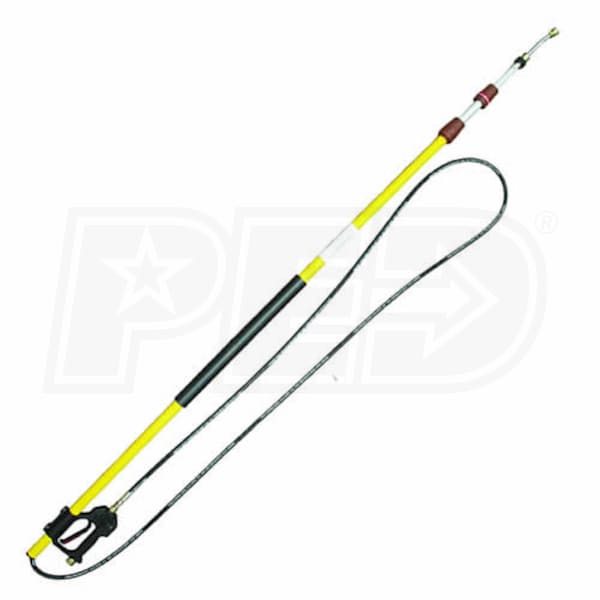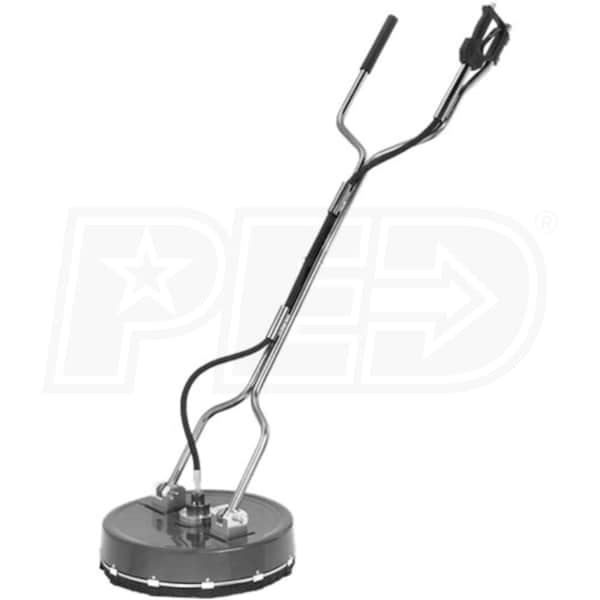 Hover to zoom
1 Of 5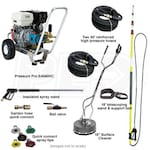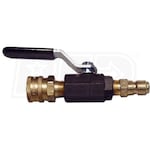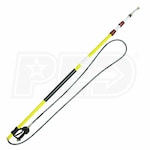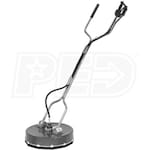 Pressure-Pro 4000PSI Deluxe Start Your Own Pressure Washing Business Kit w/ Aluminum Frame, CAT Pump & Electric Start Honda GX Engine
Product Description

Specs

2

Reviews

2

Product Q&A

Recommended Accessories

How-To Articles

Manuals
Features
Features
Start Your Own Business With Quality Equipment

One easy order starts you working right away

Pressure Pro E4040HC Eagle Cold Water Pressure Washer

13 HP Honda GX commercial engine starts easy, runs quiet

Aircraft aluminum cart is rust-free with lifetime warranty

CAT brand direct-drive triplex pump is durable & rebuildable

Adjustable pressure & thermal relief valve for all kinds of jobs

Electric Start- Battery And Box Included

Just push a button; saves your shoulder- pull start also works

Hammerhead 18" Surface Cleaner w/ ABS Cover

Quickly clean smooth surfaces- sidewalks, floors, docks, etc.

Rotating arm sprays downward so unit hovers & doesn't splash

18' Telescoping Fiberglass Extension Wand With Belt

Clean up high safely without climbing a ladder

Two 50 Foot Steel Braid Reinforced Hoses With Quick Connects

Join the hoses for 100 feet of cleaning area

36" Insulated Pro Lance With Molded Anti-Fatigue Grips

5 quick connect nozzles: 0º, 15º, 25º, 40º, chemical application

Ball valve lets you swap nozzles or hoses while unit is running

Garden hose quick connect saves your knuckles
Specifications
Engine
Starter
12-Volt /w Recoil
Fuel Tank Size
1.6 Gallons
Consumer Engine Warranty
3 Years
Commercial Engine Warranty
3 Years
Pump
Pump Type
Triplex Plunger
Chemical Injection
Siphon Tube
Consumer Pump Warranty
2 Years
Commercial Pump Warranty
2 Years
Housing
Hose
Hose Material
Wire Reinforced
Hose Connections
Quick-Connect
Spray Gun
Spray Gun Connection
Quick-Connect
Spray Gun Grade
Professional
Spray Gun Wand
Single Wand
Spray Tips
Quick Connect Tips (5)
Turbo Nozzle
Sold Separately
Overview
Consumer Warranty
90 Days
Commercial Warranty
90 Days
Features
Features
Start Your Own Business With Quality Equipment

One easy order starts you working right away

Pressure Pro E4040HC Eagle Cold Water Pressure Washer

13 HP Honda GX commercial engine starts easy, runs quiet

Aircraft aluminum cart is rust-free with lifetime warranty

CAT brand direct-drive triplex pump is durable & rebuildable

Adjustable pressure & thermal relief valve for all kinds of jobs

Electric Start- Battery And Box Included

Just push a button; saves your shoulder- pull start also works

Hammerhead 18" Surface Cleaner w/ ABS Cover

Quickly clean smooth surfaces- sidewalks, floors, docks, etc.

Rotating arm sprays downward so unit hovers & doesn't splash

18' Telescoping Fiberglass Extension Wand With Belt

Clean up high safely without climbing a ladder

Two 50 Foot Steel Braid Reinforced Hoses With Quick Connects

Join the hoses for 100 feet of cleaning area

36" Insulated Pro Lance With Molded Anti-Fatigue Grips

5 quick connect nozzles: 0º, 15º, 25º, 40º, chemical application

Ball valve lets you swap nozzles or hoses while unit is running

Garden hose quick connect saves your knuckles
Specifications
Engine
Starter
12-Volt /w Recoil
Fuel Tank Size
1.6 Gallons
Consumer Engine Warranty
3 Years
Commercial Engine Warranty
3 Years
Pump
Pump Type
Triplex Plunger
Chemical Injection
Siphon Tube
Consumer Pump Warranty
2 Years
Commercial Pump Warranty
2 Years
Housing
Hose
Hose Material
Wire Reinforced
Hose Connections
Quick-Connect
Spray Gun
Spray Gun Connection
Quick-Connect
Spray Gun Grade
Professional
Spray Gun Wand
Single Wand
Spray Tips
Quick Connect Tips (5)
Turbo Nozzle
Sold Separately
Overview
Consumer Warranty
90 Days
Commercial Warranty
90 Days
Specifications
Engine
Starter
12-Volt /w Recoil
Fuel Tank Size
1.6 Gallons
Consumer Engine Warranty
3 Years
Commercial Engine Warranty
3 Years
Pump
Pump Type
Triplex Plunger
Chemical Injection
Siphon Tube
Consumer Pump Warranty
2 Years
Commercial Pump Warranty
2 Years
Housing
Hose
Hose Material
Wire Reinforced
Hose Connections
Quick-Connect
Spray Gun
Spray Gun Connection
Quick-Connect
Spray Gun Grade
Professional
Spray Gun Wand
Single Wand
Spray Tips
Quick Connect Tips (5)
Turbo Nozzle
Sold Separately
Overview
Consumer Warranty
90 Days
Commercial Warranty
90 Days
Search Product Q&A's
Answered by Jim. the Pressure Washer Expert
What are the dimensions of the tires?
Margaret Mulberry
from Illinois
March 26, 2015
Answer
The tires on this unit are 11 x 4 x 4
Was this answer helpful?
Yes
0
No
0
Hi mate, we are on the Gold Coast, Australia. .I understand you don't ship internationally, could you recommend a shipping company that you may of dealt with before? Looking to buy a start up package. Cheers
Nick Elliott
from California
January 21, 2013
Answer
I am sorry, but we do not have connections with any shipping companies. That is completely up to the purchaser to research and locate. I wish I had better news.
Was this answer helpful?
Yes
0
No
0
Expert Recommended Accessories
Hand Picked By Our Expert Jim
Required Accessories
Add All Required
+
Ask Jim, Our Product Expert, A Question!
*Required Fields
+
Thank You For Submitting Your Question
Your submission has been sent successfully. Please give our experts up to two business days to respond.
Media Gallery
Pressure-Pro 4000PSI Deluxe Start Your Own Pressure Washing Business Kit w/ Aluminum Frame, CAT Pump & Electric Start Honda GX Engine