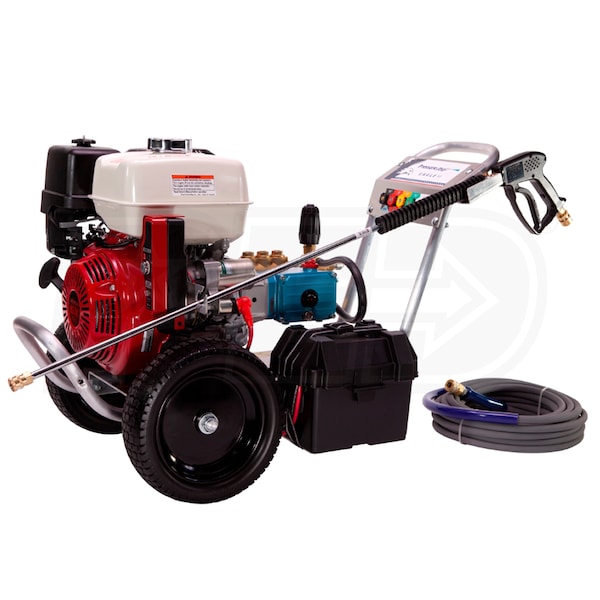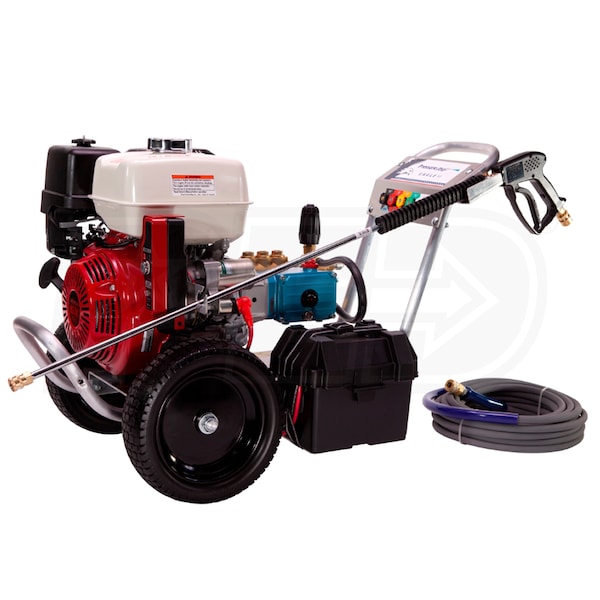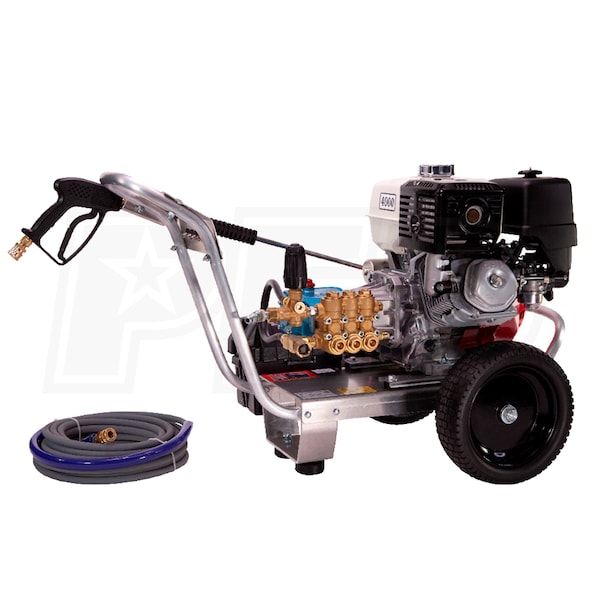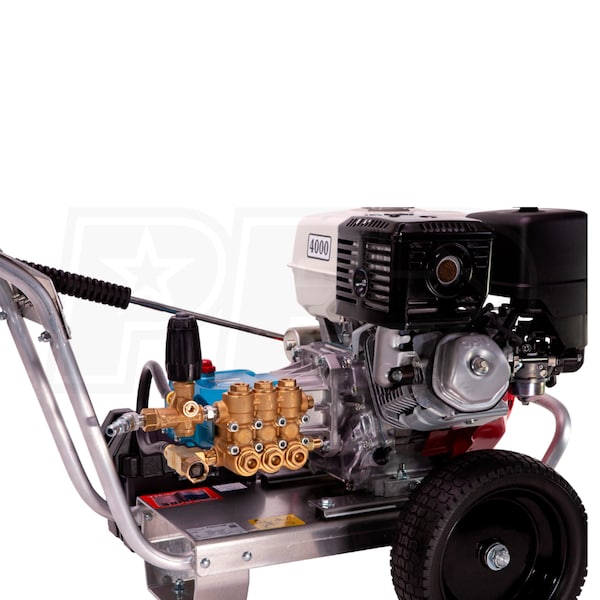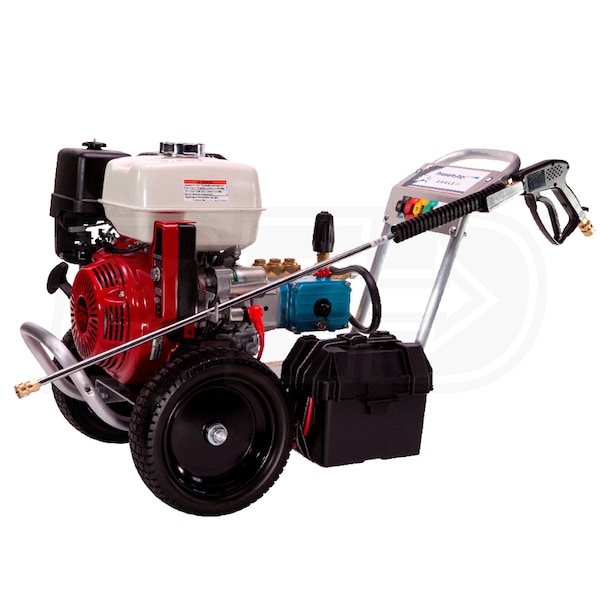 Hover to zoom
1 Of 5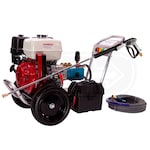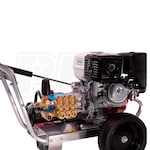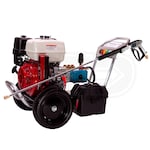 Pressure-Pro Eagle II Series 4000 PSI (Gas-Cold Water) Aluminum Frame Pressure Washer w/ Electric Start Honda GX390 Engine & CAT Pump
Product Description

Specs

12

Reviews

6

Product Q&A

Recommended Accessories

How-To Articles

Manuals
Features
Features
Pressure-Pro Eagle II Series

Ergonomic design for easy portability with height and balance

Extra-strong, cold rolled hardened axle will not break due to incidental dropping while loading and unloading

Powerful Honda GX390 13 HP Engine w/ Electric Start

Starts easy, runs smoothly, & delivers high output

Precision engineered components result in lower vibration

12V Battery and marine battery box are included

CAT Brand Triplex Plunger Pump

Ceramic components run cooler, last longer

Easy to maintain and rebuild

Updated inlet/outlet access for simple hookup

Revolutionary Aircraft Grade Aluminum Frame

Light weight; no welds to crack, break, or fail

Includes lifetime frame warranty

Thermo Sensor

Prevents overheating in bypass mode

Low oil shutdown protects motor and pump

Professional Quality Gun/Wand Assembly

5 quick connect nozzles: 0º, 15º, 25º, 40º, chemical application

50 feet of grey non-marking steel reinforced high pressure hose

NEW Onboard Dash Panel w/ Integrated Gun, Wand & Spray Tips

Keeps spray tips organized and easily accessible

Heavy-duty gun & wand holder for reliability and safety

Never-Flat Wheels

Easily handles rough terrain; reduce noise & vibration

Dual padded shock absorbing feet so the machine does not walk
Specifications
Engine
Starter
12-Volt /w Recoil
Fuel Tank Size
1.6 Gallons
Consumer Engine Warranty
3 Years
Commercial Engine Warranty
3 Years
Pump
Pump Type
Triplex Plunger
Chemical Injection
Down-Stream
Consumer Pump Warranty
2 Years
Commercial Pump Warranty
2 Years
Housing
Hose
Hose Material
Wire Reinforced
Hose Connections
Quick-Connect
Spray Gun
Spray Gun Connection
Quick-Connect
Spray Gun Grade
Professional
Spray Gun Wand
Single Wand
Spray Tips
Quick Connect Tips (5)
Turbo Nozzle
Sold Separately
Overview
Consumer Warranty
90 Days
Commercial Warranty
90 Days
Features
Features
Pressure-Pro Eagle II Series

Ergonomic design for easy portability with height and balance

Extra-strong, cold rolled hardened axle will not break due to incidental dropping while loading and unloading

Powerful Honda GX390 13 HP Engine w/ Electric Start

Starts easy, runs smoothly, & delivers high output

Precision engineered components result in lower vibration

12V Battery and marine battery box are included

CAT Brand Triplex Plunger Pump

Ceramic components run cooler, last longer

Easy to maintain and rebuild

Updated inlet/outlet access for simple hookup

Revolutionary Aircraft Grade Aluminum Frame

Light weight; no welds to crack, break, or fail

Includes lifetime frame warranty

Thermo Sensor

Prevents overheating in bypass mode

Low oil shutdown protects motor and pump

Professional Quality Gun/Wand Assembly

5 quick connect nozzles: 0º, 15º, 25º, 40º, chemical application

50 feet of grey non-marking steel reinforced high pressure hose

NEW Onboard Dash Panel w/ Integrated Gun, Wand & Spray Tips

Keeps spray tips organized and easily accessible

Heavy-duty gun & wand holder for reliability and safety

Never-Flat Wheels

Easily handles rough terrain; reduce noise & vibration

Dual padded shock absorbing feet so the machine does not walk
Specifications
Engine
Starter
12-Volt /w Recoil
Fuel Tank Size
1.6 Gallons
Consumer Engine Warranty
3 Years
Commercial Engine Warranty
3 Years
Pump
Pump Type
Triplex Plunger
Chemical Injection
Down-Stream
Consumer Pump Warranty
2 Years
Commercial Pump Warranty
2 Years
Housing
Hose
Hose Material
Wire Reinforced
Hose Connections
Quick-Connect
Spray Gun
Spray Gun Connection
Quick-Connect
Spray Gun Grade
Professional
Spray Gun Wand
Single Wand
Spray Tips
Quick Connect Tips (5)
Turbo Nozzle
Sold Separately
Overview
Consumer Warranty
90 Days
Commercial Warranty
90 Days
Specifications
Engine
Starter
12-Volt /w Recoil
Fuel Tank Size
1.6 Gallons
Consumer Engine Warranty
3 Years
Commercial Engine Warranty
3 Years
Pump
Pump Type
Triplex Plunger
Chemical Injection
Down-Stream
Consumer Pump Warranty
2 Years
Commercial Pump Warranty
2 Years
Housing
Hose
Hose Material
Wire Reinforced
Hose Connections
Quick-Connect
Spray Gun
Spray Gun Connection
Quick-Connect
Spray Gun Grade
Professional
Spray Gun Wand
Single Wand
Spray Tips
Quick Connect Tips (5)
Turbo Nozzle
Sold Separately
Overview
Consumer Warranty
90 Days
Commercial Warranty
90 Days
Search Product Q&A's
Answered by Jim. the Pressure Washer Expert
I see that warranties are all over the board, for example Consumer warranty this product has a 90 day and I see others different brands with same engine and pump Manufacture have one year. What am I missing?
Ron D
from Illinois
August 15, 2016
Answer
The thing to remember is that Factory Warranties cover defects in materials and workmanship; they don't cover wear and tear. Defects will usually show up early in a product's life.

Overall warranties are the norm for smaller, consumer-grade units. Those will usually be a year or sometimes two. As you move up into commercial units the component warranties take over, like 3 years on Honda GX engines (so you would contact Honda for warranty issues), 2 years on the CAT pump (so you would contact CAT Pumps for warranty issues, and a lifetime frame warranty (you would contact Pressure-Pro for warranty issues).

The 90 day overall Factory Warranty is how long Pressure-Pro will be responsible for all the other bits- hoses, guns, nozzles, tires, etc.
Was this answer helpful?
Yes
0
No
0
Mike, does this unit have a hanger on the frame somewhere to store the hose and wand? By the photo shown, I don't see any.
Mike
from Georgia
July 31, 2016
Answer
The storage kit is sold separately. I have included a link for you. This is for the gun/wand storage.
Model: GHK100
Was this answer helpful?
Yes
0
No
0
John
from Ohio
July 03, 2016
Answer
I checked the manufactures page and manuals and it does not show the listing of the tank size.
Was this answer helpful?
Yes
0
No
1
What are the dimensions of the tires?
Margaret Mulberry
from Illinois
March 26, 2015
Answer
The tires on this unit are 11 x 4 x 4
Was this answer helpful?
Yes
0
No
0
Can you please tell me what size gas tank this model has? Thank you. David
David
from North Carolina
August 22, 2014
Answer
The Honda GX390 engine has a 1.6 gallons (6.4 quarts) fuel capacity gas tank.
Was this answer helpful?
Yes
1
No
0
Mike - I am interested in this pressurepro electric start model, so can you tell me more about the electric start. 1( where does the battery set 2) how large is the battery(I want a lare/standard size as the smaller has not held up well on my previous model) 3) does the battery charge while running or is it a separate charger? Thanks, Rob
Robby Wing, Wing Diagnostics, Inc
from Florida
February 26, 2014
Answer
The battery is a 12V Marine battery, including a battery box they mount to the side of the frame. The Honda Electric Start GX390 does include a charging system that will keep the battery charged while the engine is running. Also, the engine does have a recoil start in addition to the electric start.
Was this answer helpful?
Yes
2
No
0
Expert Recommended Accessories
Hand Picked By Our Expert Jim
Required Accessories
Add All Required
+
Ask Jim, Our Product Expert, A Question!
*Required Fields
+
Thank You For Submitting Your Question
Your submission has been sent successfully. Please give our experts up to two business days to respond.
Media Gallery
Pressure-Pro Eagle II Series 4000 PSI (Gas-Cold Water) Aluminum Frame Pressure Washer w/ Electric Start Honda GX390 Engine & CAT Pump