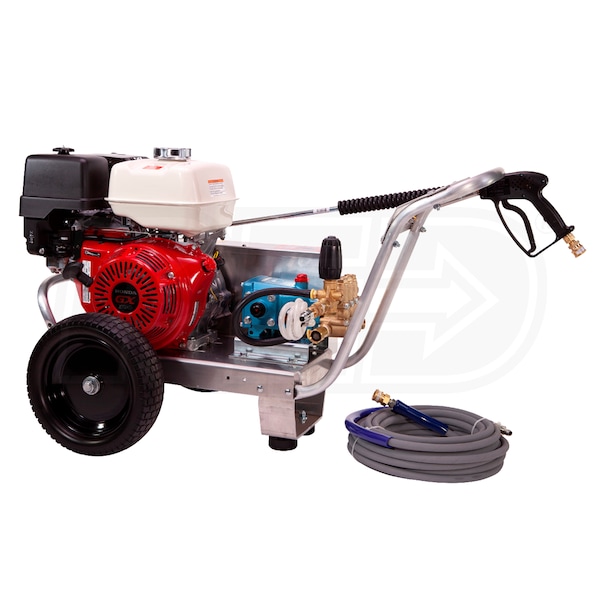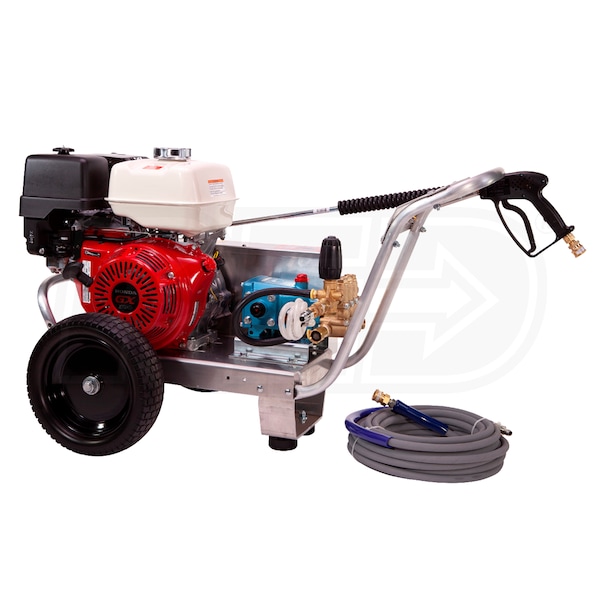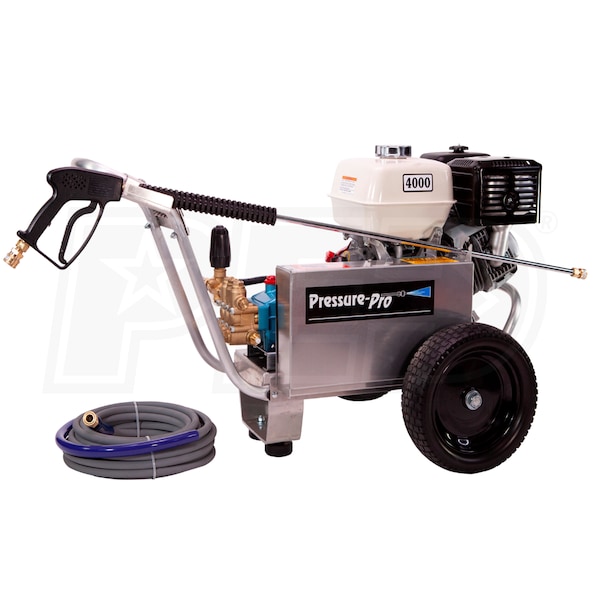 Hover to zoom
1 Of 5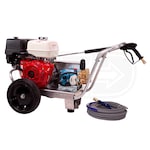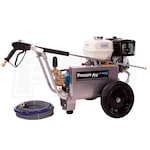 Pressure-Pro Professional 4000 PSI (Gas-Cold Water) Belt-Drive Aluminum Frame Pressure Washer w/ Honda GX390 Engine & CAT Pump
Product Description

Specs

93

Reviews

8

Product Q&A

Recommended Accessories

How-To Articles

Manuals
Features
Features
Pressure-Pro Eagle Series Professional Gas Pressure Washer

Professional cleaning for residential, commercial & industrial applications

Powerful 13-HP Honda GX390 Commercial Grade

Easy to start; quiet and reliable with low oil shutdown

Precision engineered components result in lower vibration

Exclusive CAT Brand Belt Drive Triplex Plunger Pump

Ceramic components & belt drive run cooler, last longer

Siphon tube detergent injection lets you use a wide variety cleaners

General Pulsar Modular Unloader With EZ Start Valve

Allows you to customize the pressure to suit the job

Thermo Sensor prevents overheating in bypass mode

Revolutionary Aircraft Grade Aluminum Frame

Dual padded shock absorbing feet

Lightweight; no welds to crack, break, or fail

Lifetime frame warranty protects your investment

Professional Quality Gun/Wand Assembly

50 feet of steel reinforced QC high-pressure hose

5 quick connect nozzles: 0º, 15º, 25º, 40º, chemical application

Large Flat-Free Wheels

Easily handles rough terrain; reduce noise & vibration

Dual padded shock absorbing feet so the machine does not walk

Manufacturer Limited Warranty

90-day accessories warranty

5-yr CAT pump & 3-yr Honda consumer and commercial warranty
Specifications
Engine
Fuel Tank Size
1.6 Gallons
Consumer Engine Warranty
3 Years
Commercial Engine Warranty
3 Years
Pump
Pump Type
Triplex Plunger
Chemical Injection
Down-Stream
Consumer Pump Warranty
5 Years
Commercial Pump Warranty
5 Years
Housing
Hose
Hose Material
Wire Reinforced
Hose Connections
Quick-Connect
Spray Gun
Spray Gun Connection
Quick-Connect
Spray Gun Grade
Professional
Spray Gun Wand
Single Wand
Spray Tips
Quick Connect Tips (5)
Turbo Nozzle
Sold Separately
Overview
Consumer Warranty
90 Days
Commercial Warranty
90 Days
Features
Features
Pressure-Pro Eagle Series Professional Gas Pressure Washer

Professional cleaning for residential, commercial & industrial applications

Powerful 13-HP Honda GX390 Commercial Grade

Easy to start; quiet and reliable with low oil shutdown

Precision engineered components result in lower vibration

Exclusive CAT Brand Belt Drive Triplex Plunger Pump

Ceramic components & belt drive run cooler, last longer

Siphon tube detergent injection lets you use a wide variety cleaners

General Pulsar Modular Unloader With EZ Start Valve

Allows you to customize the pressure to suit the job

Thermo Sensor prevents overheating in bypass mode

Revolutionary Aircraft Grade Aluminum Frame

Dual padded shock absorbing feet

Lightweight; no welds to crack, break, or fail

Lifetime frame warranty protects your investment

Professional Quality Gun/Wand Assembly

50 feet of steel reinforced QC high-pressure hose

5 quick connect nozzles: 0º, 15º, 25º, 40º, chemical application

Large Flat-Free Wheels

Easily handles rough terrain; reduce noise & vibration

Dual padded shock absorbing feet so the machine does not walk

Manufacturer Limited Warranty

90-day accessories warranty

5-yr CAT pump & 3-yr Honda consumer and commercial warranty
Specifications
Engine
Fuel Tank Size
1.6 Gallons
Consumer Engine Warranty
3 Years
Commercial Engine Warranty
3 Years
Pump
Pump Type
Triplex Plunger
Chemical Injection
Down-Stream
Consumer Pump Warranty
5 Years
Commercial Pump Warranty
5 Years
Housing
Hose
Hose Material
Wire Reinforced
Hose Connections
Quick-Connect
Spray Gun
Spray Gun Connection
Quick-Connect
Spray Gun Grade
Professional
Spray Gun Wand
Single Wand
Spray Tips
Quick Connect Tips (5)
Turbo Nozzle
Sold Separately
Overview
Consumer Warranty
90 Days
Commercial Warranty
90 Days
Specifications
Engine
Fuel Tank Size
1.6 Gallons
Consumer Engine Warranty
3 Years
Commercial Engine Warranty
3 Years
Pump
Pump Type
Triplex Plunger
Chemical Injection
Down-Stream
Consumer Pump Warranty
5 Years
Commercial Pump Warranty
5 Years
Housing
Hose
Hose Material
Wire Reinforced
Hose Connections
Quick-Connect
Spray Gun
Spray Gun Connection
Quick-Connect
Spray Gun Grade
Professional
Spray Gun Wand
Single Wand
Spray Tips
Quick Connect Tips (5)
Turbo Nozzle
Sold Separately
Overview
Consumer Warranty
90 Days
Commercial Warranty
90 Days
Search Product Q&A's
Answered by Jim. the Pressure Washer Expert
Do you sell a pressure washer that can pull fresh water directly from the lake
Willie Whisman
from Tennessee
July 04, 2016
Answer
The Dirt Killer brand pressure washers are able to do this. You would need to buy a special suction kit from them once the pressure washer was ordered from us.
Dirt Killer Gasoline Pressure Washers
Was this answer helpful?
Yes
0
No
0
I can not find a service manual for this CAT pump, searching their website I am unable to find this pump. Can you point me in the right direction?
Houston
from North Carolina
March 03, 2016
Answer
I have included a link to the Spec Sheet for this CAT pump model 5PP3140.
CAT Pump Spec Sheet
For any additional questions on this, please call Pressure Pro at (772) 461-4486.
Was this answer helpful?
Yes
0
No
0
Can you please tell me what size gas tank this model has? Thank you. David
David
from North Carolina
August 22, 2014
Answer
The Honda GX390 engine has a 1.6 gallons (6.4 quarts) fuel capacity gas tank.
Was this answer helpful?
Yes
1
No
0
What pump model is on this pressure washer?
Margaret Mulberry
from Illinois
April 03, 2014
Answer
This comes with a Belt-Driven CAT pump model 5PP3140. This is one of the top pumps in the industry today.
Was this answer helpful?
Yes
1
No
1
Are able to adjust the pressure that pressure washer produces?
Jim
from Delaware
February 27, 2014
Answer
Yes, the CAT pump on this pressure washer has an unloader on it allowing you to dial down the pressure to approximately 500 PSI; making this unit perfect for any task at hand.
Was this answer helpful?
Yes
0
No
0
Does this unit require gravity fed water source or will standing water work?
Nathan
from New York
March 26, 2013
Answer
This pressure washer does somewhat require being gravity feed. You can pull water from a height that is either equal or higher than the pump's inlet. However, you cannot pull water from below the pump's inlet with this pressure washer.
Was this answer helpful?
Yes
1
No
0
is a belt drive that much better
Answer
Yes a belt driven pressure washer is definitely a better quality and more reliable machine than a direct driven pressure washer. The reason they are better is because there is less heat transfer from the engine to the pump resulting in less wear and tear on the pump's seals. Heat is the number 1 killer of seals in a pump. Also, on Pressure Pro belt driven models, the pumps run on a gear reduction pulley system. Meaning the engine will run at 3600 rpms but the pump will spin at 1800 rpms.

Overall a belt driven machine is well worth the extra cost if you plan on using the machine quite frequently. These types of pressure washers can be used on a daily basis and still hold up over time.
Was this answer helpful?
Yes
0
No
0
Hi Bill, Just wondering if you have ever shipped to Australia ? If so, approximate cost. regards Paul Marcus
Paul Marcus
from
April 04, 2011
Answer
Sorry, unfortunately we do not ship products outside of the continental U.S.
Was this answer helpful?
Yes
0
No
0
Expert Recommended Accessories
Hand Picked By Our Expert Jim
Required Accessories
Add All Required
+
Ask Jim, Our Product Expert, A Question!
*Required Fields
+
Thank You For Submitting Your Question
Your submission has been sent successfully. Please give our experts up to two business days to respond.
Media Gallery
Pressure-Pro Professional 4000 PSI (Gas-Cold Water) Belt-Drive Aluminum Frame Pressure Washer w/ Honda GX390 Engine & CAT Pump