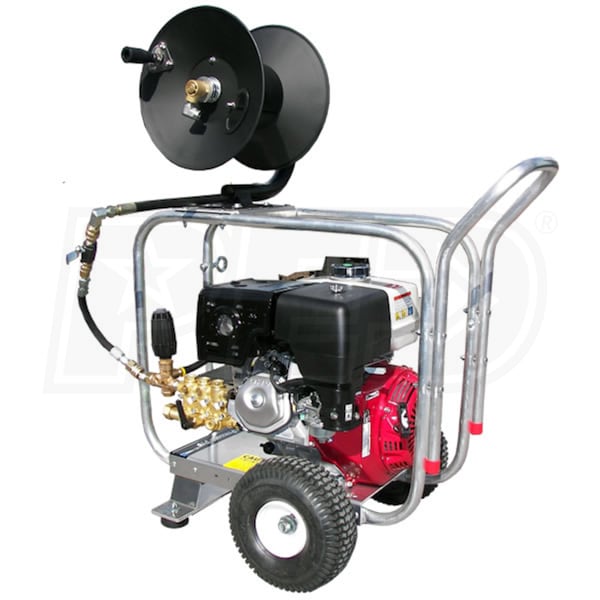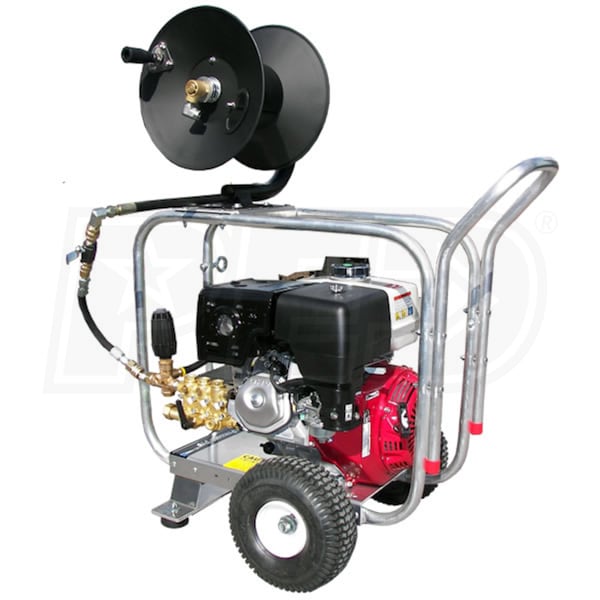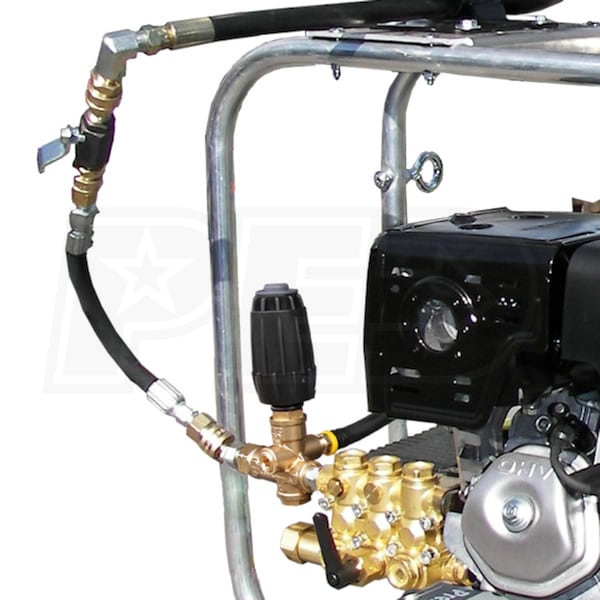 Hover to zoom
1 Of 5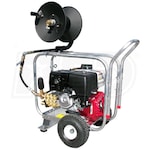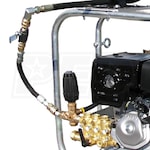 Pressure-Pro Pro-Jet Professional 4000 PSI (Gas - Cold Water) Aluminum Frame Drain Cleaner Jetter w/ Honda Engine
Product Description

Specs

5

Reviews

1

Product Q&A

Recommended Accessories

How-To Articles

Manuals
Features
Features
Pro-Jet Drain Cleaner

Self contained & powerful

Cleans out pipes without damage from moving parts

Honda GX390 Engine

Easy to start & reliable

Smooth performance is exceptionally quiet

Oil Alert

Protects the engine & makes maintenance easier

General Triplex Plunger Pump

Ceramic plungers run cooler & last longer than axial pumps

Adjustable Pressure

Use more or less pressure to suit the pipes you're cleaning

Pulsating Jetter Valve

Pulses the water to help dislodge clogs & debris

Aircraft Aluminum Roll Cage Frame

Lightweight & tough; resists rust & corrosion for long frame life

Hose Reel With Jumper Hose & Ball Valve (3/8" FNPT)

Keeps jetter hose neat & accessible (jetter hose sold separately)

Jumper hose & ball valve connect hose reel to pump

Includes basic jetter nozzle
Specifications
Engine
Fuel Tank Size
1.6 Gallons
Consumer Engine Warranty
3 Years
Commercial Engine Warranty
3 Years
Pump
Pump Type
Triplex Plunger
Housing
Hose
Overview
Consumer Warranty
90 Days
Commercial Warranty
90 Days
Features
Features
Pro-Jet Drain Cleaner

Self contained & powerful

Cleans out pipes without damage from moving parts

Honda GX390 Engine

Easy to start & reliable

Smooth performance is exceptionally quiet

Oil Alert

Protects the engine & makes maintenance easier

General Triplex Plunger Pump

Ceramic plungers run cooler & last longer than axial pumps

Adjustable Pressure

Use more or less pressure to suit the pipes you're cleaning

Pulsating Jetter Valve

Pulses the water to help dislodge clogs & debris

Aircraft Aluminum Roll Cage Frame

Lightweight & tough; resists rust & corrosion for long frame life

Hose Reel With Jumper Hose & Ball Valve (3/8" FNPT)

Keeps jetter hose neat & accessible (jetter hose sold separately)

Jumper hose & ball valve connect hose reel to pump

Includes basic jetter nozzle
Specifications
Engine
Fuel Tank Size
1.6 Gallons
Consumer Engine Warranty
3 Years
Commercial Engine Warranty
3 Years
Pump
Pump Type
Triplex Plunger
Housing
Hose
Overview
Consumer Warranty
90 Days
Commercial Warranty
90 Days
Specifications
Engine
Fuel Tank Size
1.6 Gallons
Consumer Engine Warranty
3 Years
Commercial Engine Warranty
3 Years
Pump
Pump Type
Triplex Plunger
Housing
Hose
Overview
Consumer Warranty
90 Days
Commercial Warranty
90 Days
Search Product Q&A's
Answered by Jim. the Pressure Washer Expert
What is the longest run you can make with this jetter? I have a 2" run of 680 feet.
Rick Quaid
from Illinois
September 02, 2014
Answer
It will depend on the diameter of hose you chose to use to determine the friction loss that will occur over that long of a run.

1/4" will cause roughly 2800 psi loss @ 4 gpm @ 700'

5/16" will cause roughly 1540 psi loss @ 4 gpm @ 700'

3/8" will cause roughly 630 psi loss @ 4 gpm @ 700'

Long runs can be made ID of hose, length, and flow are all factors.

Was this answer helpful?
Yes
1
No
0
Expert Recommended Accessories
Hand Picked By Our Expert Jim
Required Accessories
Add All Required
+
Ask Jim, Our Product Expert, A Question!
*Required Fields
+
Thank You For Submitting Your Question
Your submission has been sent successfully. Please give our experts up to two business days to respond.
Media Gallery
Pressure-Pro Pro-Jet Professional 4000 PSI (Gas - Cold Water) Aluminum Frame Drain Cleaner Jetter w/ Honda Engine