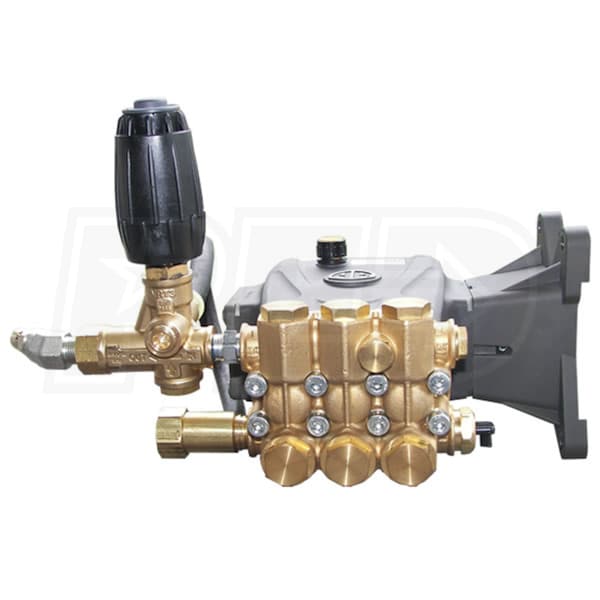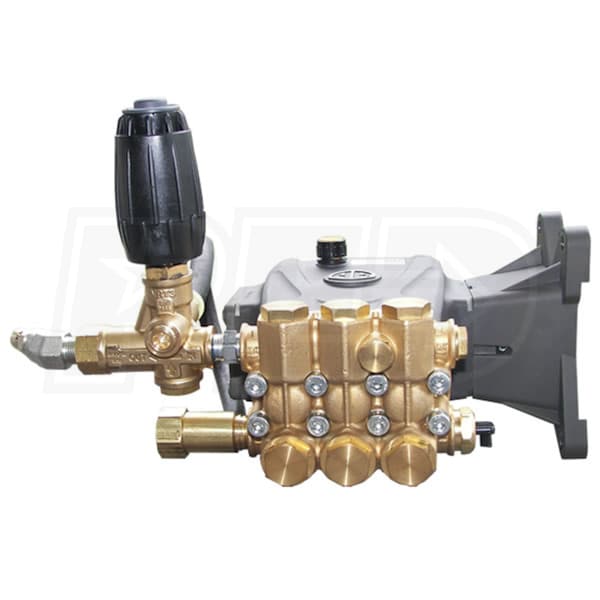 Hover to zoom
1 Of 5
Pressure-Pro Fully Plumbed AR RRV4G40D-F24 4000 PSI 4.0 GPM Triplex Pressure Washer Pump w/ Plumbing Kit
Product Description

Specs

3

Reviews

1

Product Q&A

Recommended Accessories

How-To Articles

Manuals
Grade
Style

Inflow
Garden Hose (Female)
Outflow
3/8" Snap Coupler (Male)
Inflow
Garden Hose (Female)
Outflow
3/8" Snap Coupler (Male)
Features
Features
Why Repair A Worn Out Pump?

Fully plumbed unit is ready to go

Get a great quality replacement assembly for less than a repair

AR RRV4G40D-F24 Pump Assembly Is Ready To Install

1" drive shaft fits many brands of engine

VRT3-310EZ Unloader

Adjust the pressure to suit the task at hand

Powerful And Versatile

9.2mm stroke; 15mm bore; 13.35 oz oil capacity

Handles water up to 140°F

Pushes 4 gallons pers minute up to 4000 PSI

Patented Low-Pressure Seal With Scraper

Large side cover sight glass for easy maintenance

Forged Brass High Efficiency Head Design

Dependable new rod design & quality high pressure seals

Be Sure To Measure Flange Bolt Holes & Shaft Accurately!

(Dimensions on the spec sheet download under the Specs tab)

There is a 25% restock fee on returned pumps

Please Call Us For Sizing Assistance w/ Information Below:

1. Age of Pump and Model # (must be no more than 15-yrs old)

2. Is the pump Vertical or Horizontal

3. Shaft Size - 3/4", 7/8" (vertical ONLY), 1", or Belt Drive XXmm

4. Engine Brand and HP (model # if available would be helpful)

***Shaft Size Measurements Must Be Precise***
Specifications
Accessories
Pump Type
Triplex Plunger
Accessory Grade
Professional
Inflow
Garden Hose (Female)
Outflow
3/8" Snap Coupler (Male)
Maximum GPM
Gallon per Minute
4
Chemical Injections
Siphon Tube
Overview
Consumer Warranty
5 Years
Commercial Warranty
5 Years
Grade
Style

Inflow
Garden Hose (Female)
Outflow
3/8" Snap Coupler (Male)
Inflow
Garden Hose (Female)
Outflow
3/8" Snap Coupler (Male)
Features
Features
Why Repair A Worn Out Pump?

Fully plumbed unit is ready to go

Get a great quality replacement assembly for less than a repair

AR RRV4G40D-F24 Pump Assembly Is Ready To Install

1" drive shaft fits many brands of engine

VRT3-310EZ Unloader

Adjust the pressure to suit the task at hand

Powerful And Versatile

9.2mm stroke; 15mm bore; 13.35 oz oil capacity

Handles water up to 140°F

Pushes 4 gallons pers minute up to 4000 PSI

Patented Low-Pressure Seal With Scraper

Large side cover sight glass for easy maintenance

Forged Brass High Efficiency Head Design

Dependable new rod design & quality high pressure seals

Be Sure To Measure Flange Bolt Holes & Shaft Accurately!

(Dimensions on the spec sheet download under the Specs tab)

There is a 25% restock fee on returned pumps

Please Call Us For Sizing Assistance w/ Information Below:

1. Age of Pump and Model # (must be no more than 15-yrs old)

2. Is the pump Vertical or Horizontal

3. Shaft Size - 3/4", 7/8" (vertical ONLY), 1", or Belt Drive XXmm

4. Engine Brand and HP (model # if available would be helpful)

***Shaft Size Measurements Must Be Precise***
Specifications
Accessories
Pump Type
Triplex Plunger
Accessory Grade
Professional
Inflow
Garden Hose (Female)
Outflow
3/8" Snap Coupler (Male)
Maximum GPM
Gallon per Minute
4
Chemical Injections
Siphon Tube
Overview
Consumer Warranty
5 Years
Commercial Warranty
5 Years
Specifications
Accessories
Pump Type
Triplex Plunger
Accessory Grade
Professional
Inflow
Garden Hose (Female)
Outflow
3/8" Snap Coupler (Male)
Maximum GPM
Gallon per Minute
4
Chemical Injections
Siphon Tube
Overview
Consumer Warranty
5 Years
Commercial Warranty
5 Years
Search Product Q&A's
Answered by Jim. the Pressure Washer Expert
I am looking for a pump to fit a Honda GX340 .
Dennis Lillrose
from Michigan
March 08, 2016
Answer
You have chosen a perfect pump to go on your Honda GX340 engine. This is fully plumbed meaning the inlet and outlet fittings, unloader, external bypass, and thermal relief valve are already installed so all you will have to do is bolt on the new pump, set the unloader, and you are ready to go!
Was this answer helpful?
Yes
1
No
0
Expert Recommended Accessories
Hand Picked By Our Expert Jim
Required Accessories
Add All Required
+
Ask Jim, Our Product Expert, A Question!
*Required Fields
+
Thank You For Submitting Your Question
Your submission has been sent successfully. Please give our experts up to two business days to respond.
Media Gallery
Pressure-Pro Fully Plumbed AR RRV4G40D-F24 4000 PSI 4.0 GPM Triplex Pressure Washer Pump w/ Plumbing Kit