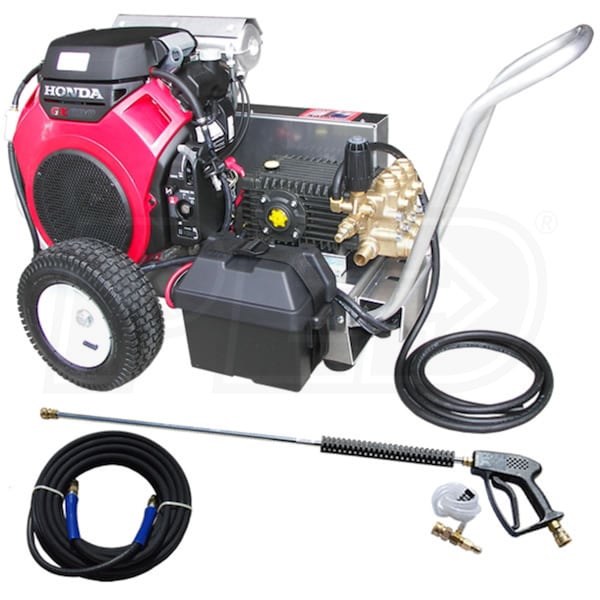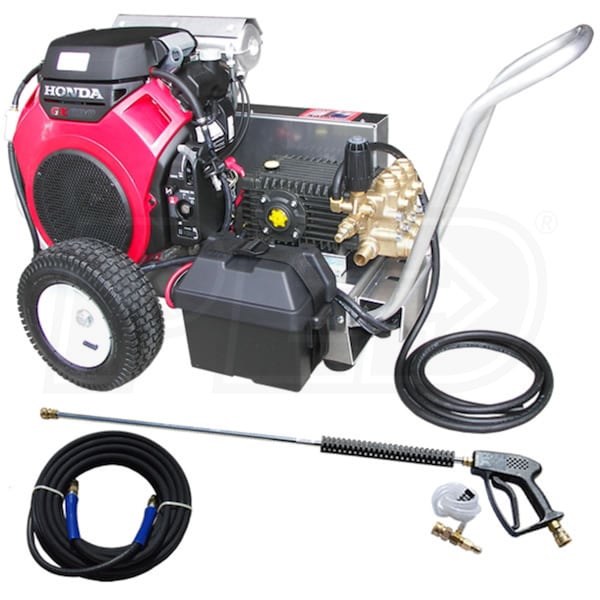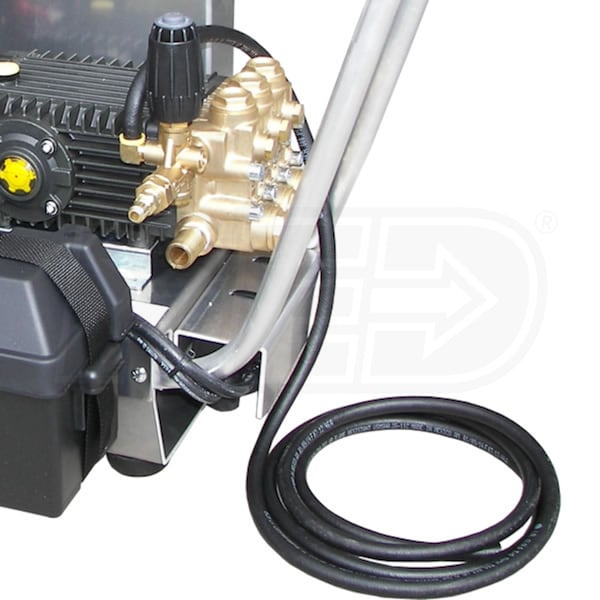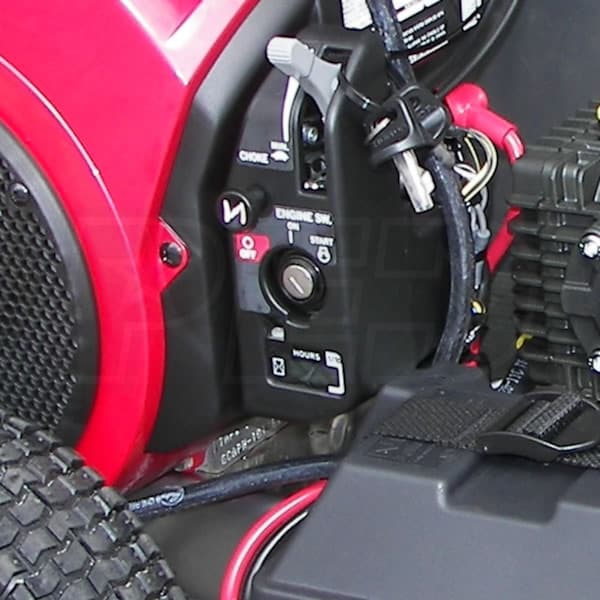 Hover to zoom
1 Of 5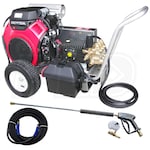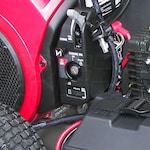 Pressure-Pro Professional 3500 PSI (Gas-Cold Water) High Flow Belt-Drive Aluminum Frame Pressure Washer w/ Honda GX Engine
Product Description

Specs

1

Reviews

2

Product Q&A

Recommended Accessories

How-To Articles

Manuals
Features
Features
Water Tank Is Recommended - Will Not Work Properly With Water Hose Due to High GPM Rating
Massive 8 Gallons Per Minute With 4 V-Belt Drive Pump

Reliable General triplex plunger pump can take on big jobs

Set up for tank feed with 1/2" hose

Powerful 24 Horsepower Honda GX Engine With Electric Start

World class Honda reliablility at the turn of a key

Includes battery, and marine grade battery box

Revolutionary Aircraft Grade Aluminum Frame

Light weight with no welds to crack or fail

Lifetime frame warranty

Thermo Sensor

Prevents overheating in bypass mode

Low oil shutdown protects the engine and pump

Professional Quality Gun/Wand Assembly

5 quick connect nozzles: 0º, 15º, 25º, 40º, chemical application

50 feet of steel reinforced high pressure hose

Remote Six Gallon Poly Fuel Tank
Specifications
Engine
Consumer Engine Warranty
3 Years
Commercial Engine Warranty
3 Years
Pump
Pump Type
Triplex Plunger
Chemical Injection
Siphon Tube
Consumer Pump Warranty
5 Years
Commercial Pump Warranty
5 Years
Housing
Hose
Hose Material
Wire Reinforced
Hose Connections
Quick-Connect
Spray Gun
Spray Gun Connection
Quick-Connect
Spray Gun Grade
Professional
Spray Gun Wand
Single Wand
Spray Tips
Quick Connect Tips (5)
Turbo Nozzle
Sold Separately
Overview
Consumer Warranty
90 Days
Commercial Warranty
90 Days
Additional Model Numbers
VB8035HGEA306, VB8035HGEA406
Features
Features
Water Tank Is Recommended - Will Not Work Properly With Water Hose Due to High GPM Rating
Massive 8 Gallons Per Minute With 4 V-Belt Drive Pump

Reliable General triplex plunger pump can take on big jobs

Set up for tank feed with 1/2" hose

Powerful 24 Horsepower Honda GX Engine With Electric Start

World class Honda reliablility at the turn of a key

Includes battery, and marine grade battery box

Revolutionary Aircraft Grade Aluminum Frame

Light weight with no welds to crack or fail

Lifetime frame warranty

Thermo Sensor

Prevents overheating in bypass mode

Low oil shutdown protects the engine and pump

Professional Quality Gun/Wand Assembly

5 quick connect nozzles: 0º, 15º, 25º, 40º, chemical application

50 feet of steel reinforced high pressure hose

Remote Six Gallon Poly Fuel Tank
Specifications
Engine
Consumer Engine Warranty
3 Years
Commercial Engine Warranty
3 Years
Pump
Pump Type
Triplex Plunger
Chemical Injection
Siphon Tube
Consumer Pump Warranty
5 Years
Commercial Pump Warranty
5 Years
Housing
Hose
Hose Material
Wire Reinforced
Hose Connections
Quick-Connect
Spray Gun
Spray Gun Connection
Quick-Connect
Spray Gun Grade
Professional
Spray Gun Wand
Single Wand
Spray Tips
Quick Connect Tips (5)
Turbo Nozzle
Sold Separately
Overview
Consumer Warranty
90 Days
Commercial Warranty
90 Days
Additional Model Numbers
VB8035HGEA306, VB8035HGEA406
Specifications
Engine
Consumer Engine Warranty
3 Years
Commercial Engine Warranty
3 Years
Pump
Pump Type
Triplex Plunger
Chemical Injection
Siphon Tube
Consumer Pump Warranty
5 Years
Commercial Pump Warranty
5 Years
Housing
Hose
Hose Material
Wire Reinforced
Hose Connections
Quick-Connect
Spray Gun
Spray Gun Connection
Quick-Connect
Spray Gun Grade
Professional
Spray Gun Wand
Single Wand
Spray Tips
Quick Connect Tips (5)
Turbo Nozzle
Sold Separately
Overview
Consumer Warranty
90 Days
Commercial Warranty
90 Days
Additional Model Numbers
VB8035HGEA306, VB8035HGEA406
Search Product Q&A's
Answered by Jim. the Pressure Washer Expert
What is the exact motor and pump?
Larry Brocker
from Washington
February 15, 2015
Answer
The Honda engine is a 24 HP Honda GX690. The pump model would be a General Pump TSF model with 3500 PSI and 8 GPM.
Was this answer helpful?
Yes
0
No
0
Hey Mike, What would it cost to get this unit on a skid, same specs and inclusions? And how long would it take? Thanks
Steve Reutzel
from Pennsylvania
May 23, 2014
Answer
This item would take 3-5 business days to build. It would then be a few days in transit. The cost on it would be 3999.99. To order you would need to call me direct at 800-710-7499 EXT148. Thanks
Was this answer helpful?
Yes
0
No
0
Expert Recommended Accessories
Hand Picked By Our Expert Jim
Required Accessories
Add All Required
+
Ask Jim, Our Product Expert, A Question!
*Required Fields
+
Thank You For Submitting Your Question
Your submission has been sent successfully. Please give our experts up to two business days to respond.
Media Gallery
Pressure-Pro Professional 3500 PSI (Gas-Cold Water) High Flow Belt-Drive Aluminum Frame Pressure Washer w/ Honda GX Engine