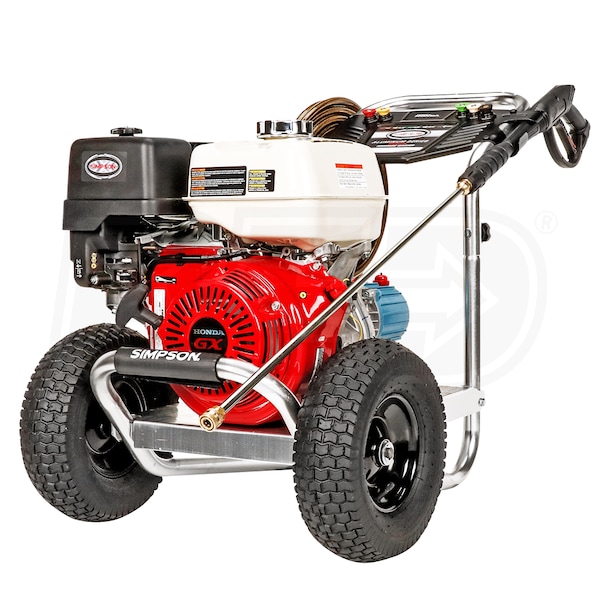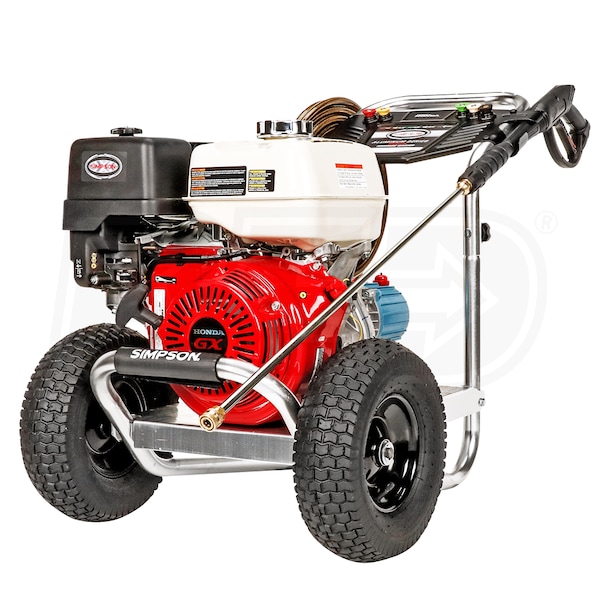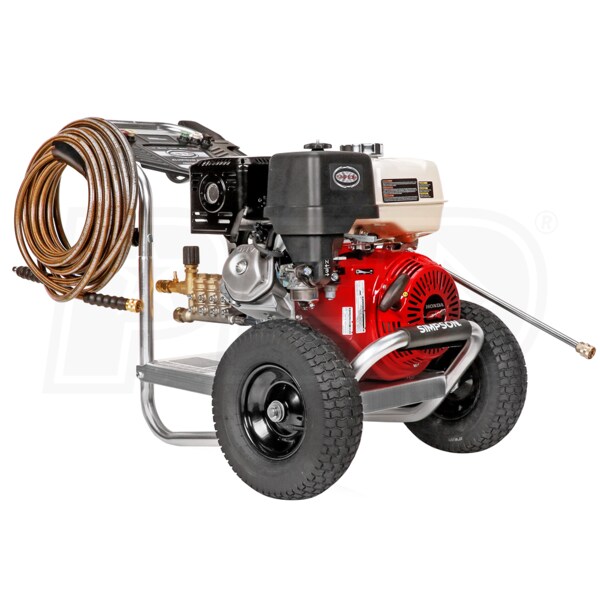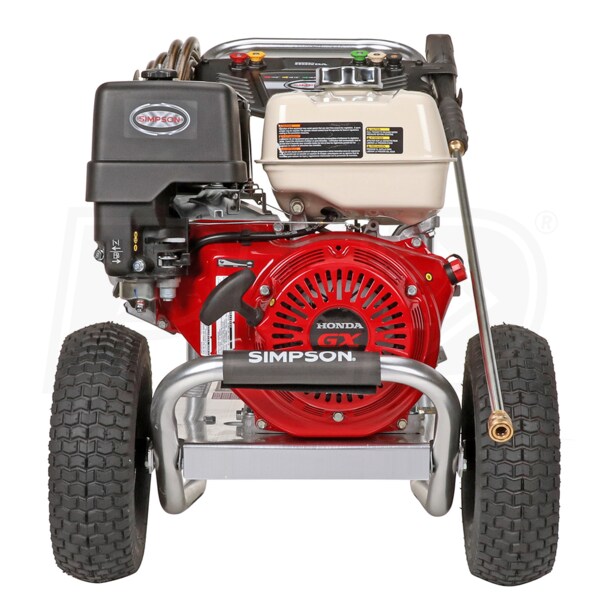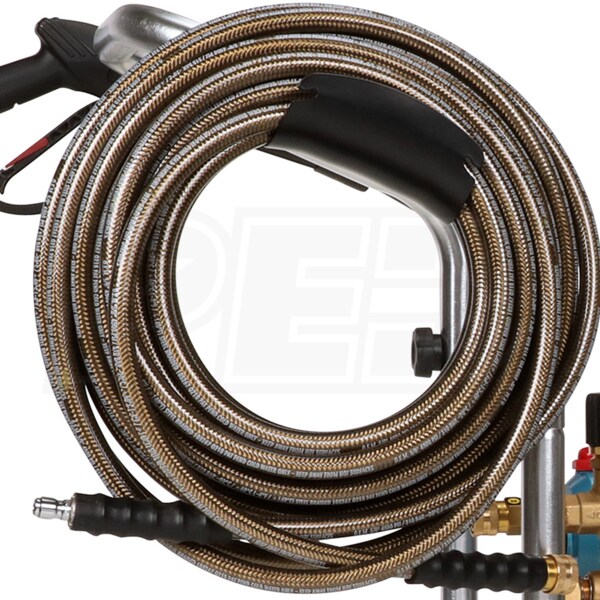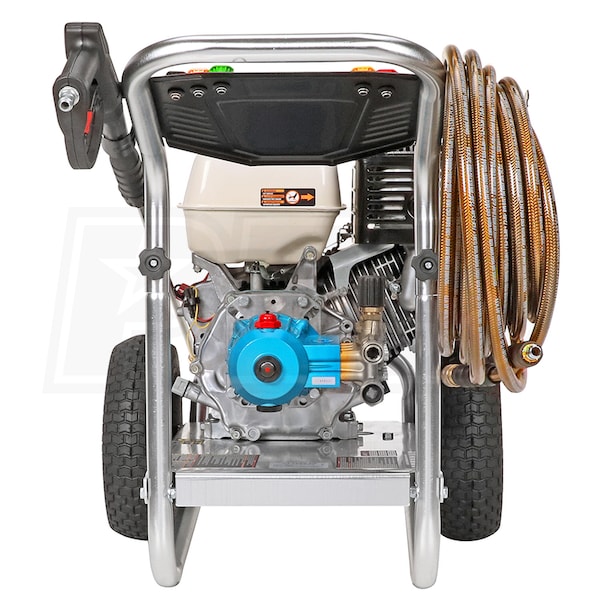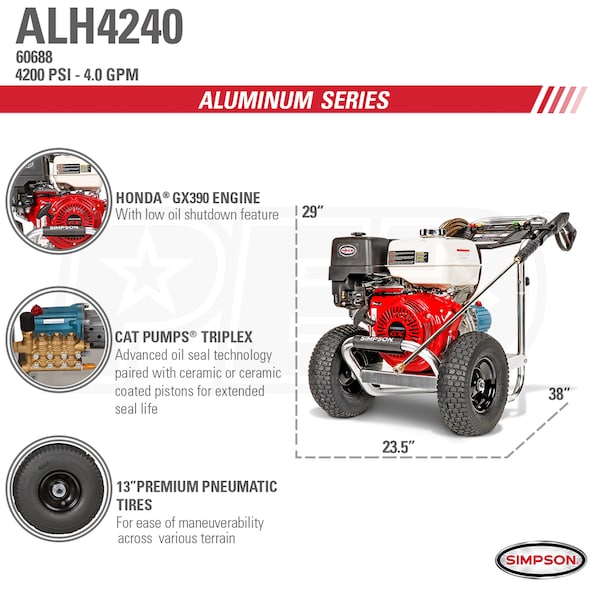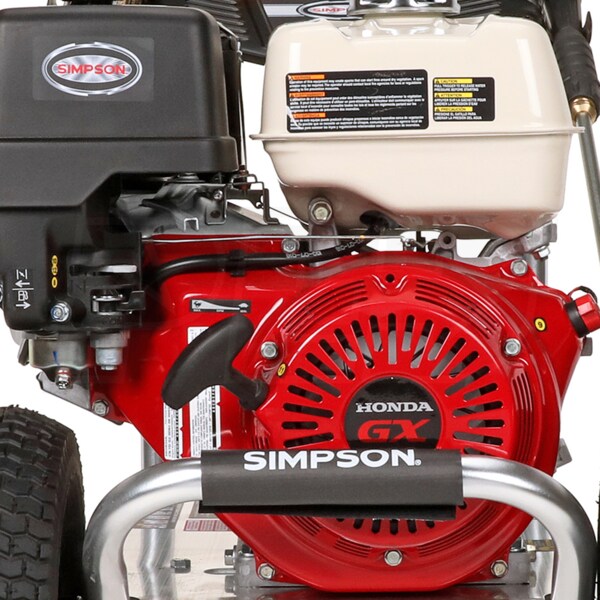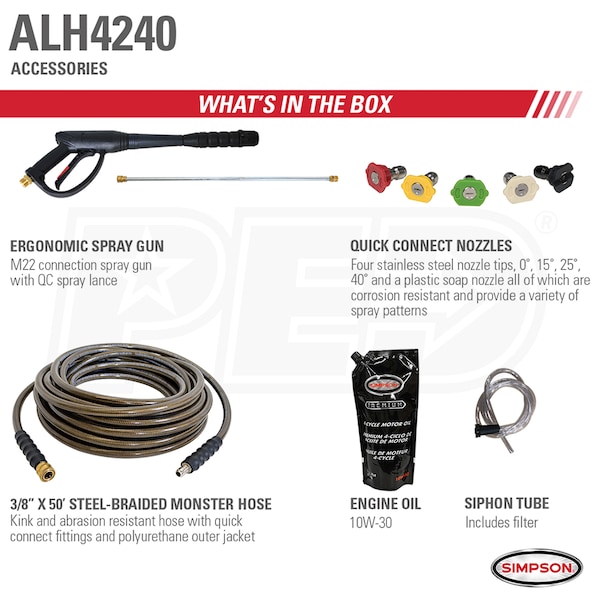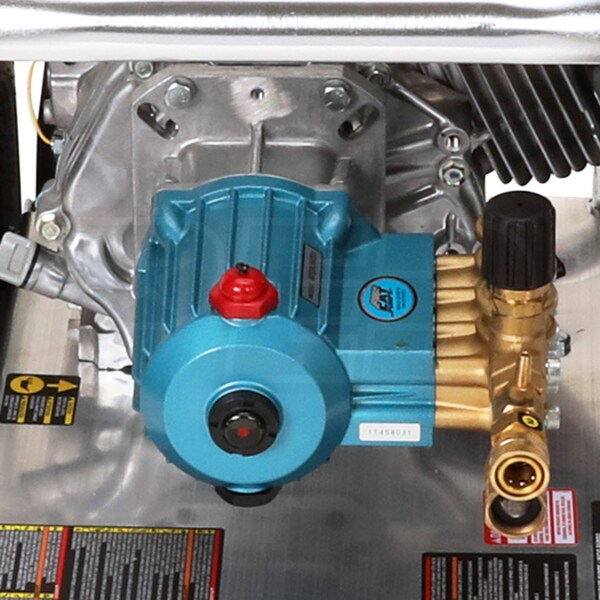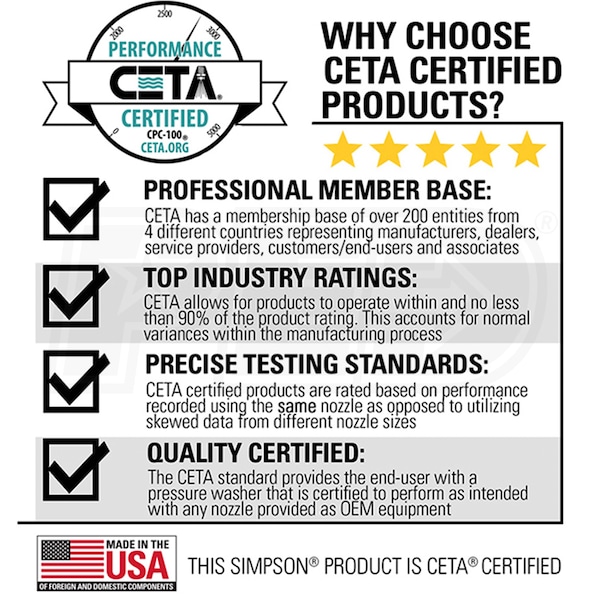 Hover to zoom
1 Of 5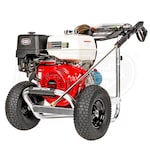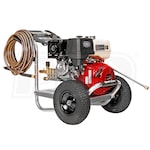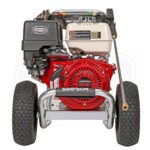 Simpson Professional ALH4240 4200 PSI (Gas - Cold Water) Aluminum Frame Pressure Washer w/ Honda GX390 Engine & CAT Pump
Product Description

Specs

56

Reviews

2

Product Q&A

Recommended Accessories

How-To Articles

Manuals
Features
Features
SIMPSON PowerShot Series

Designed to meet the rigorous demands of the cleaning pro

For contractors who specialize in deck cleaning, paint preparation, graffiti removal, & all other professional cleaning services

Honda GX390 OHV Commercial Series Engine With Oil AlertŪ

Starts easy, runs smoothly, & delivers high output

Great for construction, facility & fleet maintenance cleaning

CATŪ 67DX39G1I Industrial Triplex Plunger Pump

Develops up to 4 gallons per minute to clean quickly

Triplex pumps run cooler & last longer than axial pumps; can be rebuilt

Professional Aircraft Grade Aluminum Platform

Brushed extruded aluminum tubing is strong & lightweight

Durable 13-inch premium pneumatic tires handle all terrains easily

Ergonomic Spray Gun w/ 31-Inch Pro-Style Spray Wand

Designed for comfort and includes safety lock out

0°, 15°, 25°, 40°, & soap applicator nozzles shape the spray

Monster 3/8" x 50' High-Pressure Steel-Braided Hose

Non-marring, kink & abrasion resistant hose w/ quick connects

Includes siphon tube for a wide variety of pressure washer-safe cleaners

Manufacturer Limited Warranty

90-day accessories warranty

5-yr pump, 10-yr frame & 3-yr Honda consumer and commercial warranty

Online Model No: ALH4240-S (Part No: 60688)

In-Store Model No: ALH4240 (Part No: 60688)
Specifications
Engine
Fuel Tank Size
1.6 Gallons
Consumer Engine Warranty
3 Years
Commercial Engine Warranty
3 Years
Pump
Pump Type
Triplex Plunger
Chemical Injection
Siphon Tube
Consumer Pump Warranty
5 Years
Commercial Pump Warranty
5 Years
Housing
Hose
Hose Material
Wire Reinforced
Hose Connections
Quick-Connect
Spray Gun
Spray Gun Connection
Quick-Connect
Spray Gun Grade
Professional
Spray Gun Wand
Single Wand
Spray Tips
Quick Connect Tips (5)
Turbo Nozzle
Sold Separately
Overview
Consumer Warranty
90 Days
Commercial Warranty
90 Days
Additional Model Numbers
ALH4240, 60688
Features
Features
SIMPSON PowerShot Series

Designed to meet the rigorous demands of the cleaning pro

For contractors who specialize in deck cleaning, paint preparation, graffiti removal, & all other professional cleaning services

Honda GX390 OHV Commercial Series Engine With Oil AlertŪ

Starts easy, runs smoothly, & delivers high output

Great for construction, facility & fleet maintenance cleaning

CATŪ 67DX39G1I Industrial Triplex Plunger Pump

Develops up to 4 gallons per minute to clean quickly

Triplex pumps run cooler & last longer than axial pumps; can be rebuilt

Professional Aircraft Grade Aluminum Platform

Brushed extruded aluminum tubing is strong & lightweight

Durable 13-inch premium pneumatic tires handle all terrains easily

Ergonomic Spray Gun w/ 31-Inch Pro-Style Spray Wand

Designed for comfort and includes safety lock out

0°, 15°, 25°, 40°, & soap applicator nozzles shape the spray

Monster 3/8" x 50' High-Pressure Steel-Braided Hose

Non-marring, kink & abrasion resistant hose w/ quick connects

Includes siphon tube for a wide variety of pressure washer-safe cleaners

Manufacturer Limited Warranty

90-day accessories warranty

5-yr pump, 10-yr frame & 3-yr Honda consumer and commercial warranty

Online Model No: ALH4240-S (Part No: 60688)

In-Store Model No: ALH4240 (Part No: 60688)
Specifications
Engine
Fuel Tank Size
1.6 Gallons
Consumer Engine Warranty
3 Years
Commercial Engine Warranty
3 Years
Pump
Pump Type
Triplex Plunger
Chemical Injection
Siphon Tube
Consumer Pump Warranty
5 Years
Commercial Pump Warranty
5 Years
Housing
Hose
Hose Material
Wire Reinforced
Hose Connections
Quick-Connect
Spray Gun
Spray Gun Connection
Quick-Connect
Spray Gun Grade
Professional
Spray Gun Wand
Single Wand
Spray Tips
Quick Connect Tips (5)
Turbo Nozzle
Sold Separately
Overview
Consumer Warranty
90 Days
Commercial Warranty
90 Days
Additional Model Numbers
ALH4240, 60688
Specifications
Engine
Fuel Tank Size
1.6 Gallons
Consumer Engine Warranty
3 Years
Commercial Engine Warranty
3 Years
Pump
Pump Type
Triplex Plunger
Chemical Injection
Siphon Tube
Consumer Pump Warranty
5 Years
Commercial Pump Warranty
5 Years
Housing
Hose
Hose Material
Wire Reinforced
Hose Connections
Quick-Connect
Spray Gun
Spray Gun Connection
Quick-Connect
Spray Gun Grade
Professional
Spray Gun Wand
Single Wand
Spray Tips
Quick Connect Tips (5)
Turbo Nozzle
Sold Separately
Overview
Consumer Warranty
90 Days
Commercial Warranty
90 Days
Additional Model Numbers
ALH4240, 60688
Search Product Q&A's
Answered by Jim. the Pressure Washer Expert
Hi Mike, Is the pressure of this model adjustable only through the gun or can you adjust the pressure on this cat pump as well?
Mark
from Missouri
March 08, 2016
Answer
There is a regulator between the spray gun and spray lance to allow you to dial down your pressure. There is ALSO an unloader valve on the CAT pump allowing you to adjust the pressure there as well.
Was this answer helpful?
Yes
7
No
0
Hi Mike. Do you know what model/part CAT pump is in the ALH4240? Thank you
Cliff
from New Hampshire
March 17, 2015
Answer
The CAT pump model would be the 67DX pump.
Was this answer helpful?
Yes
1
No
0
Expert Recommended Accessories
Hand Picked By Our Expert Jim
Required Accessories
Add All Required
+
Ask Jim, Our Product Expert, A Question!
*Required Fields
+
Thank You For Submitting Your Question
Your submission has been sent successfully. Please give our experts up to two business days to respond.
Media Gallery
Simpson Professional ALH4240 4200 PSI (Gas - Cold Water) Aluminum Frame Pressure Washer w/ Honda GX390 Engine & CAT Pump