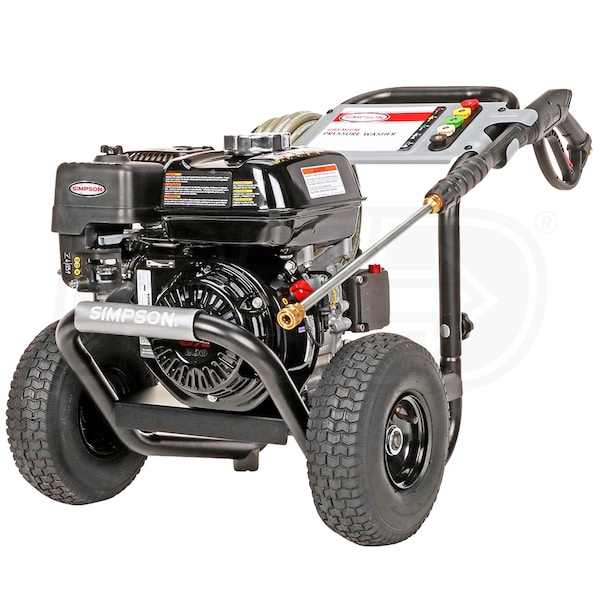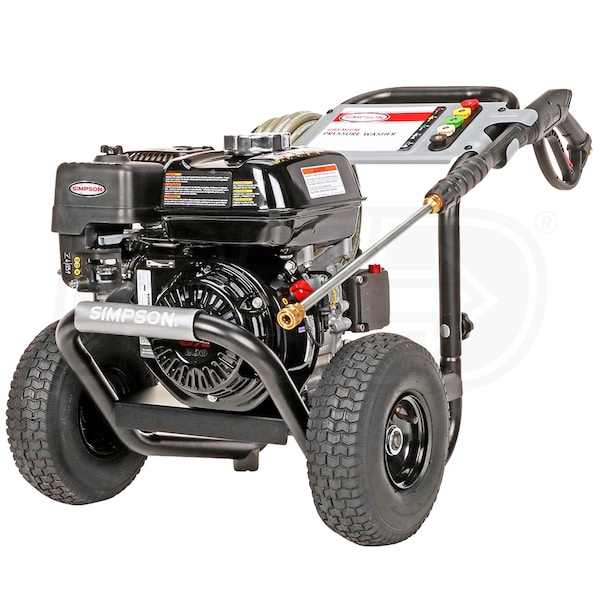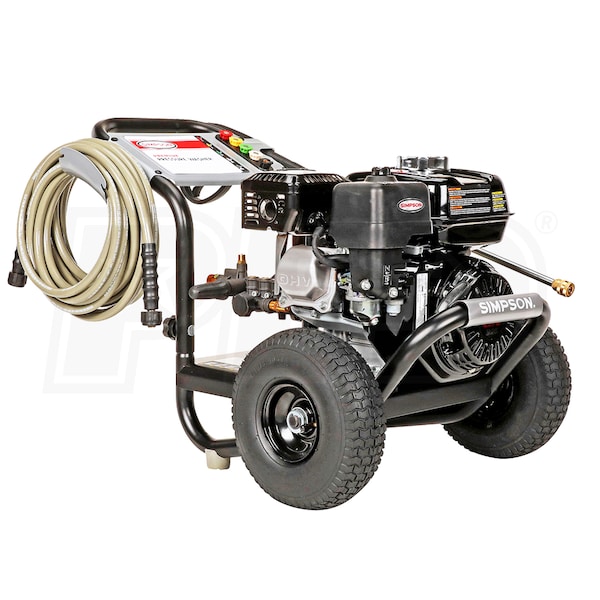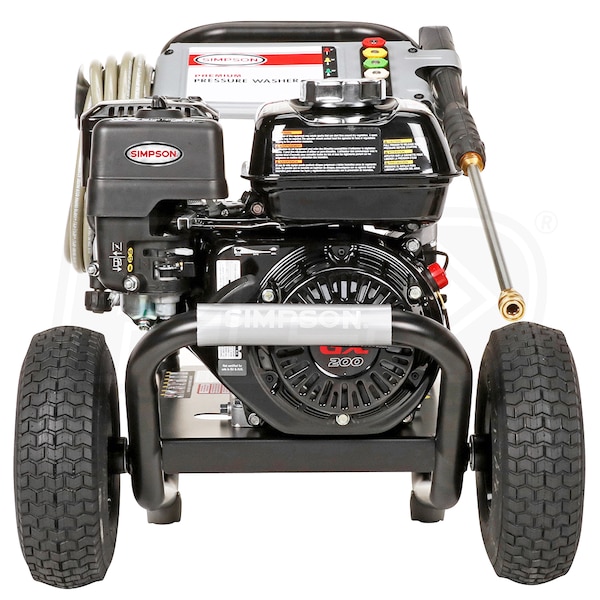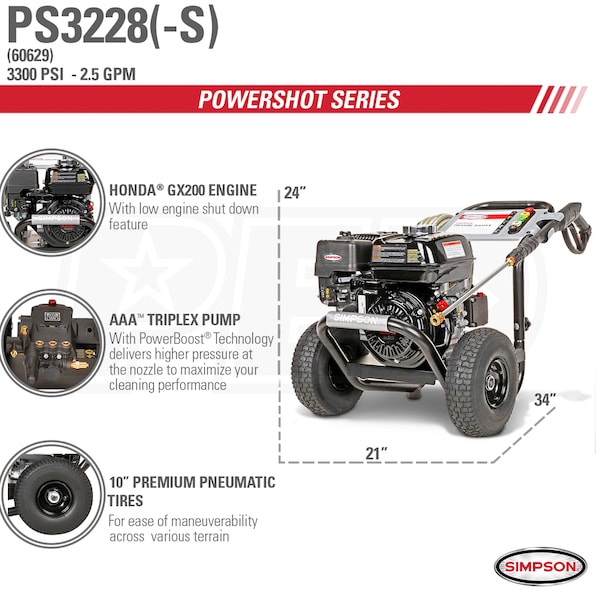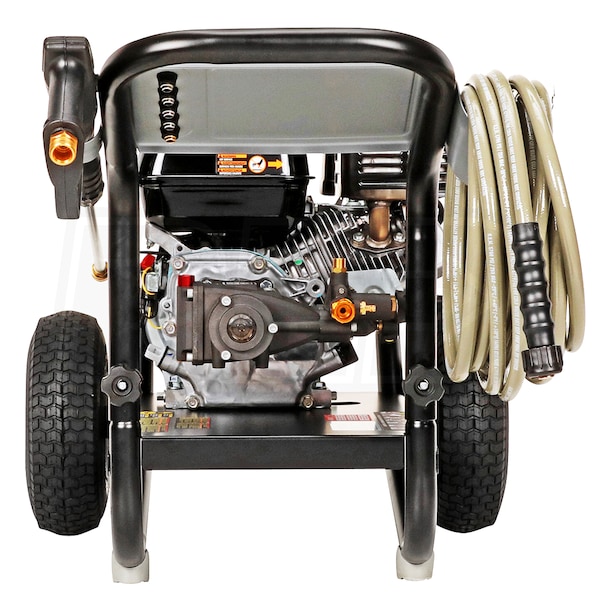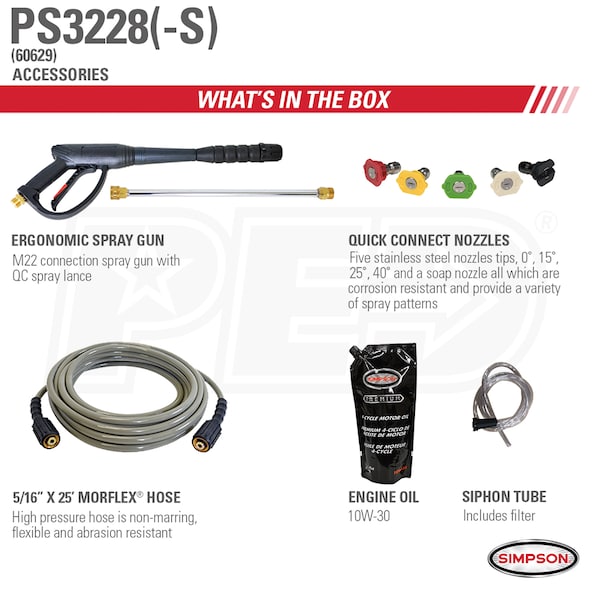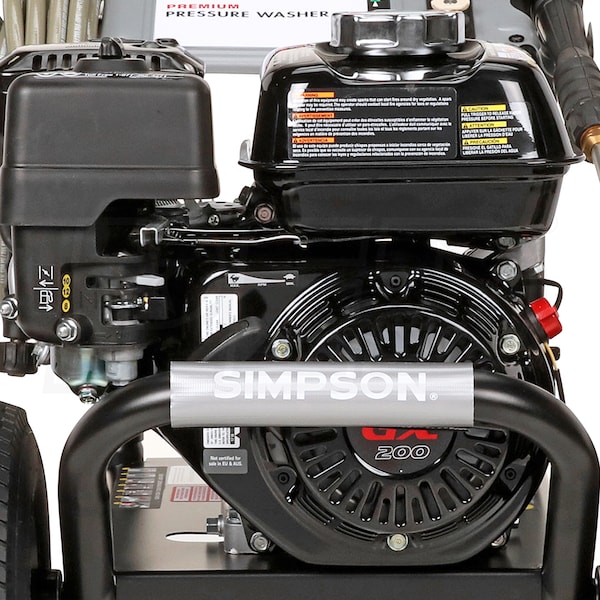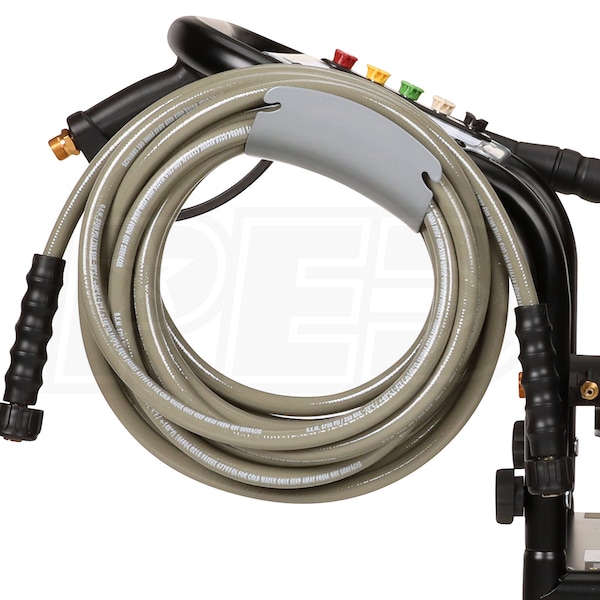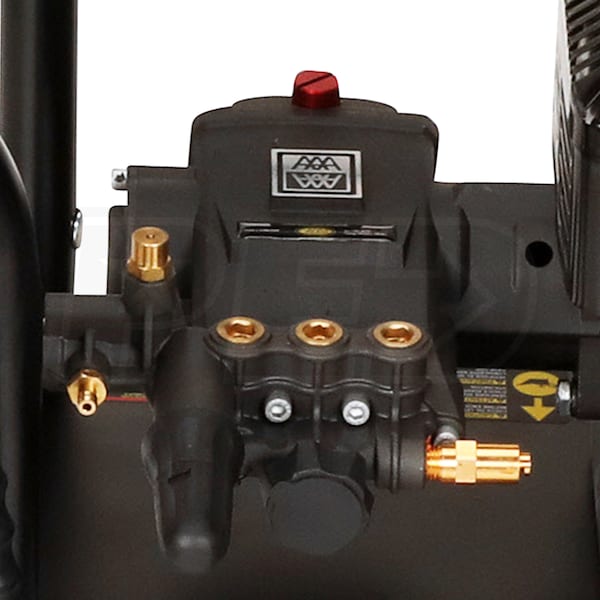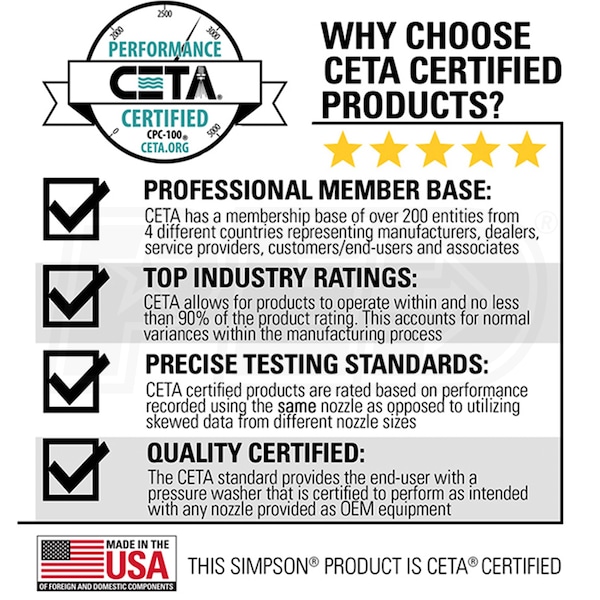 Hover to zoom
1 Of 5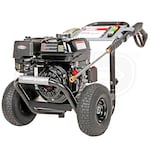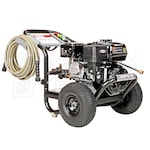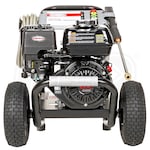 Simpson PowerShot Professional PS3228-S 3300 PSI (Gas-Cold Water) Pressure Washer w/ Honda GX200 Engine
Product Description

Specs

59

Reviews

3

Product Q&A

Recommended Accessories

How-To Articles

Manuals
Features
Features
Honda GX200 OHV Commercial Series Engine

Starts easy, runs smoothly, & delivers high output

Oil Alert® monitors oil level, makes maintenance easier

AAA™ Industrial 2.5 GPM Triplex Plunger Pump

PowerBoost® provides higher pressure at the nozzle

Better cleaning performance than a typical pump

Welded Steel Frame & Engine Plate

Solid steel axle & 10" pneumatic tires for extreme durability

On-board storage keeps spray, gun/wand, hose & nozzles handy

Professional Spray Gun w/ Pro-Style Spray Wand

Comfortable & easy to operate; safety lock prevents accidents

5 stainless steel quick connect tips: 0°, 15°, 25°, 40°, & Soap

25-FT Morflex High-Pressure Hose

5/16"non-marring, kink & abrasion resistant; extends hose life

Perfect for contractor cleaning, graffiti removal & other professional cleaning services

Downstream Detergent Injection

Allows for a wider selection of cleaners

Draws chemicals or soap into the water stream after the pump

Manufacturer Warranty

3-yr engine warranty, 5-yr pump warranty & 10-yr frame warranty

90 Day limited accessory warranty

Online Model No: PS3228-S / In-Store Model No: PS3228 (Part No: 60629)
Specifications
Engine
Fuel Tank Size
0.825 Gallons
Consumer Engine Warranty
3 Years
Commercial Engine Warranty
3 Years
Pump
Pump Type
Triplex Plunger
Chemical Injection
Down-Stream
Consumer Pump Warranty
5 Years
Commercial Pump Warranty
5 Years
Housing
Hose
Hose Material
Polyurethane
Spray Gun
Spray Gun Grade
Professional
Spray Gun Wand
Single Wand
Spray Tips
Quick Connect Tips (5)
Turbo Nozzle
Sold Separately
Overview
Consumer Warranty
90 Days
Commercial Warranty
90 Days
Additional Model Numbers
PS3228-S, 60629
Features
Features
Honda GX200 OHV Commercial Series Engine

Starts easy, runs smoothly, & delivers high output

Oil Alert® monitors oil level, makes maintenance easier

AAA™ Industrial 2.5 GPM Triplex Plunger Pump

PowerBoost® provides higher pressure at the nozzle

Better cleaning performance than a typical pump

Welded Steel Frame & Engine Plate

Solid steel axle & 10" pneumatic tires for extreme durability

On-board storage keeps spray, gun/wand, hose & nozzles handy

Professional Spray Gun w/ Pro-Style Spray Wand

Comfortable & easy to operate; safety lock prevents accidents

5 stainless steel quick connect tips: 0°, 15°, 25°, 40°, & Soap

25-FT Morflex High-Pressure Hose

5/16"non-marring, kink & abrasion resistant; extends hose life

Perfect for contractor cleaning, graffiti removal & other professional cleaning services

Downstream Detergent Injection

Allows for a wider selection of cleaners

Draws chemicals or soap into the water stream after the pump

Manufacturer Warranty

3-yr engine warranty, 5-yr pump warranty & 10-yr frame warranty

90 Day limited accessory warranty

Online Model No: PS3228-S / In-Store Model No: PS3228 (Part No: 60629)
Specifications
Engine
Fuel Tank Size
0.825 Gallons
Consumer Engine Warranty
3 Years
Commercial Engine Warranty
3 Years
Pump
Pump Type
Triplex Plunger
Chemical Injection
Down-Stream
Consumer Pump Warranty
5 Years
Commercial Pump Warranty
5 Years
Housing
Hose
Hose Material
Polyurethane
Spray Gun
Spray Gun Grade
Professional
Spray Gun Wand
Single Wand
Spray Tips
Quick Connect Tips (5)
Turbo Nozzle
Sold Separately
Overview
Consumer Warranty
90 Days
Commercial Warranty
90 Days
Additional Model Numbers
PS3228-S, 60629
Specifications
Engine
Fuel Tank Size
0.825 Gallons
Consumer Engine Warranty
3 Years
Commercial Engine Warranty
3 Years
Pump
Pump Type
Triplex Plunger
Chemical Injection
Down-Stream
Consumer Pump Warranty
5 Years
Commercial Pump Warranty
5 Years
Housing
Hose
Hose Material
Polyurethane
Spray Gun
Spray Gun Grade
Professional
Spray Gun Wand
Single Wand
Spray Tips
Quick Connect Tips (5)
Turbo Nozzle
Sold Separately
Overview
Consumer Warranty
90 Days
Commercial Warranty
90 Days
Additional Model Numbers
PS3228-S, 60629
Search Product Q&A's
Answered by Jim. the Pressure Washer Expert
Can I use the Simpson 82235 pressure regulator with the Simpson PS3228-S pressure washer? http://www.pressurewashersdirect.com/Reviews/Simpson-82235/rv14134.html
Jason
from Ohio
July 07, 2015
Answer
Yes, it would work with the model PS3228-S.
Was this answer helpful?
Yes
0
No
0
I just bought this pressure washer I was assembling and on the pump there is a hole is this hole supposed to have a cover?
Dave
from Florida
May 29, 2014
Answer
I am not sure to which hole you are referring to. Also, I am unable to locate your order here with us. I would recommend reaching out to the folks at Simpson to get some technical support for that issue. their number is 877-362-4271
Was this answer helpful?
Yes
0
No
0
We are going to purchase this pressure washer but I would like to purchase a 50' hose. This units hose diam. 5/16 with threaded ends. Do you guys carry 50' hose for this model Thanks
Michael
from Nevada
February 18, 2014
Answer
Yes, it is listed under model 10085591. I have attached a link for you.
50 foot hose
If you would like an adapter to attach the original hose and this hose you will use adapter number D10040.
Adapter
Was this answer helpful?
Yes
1
No
0
Expert Recommended Accessories
Hand Picked By Our Expert Jim
Required Accessories
Add All Required
+
Ask Jim, Our Product Expert, A Question!
*Required Fields
+
Thank You For Submitting Your Question
Your submission has been sent successfully. Please give our experts up to two business days to respond.
Media Gallery
Simpson PowerShot Professional PS3228-S 3300 PSI (Gas-Cold Water) Pressure Washer w/ Honda GX200 Engine