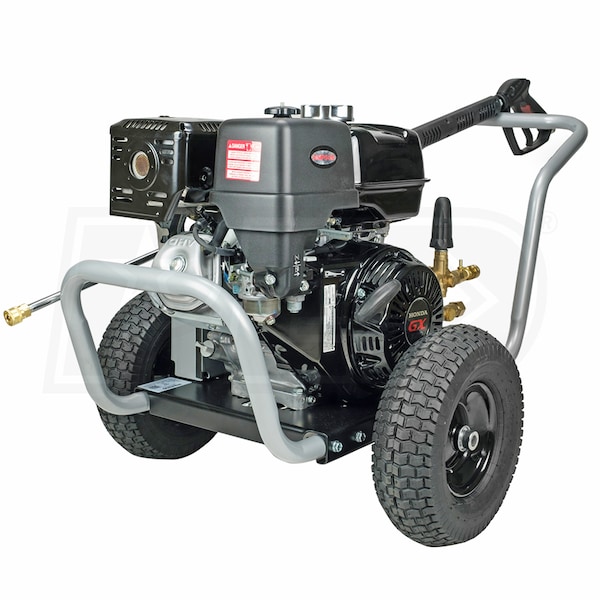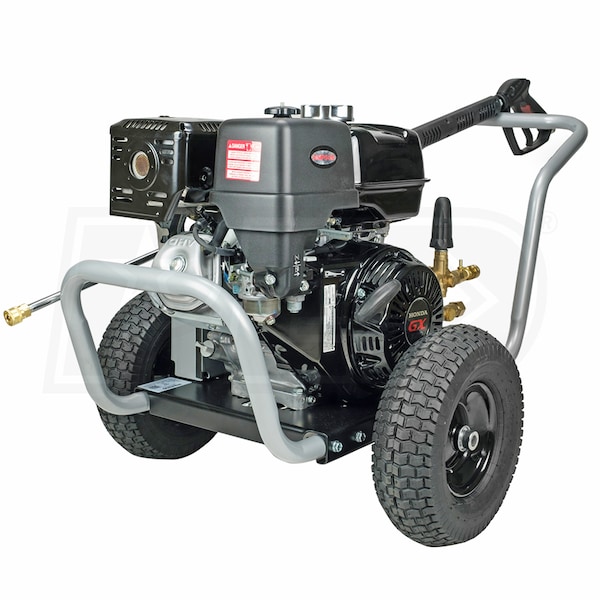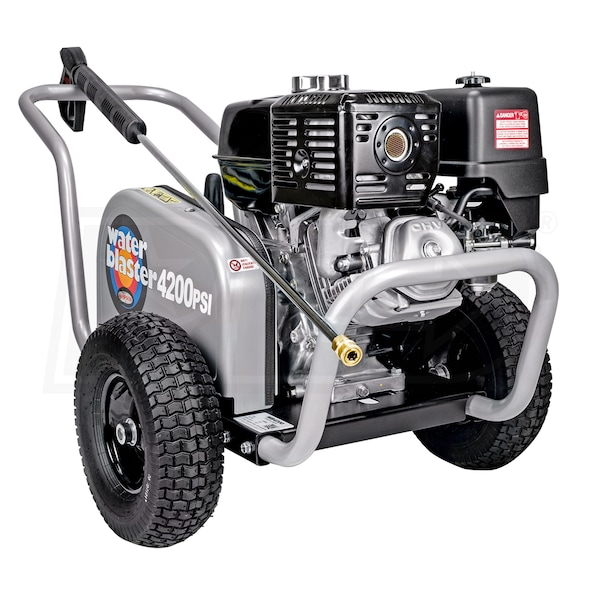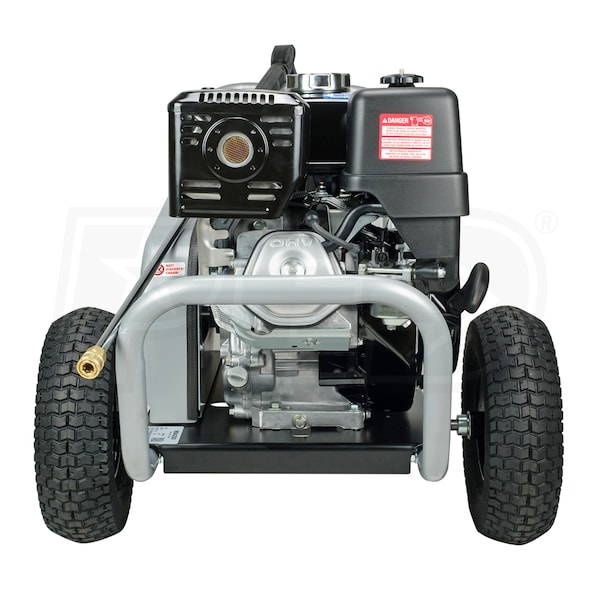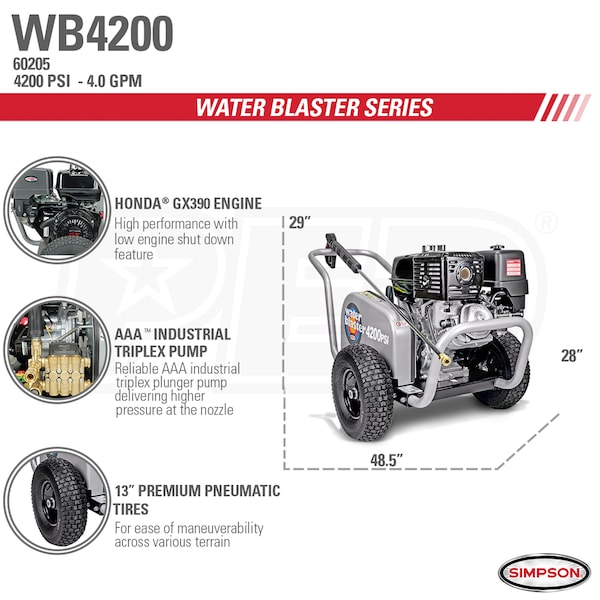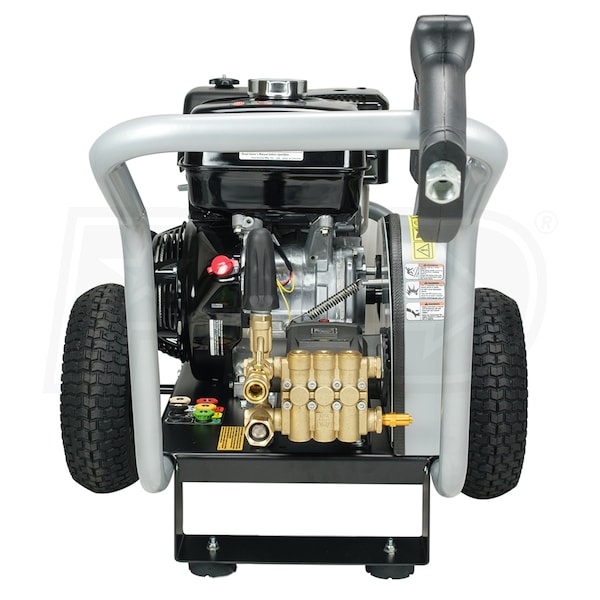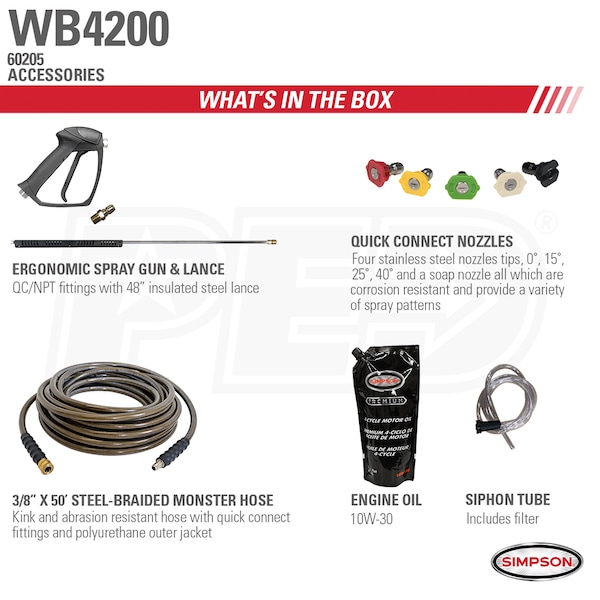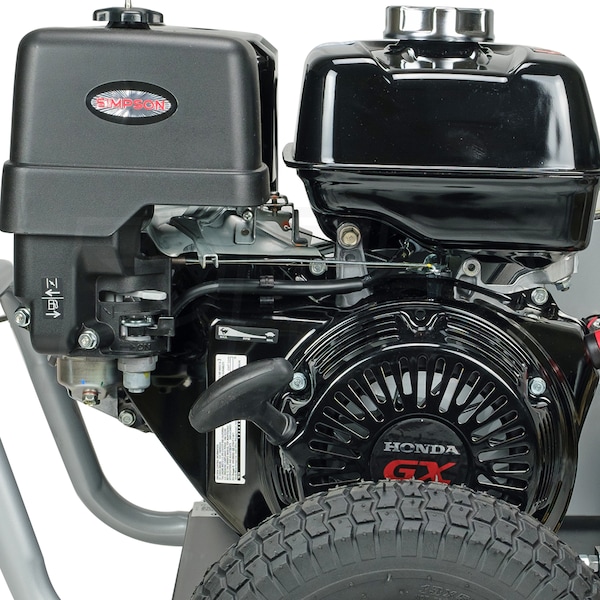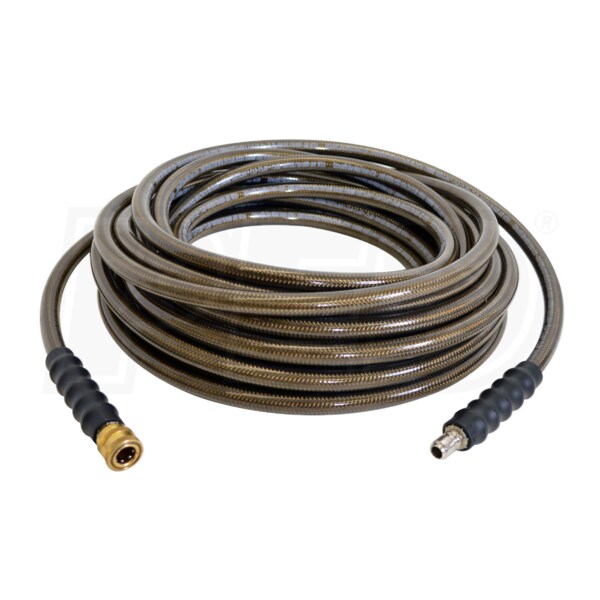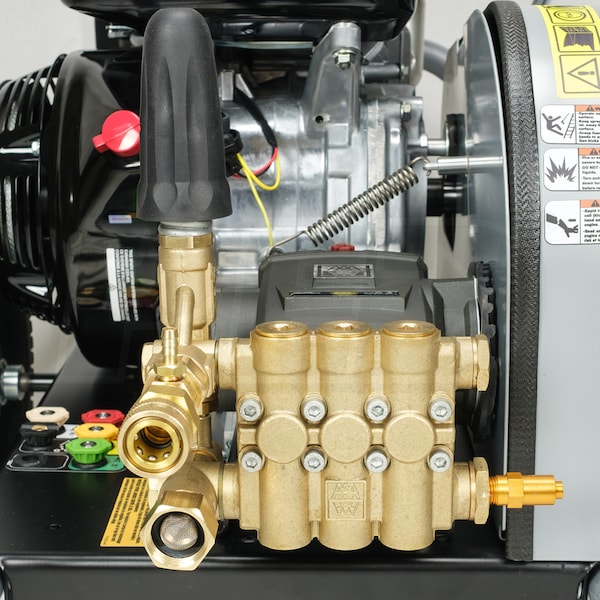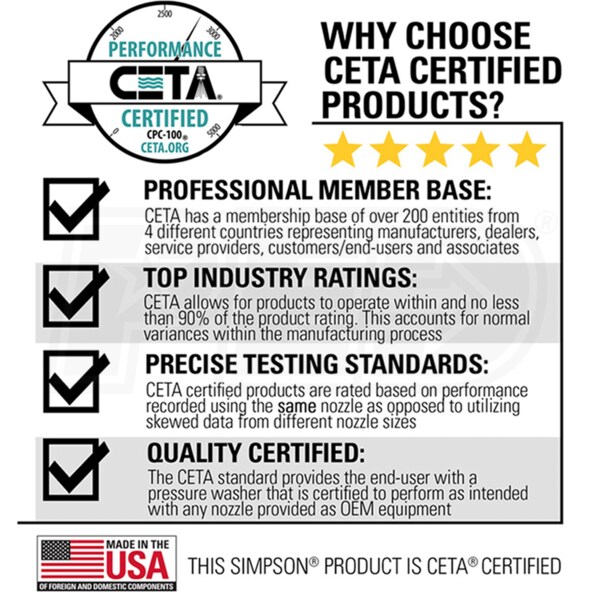 Hover to zoom
1 Of 5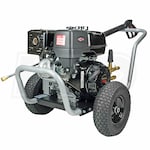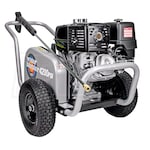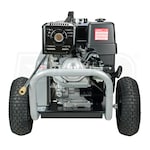 Simpson WaterBlaster WB4200 Professional 4200 PSI (Gas-Cold Water) Belt-Drive Pressure Washer w/ Honda GX390 Engine
Product Description

Specs

8

Reviews

2

Product Q&A

Recommended Accessories

How-To Articles

Manuals
Features
Features
Powerful Honda 13.0-HP GX390 Engine with Oil Alert®

Easy to start; quiet and reliable

Belt Drive Engine And Pump System

Efficient and long lasting

AAA Industrial Triplex Plunger Pump

Ceramic components run cooler to last longer

5 year factory warranty

Adjustable Unloader

Allows you to customize the pump for the task at hand

Professional Gun With 36-inch Stainless Steel Spray Wand

Quick change tips: 0°, 15°, 25°, 40°; built in chemical injection

Includes 50 foot, dual braid Monster Hose

10 Gauge Heavy-Duty Powder-Coated Steel Frame

10 gauge steel sub-frame provides additional support

Polished chrome front and rear handles; 10 year limited Factory Warranty
Specifications
Engine
Fuel Tank Size
1.6 Gallons
Consumer Engine Warranty
3 Years
Commercial Engine Warranty
3 Years
Pump
Pump Type
Triplex Plunger
Chemical Injection
Siphon Tube
Consumer Pump Warranty
5 Years
Commercial Pump Warranty
5 Years
Housing
Hose
Hose Material
Wire Reinforced
Hose Connections
Quick-Connect
Spray Gun
Spray Gun Connection
Quick-Connect
Spray Gun Grade
Professional
Spray Gun Wand
Single Wand
Spray Tips
Quick Connect Tips (5)
Turbo Nozzle
Sold Separately
Overview
Consumer Warranty
90 Days
Commercial Warranty
90 Days
Product Width
26.5 Inches
Product Height
24.25 Inches
Additional Model Numbers
WB4200, 60205
Features
Features
Powerful Honda 13.0-HP GX390 Engine with Oil Alert®

Easy to start; quiet and reliable

Belt Drive Engine And Pump System

Efficient and long lasting

AAA Industrial Triplex Plunger Pump

Ceramic components run cooler to last longer

5 year factory warranty

Adjustable Unloader

Allows you to customize the pump for the task at hand

Professional Gun With 36-inch Stainless Steel Spray Wand

Quick change tips: 0°, 15°, 25°, 40°; built in chemical injection

Includes 50 foot, dual braid Monster Hose

10 Gauge Heavy-Duty Powder-Coated Steel Frame

10 gauge steel sub-frame provides additional support

Polished chrome front and rear handles; 10 year limited Factory Warranty
Specifications
Engine
Fuel Tank Size
1.6 Gallons
Consumer Engine Warranty
3 Years
Commercial Engine Warranty
3 Years
Pump
Pump Type
Triplex Plunger
Chemical Injection
Siphon Tube
Consumer Pump Warranty
5 Years
Commercial Pump Warranty
5 Years
Housing
Hose
Hose Material
Wire Reinforced
Hose Connections
Quick-Connect
Spray Gun
Spray Gun Connection
Quick-Connect
Spray Gun Grade
Professional
Spray Gun Wand
Single Wand
Spray Tips
Quick Connect Tips (5)
Turbo Nozzle
Sold Separately
Overview
Consumer Warranty
90 Days
Commercial Warranty
90 Days
Product Width
26.5 Inches
Product Height
24.25 Inches
Additional Model Numbers
WB4200, 60205
Specifications
Engine
Fuel Tank Size
1.6 Gallons
Consumer Engine Warranty
3 Years
Commercial Engine Warranty
3 Years
Pump
Pump Type
Triplex Plunger
Chemical Injection
Siphon Tube
Consumer Pump Warranty
5 Years
Commercial Pump Warranty
5 Years
Housing
Hose
Hose Material
Wire Reinforced
Hose Connections
Quick-Connect
Spray Gun
Spray Gun Connection
Quick-Connect
Spray Gun Grade
Professional
Spray Gun Wand
Single Wand
Spray Tips
Quick Connect Tips (5)
Turbo Nozzle
Sold Separately
Overview
Consumer Warranty
90 Days
Commercial Warranty
90 Days
Product Width
26.5 Inches
Product Height
24.25 Inches
Additional Model Numbers
WB4200, 60205
Search Product Q&A's
Answered by Jim. the Pressure Washer Expert
With Simpson professional4200 psi gas cold water belt drive washer what brand of pump it has. In your website only states triplex plunger.
Manny
from New Jersey
June 01, 2012
Answer
Simpson uses an industrial grade, triplex plunger pump on this unit, but they will choose between available brands for the best balance of performance and price.
Was this answer helpful?
Yes
0
No
0
Hi Bill, What's the real difference between the Simpson Professional 4200 PSI P.W. and the Pressure Pro 4000 P.W. Also, why is a belt driven engine pump combination better than direct attachment? Thanks! V/r Les
Les McPeak
from Illinois
May 19, 2011
Answer
Ideally, there is not going to be a huge difference withe the Pressure Pro and the Simpson, both are high quality models. The Pressure Pro units do give you a little more tlc being they are all built as the order comes in and don't come off of an assembly line, but the quality is still there on either unit.

The benefits of a belt driven unit is the pump is going to run at half the RPM as a direct drive. A belt driven pump is going to run at an RPM of about 1740 and a direct drive runs at or around 3250-3600. This is going to put less pressure on the pump and give you a longer lasting product. In alot of cases it really can depend on how much you use the unit. If you are just looking for a high quality pressure washer for your home and some other odd jobs, a direct drive unit is more than fine, but if you are using for business and multiple tasks and it will be getting alot of use, a belt drive is a better way to go.

Thanks,

Pressure Washers Direct
Was this answer helpful?
Yes
0
No
0
Expert Recommended Accessories
Hand Picked By Our Expert Jim
Required Accessories
Add All Required
+
Ask Jim, Our Product Expert, A Question!
*Required Fields
+
Thank You For Submitting Your Question
Your submission has been sent successfully. Please give our experts up to two business days to respond.
Media Gallery
Simpson WaterBlaster WB4200 Professional 4200 PSI (Gas-Cold Water) Belt-Drive Pressure Washer w/ Honda GX390 Engine