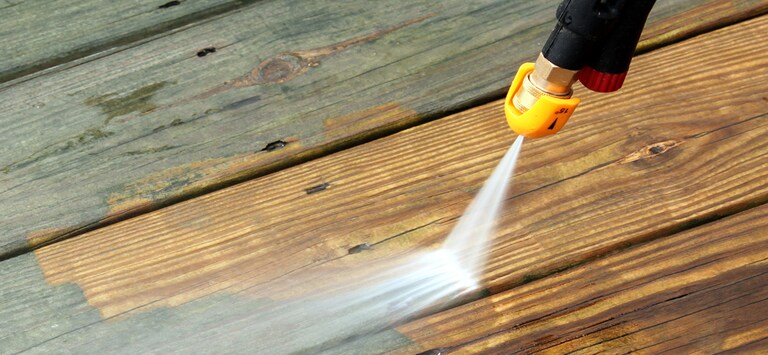 Gas vs Electric Pressure Washers
Why Gas Pressure Washers Beat Electric
It's a warm spring morning, and you're outside inspecting your once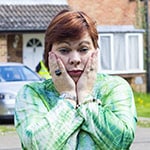 pristine home, now wrecked from the winter.

Your driveway, siding, deck, windows, and car all seem in disrepair. You quickly realize that your old pressure washer isn't up to the task.

Don't worry, we've all been there. Most of us just start out using an entry-level tool just to learn and advance on to something better.


Should I Upgrade?
The differences between an electric and gas pressure washer are night-and-day.

Sure, an electric pressure washer will get you through the light-duty tasks without the worry of gasoline, but nothing stands up over time to the tough jobs like a gas-powered pressure washer.

Take a look at the chart below to quickly see the differences: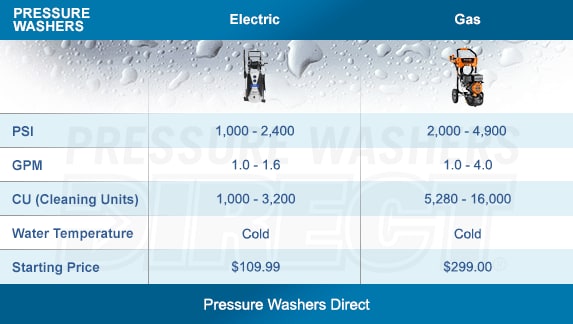 Cost - Electric washers may be less expensive initially, but that's because they are designed to be lightweight and aimed at the occasional user. When you invest in a gas pressure washer, you get professional results with more cleaning power, high quality (replaceable) parts, and a significantly longer life.


Durability - By putting a high demand on an electric unit, you'll quickly see the hidden costs - making you and your wallet work harder over time. A gas-powered pressure washer is a much more versatile and substantial machine.

Gasoline models employ specially engineered metal pumps and components that are interchangeable and replaceable, making maintenance easy. With proper care, you can expect your gas-powered investment to last for years and years.


Electricity and Water Don't Mix - Gas units can be used virtually anywhere outdoors without pesky extension cords getting in your way. Being cordless avoids the risk of electric shock, and lets you work without being limited by the distance from your nearest plug.



Attachments - Gas machines have an arsenal of

accessories

available to tackle a variety of jobs. Surface cleaners and more cleaning tips make easy work out of grimy, large driveways. Durable longer wands will

make cleaning your second story a breeze

. With longer hoses available too, no corner of your yard will be out of reach. There's a tool for every job using a gas unit!


Power - Electric units just can't muster the strength and results that a gas machine can. Getting the right power washer saves you both time and frustration.

Gas-powered washers can operate at a much higher PSI, which is essential when you need to clean stubborn stains on surfaces like a driveway or sidewalk. PSI can be the difference between "rinsing" and "washing" your surfaces.

After making the switch, the only question you'll have is why you didn't get one sooner.

Pressure Washer Considerations
Cleaning Units - CU measurements provide an estimate of the efficiency and performance of the washer. You can calculate CU by multiplying PSI x GPM. More cleaning units mean higher power, broader spread, and a faster clean.


Pounds per Square Inch - PSI is the measure of pressure that a compressor can produce (in pounds) per square inch of space.


Gallons Per Minute - GPM measures the volume of water your washer is pumping every minute, also known as a flow rate. GPM is one of the most important metrics you need to know when buying a pressure washer.

PSI won't matter much for cleaning if your water source's GPM is too low to supply enough water to your washer. The average household will handle 2.5 GPM without problems. Make sure your water supply can handle the listed flow rate of your pressure washer or risk damaging the motor.

Pro Tip: You can determine your GPM by how fast you can fill up a 5-gallon bucket. 5 / Time (seconds) X 60 = GPM


The Bottom Line
Electric pressure washers are fine for light, occasional use around the home. But, if you want to take on the toughest grime with ease, do yourself a favor and invest in a gas-powered pressure washer.

Shop Top-Rated Gas Pressure Washers
Need help choosing? We're here to help! Contact Us.
Was this article helpful?