Are you tired of seeing uneven stripes left by your pressure washer on the garage floor or patio?

Surface cleaners are the answer. Small nozzles on a spinning arm produce a smooth, even cleaning path.

The right surface cleaner will save you time, water, and effort. They produce a nice uniform finish without soaking your clothes or your wallet.

Choosing the right one is easy! Just pick the grade that matches your pressure washer.

Consumer
Consumer electric pressure washers use bayonet connectors that twist and click to lock together.
Most consumer gas units can use the M22 connector on the Karcher T350. If your spray gun uses quick connectors then adding a high pressure quick connect adapter kit will do the trick.
Consumer surface cleaners are great for homeowners looking to take on spring cleaning or other small jobs.

Shop All Consumer Surface Cleaners
Semi-Pro

The semi-pro models make either a terrific consumer investment or an entry-level professional choice.
These models are made with more heavy duty components than their consumer counterparts.
If you have some seriously stubborn stains on your driveway or garage floor, you'll need the extra power of a semi-pro surface cleaner.

Shop All Semi-Pro Surface Cleaners
Professional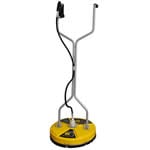 Professional surface cleaners are built to hold-up to daily use by either gas or electric commercial pressure washers.
Most are rated up to 4000 PSI and can accept hot water. They are engineered to be light weight and easily portable.
If you use a surface cleaner to make your living, or will be using one regularly, get a commercial unit that will be sure to last.

Shop All Professional Surface Cleaners