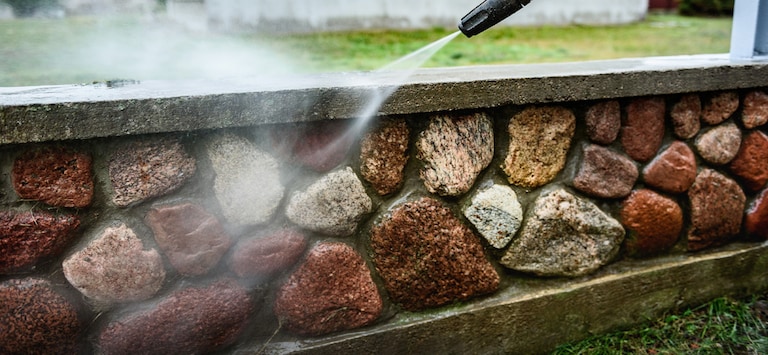 Pressure Washing at the Perfect Angle
How to Pressure Wash at the Perfect Angle
Pressure washers are great for removing a variety of things like dirt, mold, dust and even peeling paint.

They've revolutionized the way we maintain homes, driveways, fences, patios, and even cars, making it easier than ever before. To get the maximum cleaning power from your pressure washer, you should keep the tip at a 90-degree angle.
Any other angle will weaken the spray, making proper cleaning difficult.
Pivot Nozzle

It's often difficult to maintain that 90-degree angle when cleaning hard to reach places such as wheel wells, underneath your deck, soffits, and gutters. Cleaning these places can be strenuous, tiring, and oftentimes, leave you soaking wet.

In these situations, we recommend using a pivot nozzle pressure washer wand. A pivoting wand will give you direct power where you need it every time, allowing much more versatility and control.
How Pivoting Nozzle Wands Work
As the pressurized water reaches the nozzle, it's transferred to the adjustable nozzle that's attached parallel to the wand itself. That nozzle can be pivoted up and down 45-degrees in each direction.

There is a design for gas-powered models with a pistol-style handle that twists to adjust the nozzle while you operate. The gas-power design comes in 40" and 28."

There is also a design for electric pressure washers that have a horizontal handle that slides down and back on the wand to adjust the nozzle. The electric-powered design comes only in 18" size.

Shop all Pivot Nozzles
Was this article helpful?