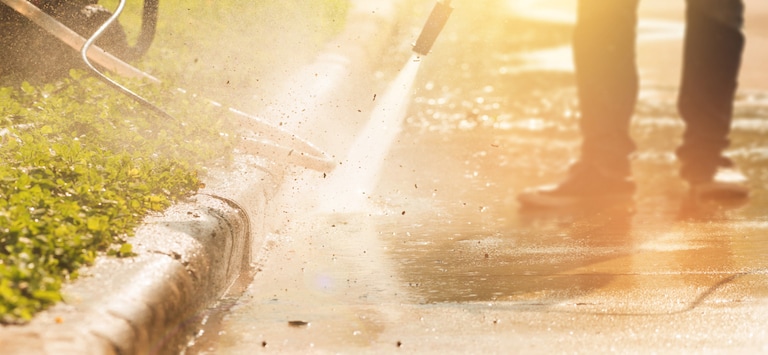 Medium Consumer Gas Pressure Washer Buyer's Guide
How to Pick a Medium Consumer Gas Power Washer
If you think about it, a gas-powered pressure washer is basically an engine and a pump. Medium consumer gas pressure washers feature direct drive systems with axial cam pumps.
The size of the engine, however, determines the strength (and price) of the pressure washer. Basically, you're buying cc's. The greater the cc's – the larger the engine – the more expensive the pressure washer.
What Can it Do?
With 3000 PSI, the more appropriate question may be, what can't it do? These pressure washers have the power to take on some of the toughest stains. They even have enough power to strip old paint.
All medium consumer gas units are cold water - meaning, your main limitations will be related to hot water cleaning. If you need to remove oil or grease stains, a cold water power washer probably won't cut it. To get these messes clean, you'll want to step up to a hot water unit.
  Applications

Washing Vehicles

Brightening Wood

Cleaning Siding

Removing Stains

Stripping Paint

What About Detergent Tanks?
While none of the small gas pressure washers offer onboard detergent tanks, our best medium units offer this feature. The other option, though less convenient, is a siphon tube, which you place in a bucket of detergent and water. The more efficient option is definitely the use of an onboard detergent tank.
A lot of cleaning projects, such as washing your siding, require additional detergent. Just add detergent to the tank, conveniently located on your pressure washer, and you'll be able to use it without having to stop and set up a separate bucket.

Spray Tips
Another nice feature that accompanies medium gas pressure washers is an assortment of spray tips - allowing you to tailor your spray to your cleaning task. If you're rinsing detergent from your siding, use a wider spray pattern.
But if you're blasting mold and mildew from your walkway, choose a concentrated jet spray pattern.
In a 5-pack, the tips are usually:
0° - red, concentrated pencil jet
15° - yellow, high performance
25° - green, multi-purpose
40° - white, sensitive surfaces
65° - black, low-pressure detergent application

Shop All Medium Consumer Gas Pressure Washers
Was this article helpful?