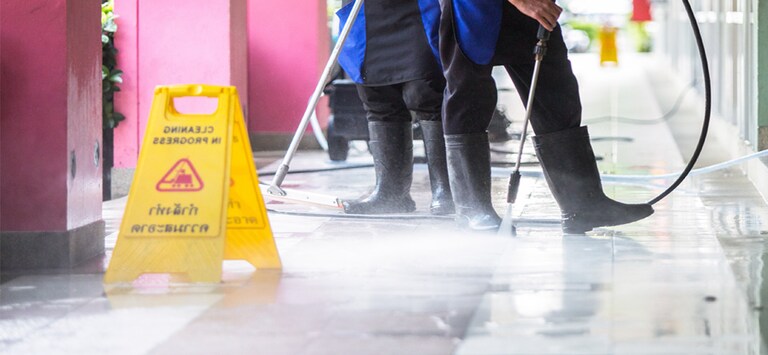 Professional Belt-Drive Pressure Washer Buyer's Guide
How to Pick the Perfect Belt-Drive Pressure Washer
When you're dealing with professional pressure washers, you're sure to get a quality pump. The pump itself can be one of the most expensive components of the whole unit.

So you want to do anything you can to mitigate the wear and tear on the pump. Belt-drive engines can help extend the life of your pump, allowing you to get more bang for your buck with your pressure washer.
Belt-Drive Engines

The most significant advantage of belt-drive over direct-drive engines is belt-drive isn't as hard on the pump. This is important because professional triplex plunger pumps cost a few hundred dollars minimum.

Direct drive pressure washer pumps run at around 3400 RPM, while belt-drive pressure washer pumps run at about 1,700 RPM. Because the pump runs at half the speed, it won't get as hot and, in the long run, will last longer.
Variable Pressure

One of the best features found on belt-drive pressure washers is variable or adjustable pressure controls. This way, you can tailor the strength of PSI depending on your cleaning task.

Variable pressure is especially important on power washers as powerful as these units. 4000+ PSI could damage the hull of a boat or other sensitive surfaces so throttling the pressure based on the task at hand is crucial. Blasting mold from brick - crank it up. Rinsing detergent - turn it down.

Shop All Professional Belt-Drive Pressure Washers
Start Your Own Business Kits

We offer several "Start your own business" kits on our site. This package includes the pressure washer, a professional spray gun, spray lance, connectors, hoses, spray tips, and even a surface cleaner.

A kit with a belt-drive pressure washer will give you all the tools you'll need to start your own pressure washing business. But these packages are still a great deal for anyone who pressure-washes often. They're especially popular with contractors, farm owners, and landlords.

Shop All Start Your Own Business Kits
Was this article helpful?