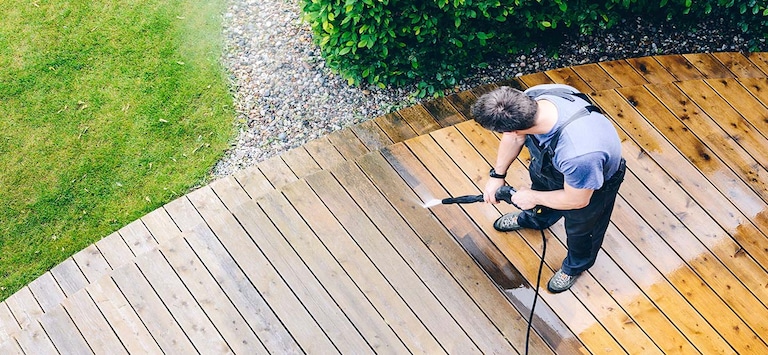 Best Electric Pressure Washers
Top-Rated & Best-Selling Electric Pressure Washers
Electric pressure washers keep things easy and are convenient for many homeowners across the country. There are even professional power washers for contractors and small business owners. But, which electric washers are the best?

We've compiled the Best Electric Pressure Washers of 2021 based on our best-selling, highest-rated models with expert recommendations to ensure you get the perfect model for your needs.


Need more information? Read our guide on How to Pick the Perfect Consumer Electric Pressure Washer. Then, pick a category below and start washing with confidence.
---
Best Electric Pressure Washers List

You can scroll down through the full list of the best electric pressure washers, or simply click on the one you want to see straight away.

Best Consumer Electric Pressure Washers



Best Professional Electric Pressure Washers
Best Consumer Electric Pressure Washers
1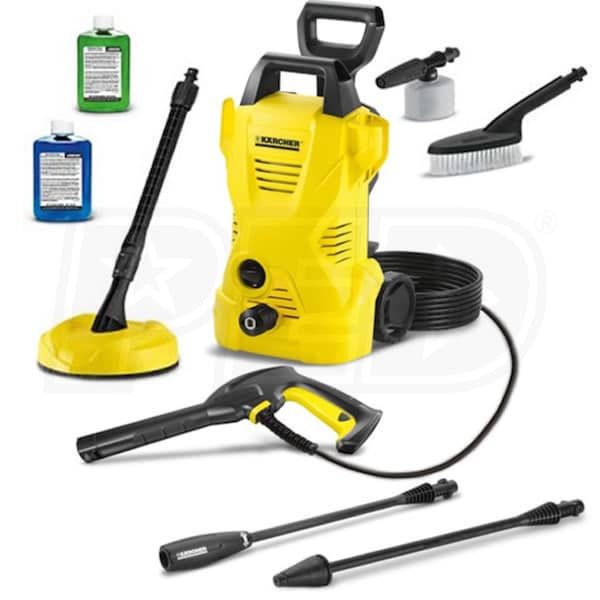 Expert Review
In my opinion, Karcher produces some of the best consumer-grade electric pressure washers available. Their "Rapid Exchange" warranty is like no other, and is basically hassle-free. This very well priced pressure washer is lightweight and takes up virtually no space at all. Although compact in design, don't let the size fool you... this model performs very well with great results. It also comes with a bonus car care kit that comes in handy for auto detailing. I am recommending this model because of the space-saving design as well as the great performance you will get from this machine at such a great price.
Features
1600 PSI Pressure Washer With Car Care Accessories
Strong cleaning power for jobs around the house
Plugs into standard 120-volt household outlets on 13 amp circuits
Patented Karcher N-COR® Pump
Maintenance-free 1.25 GPM pump resists corrosion
Telescopic Handle Design
Reduces bending & strain; stores compactly
2 Spray Wands
Vario spray adjusts the spray shape & dispenses soap
Dirtblaster® Turbo's rotating spray tackles the hardest jobs in half the time
4 Piece Car & Home Care Kit
Foamer bottle lets you use a wider variety of cleaners & waxes
Soft bristle brush quickly removes grit & grime
Karcher vehicle detergent won't harm the pump or your paint
Surface cleaner for flat surfaces doesn't leave zebra stripes
---
2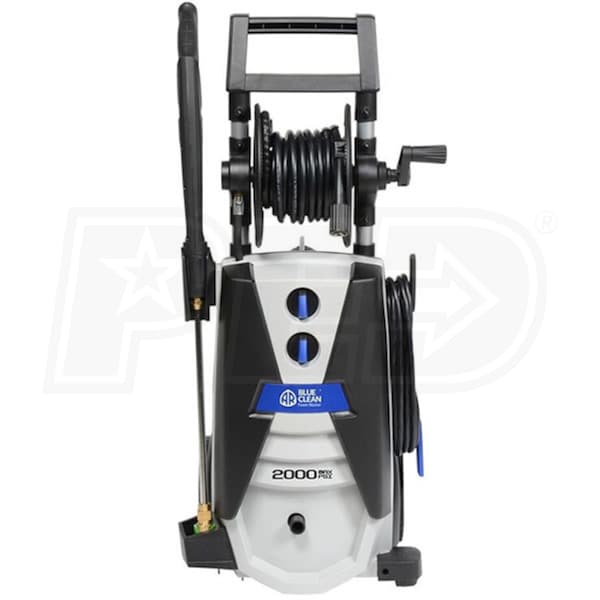 Expert Review
AR produces some of the best electric pressure washers available in the market today, and this is definitely one model that I would recommend. Unlike most electric pressure washers in this category, this model uses brass fittings- which is a huge plus over the more commonly used plastic fittings. The reliable pump is paired with a heavy-duty motor and contained in an easy to transport, stable frame. Storage slots on the side keep the wand and nozzles from getting lost, and a pressurized hose reel keeps the hose tidy and kink-free. This proven performer from AR has everything you need wrapped up in a sleek package.
Features
35-foot GFCI power cord lets you work in a wide area
Adaptor PW3082750 (Sold Separately) Needed To Use AR Accessories
Metal inlet & discharge tubes are more durable than plastic
Produces 1.4 gallons per minute for complete cleaning
High-Quality AR Pump
15% larger motor brushes for premium performance
Heavy Duty 1.6-HP Universal Motor
1 Year "Bumper-to-Bumper" Warranty
Easily takes on household cleaning tasks
AR Blue Clean Supreme
Keeps 30' high pressure hose tidy during use & storage
Sturdy Vertical Cabinet With Wheels
Hooks for spray gun & 35' GFCI power cord keeps them organized
On-board 48oz detergent tank eliminates messy soap buckets
---
3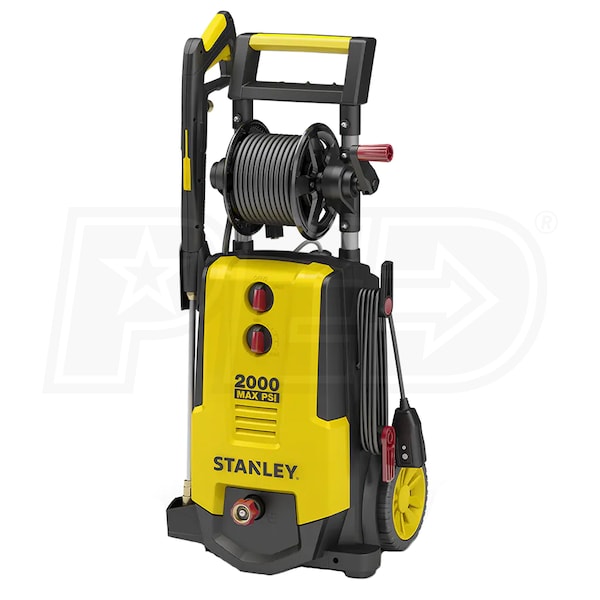 Features
Powerful & Dependable Electric Pressure Washer
32 X the power of a standard garden hose
Quickly blast away dirt, mold and grime to reveal a fresh clean look
Durable Aluminum 1.4 GPM Axial Pump
Brass garden hose adapter w/ filter keeps debris out
Save water up to 80% over a standard garden hose with 40% more water pressure
Heavy-Duty Universal Motor
Power on / off is a snap with the push button start
35' power cord with auto reset GFCI with quick cord release for easy removal
Powerful, Quiet Cleaning Up To 2000 PSI
Perfect for siding, decks, pavement, cars, outdoor furniture, pools, ATVs, RVs, kennels, etc
Built-In High Pressure Hose Reel
Keeps hose tidy during use & storage
Holds 30-foot soft flexible high pressure hose
---
Best Professional Electric Pressure Washers
1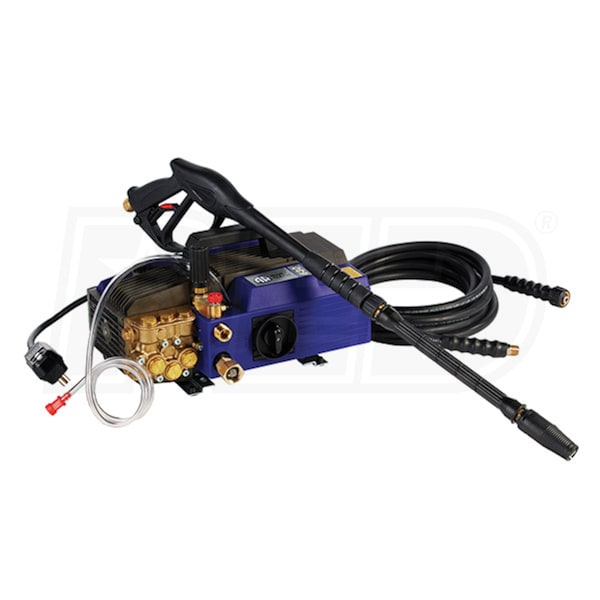 Expert Review
This industrial-grade pressure washer from AR is a workhorse! The high-temperature warm water provides a deep clean! It has high-quality components, including a triplex pump with ceramic pistons. The auto-start/stop feature prevents overheating and lengthens the life of the unit. In addition, the powerful induction motor can give you 6 times the life of a universal unit. It's also adaptable and can be mounted or shelved for your convenience.
Features
High-Temperature Industrial Compact Electric Pressure Washer
Factory installed hot water seal kit
Allows incoming water temperature up to 180° F
AR Triplex Pump With Ceramic Plunger
Ceramic plungers run cooler and last longer
Forged brass head is more durable than plastic components
Hi-Low Variable Spray Wand
Pressure gauge tailors the pressure to suit the task
Siphon Tube Allows Use Of Pressure Washer Safe Detergents
Automatically mixes proper water to detergent ratio
Total Stop System (TSS)
Extends the life of pump & motor
Automatically shuts off the power washer when trigger is not engaged
---
2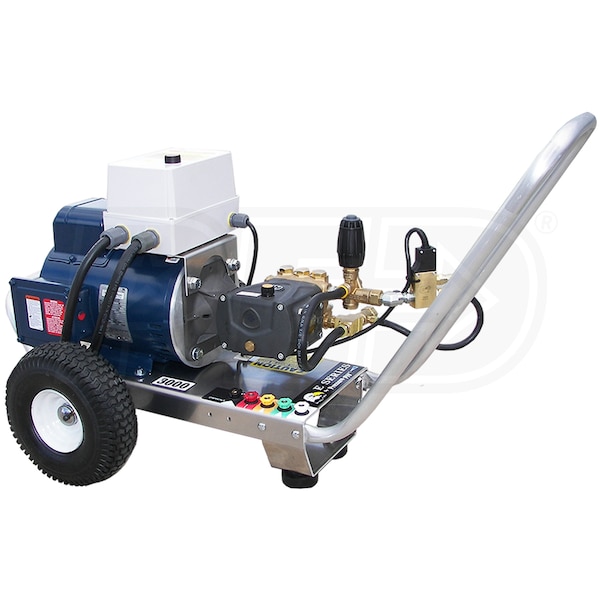 Expert Review
You are armed and ready when you purchase the Pressure-Pro EE3030A-AS electric pressure washer! A commercial-grade 18-amp induction motor does not shy away from any job. Thermo-sensor prevents overheating in bypass mode. Includes an AR triplex pump for a long working life. It's easy to transport and comes with a professional-quality gun and wand, pneumatic tires and an aluminum frame. An all-around great pressure washer from Pressure Pro.
Features
Powerful 26 Amp, 230 Volt Motor
Commercial power and durability
Includes 12 foot power cord; add your own plug to suit your needs
AR Triplex Plunger Pump
1725 rpm low speed pump runs strong and quiet
Ceramic components run cooler, last longer
Easy to maintain and rebuild
Auto Stop-Start
Motor & pump start when the trigger is pulled; stop on release
Extends the life of the pump & motor
Professional Quality Gun/Wand Assembly
5 quick connect nozzles: 0º, 15º, 25º, 40º, chemical application
50 feet of steel reinforced high pressure hose
Revolutionary Aircraft Aluminum Frame
Light weight; no welds to crack, break or fail
Lifetime frame warranty
---
3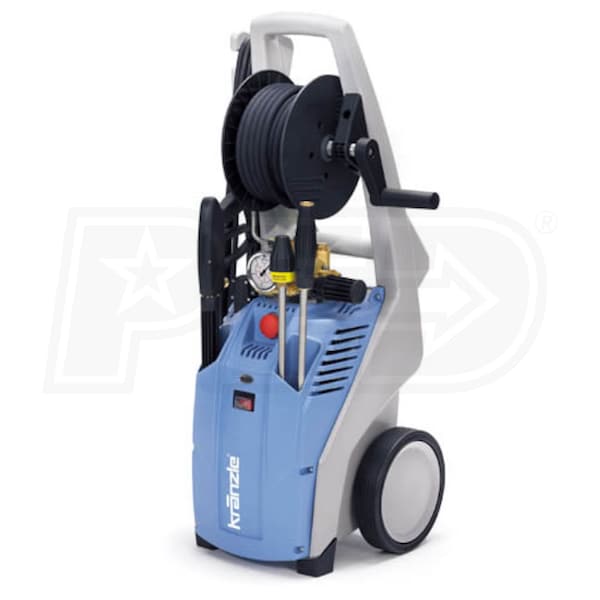 Expert Review
Need a pressure washer that works hard for you every day? This Kranzle electric model is designed for industrial and commercial use; It's great for commercial applications like auto detailing and HVAC maintenance. Possessing an industrial pump, it can run for hours continually, something not many models can boast. This unit comes with plenty of accessories, including a 33' wire-braided hose and a turbo nozzle. This machine is quiet and powerful, and you can count on its durability and reliability to get the job done!
Features
Medium Duty Industrial Unit With Steel Frame & Hose Reel
Perfect for the professional who cleans hotels and buildings, does auto detailing, HVAC maintenance, screen printing and boats & vehicle washing
110 Volt, 20 Amp TEFC Electric Motor
35' electrical cord with a ground fault interrupter (GFI)
Use inside or outside; can pull water from a tank or lake
Kranzle APG Industrial Grade, Freeze Proof Pump
Multi-hour bypass and run-dry capability prolongs pump life
Kränzle adjustable unloader w/ gauge suits pressure to task
10 year manifold warranty
Professional Grade Gun And Lance With Safety Screw Couplers
Vario-jet nozzle cuts through grime
Dirt Killer turbo nozzle doubles cleaning power for tough jobs
Exit side chemical injection allows for wider cleaner selection
Built-In Hose Reel
Includes 50' wire braid reinforced, 1/4" hose w/ female M22 ends
---
Was this article helpful?