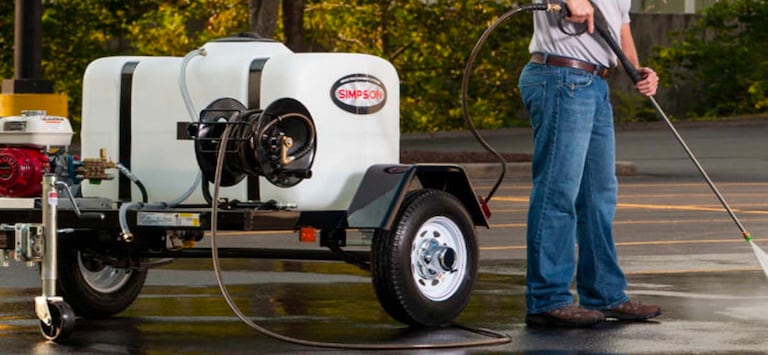 Best Portable Pressure Washers of 2023
Best-Selling & Top-Rated Portable Power Washers
If you do your washing on the go, you know how important it is to pick the right portable pressure washer. With so many options now available, where do you even start? We're here to help. This year we've gone the extra mile to put together the Best Portable Pressure Washers of 2023 based on our best-selling, highest-rated models with expert recommendations to ensure you get the perfect type for your needs. 

We want you to pick the one you love, so scroll through our recommendations below. You can also peruse our other lists of Best Pressure Washers.

Happy cleaning! 
---
Best Portable Pressure Washer List

You can scroll through the full recommended list of portable power washers below. 


Best Electric Portable Pressure Washer
1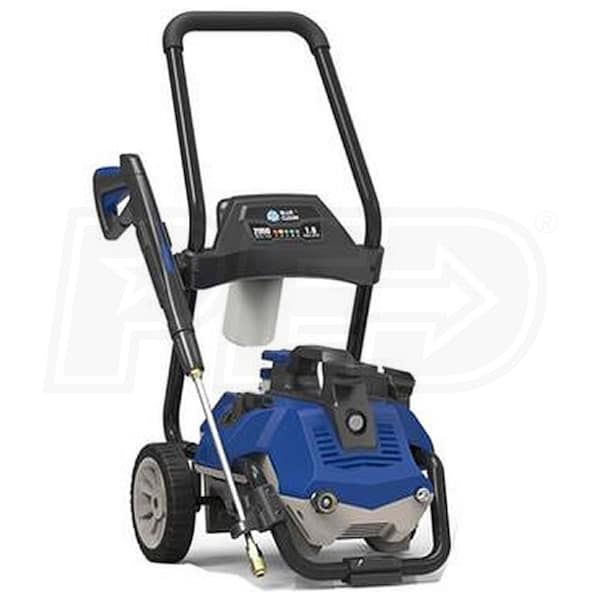 Features
Convenient Cart Or Carry Pressure Washer
Use the cart to move the pressure washer easily; lift the washer from the cart for ultimate portability
Wheeled Cart With On-Board Storage
Transport spray gun, nozzles, hose & cord neatly; 8" rubber-wrapped wheels take on varied terrain
Powerful, Quiet Cleaning Up To 2050 PSI
Perfect for siding, decks, pavement, cars, outdoor furniture, pools, ATVs, RVs, kennels, etc.
Total Stop System Prolongs Pump Life
Release the trigger & the TSS shuts the pressure washer off for short periods- moving cars or furniture, etc.
Use the push-button on/off switch if you'll be away from the unit for a while
Use anywhere where there is a garden hose with water supply & an electrical outlet
4 Quick Connect Spray Nozzles
0° red, 15° yellow, 25° green, & 65° black (soap) quick-connect nozzles for versatile cleaning
---
Best Gas Portable Pressure Washer
2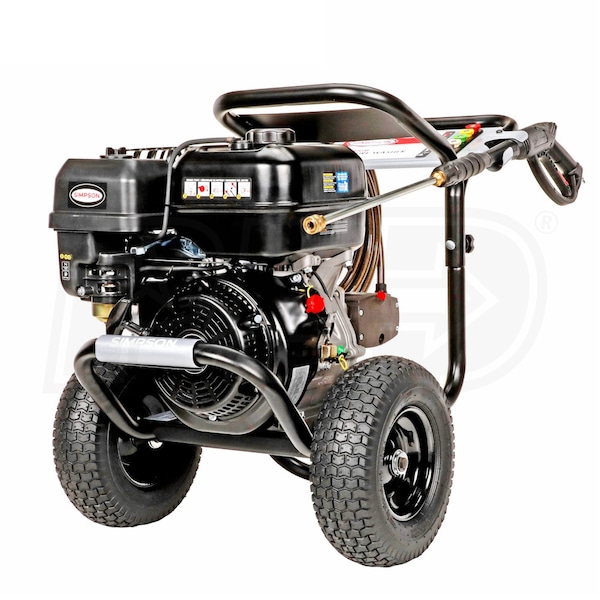 Expert Review
Simpson went above and beyond on this model, combining great components with a low cost! This model features a powerful Simpson 420cc Commercial Series engine and a triplex pump that delivers 4 GPM at 4400PSI! There isn't much under the sun you can't clean with those specs. The adjustable unloader lets you adapt to the job at hand without fuss, increasing or reducing PSI on demand. You won't find that on consumer models. The 13" pneumatic tires absorb vibration and are ready for construction-grade terrain. The triplex plunger pump design runs cooler and lasts longer than axial pumps, plus they can be rebuilt if you ever had an issue. All around, our favorite recommendation for this category.
Features
SIMPSON® 420cc OHV Commercial Series Engine
Reliable power to meet professional demands for any job
AAA Triplex Pump With Adjustable Unloader
Delivers up to 4 GPM at 4400 PSI to blast through tough jobs quickly
Runs cooler than axial pumps so they last longer & can be rebuilt
Adjustable pressure lets you suit the power to the job; 5 year limited Factory Warranty
Heavy-Duty Welded Steel Frame w/ Steel Axle Frame
Unique handle system protects the pump while giving you leverage
13" pneumatic tires easily take on varied terrain, help absorb vibration
On-Board Accessory Storage
Nozzle holder and hooks for spray gun & hose keeps everything tidy
Pro-Style Spray Gun With Ergonomic Grip & Safety Lock-Out
Comfort grip lets you work longer with less fatigue
31" wand lance attaches with M22 connector, integrating wtih many accessories
---
Best Commercial Portable Pressure Washer
3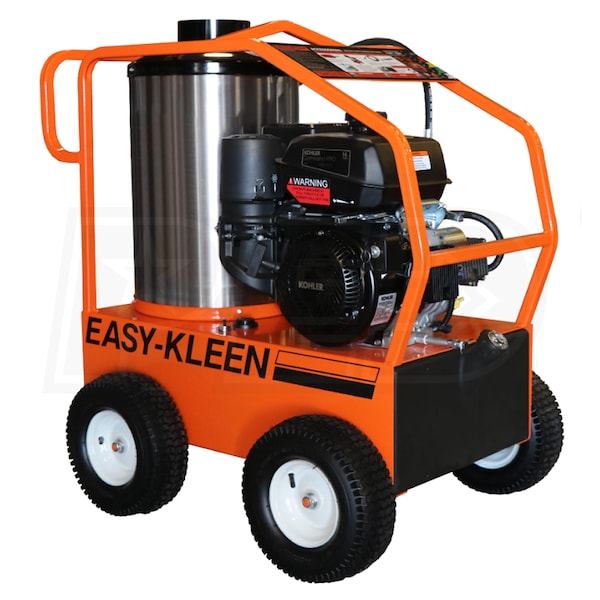 Expert Review
Like all Easy Kleen pressure washers, this machine is a commercial-grade cleaning machine! With a commercial-grade 14 HP engine and a Commercial Duty 3.5GPM Triplex Pump, this unit with clean anything you could dream of with ease. Plus, the oil-fired burners provide 350,000 BTUs for fast heating! The 150-degree temp rise gives you the option to get tough stains removed without scrubbing or damaging the surface with high PSI. With the diesel-fired burner, you have a 10-quart tank with an adjustable thermostat to better control the temperature, too. Lastly, the electric start lets you begin with the touch of a button! (battery not included). Roll it around on its impossibly tough 12 gauge one-piece steel frame roll cage, and it may just be the last pressure washer you ever need.
Features
Schedule 80 Heating Coil With Stainless Steel Shell
3.5 GPM Commercial Duty General Triplex Plunger Pump
Durable oil bath crankcase, stainless valves & brass manifolds
14-HP Kohler Command Pro Commercial Grade Engine
Easy starting, quiet & reliable performance (battery not incl.)
Achieves a 145°F to 150°F rise in temperature over ambient
Completely sealed with ceramic blanket for total efficiency
Quality North American Made 12 Volt Oil-Fired Burners
Adjustable thermostat for efficiency & dependability
Rugged 12 Gauge One-Piece Roll Cage Steel Frame
Powder coated to resist rust & corrosion
All welded, with a lifting bar for easy transport
13" pneumatic wheels on 3/4" axles maneuver easily & quietly
Saves on heat-up time & fuel every time you use it
Adjustable pressure lets you suit the task at hand
---
Best Truck-Mount (Skid) Pressure Washer
4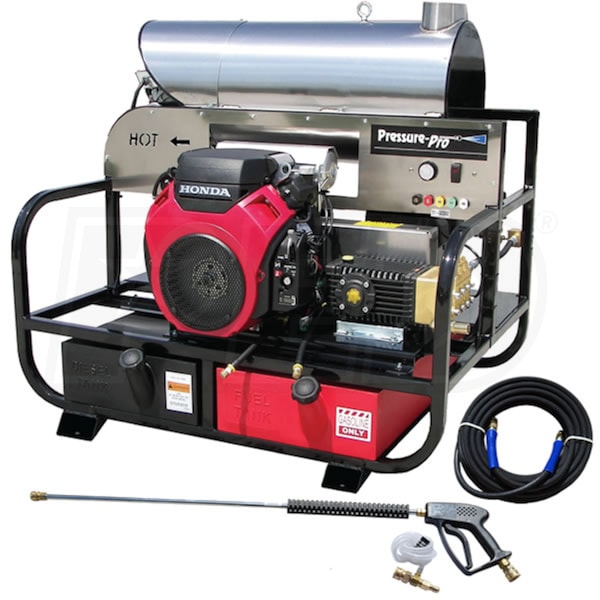 Features
Skid Mounted Power For Industrial Use
8 gallons per minute gets large jobs done efficiently
Powerful 688cc Honda GX 690 Engine With Electric Start
Starts with the turn of a key; Includes marine battery box (12V Battery Sold Separately)
TSF2021 Triplex Plunger Pump by General Pump
Adjustable pressure adds versatility
Rugged steel low-profile frame; powder coated finish resists rust
Reliable Beckett Burner
Adjustable thermostat to suit the task at hand
High limit overtemp protection & safety relief valve for your protection
Super efficient insulated schedule 80 coil
Dual Built-In Fuel Tanks
Two convenient 12 gallon tanks: one for diesel, one for gas
---
Best Pressure Washer Trailer
5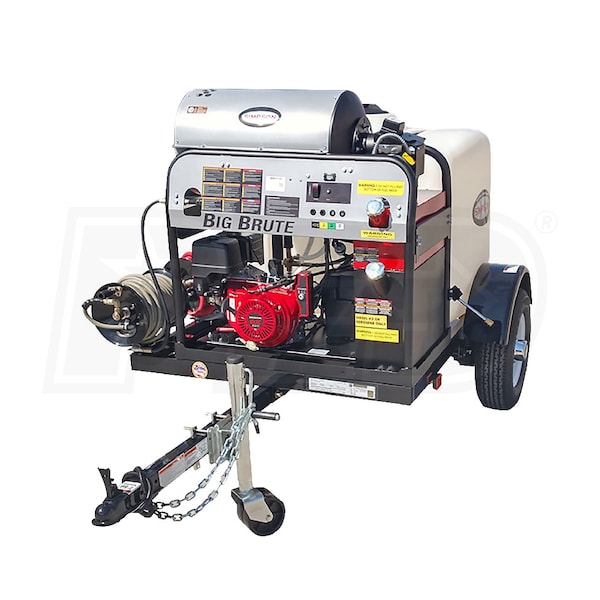 Expert Review
What gives you top-of-the-line performance with no water supply on-site? This is the machine you need! This trailer-mounted washer is equipped with a Honda GX390 engine with an electric start, a Comet pump, and a burner for hot water washing performance that can't be beaten. You can take your water supply on-the-go with this 200-gallon tank. Once you park, you can rely on the garden and high-pressure hose reels on board to give you the cleaning range you need.
Features
Hot Water Mobile Washing Simpson Trailer Pressure Washer
Engineered with power and performance
Perfectly suited for contractors, municipalities, resorts, etc.
12V oil fired burner uses #2 diesel or Kerosene and has a max heat rise of 120°
Commercial-Grade Honda GX390 OHV Engine w/ Electric Start
Full pressure lubrication with spin-on oil filter
GX Series offers premium features and quality
More power, quieter performance and lower fuel consumptio
Requires 12-Volt 14AH Battery (Not Included)
High-Performance Comet Triplex Plunger Pump
Ceramic pistons run cooler & last longer
Commercial quality & durability; can be rebuilt
Adjustable pressure and thermal relief valve
Welded Box Steel DOT Construction
Large 13" pneumatic tires for easy towing
3500 lb. single axle construction & 2" ball coupling
LED lighting package with metal license plate holder
200-Gallon Water Tank
Easy to read water levels, steel straps & drain petcocks
Makes job-site setup a snap; no need to hunt for water hookup
---
Was this article helpful?