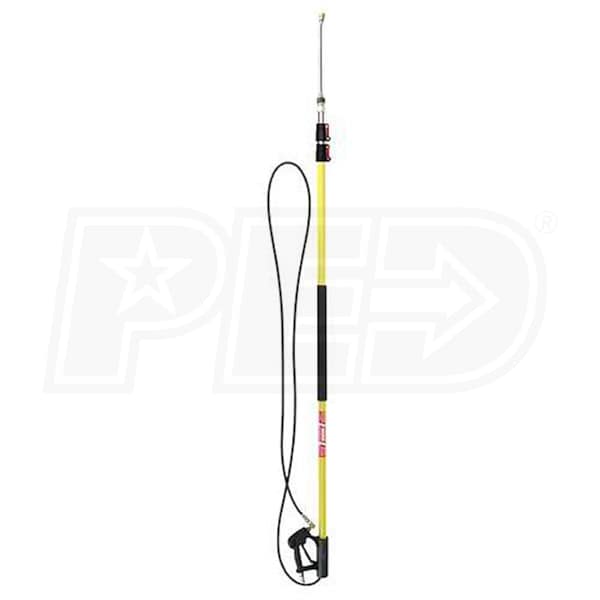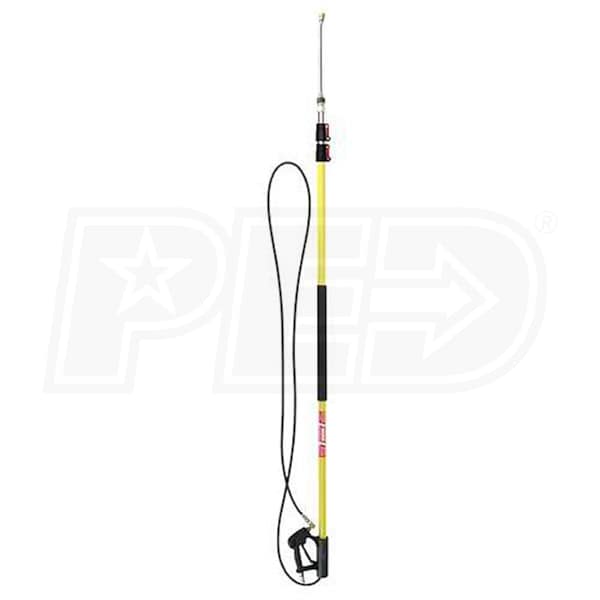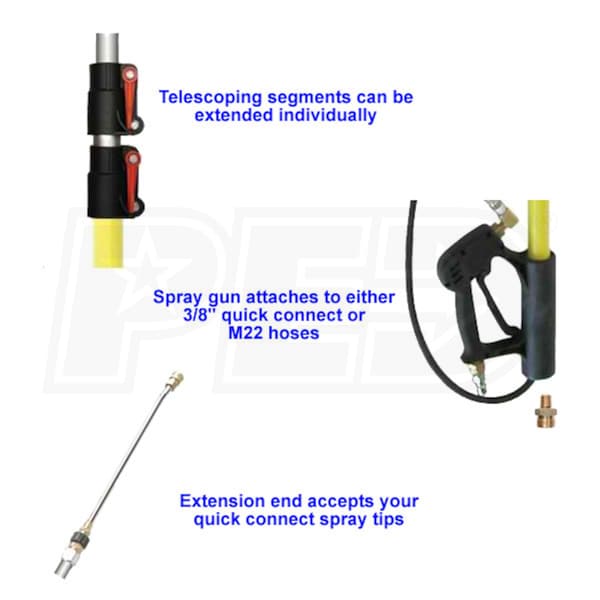 Hover to zoom
1 Of 5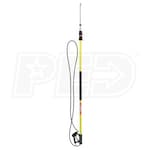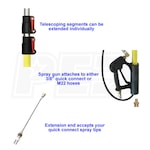 BE 18' Semi-Pro Fiberglass Telescoping Wand
Product Description

Specs

32

Reviews

6

Product Q&A

Recommended Accessories

How-To Articles

Manuals
Grade
Style

Inflow
3/8" Snap Coupler (Male)
Outflow
1/4" Snap Coupler (Female)
Inflow
3/8" Snap Coupler (Male)
Outflow
1/4" Snap Coupler (Female)
Features
Features
Clean Up To 18 Feet High Without A Ladder

Easily reach soffits, fascia, siding & gutters from the ground

3 Adjustable Sections With Leverlocks

One 6 1/2' fiberglass section & two 6' aluminum sliding sections

Set up the length you need, then lock it down for even results

Durable Threaded Gun

Adaptors included for M22 & quick connect supply hoses

Removes easily for storage & quick field adjustments

Use Your Own Quick Connect Spray Tips

Wand has a socket that accepts most quick connect spray tips

Will also accept BE's Gutter Cleaner Extension (sold separately)

Works With Prosumer & Professional Pressure Washers

Maximum 4000 PSI & 8 GPM; works best above 2000 PSI

Will not work with consumer-grade electric pressure washers

Requires high pressure soap shooters & foamers for detergent use; sold separately

Comfortable Padded Grip

Lets you work longer with less fatigue
Specifications
Accessories
Inflow
3/8" Snap Coupler (Male)
Outflow
1/4" Snap Coupler (Female)
Overview
Consumer Warranty
90 Days
Commercial Warranty
90 Days
Product Length
216 Inches
Grade
Style

Inflow
3/8" Snap Coupler (Male)
Outflow
1/4" Snap Coupler (Female)
Inflow
3/8" Snap Coupler (Male)
Outflow
1/4" Snap Coupler (Female)
Features
Features
Clean Up To 18 Feet High Without A Ladder

Easily reach soffits, fascia, siding & gutters from the ground

3 Adjustable Sections With Leverlocks

One 6 1/2' fiberglass section & two 6' aluminum sliding sections

Set up the length you need, then lock it down for even results

Durable Threaded Gun

Adaptors included for M22 & quick connect supply hoses

Removes easily for storage & quick field adjustments

Use Your Own Quick Connect Spray Tips

Wand has a socket that accepts most quick connect spray tips

Will also accept BE's Gutter Cleaner Extension (sold separately)

Works With Prosumer & Professional Pressure Washers

Maximum 4000 PSI & 8 GPM; works best above 2000 PSI

Will not work with consumer-grade electric pressure washers

Requires high pressure soap shooters & foamers for detergent use; sold separately

Comfortable Padded Grip

Lets you work longer with less fatigue
Specifications
Accessories
Inflow
3/8" Snap Coupler (Male)
Outflow
1/4" Snap Coupler (Female)
Overview
Consumer Warranty
90 Days
Commercial Warranty
90 Days
Product Length
216 Inches
Specifications
Accessories
Inflow
3/8" Snap Coupler (Male)
Outflow
1/4" Snap Coupler (Female)
Overview
Consumer Warranty
90 Days
Commercial Warranty
90 Days
Product Length
216 Inches
Search Product Q&A's
Answered by Jim. the Pressure Washer Expert
Mike I have a 1/4" hose on my Simpson Megashot (3000 PSI / 2.4 GPM). This 18' telescoping wand has a 3/8 NPT. Does it require an adaptor coupler? If so is it included with this wand? If not, what do I need to purchase to make it fit my Simpson? Thank you
Tim B
from Texas
July 13, 2016
Answer
That sounds like Simpson's MS60681-S, which comes with M22 connectors on the hose, probably female.

This telescoping wand's Features say "Adapters included for M22 & quick connect supply hoses" so yes, you will need an adapter, and yes- it is included.

So you don't need to purchase an adapter- you can just start cleaning!
Was this answer helpful?
Yes
0
No
0
Just received my BE 18' semi-pro fiberglass telescoping wand and support belt today. Does the wand only extend when hooked to my pressure washer? I unpacked it and it doesn't extend easily. I wanted to see the fully extended length. I am afraid to apply pressure to pull the sections out.
Larry Norris
from Virginia
June 03, 2016
Answer
Larry,
You should be able to extend the wand when the unit is not under pressure. I have attached a link to the manual that walks you through everything you need to know. Any additional questions, don't hesitate to ask.
Manual
Was this answer helpful?
Yes
0
No
0
Mike: Can the telescoping wands be adjusted to essentially any length within their overall range? For example is the 18 foot unit just 6 ft. or 12ft. or 18ft, or something similar?
Darrell Dube
from Ohio
April 29, 2016
Answer
Thank you for your inquiry. It can be locked anywhere from 6 to 18 feet (for the 18' wand). It is an infinite slide- there are no certain (pre-drilled) stopping points.
Was this answer helpful?
Yes
0
No
0
Thanks for the help. Will this 18' Telescoping Wand work with my Ryobi 3100 psi model 80940 power washer with no additional "connectors" required
Ron Lingg
from Georgia
March 03, 2016
Answer
Correct, BE ships their telescoping wands with the needed adapters to connect to the high pressure hose on your Ryobi pressure washer. The only thing that is sold separately is the Wand Belt, which I strongly recommend when using a telescoping wand. I have included a link to that product for you.
WAND BELT
Was this answer helpful?
Yes
0
No
0
Hi, i bought a be ext wand 12' male end 3/8. Which adaptor will connect it to my karcher honda power ?
Kevin Nguyen
from New York
June 22, 2015
Answer
If you had one of the Karcher units with quick connect hose you wouldn't need an adapter at all, so it appears that you may have a Karcher unit with M22 (metric thread) connectors. Both ends on Karcher M22 hoses are usually female.
In that case, you would need a female quick connect with a male M22 on the other end like this
M22 male to QC female adapter
.
Was this answer helpful?
Yes
0
No
0
Mike, Will this attach to my Troy Built Pressure washer 3000PSI and 2700 gpm. Are my hose connections a direct fit to attach to the wand?
Mike
from Minnesota
June 17, 2015
Answer
This will include the necessary adapter to attach to your pressure washer.
ĽAdaptors included for M22 & quick connect supply hoses
I do recommend making sure you order the belt of the telescoping wand can be very difficult to handle.
Telescoping Wand Belt
Was this answer helpful?
Yes
0
No
0
Expert Recommended Accessories
Hand Picked By Our Expert Jim
Required Accessories
Add All Required