Everyone loves the added space a two story home provides.

However, keeping the second-story siding clean can be a difficult task without the right equipment.

There are lots of hard-to-reach places, and using a ladder or scaffold to get to them can be dangerous.

Fortunately, pressure washers have made cleaning hard-to-reach places like this easier and safer than ever.

Cleaning
To reach areas of your home 12 feet and higher, you'll need to use a maximum pressure spray-pattern. Start with the siding at the top of your home, and work your way down. Be sure to stand off to the side to avoid getting wet!
As you work downward toward the foundation of the house, simultaneously back away or switch to a lower pressure spray-pattern when you're half-way down. The high pressure used to reach second stories can damage siding at closer ranges.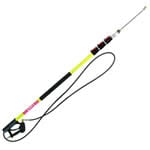 Telescoping Wand
If some high spots are a little stubborn or hard to reach, consider getting a telescoping wand.
These fiberglass or aluminum extension poles can extend your spray gun by 12 to 24 feet.
Without the telescoping wand, pressure diminishes as it climbs. The telescoping wand maintains the pressure much longer, resulting in a stronger, more concentrated spray for hard-to-reach places.

Shop All Telescoping Wands