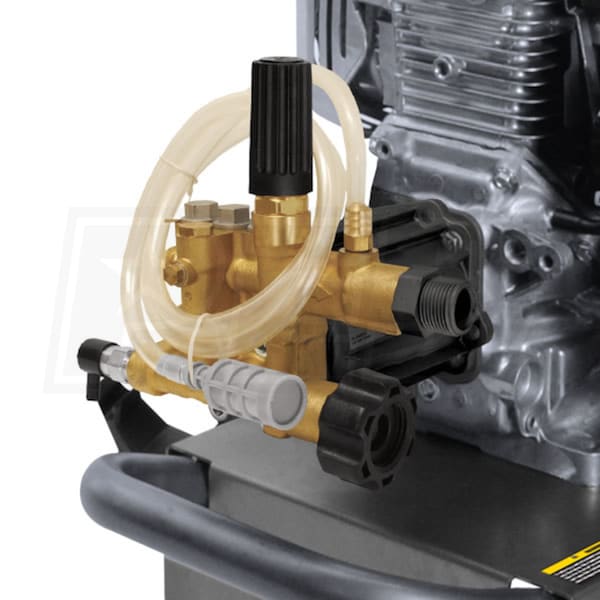 Hover to zoom
1 Of 5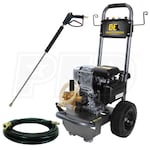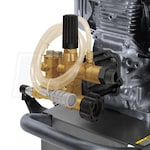 BE 2700 PSI (Gas-Cold Water) Pressure Washer w/ Honda GC160 5-HP Engine
Product Description

Specs

3

Reviews

1

Product Q&A

Recommended Accessories

How-To Articles

Manuals
Features
Features
Ideal for Homeowners

High quality pressure washer components save time & money

Honda GC 160 5-HP Engine

Starts easily, runs quietly and reliably

AR Direct Drive Axial Pump RMV25G30D

2.3 gallons per minute cleans quickly and economically

Durable Powder Coated Steel Frame

Rubber foot lessens vibrations

Frame cutouts for easy engine oil changes

25 Feet Of High Quality Rubber High Pressure Hose

Hose quick connects into pump; 3/8" NPT threads into spray gun

Quick connect nozzles in 0°, 15°, 40°, and soap nozzle

Convenient on-board spray tip storage

10-Inch Flat-Free Tires

Solid foam-filled tires reduce vibration & easily handle tough terrain
Specifications
Engine
Consumer Engine Warranty
2 Years
Pump
Chemical Injection
Siphon Tube
Consumer Pump Warranty
1 Year
Housing
Hose
Hose Connections
Quick-Connect
Spray Gun
Spray Gun Connection
Threaded
Spray Gun Grade
Professional
Spray Gun Wand
Single Wand
Spray Tips
Quick Connect Tips (4)
Turbo Nozzle
Sold Separately
Overview
Consumer Warranty
90 Days
Commercial Warranty
90 Days
Product Length
20.5 Inches
Product Width
22.5 Inches
Additional Model Numbers
B275HA, B275HAS
Features
Features
Ideal for Homeowners

High quality pressure washer components save time & money

Honda GC 160 5-HP Engine

Starts easily, runs quietly and reliably

AR Direct Drive Axial Pump RMV25G30D

2.3 gallons per minute cleans quickly and economically

Durable Powder Coated Steel Frame

Rubber foot lessens vibrations

Frame cutouts for easy engine oil changes

25 Feet Of High Quality Rubber High Pressure Hose

Hose quick connects into pump; 3/8" NPT threads into spray gun

Quick connect nozzles in 0°, 15°, 40°, and soap nozzle

Convenient on-board spray tip storage

10-Inch Flat-Free Tires

Solid foam-filled tires reduce vibration & easily handle tough terrain
Specifications
Engine
Consumer Engine Warranty
2 Years
Pump
Chemical Injection
Siphon Tube
Consumer Pump Warranty
1 Year
Housing
Hose
Hose Connections
Quick-Connect
Spray Gun
Spray Gun Connection
Threaded
Spray Gun Grade
Professional
Spray Gun Wand
Single Wand
Spray Tips
Quick Connect Tips (4)
Turbo Nozzle
Sold Separately
Overview
Consumer Warranty
90 Days
Commercial Warranty
90 Days
Product Length
20.5 Inches
Product Width
22.5 Inches
Additional Model Numbers
B275HA, B275HAS
Specifications
Engine
Consumer Engine Warranty
2 Years
Pump
Chemical Injection
Siphon Tube
Consumer Pump Warranty
1 Year
Housing
Hose
Hose Connections
Quick-Connect
Spray Gun
Spray Gun Connection
Threaded
Spray Gun Grade
Professional
Spray Gun Wand
Single Wand
Spray Tips
Quick Connect Tips (4)
Turbo Nozzle
Sold Separately
Overview
Consumer Warranty
90 Days
Commercial Warranty
90 Days
Product Length
20.5 Inches
Product Width
22.5 Inches
Additional Model Numbers
B275HA, B275HAS
Search Product Q&A's
Answered by Jim. the Pressure Washer Expert
Hi. Does the BE model B275HA have a brass pump? Also what size fuel tank does it have? Thanks for your time. Allen
Allen Ray
from Oregon
March 09, 2014
Answer
The pump that comes on this unit has a brass head on it. The standard size gas tank for a Honda GC 160 holds one quart of fuel.
Was this answer helpful?
Yes
0
No
0
Expert Recommended Accessories
Hand Picked By Our Expert Jim
Required Accessories
Add All Required
+
Ask Jim, Our Product Expert, A Question!
*Required Fields
+
Thank You For Submitting Your Question
Your submission has been sent successfully. Please give our experts up to two business days to respond.
Media Gallery
BE 2700 PSI (Gas-Cold Water) Pressure Washer w/ Honda GC160 5-HP Engine