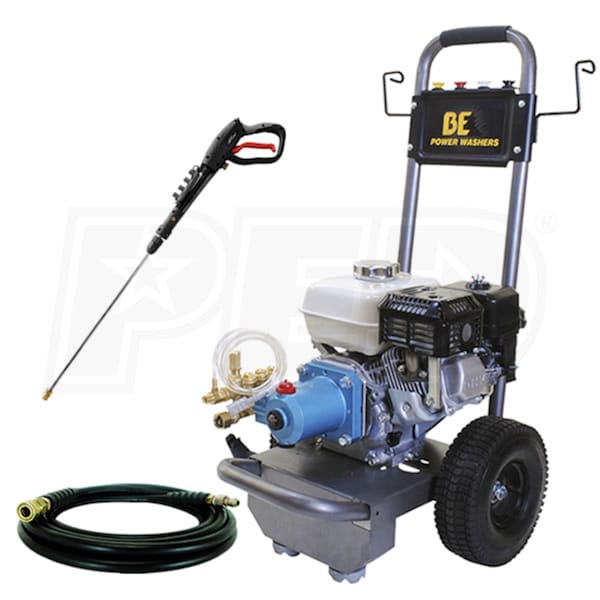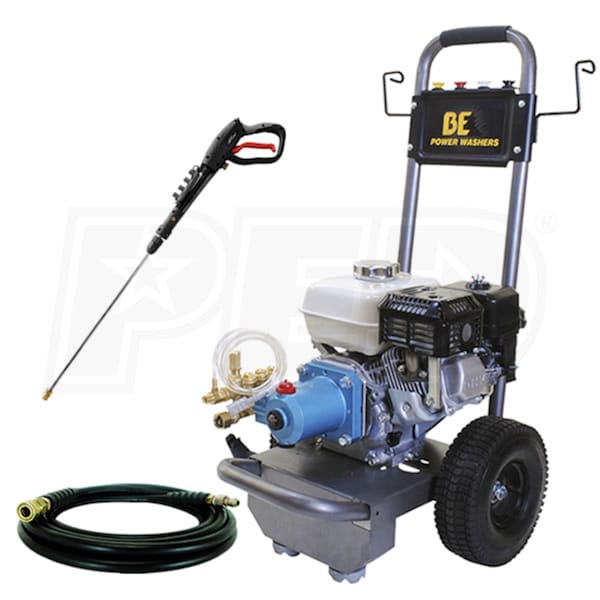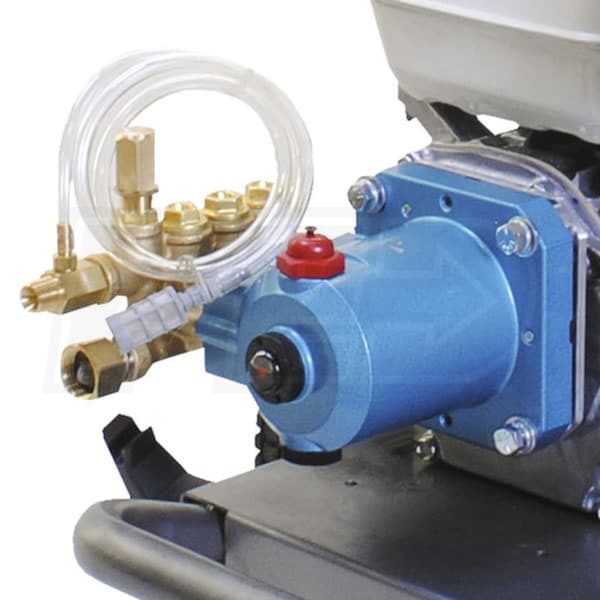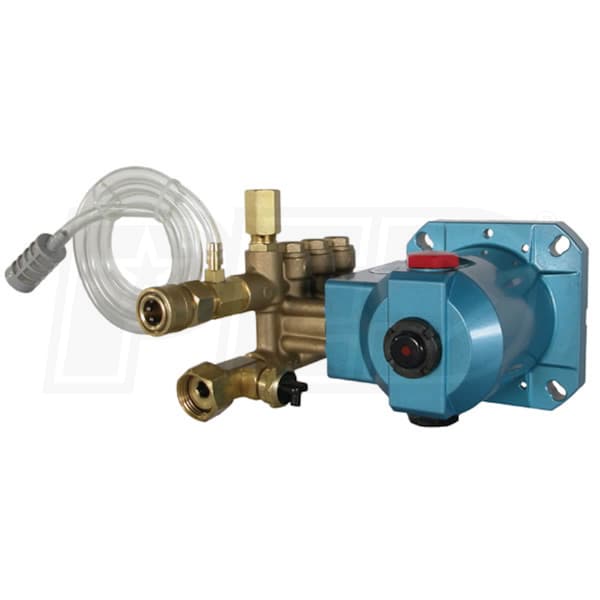 Hover to zoom
1 Of 5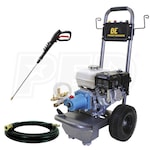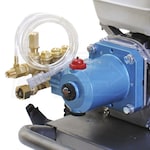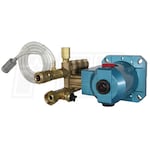 BE Semi-Pro 3000 PSI (Gas - Cold Water) Pressure Washer w/ CAT Pump & Honda GX200 Engine
Product Description

Specs

7

Reviews

1

Product Q&A

Recommended Accessories

How-To Articles

Manuals
Features
Features
Commercial Grade Honda GX200 Engine

Starts easily, runs strong, lasts a long time

CAT Brand Triplex Plunger Pump

Ceramic pistons run cooler, last longer than axial pumps

Commercial grade; reliable and rebuildable

Sturdy Powder-Coated Steel Frame

Anti-vibration rubber foot cuts down on noise

Frame cut-outs to easily change the oil

10" solid foam-filled tires take on tough terrain, help reduce noise

36" Professional Spray Gun & Lance

Ergonomic grip & trigger let you work longer with less fatigue

Built-in clip keeps spray nozzles handy

4 quick connect spray tips: 0°, 15°, 40° & soap

Siphon tube adds soap to water stream under low pressure

25 Feet Of 1/4" High Pressure Hose

Steel braid-reinforced rubber for flexibility & long hose life

Quick-connectors at each end for easy set-up
Specifications
Engine
Fuel Tank Size
0.825 Gallons
Consumer Engine Warranty
3 Years
Commercial Engine Warranty
3 Years
Pump
Pump Type
Triplex Plunger
Chemical Injection
Siphon Tube
Consumer Pump Warranty
5 Years
Commercial Pump Warranty
5 Years
Housing
Hose
Hose Material
Wire Reinforced
Hose Connections
Quick-Connect
Spray Gun
Spray Gun Connection
Quick-Connect
Spray Gun Grade
Residential
Spray Gun Wand
Single Wand
Spray Tips
Quick Connect Tips (4)
Turbo Nozzle
Sold Separately
Overview
Consumer Warranty
90 Days
Commercial Warranty
90 Days
Features
Features
Commercial Grade Honda GX200 Engine

Starts easily, runs strong, lasts a long time

CAT Brand Triplex Plunger Pump

Ceramic pistons run cooler, last longer than axial pumps

Commercial grade; reliable and rebuildable

Sturdy Powder-Coated Steel Frame

Anti-vibration rubber foot cuts down on noise

Frame cut-outs to easily change the oil

10" solid foam-filled tires take on tough terrain, help reduce noise

36" Professional Spray Gun & Lance

Ergonomic grip & trigger let you work longer with less fatigue

Built-in clip keeps spray nozzles handy

4 quick connect spray tips: 0°, 15°, 40° & soap

Siphon tube adds soap to water stream under low pressure

25 Feet Of 1/4" High Pressure Hose

Steel braid-reinforced rubber for flexibility & long hose life

Quick-connectors at each end for easy set-up
Specifications
Engine
Fuel Tank Size
0.825 Gallons
Consumer Engine Warranty
3 Years
Commercial Engine Warranty
3 Years
Pump
Pump Type
Triplex Plunger
Chemical Injection
Siphon Tube
Consumer Pump Warranty
5 Years
Commercial Pump Warranty
5 Years
Housing
Hose
Hose Material
Wire Reinforced
Hose Connections
Quick-Connect
Spray Gun
Spray Gun Connection
Quick-Connect
Spray Gun Grade
Residential
Spray Gun Wand
Single Wand
Spray Tips
Quick Connect Tips (4)
Turbo Nozzle
Sold Separately
Overview
Consumer Warranty
90 Days
Commercial Warranty
90 Days
Specifications
Engine
Fuel Tank Size
0.825 Gallons
Consumer Engine Warranty
3 Years
Commercial Engine Warranty
3 Years
Pump
Pump Type
Triplex Plunger
Chemical Injection
Siphon Tube
Consumer Pump Warranty
5 Years
Commercial Pump Warranty
5 Years
Housing
Hose
Hose Material
Wire Reinforced
Hose Connections
Quick-Connect
Spray Gun
Spray Gun Connection
Quick-Connect
Spray Gun Grade
Residential
Spray Gun Wand
Single Wand
Spray Tips
Quick Connect Tips (4)
Turbo Nozzle
Sold Separately
Overview
Consumer Warranty
90 Days
Commercial Warranty
90 Days
Search Product Q&A's
Answered by Jim. the Pressure Washer Expert
I'm looking to replace my current pressure washer. I've run it to death. I wash about 50 mobile homes in a year and need something reliable. I want a pump that is quality. I need the wand to be 4' ish. Since I am short. Would this be a good model for me or would you suggest something else. Maybe you could recommend 3 models I can compare.i did buy my last PW from your company.
Sara Hoogerhyde
from Florida
September 19, 2014
Answer
I think this would be the best option for you. The 36" BE lance, is the longest lance that comes standard out of the units we offer. Also, the unit uses a CAT brand pump. In my opinion, CAT makes the best pump in the industry. When paired with a commercial grade Honda GX200 engine, you can't go wrong. I would not hesitate to recommend this unit for everyday, heavy duty usage. For the price, and quality, this would be the best option.
Was this answer helpful?
Yes
0
No
0
Expert Recommended Accessories
Hand Picked By Our Expert Jim
Required Accessories
Add All Required
+
Ask Jim, Our Product Expert, A Question!
*Required Fields
+
Thank You For Submitting Your Question
Your submission has been sent successfully. Please give our experts up to two business days to respond.
Media Gallery
BE Semi-Pro 3000 PSI (Gas - Cold Water) Pressure Washer w/ CAT Pump & Honda GX200 Engine