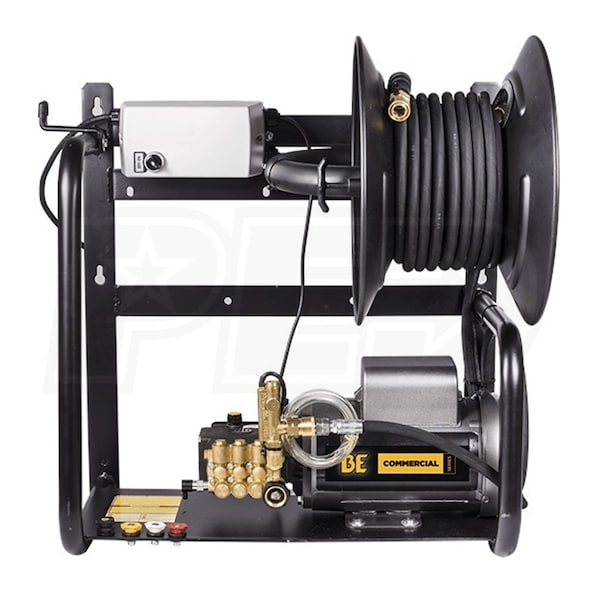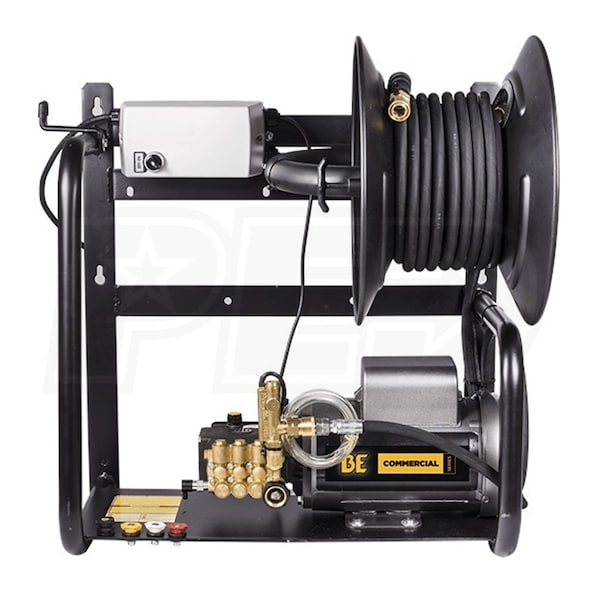 Hover to zoom
1 Of 5
BE Professional 1500 PSI (Electric Cold Water) Wall Mount Pressure Washer
Product Description

Specs

7

Reviews

2

Product Q&A

Recommended Accessories

How-To Articles

Manuals
Features
Features
Wall Mounted Electric Pressure Washer

Permanently accessible; takes up no floor space

Can be used and stored in closed area without worries regarding the exhaust fumes and gases

Robust 2-HP Baldor Electric Motor

Totally enclosed motor keeps dirt & dust out for longer lifespan

25-foot cord plugs requires 20amp plug (will not fit in standard household outlet)

Automatic Start-Stop Feature

Shuts unit off when spray trigger is released

Extends the life of motor & pump

AR Triplex Pump

Runs cooler, lasts longer; can be rebuilt

Oil sight glass & drain plug for easy maintenance

50-Foot Steel Wire Reinforced Hose With Hose Reel

Easy access & storage keeps hose tidy & kink free

3/8" quick connectors for pump & spray gun

Professional Spray Gun & 36" Lance

Insulated trigger gun lets you work longer with less fatigue

Includes 4 spray nozzles: 0°, 15°, 40° and soap application

Siphon hose allows low pressure soap application

Model: X-1520FW1COMH Has Been Replaced With Model: X-1520FW1ARH
Specifications
Motor
Motor Voltage
120-Volt Single-Phase
Power Cord Length
25 ft GFCI
Consumer Motor Warranty
1
Commercial Motor Warranty
1
Pump
Pump Type
Triplex Plunger
Chemical Injection
Siphon Tube
Consumer Pump Warranty
5 Years
Commercial Pump Warranty
5 Years
Housing
Hose
Hose Material
Wire Reinforced
Hose Connections
Quick-Connect
Spray Gun
Spray Gun Connection
Quick-Connect
Spray Gun Grade
Professional
Spray Gun Wand
Single Wand
Spray Tips
Quick Connect Tips (4)
Turbo Nozzle
Sold Separately
Overview
Commercial Warranty
90 Days
Additional Model Numbers
X-1520FW1COMH, X-1520FW1ARH
Features
Features
Wall Mounted Electric Pressure Washer

Permanently accessible; takes up no floor space

Can be used and stored in closed area without worries regarding the exhaust fumes and gases

Robust 2-HP Baldor Electric Motor

Totally enclosed motor keeps dirt & dust out for longer lifespan

25-foot cord plugs requires 20amp plug (will not fit in standard household outlet)

Automatic Start-Stop Feature

Shuts unit off when spray trigger is released

Extends the life of motor & pump

AR Triplex Pump

Runs cooler, lasts longer; can be rebuilt

Oil sight glass & drain plug for easy maintenance

50-Foot Steel Wire Reinforced Hose With Hose Reel

Easy access & storage keeps hose tidy & kink free

3/8" quick connectors for pump & spray gun

Professional Spray Gun & 36" Lance

Insulated trigger gun lets you work longer with less fatigue

Includes 4 spray nozzles: 0°, 15°, 40° and soap application

Siphon hose allows low pressure soap application

Model: X-1520FW1COMH Has Been Replaced With Model: X-1520FW1ARH
Specifications
Motor
Motor Voltage
120-Volt Single-Phase
Power Cord Length
25 ft GFCI
Consumer Motor Warranty
1
Commercial Motor Warranty
1
Pump
Pump Type
Triplex Plunger
Chemical Injection
Siphon Tube
Consumer Pump Warranty
5 Years
Commercial Pump Warranty
5 Years
Housing
Hose
Hose Material
Wire Reinforced
Hose Connections
Quick-Connect
Spray Gun
Spray Gun Connection
Quick-Connect
Spray Gun Grade
Professional
Spray Gun Wand
Single Wand
Spray Tips
Quick Connect Tips (4)
Turbo Nozzle
Sold Separately
Overview
Commercial Warranty
90 Days
Additional Model Numbers
X-1520FW1COMH, X-1520FW1ARH
Specifications
Motor
Motor Voltage
120-Volt Single-Phase
Power Cord Length
25 ft GFCI
Consumer Motor Warranty
1
Commercial Motor Warranty
1
Pump
Pump Type
Triplex Plunger
Chemical Injection
Siphon Tube
Consumer Pump Warranty
5 Years
Commercial Pump Warranty
5 Years
Housing
Hose
Hose Material
Wire Reinforced
Hose Connections
Quick-Connect
Spray Gun
Spray Gun Connection
Quick-Connect
Spray Gun Grade
Professional
Spray Gun Wand
Single Wand
Spray Tips
Quick Connect Tips (4)
Turbo Nozzle
Sold Separately
Overview
Commercial Warranty
90 Days
Additional Model Numbers
X-1520FW1COMH, X-1520FW1ARH
Search Product Q&A's
Answered by Jim. the Pressure Washer Expert
Is the hose reel self retracting? Does the hose have to be disconnected before reeling?
Mark Hoyt
from Alaska
July 31, 2015
Answer
The hose reel must be manually wound back in but it does not need to be disconnected. The reel has a high pressure swivel.
Was this answer helpful?
Yes
0
No
0
Can this unit do a soap pre-wash?
David
from Vermont
February 24, 2013
Answer
Yes, this machine can apply soap at low pressure thru the use of the siphon hose and black detergent spray tip.
Was this answer helpful?
Yes
0
No
0
Expert Recommended Accessories
Hand Picked By Our Expert Jim
Required Accessories
Add All Required
+
Ask Jim, Our Product Expert, A Question!
*Required Fields
+
Thank You For Submitting Your Question
Your submission has been sent successfully. Please give our experts up to two business days to respond.
Media Gallery
BE Professional 1500 PSI (Electric Cold Water) Wall Mount Pressure Washer