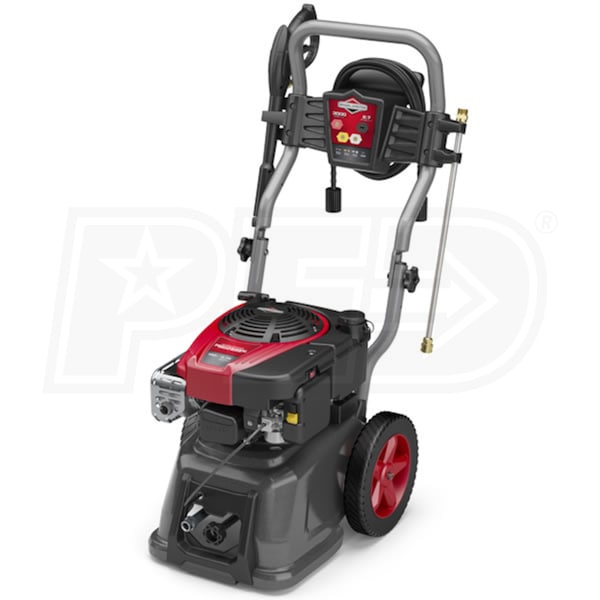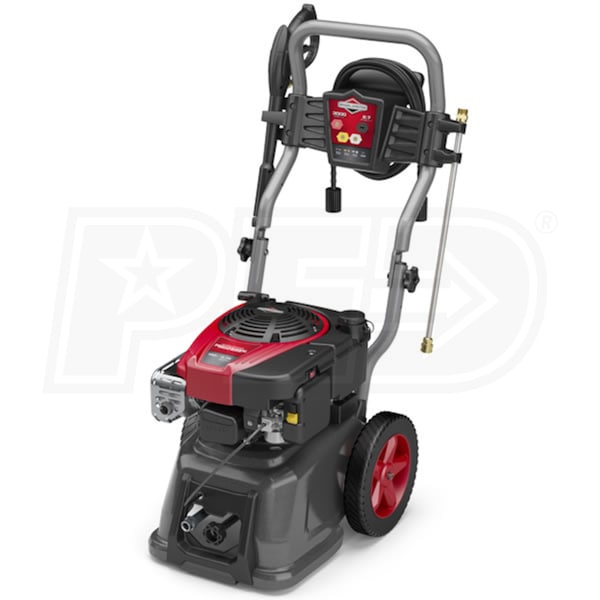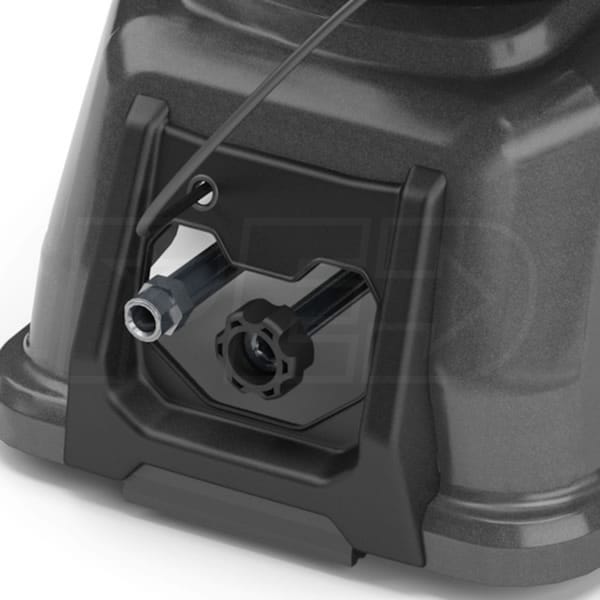 Hover to zoom
1 Of 5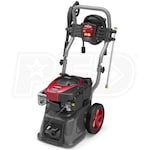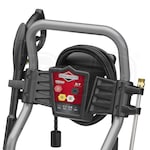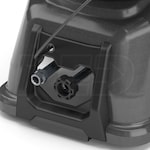 Briggs & Stratton 3000 PSI (Gas - Cold Water) Pressure Washer w/ Quiet Sense Automatic Throttle Control
Product Description

Specs

9

Reviews

1

Product Q&A

Recommended Accessories

How-To Articles
Features
Features
Briggs & Stratton 875 Professional Series™ 190cc OHV Engine

Quiet Sense automatic throttle control for efficient operation

Up to 40% quieter than standard pressure washers

5 Year Warranty Steel Frame

Increased stability during use; easy access to connections

Fold-down handle for compact storage & transport

2.7 GPM Axial Cam AR Pump

Cleans faster & uses 80% less water than your garden hose

Easy-Start™ technology is maintenance free

4 Quick-Connect Spray Tips

0°, 15°, 40° & Soap tips change the spray shape & intensity

Low pressure soap tip activates the siphon tube for detergent

30 Foot High Pressure Hose

Conveniently reaches a large area for cleaning

On-Board Storage

Keeps 30 ft. hose, spray wand & nozzles organized

10-Inch Never-Flat Wheels

Larger size easily takes on rugged terrain

2 Year Factory Warranty

Protects your investment
Specifications
Engine
Engine Brand
Briggs and Stratton
Fuel Tank Size
1.6 Gallons
Consumer Engine Warranty
2 Years
Pump
Chemical Injection
Siphon Tube
Consumer Pump Warranty
2 Years
Housing
Hose
Hose Material
PVC/Plastic
Spray Gun
Spray Gun Grade
Residential
Spray Gun Wand
Single Wand
Spray Tips
Quick Connect Tips (4)
Turbo Nozzle
Sold Separately
Overview
Consumer Warranty
90 Days
Additional Model Numbers
20592, 020592
Features
Features
Briggs & Stratton 875 Professional Series™ 190cc OHV Engine

Quiet Sense automatic throttle control for efficient operation

Up to 40% quieter than standard pressure washers

5 Year Warranty Steel Frame

Increased stability during use; easy access to connections

Fold-down handle for compact storage & transport

2.7 GPM Axial Cam AR Pump

Cleans faster & uses 80% less water than your garden hose

Easy-Start™ technology is maintenance free

4 Quick-Connect Spray Tips

0°, 15°, 40° & Soap tips change the spray shape & intensity

Low pressure soap tip activates the siphon tube for detergent

30 Foot High Pressure Hose

Conveniently reaches a large area for cleaning

On-Board Storage

Keeps 30 ft. hose, spray wand & nozzles organized

10-Inch Never-Flat Wheels

Larger size easily takes on rugged terrain

2 Year Factory Warranty

Protects your investment
Specifications
Engine
Engine Brand
Briggs and Stratton
Fuel Tank Size
1.6 Gallons
Consumer Engine Warranty
2 Years
Pump
Chemical Injection
Siphon Tube
Consumer Pump Warranty
2 Years
Housing
Hose
Hose Material
PVC/Plastic
Spray Gun
Spray Gun Grade
Residential
Spray Gun Wand
Single Wand
Spray Tips
Quick Connect Tips (4)
Turbo Nozzle
Sold Separately
Overview
Consumer Warranty
90 Days
Additional Model Numbers
20592, 020592
Specifications
Engine
Engine Brand
Briggs and Stratton
Fuel Tank Size
1.6 Gallons
Consumer Engine Warranty
2 Years
Pump
Chemical Injection
Siphon Tube
Consumer Pump Warranty
2 Years
Housing
Hose
Hose Material
PVC/Plastic
Spray Gun
Spray Gun Grade
Residential
Spray Gun Wand
Single Wand
Spray Tips
Quick Connect Tips (4)
Turbo Nozzle
Sold Separately
Overview
Consumer Warranty
90 Days
Additional Model Numbers
20592, 020592
Search Product Q&A's
Answered by Jim. the Pressure Washer Expert
So Mike, we bought this because you recommended it and we can not get it to stay running!!!!😁 The gas tank is leaking and it's very frustrating!!!!!
Lisa Nunes
from Washington
June 26, 2016
Answer
I am so sorry your pressure washer has a leaky gas tank! We have seen some reports that the fuel line may come unclipped from the tank during shipment- you may want to check that first to see if it just needs to be pushed into place.
If that doesn't help, please use the
Briggs & Stratton Service Locator
to find Factory Warranty Service in your area- be sure to check the "Pressure Washer" box on the right side of the page so you see just the shops that can help you. If there are several in your area I'd suggest that you call them first to see which has the shortest turn-around time.
If you need a copy of your Invoice for Warranty work- just click on My Account in the upper right corner of our website and follow the prompts to print one out.
We appreciate your business, and apologize for any inconvenience.
Was this answer helpful?
Yes
0
No
0
Expert Recommended Accessories
Hand Picked By Our Expert Jim
Required Accessories
Add All Required
+
Ask Jim, Our Product Expert, A Question!
*Required Fields
+
Thank You For Submitting Your Question
Your submission has been sent successfully. Please give our experts up to two business days to respond.
Media Gallery
Briggs & Stratton 3000 PSI (Gas - Cold Water) Pressure Washer w/ Quiet Sense Automatic Throttle Control