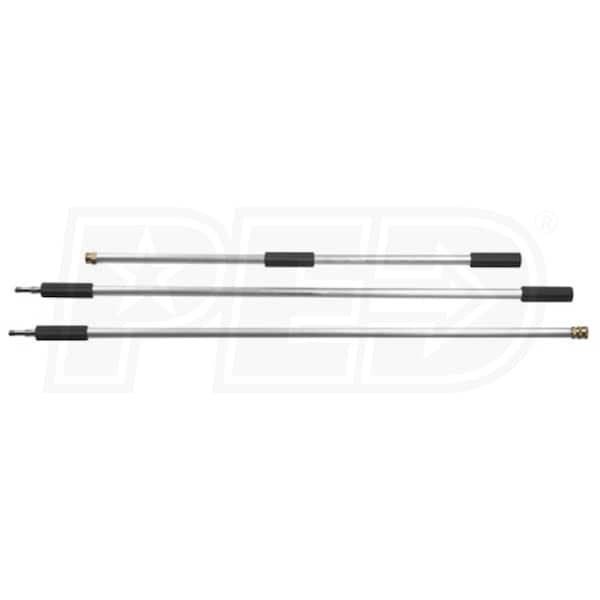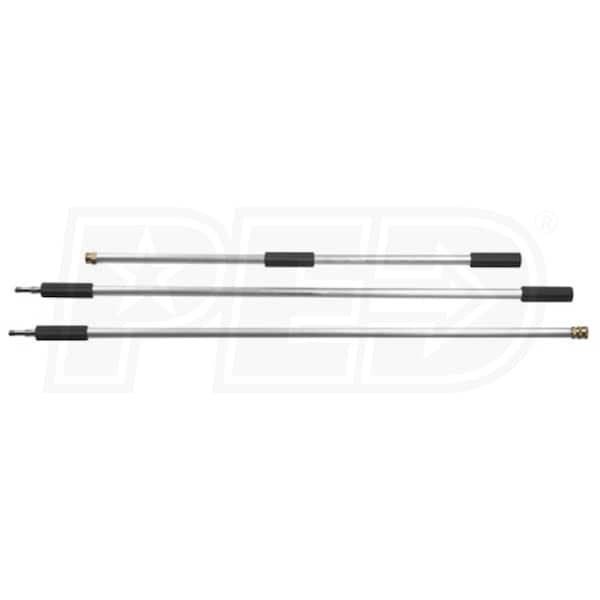 Hover to zoom
1 Of 5
Briggs & Stratton 9 Foot 3000 PSI Extension Wand
Product Description

Specs

11

Reviews

3

Product Q&A

Recommended Accessories

How-To Articles
Grade

Style

Inflow
22m Threaded (Male)
Outflow
1/4" Snap Coupler (Female)
Inflow
22m Threaded (Male)
Outflow
1/4" Snap Coupler (Female)
Features
Features
9 Foot Extension Pole Extends Your Reach

3 pieces thread together securely

Clean up high with your feet safely on the ground

Fits Many Brands Of Pressure Washer

Connects to M22 metric threaded spray gun fittings

Quick connect end for easy spray tip connection

Maximum pressure 3000 PSI
Specifications
Accessories
Inflow
22m Threaded (Male)
Outflow
1/4" Snap Coupler (Female)
Extension Length
108 Inches
Overview
Consumer Warranty
90 Days
Grade

Style

Inflow
22m Threaded (Male)
Outflow
1/4" Snap Coupler (Female)
Inflow
22m Threaded (Male)
Outflow
1/4" Snap Coupler (Female)
Features
Features
9 Foot Extension Pole Extends Your Reach

3 pieces thread together securely

Clean up high with your feet safely on the ground

Fits Many Brands Of Pressure Washer

Connects to M22 metric threaded spray gun fittings

Quick connect end for easy spray tip connection

Maximum pressure 3000 PSI
Specifications
Accessories
Inflow
22m Threaded (Male)
Outflow
1/4" Snap Coupler (Female)
Extension Length
108 Inches
Overview
Consumer Warranty
90 Days
Specifications
Accessories
Inflow
22m Threaded (Male)
Outflow
1/4" Snap Coupler (Female)
Extension Length
108 Inches
Overview
Consumer Warranty
90 Days
Search Product Q&A's
Answered by Jim. the Pressure Washer Expert
Will this work with a SunJoe SPX3000 ? I believe the SunJoe uses an M22 connector for the gun end, but do not know if the quick connect for the spray tips is the correct size. I measured it and the inside diameter of the quick connect is 3/8"
Lee Van Gaalen
from Florida
July 01, 2016
Answer
It will fit M22 threaded connections
Was this answer helpful?
Yes
0
No
0
Will this work with a B&S adjustable spray wand model # 205015CGS (I think it's the same as the B&S 6202 spray wand)?
Ken
from North Carolina
April 26, 2015
Answer
No, you would need a unit that uses the colored spray tips to adjust the spray fan. Get back to me with model of your Briggs pressure washer and the GPM and PSI of the unit. With this information, I can recommend the correct spray tips to purchase with the extension wand.
Was this answer helpful?
Yes
0
No
0
Hi Bill! I have a Troy Built preasure washer. It has the quick connect nosels. I need to wash mold off of siding and some of it is on the 2nd story. I found the Briggs & Stratton 9' (Consumer 2500 PSI - 3000 PSI) Extension Pole on your web site. This looks like what I need, but I am not sure if it will work with my unit. What info can I give you to verify that this would have the correct screw connection and quick connect that is compatible with my power washer. Thanks for your help, John
John
from Ohio
June 02, 2012
Answer
The description on this accessory says "Connects to M22 metric threaded spray gun fittings"- that means 22 millimeter threaded connectors like the ones on Karcher pressure washers.
If you really want to use this extension, you would need to get M22 to Quick Connect adaptors for each end of the pole- you may end up spending more than you need to.
Take a look at
Quick connect nozzles for 2nd story cleaning
Since they are quick connect already you may find them to be useful & economical.
Was this answer helpful?
Yes
0
No
0
Expert Recommended Accessories
Hand Picked By Our Expert Jim
Required Accessories
Add All Required
+
Ask Jim, Our Product Expert, A Question!
*Required Fields
+
Thank You For Submitting Your Question
Your submission has been sent successfully. Please give our experts up to two business days to respond.
Media Gallery
Briggs & Stratton 9 Foot 3000 PSI Extension Wand