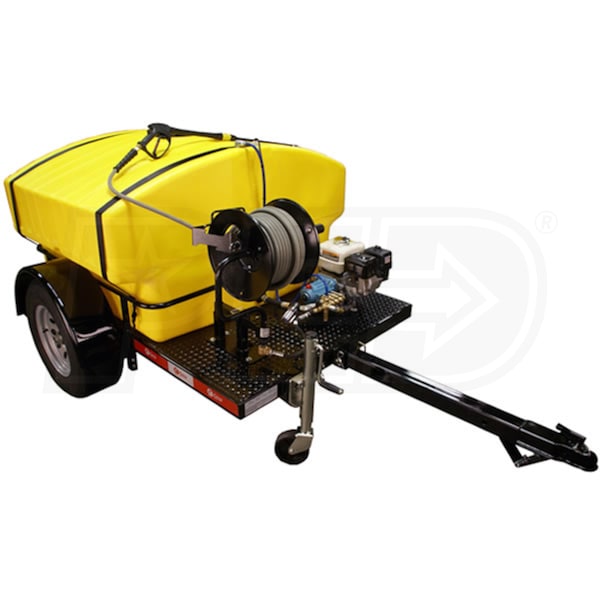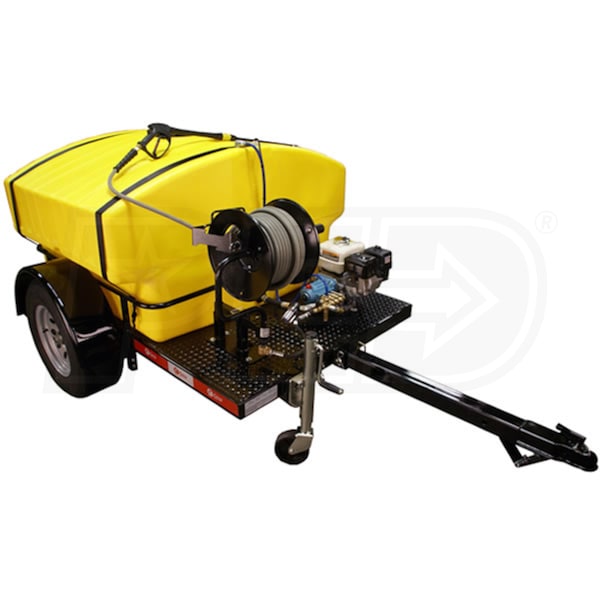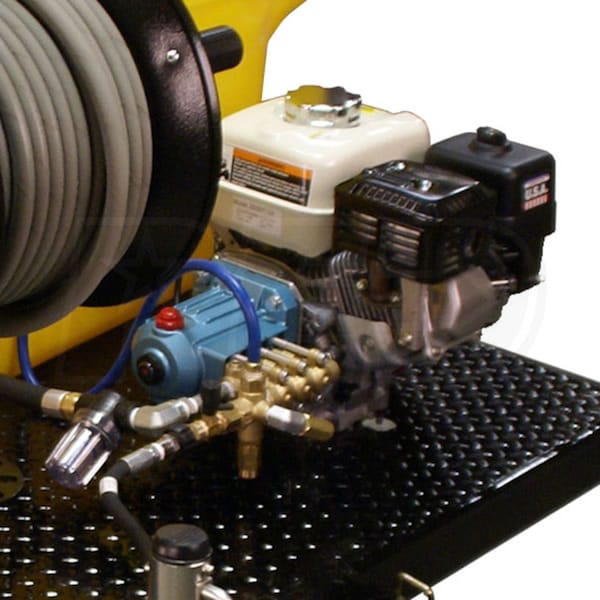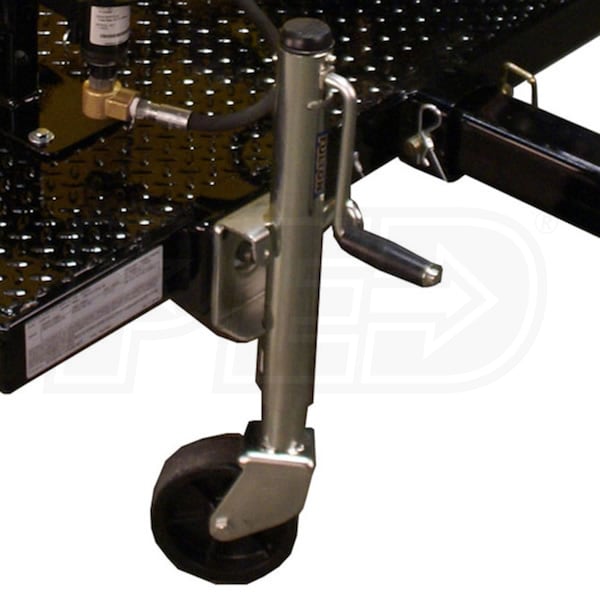 Hover to zoom
1 Of 5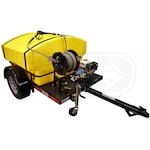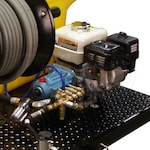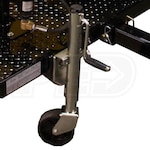 Cam Spray Professional 3000 PSI (Gas-Cold Water) Trailer Pressure Washer w/ Honda Engine
Product Description

Specs

Reviews

1

Product Q&A

Recommended Accessories

How-To Articles

Manuals
Features
Features
Pressure Washer & Water Tank On Powder Coated Frame Trailer

14" wheels on a 3500 lbs axle; includes road ready lighting

300 Gallon Roto-Molded, Top Fill Water Tank

Filled weight: 3370 pounds (850 lbs unit + 2490 lbs water)

Automatic shut off if machine runs dry

Commercial Grade GX390 Honda GX Engine

Durable, quiet and easy to start; 2 year commercial warranty

Triplex Plunger Pump With Stainless Steel Valves

Ceramic plungers run cooler and last longer; easy to maintain

Maximum Pump Inlet Water Temperature : 140° F

Adjustable pressure and thermal relief valve

Professional Grade Wand And Trigger Gun

Quick change tips in 0°,15°,25° and 40° plus detergent tip

Includes 100' of 3/8" high pressure hose on swivel hose reel

Shipping Requirements:

Units are shipped on Flatbed Truck directly from Cam Spray

Residential & Business Delivery: units require a 5000 lb. fork-truck or a small crane minimum for unloading
Specifications
Engine
Fuel Tank Size
1.7 Gallons
Consumer Engine Warranty
3 Years
Commercial Engine Warranty
3 Years
Pump
Pump Type
Triplex Plunger
Chemical Injection
Siphon Tube
Consumer Pump Warranty
5 Years
Commercial Pump Warranty
5 Years
Housing
Hose
Hose Connections
Threaded
Spray Gun
Spray Gun Connection
Threaded
Spray Gun Grade
Professional
Spray Gun Wand
Single Wand
Spray Tips
Quick Connect Tips (4)
Turbo Nozzle
Sold Separately
Burner
Temperature Control
Adjustable
Water Tank
Water Tank Size
300 Gallons
Overview
Consumer Warranty
90 Days
Commercial Warranty
90 Days
Product Length
112 Inches
Features
Features
Pressure Washer & Water Tank On Powder Coated Frame Trailer

14" wheels on a 3500 lbs axle; includes road ready lighting

300 Gallon Roto-Molded, Top Fill Water Tank

Filled weight: 3370 pounds (850 lbs unit + 2490 lbs water)

Automatic shut off if machine runs dry

Commercial Grade GX390 Honda GX Engine

Durable, quiet and easy to start; 2 year commercial warranty

Triplex Plunger Pump With Stainless Steel Valves

Ceramic plungers run cooler and last longer; easy to maintain

Maximum Pump Inlet Water Temperature : 140° F

Adjustable pressure and thermal relief valve

Professional Grade Wand And Trigger Gun

Quick change tips in 0°,15°,25° and 40° plus detergent tip

Includes 100' of 3/8" high pressure hose on swivel hose reel

Shipping Requirements:

Units are shipped on Flatbed Truck directly from Cam Spray

Residential & Business Delivery: units require a 5000 lb. fork-truck or a small crane minimum for unloading
Specifications
Engine
Fuel Tank Size
1.7 Gallons
Consumer Engine Warranty
3 Years
Commercial Engine Warranty
3 Years
Pump
Pump Type
Triplex Plunger
Chemical Injection
Siphon Tube
Consumer Pump Warranty
5 Years
Commercial Pump Warranty
5 Years
Housing
Hose
Hose Connections
Threaded
Spray Gun
Spray Gun Connection
Threaded
Spray Gun Grade
Professional
Spray Gun Wand
Single Wand
Spray Tips
Quick Connect Tips (4)
Turbo Nozzle
Sold Separately
Burner
Temperature Control
Adjustable
Water Tank
Water Tank Size
300 Gallons
Overview
Consumer Warranty
90 Days
Commercial Warranty
90 Days
Product Length
112 Inches
Specifications
Engine
Fuel Tank Size
1.7 Gallons
Consumer Engine Warranty
3 Years
Commercial Engine Warranty
3 Years
Pump
Pump Type
Triplex Plunger
Chemical Injection
Siphon Tube
Consumer Pump Warranty
5 Years
Commercial Pump Warranty
5 Years
Housing
Hose
Hose Connections
Threaded
Spray Gun
Spray Gun Connection
Threaded
Spray Gun Grade
Professional
Spray Gun Wand
Single Wand
Spray Tips
Quick Connect Tips (4)
Turbo Nozzle
Sold Separately
Burner
Temperature Control
Adjustable
Water Tank
Water Tank Size
300 Gallons
Overview
Consumer Warranty
90 Days
Commercial Warranty
90 Days
Product Length
112 Inches
Be the First to Write a Review
Do you own this product?
Please share your insights with fellow shoppers.
Search Product Q&A's
Answered by Jim. the Pressure Washer Expert
How much gasoline will the Cam Spray Professional 3000 PSI (Gas-Cold Water) Trailer Pressure Washer use in one hour?
Brad Phillips
from Tennessee
January 07, 2014
Answer
Under full load it will use about 9/10 gallon per hour


The Tank holds 6.4 quarts so under full load it will run about 45 minutes

Was this answer helpful?
Yes
0
No
0
Expert Recommended Accessories
Hand Picked By Our Expert Jim
Required Accessories
Add All Required
+
Ask Jim, Our Product Expert, A Question!
*Required Fields
+
Thank You For Submitting Your Question
Your submission has been sent successfully. Please give our experts up to two business days to respond.
Media Gallery
Cam Spray Professional 3000 PSI (Gas-Cold Water) Trailer Pressure Washer w/ Honda Engine