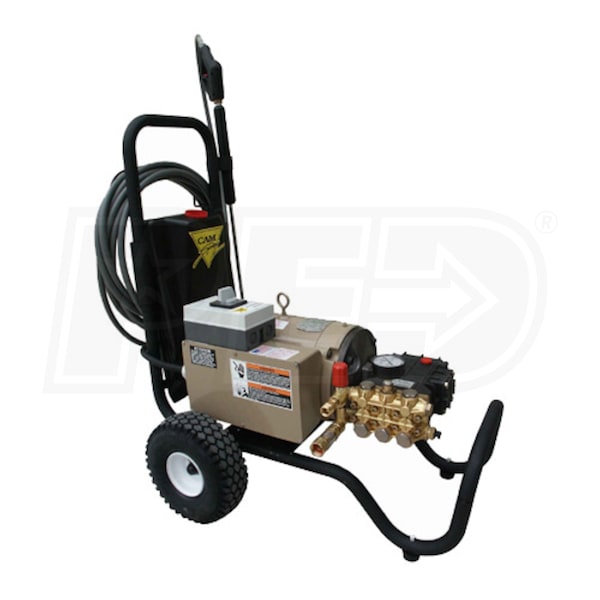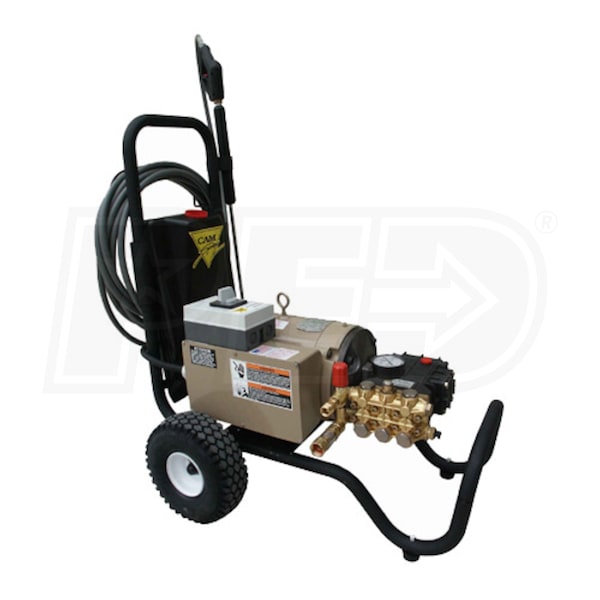 Hover to zoom
1 Of 5
Cam Spray Professional 3000 PSI (Electric-Warm Water) Pressure Washer w/ Continuous Duty Motor
Product Description

Specs

1

Reviews

1

Product Q&A

Recommended Accessories

How-To Articles

Manuals
Features
Features
7.5 HP, 230V /34 Amp Single Phase, Continuous Duty Electric Motor

Can be used indoors or outdoors; 35' power cord with GFCI

Triplex Plunger Pump With Thermal Protection For Heavy Duty Use

Ceramic plungers and stainless steel valves extend pump life

Adjustable pressure adds versatility; easy to maintain

Powder Coated Frame With Fan Cooled Motor

Built-in wand and hose rack

3 gallon built-in chemical tank

Professional Grade Spray Gun And Hose

0°, 15°, 25°, 40°, & 65° spray tips for ease and versatility

Includes 50 feet of high pressure 3/8" hose
Specifications
Motor
Motor Type
Continuous Duty
Motor Voltage
230-Volt Single-Phase
Power Cord Length
35 ft GFCI
Consumer Motor Warranty
1 Year
Commercial Motor Warranty
1 Year
Pump
Pump Type
Triplex Plunger
Chemical Injection
Down-Stream
Detergent Tank Capacity
3 gallons
Consumer Pump Warranty
5 Years
Commercial Pump Warranty
5 Years
Housing
Wheels
Pneumatic with Tube
Hose
Hose Connections
Threaded
Spray Gun
Spray Gun Connection
Threaded
Spray Gun Grade
Professional
Spray Gun Wand
Single Wand
Spray Tips
Quick Connect Tips (5)
Turbo Nozzle
Sold Separately
Overview
Commercial Warranty
1 Year
Product Height
23.5 Inches
Features
Features
7.5 HP, 230V /34 Amp Single Phase, Continuous Duty Electric Motor

Can be used indoors or outdoors; 35' power cord with GFCI

Triplex Plunger Pump With Thermal Protection For Heavy Duty Use

Ceramic plungers and stainless steel valves extend pump life

Adjustable pressure adds versatility; easy to maintain

Powder Coated Frame With Fan Cooled Motor

Built-in wand and hose rack

3 gallon built-in chemical tank

Professional Grade Spray Gun And Hose

0°, 15°, 25°, 40°, & 65° spray tips for ease and versatility

Includes 50 feet of high pressure 3/8" hose
Specifications
Motor
Motor Type
Continuous Duty
Motor Voltage
230-Volt Single-Phase
Power Cord Length
35 ft GFCI
Consumer Motor Warranty
1 Year
Commercial Motor Warranty
1 Year
Pump
Pump Type
Triplex Plunger
Chemical Injection
Down-Stream
Detergent Tank Capacity
3 gallons
Consumer Pump Warranty
5 Years
Commercial Pump Warranty
5 Years
Housing
Wheels
Pneumatic with Tube
Hose
Hose Connections
Threaded
Spray Gun
Spray Gun Connection
Threaded
Spray Gun Grade
Professional
Spray Gun Wand
Single Wand
Spray Tips
Quick Connect Tips (5)
Turbo Nozzle
Sold Separately
Overview
Commercial Warranty
1 Year
Product Height
23.5 Inches
Specifications
Motor
Motor Type
Continuous Duty
Motor Voltage
230-Volt Single-Phase
Power Cord Length
35 ft GFCI
Consumer Motor Warranty
1 Year
Commercial Motor Warranty
1 Year
Pump
Pump Type
Triplex Plunger
Chemical Injection
Down-Stream
Detergent Tank Capacity
3 gallons
Consumer Pump Warranty
5 Years
Commercial Pump Warranty
5 Years
Housing
Wheels
Pneumatic with Tube
Hose
Hose Connections
Threaded
Spray Gun
Spray Gun Connection
Threaded
Spray Gun Grade
Professional
Spray Gun Wand
Single Wand
Spray Tips
Quick Connect Tips (5)
Turbo Nozzle
Sold Separately
Overview
Commercial Warranty
1 Year
Product Height
23.5 Inches
Search Product Q&A's
Answered by Jim. the Pressure Washer Expert
Hour many hours of run time per week is the Cam Spray Professional 3000PSI rated for? We use the washer 8 hours per day 5-6 day per week.
Answer
This model pressure washer can definitely hold up to your type and amount of use. This unit uses a continous duty motor and would be able to hold up to constant use. However, this pressure washer does not have a total stop feature so if you stop spraying water for more than literally a few minutes, you will have to shut down the machine to prevent any damage to the pump.
Was this answer helpful?
Yes
0
No
0
Expert Recommended Accessories
Hand Picked By Our Expert Jim
Required Accessories
Add All Required
+
Ask Jim, Our Product Expert, A Question!
*Required Fields
+
Thank You For Submitting Your Question
Your submission has been sent successfully. Please give our experts up to two business days to respond.
Media Gallery
Cam Spray Professional 3000 PSI (Electric-Warm Water) Pressure Washer w/ Continuous Duty Motor