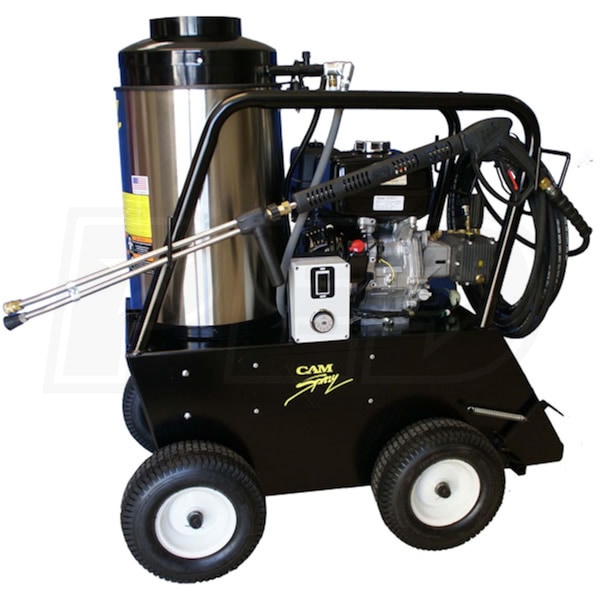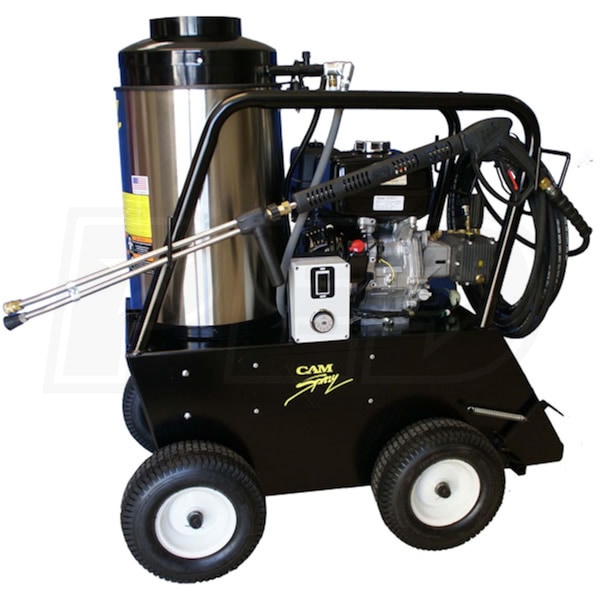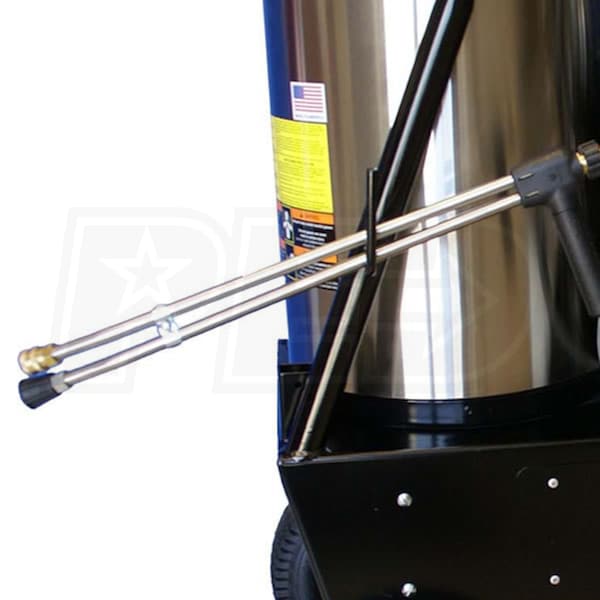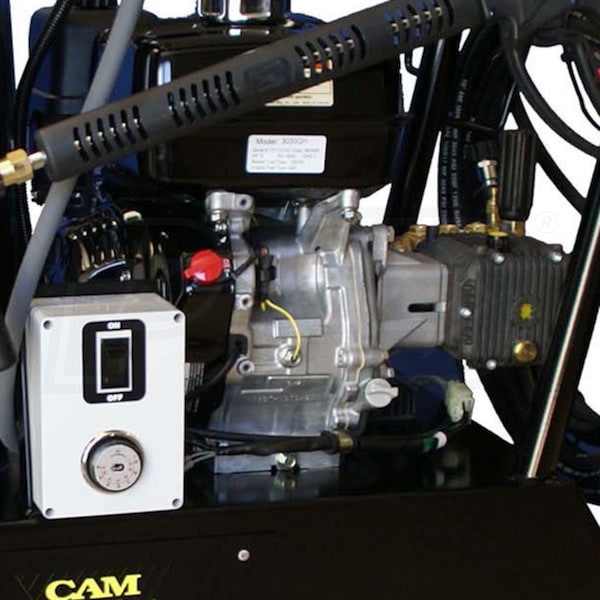 Hover to zoom
1 Of 5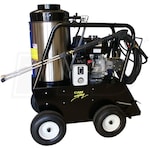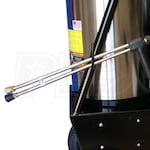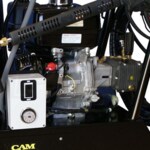 Cam Spray Professional 3000 PSI (Gas-Hot Water) 3 GPM Pressure Washer w/ Honda Engine
Product Description

Specs

Reviews

2

Product Q&A

Recommended Accessories

How-To Articles

Manuals
Features
Features
Hot Water For Tough Cleaning Jobs

Achieves 140°F rise in water temperature

LIFETIME Warranty On Hot Water Coils

Provides a piece of mind & gives maximum protection to your investment

Professional Grade Triplex Plunger Pump

Rebuildable; ceramic components run cooler and last longer

Adjustable Pressure and Temperature

250psi - 3000psi suits the pressure to the task at hand

Adjustable thermostat and pressure pop-off

Dual Wand With Side Handle And Detergent Tip

Quick change tips in 0°, 15°, 25°, 40°

Side handle adds comfort and steadies spray

Rust Free, Dual Fuel Burner Tank

Oil-fired burner uses diesel fuel or kerosene

Battery not included (Group 24)

Powerful 9 HP Honda Engine

Easy to start, quiet and reliable

35 Feet Of High Pressure Hose

Lets you work in a wide area
Specifications
Engine
Fuel Tank Size
1.7 Gallons
Consumer Engine Warranty
3 Years
Commercial Engine Warranty
3 Years
Pump
Pump Type
Triplex Plunger
Chemical Injection
Siphon Tube
Consumer Pump Warranty
5 Years
Commercial Pump Warranty
5 Years
Housing
Hose
Hose Connections
Threaded
Spray Gun
Spray Gun Connection
Threaded
Spray Gun Grade
Professional
Spray Tips
Quick Connect Tips (4)
Turbo Nozzle
Sold Separately
Burner
Burner Fuel
Diesel/Kerosene
Burner Fuel Tank Size
5 Gallons
Temperature Control
Adjustable
Overview
Consumer Warranty
90 Days
Commercial Warranty
90 Days
Features
Features
Hot Water For Tough Cleaning Jobs

Achieves 140°F rise in water temperature

LIFETIME Warranty On Hot Water Coils

Provides a piece of mind & gives maximum protection to your investment

Professional Grade Triplex Plunger Pump

Rebuildable; ceramic components run cooler and last longer

Adjustable Pressure and Temperature

250psi - 3000psi suits the pressure to the task at hand

Adjustable thermostat and pressure pop-off

Dual Wand With Side Handle And Detergent Tip

Quick change tips in 0°, 15°, 25°, 40°

Side handle adds comfort and steadies spray

Rust Free, Dual Fuel Burner Tank

Oil-fired burner uses diesel fuel or kerosene

Battery not included (Group 24)

Powerful 9 HP Honda Engine

Easy to start, quiet and reliable

35 Feet Of High Pressure Hose

Lets you work in a wide area
Specifications
Engine
Fuel Tank Size
1.7 Gallons
Consumer Engine Warranty
3 Years
Commercial Engine Warranty
3 Years
Pump
Pump Type
Triplex Plunger
Chemical Injection
Siphon Tube
Consumer Pump Warranty
5 Years
Commercial Pump Warranty
5 Years
Housing
Hose
Hose Connections
Threaded
Spray Gun
Spray Gun Connection
Threaded
Spray Gun Grade
Professional
Spray Tips
Quick Connect Tips (4)
Turbo Nozzle
Sold Separately
Burner
Burner Fuel
Diesel/Kerosene
Burner Fuel Tank Size
5 Gallons
Temperature Control
Adjustable
Overview
Consumer Warranty
90 Days
Commercial Warranty
90 Days
Specifications
Engine
Fuel Tank Size
1.7 Gallons
Consumer Engine Warranty
3 Years
Commercial Engine Warranty
3 Years
Pump
Pump Type
Triplex Plunger
Chemical Injection
Siphon Tube
Consumer Pump Warranty
5 Years
Commercial Pump Warranty
5 Years
Housing
Hose
Hose Connections
Threaded
Spray Gun
Spray Gun Connection
Threaded
Spray Gun Grade
Professional
Spray Tips
Quick Connect Tips (4)
Turbo Nozzle
Sold Separately
Burner
Burner Fuel
Diesel/Kerosene
Burner Fuel Tank Size
5 Gallons
Temperature Control
Adjustable
Overview
Consumer Warranty
90 Days
Commercial Warranty
90 Days
Be the First to Write a Review
Do you own this product?
Please share your insights with fellow shoppers.
Search Product Q&A's
Answered by Jim. the Pressure Washer Expert
ARE THE CAM SPRAY UNITS UL CERTIFIED?
Answer
Some of Cam Spray's models are UL listed and some are not. You would have to look thru the Cam Spray catalog to find out. There will be a * next to the models that are UL listed.
I am posting a link to the online Cam Spray catalog for you to look at:
Cam Spray Catalog
Was this answer helpful?
Yes
0
No
0
How hot will the thermostat go on this unit? And does it have high pressure detergent injection?
Answer
This machine will increase the water temperature by plus 140 F degrees. Also, this model comes with a dual wand that is capable of spraying detergent at high pressure.
Was this answer helpful?
Yes
0
No
0
Expert Recommended Accessories
Hand Picked By Our Expert Jim
Required Accessories
Add All Required
+
Ask Jim, Our Product Expert, A Question!
*Required Fields
+
Thank You For Submitting Your Question
Your submission has been sent successfully. Please give our experts up to two business days to respond.
Media Gallery
Cam Spray Professional 3000 PSI (Gas-Hot Water) 3 GPM Pressure Washer w/ Honda Engine