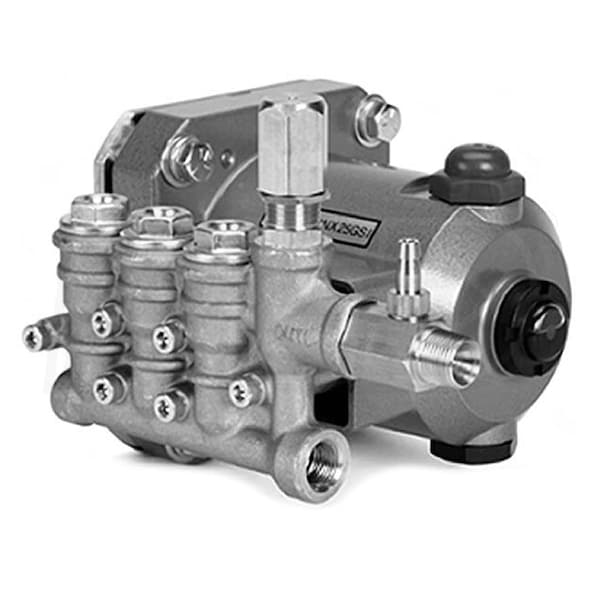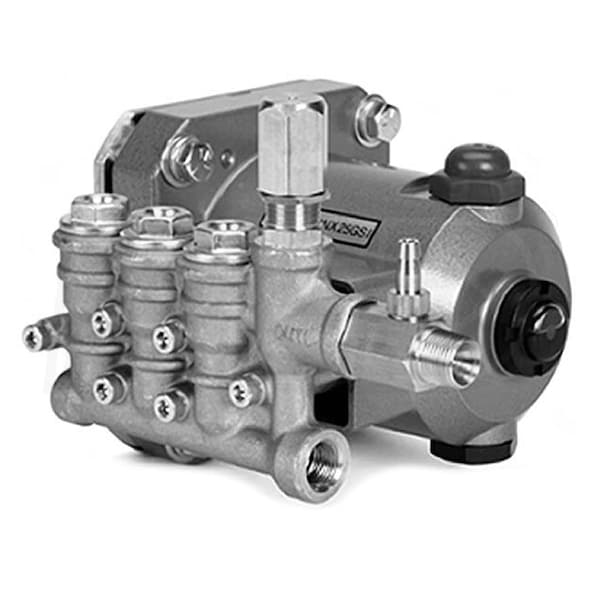 Hover to zoom
1 Of 5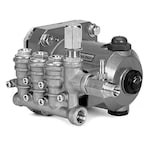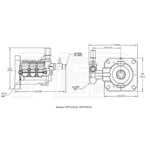 CAT Pumps 3000 PSI 2.7 GPM Triplex Pressure Washer Pump w/ Adjustable Unloader
Product Description

Specs

26

Reviews

3

Product Q&A

Recommended Accessories

How-To Articles

Manuals
Grade
Style

Inflow
3/8" Threaded (Female)
Outflow
3/8" Threaded (Male)
Inflow
3/8" Threaded (Female)
Outflow
3/8" Threaded (Male)
Features
Features
CAT Brand Triplex Plunger Replacement Pump

Durable & long lasting; advanced design for smooth liquid flow

3/8" NPT female inlet, 3/8" NPT male outlet; 140°F maximum water temperature

This is a bare pump; you will need to re-use your current fittings or purchase new ones (sold separately)

Concentric Solid Ceramic Plungers

Ceramic runs cooler, lasts longer; assures true wear surface

Specially formulated seals deliver extended seal life

Stacked Valve Design

Makes servicing easy

Ultra-Compact 3/4" Hollow-Shafted Pump

Designed for direct mounting to gas engine

Integral Pressure Unloader

Standard built-in bypass controls pressure & protects the pump

1/4" Fixed Chemical Injector Hose Barb

Allows addition of pressure washer safe soap to the water flow

Be Sure To Measure Shaft & Flange Bolt Holes Accurately!

There is a 25% restock fee on returned pumps

See the Owner's Manual (under the Specs tab) for dimensions

Please Call Us For Sizing Assistance w/ Information Below:

1. Age of Pump and Model # (must be no more than 15-yrs old)

2. Is the pump Vertical or Horizontal

3. Shaft Size - 3/4", 7/8" (vertical ONLY), 1", or Belt Drive XXmm

4. Engine Brand and HP (model # if available would be helpful)

***Shaft Size Measurements Must Be Precise***
Specifications
Accessories
Pump Type
Triplex Plunger
Accessory Grade
Professional
Inflow
3/8" Threaded (Female)
Outflow
3/8" Threaded (Male)
Maximum GPM
Gallon per Minute
2.7
Chemical Injections
Sold Separately
Overview
Consumer Warranty
2 Years
Product Length
8.03 Inches
Product Width
7.83 Inches
Product Height
6.61 Inches
Grade
Style

Inflow
3/8" Threaded (Female)
Outflow
3/8" Threaded (Male)
Inflow
3/8" Threaded (Female)
Outflow
3/8" Threaded (Male)
Features
Features
CAT Brand Triplex Plunger Replacement Pump

Durable & long lasting; advanced design for smooth liquid flow

3/8" NPT female inlet, 3/8" NPT male outlet; 140°F maximum water temperature

This is a bare pump; you will need to re-use your current fittings or purchase new ones (sold separately)

Concentric Solid Ceramic Plungers

Ceramic runs cooler, lasts longer; assures true wear surface

Specially formulated seals deliver extended seal life

Stacked Valve Design

Makes servicing easy

Ultra-Compact 3/4" Hollow-Shafted Pump

Designed for direct mounting to gas engine

Integral Pressure Unloader

Standard built-in bypass controls pressure & protects the pump

1/4" Fixed Chemical Injector Hose Barb

Allows addition of pressure washer safe soap to the water flow

Be Sure To Measure Shaft & Flange Bolt Holes Accurately!

There is a 25% restock fee on returned pumps

See the Owner's Manual (under the Specs tab) for dimensions

Please Call Us For Sizing Assistance w/ Information Below:

1. Age of Pump and Model # (must be no more than 15-yrs old)

2. Is the pump Vertical or Horizontal

3. Shaft Size - 3/4", 7/8" (vertical ONLY), 1", or Belt Drive XXmm

4. Engine Brand and HP (model # if available would be helpful)

***Shaft Size Measurements Must Be Precise***
Specifications
Accessories
Pump Type
Triplex Plunger
Accessory Grade
Professional
Inflow
3/8" Threaded (Female)
Outflow
3/8" Threaded (Male)
Maximum GPM
Gallon per Minute
2.7
Chemical Injections
Sold Separately
Overview
Consumer Warranty
2 Years
Product Length
8.03 Inches
Product Width
7.83 Inches
Product Height
6.61 Inches
Specifications
Accessories
Pump Type
Triplex Plunger
Accessory Grade
Professional
Inflow
3/8" Threaded (Female)
Outflow
3/8" Threaded (Male)
Maximum GPM
Gallon per Minute
2.7
Chemical Injections
Sold Separately
Overview
Consumer Warranty
2 Years
Product Length
8.03 Inches
Product Width
7.83 Inches
Product Height
6.61 Inches
Search Product Q&A's
Answered by Jim. the Pressure Washer Expert
Mike I have a Troy Built 6.75 HP (model 01904). Would this pump be a good replacement for it? Do you have any other recommendations? We use it just around the house and barn so it's not used a lot but at times can run for several hours on a job. Thanks
Charles Randall
from Michigan
June 11, 2015
Answer
Please confirm you have a 3/4" hollow engine shaft. This would be a great pump, however I do recommend the fully plumbed version so it comes with the inlet and outlet fittings, unloader, thermal relief valve, and siphon hose. This way you just need to take off the old pump, slap this one on and you are ready to go!
Fully Plumbed Pump
Was this answer helpful?
Yes
0
No
0
3/4 in shaft by what length?.Is the mounting bolt pattern regular 2.5 in square,these are the mosssst important things you should advertise!!!,NOT the rest of the garbage
Nathan Raghu
from Louisiana
June 02, 2015
Answer
There are multiple locations this pump can bolt on. What brand engine do you have? This will bolt up to any 3/4" horizontal engine shaft, that was produced in the last 10 years.
Was this answer helpful?
Yes
0
No
0
can I put a 3000 psi pump on 4hp motor
Paul Lemoine
from Louisiana
March 02, 2015
Answer
No, you will need to attach this to a 6.5 HP engine or larger. We do not have a triplex plunger pump compatible with a 4 HP engine.
Was this answer helpful?
Yes
0
No
0
Expert Recommended Accessories
Hand Picked By Our Expert Jim
Required Accessories
Add All Required
+
Ask Jim, Our Product Expert, A Question!
*Required Fields
+
Thank You For Submitting Your Question
Your submission has been sent successfully. Please give our experts up to two business days to respond.
Media Gallery
CAT Pumps 3000 PSI 2.7 GPM Triplex Pressure Washer Pump w/ Adjustable Unloader