ROMEOVILLE, IL (May 04, 2007) - Every Spring, we inherit a lifetime of dust and dirt from Old Man Winter. But thanks to some ingenious engineers, spring cleaning gets easier and easier every year.
PressureWashersDirect.com
salutes the unsung engineering heroes, who tirelessly turn simple sketches into really cool tools.
Pressure washers are constantly evolving, and 2007 is no exception.
PressureWashersDirect.com highlights three new advancements that left the drawing board and entered the marketplace this year.
3.
Karcher Soap Pacs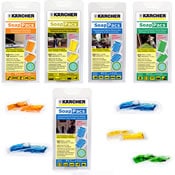 Soap and water is a great combination. The right soap, however, can make a huge impact on performance.
Storage space in the garage is always at a premium, so most pressure washer owners purchase all purpose cleaner instead of specific soaps. Space is no longer an excuse.
Karcher engineers condensed gallons of detergent into super small soap pacs. Simply drop one into the detergent tank and fill with water. The outer cover automatically dissolves in minutes, leaving behind a soapy mixture.
The one-pound package features 12 individual soap pacs and come in a variety of styles, including:
Vehicle Wash & Wax
Deck & Patio
Exterior House Cleaner
Degreaser
All Purpose
2.
Powerful PSI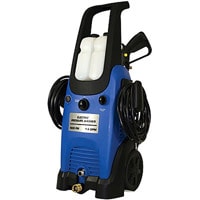 Just a few years ago, the most powerful electric power washer emitted 1600 PSI (Pounds per Square Inch) of pressure.
Engineers keep breaking the PSI barrier at an alarming rate. Constant improvements in electric motors and pumps are making 1700 and 1800 PSI electric power washers a reality.
For example, Campbell Hausfeld recently introduced a new 1800 PSI electric power washer. The model is generating rave reviews, include an "A" rating from Money Magazine.
1.
New Briggs & Stratton Pressure Washers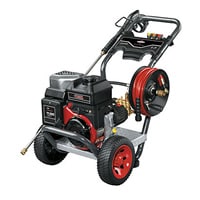 Briggs & Stratton engineers didn't settle for making minor upgrades their models. Instead, they built an entire line of pressure washers from scratch.
The attractive metal pan decking will make most neighbors envious. They'll be downright jealous when they kick the tires.
Instead of using pneumatic tires, which commonly go flat, Briggs & Stratton engineers used new NeverFlat technology. The solid core tires offer the same benefits without constant fill ups.
In addition, the new Briggs & Stratton pressure washers feature polyvinyl high pressure washers. Basically, the non-marring hoses are extremely flexible. No more kinks or tangled hoses.