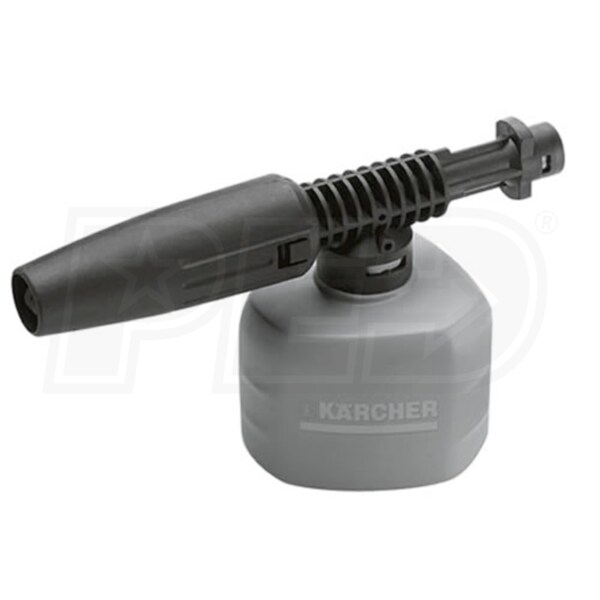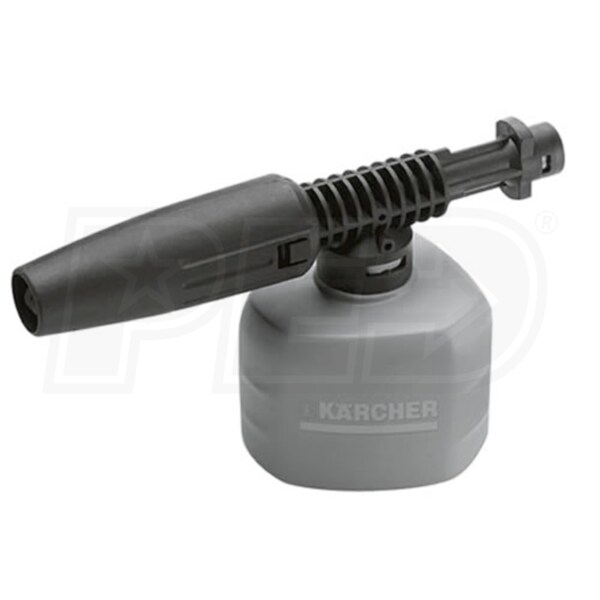 Hover to zoom
1 Of 5
Karcher Detergent Foamer Attachment (Bayonet)
Product Description

Specs

3

Reviews

2

Product Q&A

Recommended Accessories

How-To Articles
Grade

Style

Inflow
Karcher Bayonet (Male)
Outflow
Fan Spray
Inflow
Karcher Bayonet (Male)
Features
Features
Ideal For Applications That Require A Thick Foam

Fits Karcher pressure washers up to 2300psi w/ bayonet connectors

Easy To Use

Simply insert one Karcher SoapPac and fill with water

Then connect directly to the trigger gun

Automatically generates a thick foam spray

Genuine Karcher Replacement Part

Made in Germany

Compatible with all Karcher consumer pressure washers

For best results use with Karcher SoapPac detergents
Specifications
Accessories
Accessory Style
Karcher Electric
Inflow
Karcher Bayonet (Male)
Overview
Consumer Warranty
90 Days
Grade

Style

Inflow
Karcher Bayonet (Male)
Outflow
Fan Spray
Inflow
Karcher Bayonet (Male)
Features
Features
Ideal For Applications That Require A Thick Foam

Fits Karcher pressure washers up to 2300psi w/ bayonet connectors

Easy To Use

Simply insert one Karcher SoapPac and fill with water

Then connect directly to the trigger gun

Automatically generates a thick foam spray

Genuine Karcher Replacement Part

Made in Germany

Compatible with all Karcher consumer pressure washers

For best results use with Karcher SoapPac detergents
Specifications
Accessories
Accessory Style
Karcher Electric
Inflow
Karcher Bayonet (Male)
Overview
Consumer Warranty
90 Days
Specifications
Accessories
Accessory Style
Karcher Electric
Inflow
Karcher Bayonet (Male)
Overview
Consumer Warranty
90 Days
Search Product Q&A's
Answered by Jim. the Pressure Washer Expert
I have a Model 270 "Suitcase" Karcher. Will the Detergent Foamer Attachment Model 2.641-848.0 work with my unit?
David
from
March 13, 2012
Answer
This foamer attachment model 2.641-848.0 will definitely work with your model pressure washer. All Karcher models have the same bayonet style connections so this foamer would attach in the same way as the vario wand or turbo nozzle wand does.
Was this answer helpful?
Yes
0
No
0
Hi Bill I want to clean a roof and use bleach , can I get it to foam on the roof, I need it to stay on the roof for about 20 minutes before I spray it off
Nick
from Washington
May 08, 2011
Answer
It would be tough to get the foamer to get bleach to foam. This typically works better with a an actual soap not bleach. You could use bleach with this, but most likely you would not end up getting the foam you would want.

Thanks,

Pressure Washers Direct
Was this answer helpful?
Yes
0
No
0
Expert Recommended Accessories
Hand Picked By Our Expert Jim
Required Accessories
Add All Required
+
Ask Jim, Our Product Expert, A Question!
*Required Fields
+
Thank You For Submitting Your Question
Your submission has been sent successfully. Please give our experts up to two business days to respond.
Media Gallery
Karcher Detergent Foamer Attachment (Bayonet)