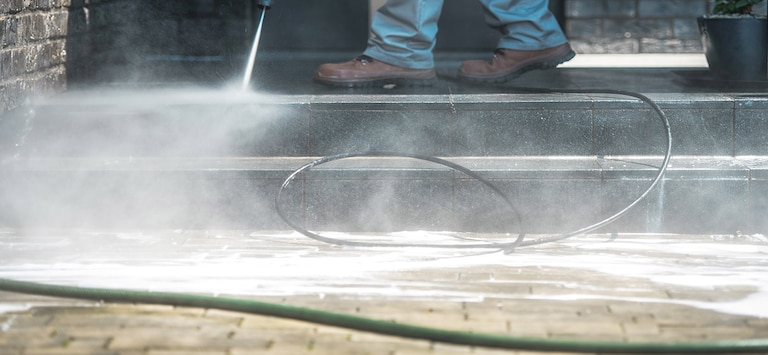 Pressure Washer Hose Buyer's Guide
How to Pick the Perfect Replacement Hose
High-pressure hoses take a heck of a beating from the pressurized water they contain.
After so much use (or misuse), they eventually wear down and need replacing. We recommend using a replacement hose that can handle the pressure. The durable materials in these hoses will not kink and curl like a simple garden hose.

There are four things you'll need to consider when choosing your replacement hose:
Length: This will help you decide how portable you'd like to be with your washer.
Diameter: Diameter is trickier. Hoses come in three widths: 1/4", 5/16", and 3/8".
Material: This will determine how flexible you'd like your hose to be.
Connections: Will you twist or snap your hose connections together?
Length
Are you washing in your driveway or around the whole house? Is your washer electrically-powered and needs to stay close to the outlet? Do you need to clean a second story? Choosing the right length for your hose can mean the difference between carting your setup around the job site and simply walking freely to where you need to work.

Diameter
Small (1/4") hoses are the most common. They are designed for consumer-grade electric and small gas power washers with pressure ratings up to 3,200 psi.

Mid-sized (5/16") hoses are the least common. They are rated for prosumer-grade gas pressure washers that can withstand pressures between 2,700-3,600 psi.

Large (3/8") hoses are designed for all professional models and some prosumer-grade gas pressure washers. These hoses can withstand serious water pressure up to 10,000 psi. Plus, they're thicker to allow greater water volume (more gallons-per-minute).

Material
High-pressure hoses are made from three types of materials: PVC Plastic, Rubber, and Polyurethane. Deciding on a type of hose material will determine how flexible and durable they are, as well as if they'll end up leaving markings on your driveway or deck.
PVC Plastic hoses are the most common. These hard, plastic hoses do the job, but they're not very flexible. If you get frustrated fighting your hose, you should consider upgrading to rubber or polyurethane.

Rubber hoses are heavier and more flexible than ordinary plastic hoses. They don't kink and curl as often. However, rubber hoses tend to mark up the surface you're working on with black streaks as you slide them across the concrete.

Polyurethane hoses are relatively new to the market. The steel-braided hose is covered with a clear, bendable plastic casing. Professionals love these hoses because they offer the flexibility of rubber without the marring.

Connections
Every hose has two connections: One connects to the pump, and the other connects to the spray gun. There are also only two ways you can connect a hose to the pump: you can either twist or snap them together.

There are many ways you can connect a hose to the gun: Male M22, Female M22, Male QC plug, Female QC plug, and a female 3/8 inch NPT. Take a good look at the inlet on your gun. Most have a threaded male connector sticking out, but some are female, and others are quick-connect plugs.

If your gun has a male thread, you simply need to buy an ordinary replacement hose with two M22 threaded (female) connectors. One end screws into the pump the other screws into the gun.

If your gun has a male quick-connect plug, you simply buy a professional-grade hose with a 3/8" female snap coupler.
Replace, Don't Repair
High-pressure hoses are meant to withstand immensely powerful pressure over long periods of time. If your hose simply isn't holding up anymore, you need to replace the hose, and not attempt to repair it. It may seem tempting to try and fix it yourself, but no amount of water sealant or duct tape will ever be enough to beat out the original integrity of your hose material.
Was this article helpful?