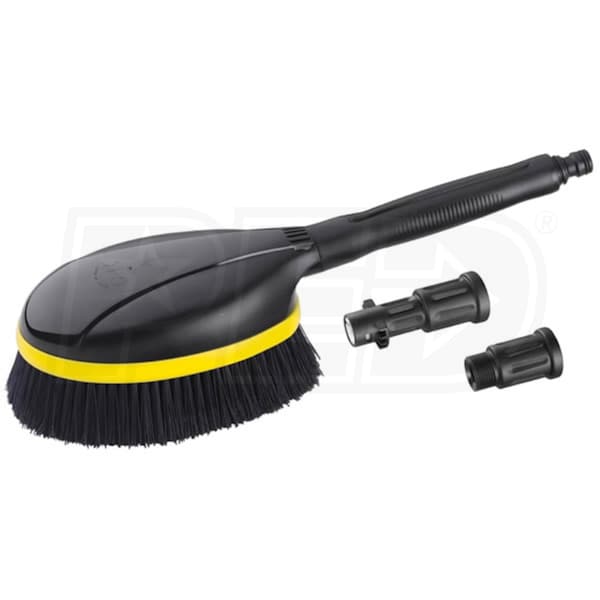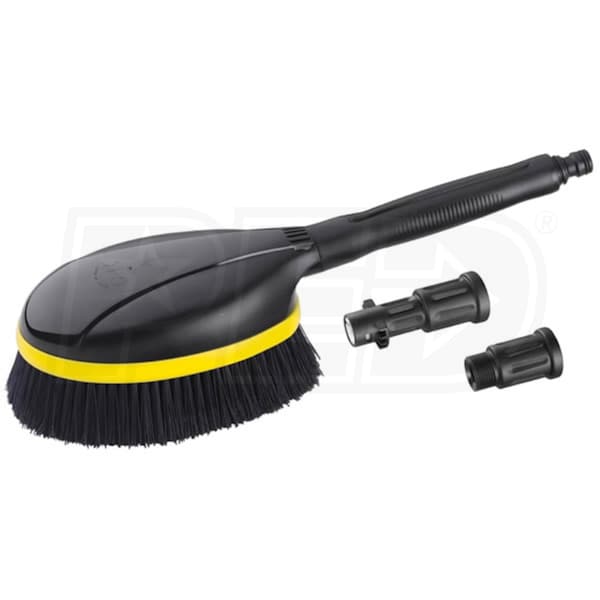 Hover to zoom
1 Of 5
Karcher Universal Rotating Wash Brush Kit For Gas Pressure Washers (4000 PSI)
Product Description

Specs

7

Reviews

1

Product Q&A

Recommended Accessories

How-To Articles
Grade

Style

Inflow
1/4" Snap Coupler (Male)
Inflow
1/4" Snap Coupler (Male)
Features
Features
Rotating Brush Kit For Gas Pressure Washers

Incoming water causes inner brushes to rotate

Agitation easily removes stubborn dirt and debris

Use With Or Without Soap

Detergent dispenses through the brush

Cleans most flat surfaces effortlessly

1/4" Quick Connection

Works with Karcher and many pressure washer brands

Rated up to 4000 PSI and 4 GPM

Adaptors for Karcher bayonet and threaded connections
Specifications
Accessories
Inflow
1/4" Snap Coupler (Male)
Minimum GPM
Gallon per Minute
1
Maximum GPM
Gallon per Minute
4
Overview
Consumer Warranty
90 Days
Product Length
21.1 Inches
Product Height
3.8 Inches
Additional Model Numbers
8.923-682.0, KAR 89236820
Grade

Style

Inflow
1/4" Snap Coupler (Male)
Inflow
1/4" Snap Coupler (Male)
Features
Features
Rotating Brush Kit For Gas Pressure Washers

Incoming water causes inner brushes to rotate

Agitation easily removes stubborn dirt and debris

Use With Or Without Soap

Detergent dispenses through the brush

Cleans most flat surfaces effortlessly

1/4" Quick Connection

Works with Karcher and many pressure washer brands

Rated up to 4000 PSI and 4 GPM

Adaptors for Karcher bayonet and threaded connections
Specifications
Accessories
Inflow
1/4" Snap Coupler (Male)
Minimum GPM
Gallon per Minute
1
Maximum GPM
Gallon per Minute
4
Overview
Consumer Warranty
90 Days
Product Length
21.1 Inches
Product Height
3.8 Inches
Additional Model Numbers
8.923-682.0, KAR 89236820
Specifications
Accessories
Inflow
1/4" Snap Coupler (Male)
Minimum GPM
Gallon per Minute
1
Maximum GPM
Gallon per Minute
4
Overview
Consumer Warranty
90 Days
Product Length
21.1 Inches
Product Height
3.8 Inches
Additional Model Numbers
8.923-682.0, KAR 89236820
Search Product Q&A's
Answered by Jim. the Pressure Washer Expert
Mike, I have a Generac 3100 PSI gas pressure washer. Looking for a brush to clean stubborn dirt off of vinyl siding. Is this Karcher Rotating brush the right one?
David Mariotti
from New Hampshire
June 20, 2016
Answer
David,

Yes, this will attach directly to the spray gun where the current lance attaches. This would be a great brush for your application and I would not hesitate to recommend it.
Was this answer helpful?
Yes
0
No
0
Expert Recommended Accessories
Hand Picked By Our Expert Jim
Required Accessories
Add All Required
+
Ask Jim, Our Product Expert, A Question!
*Required Fields
+
Thank You For Submitting Your Question
Your submission has been sent successfully. Please give our experts up to two business days to respond.
Media Gallery
Karcher Universal Rotating Wash Brush Kit For Gas Pressure Washers (4000 PSI)