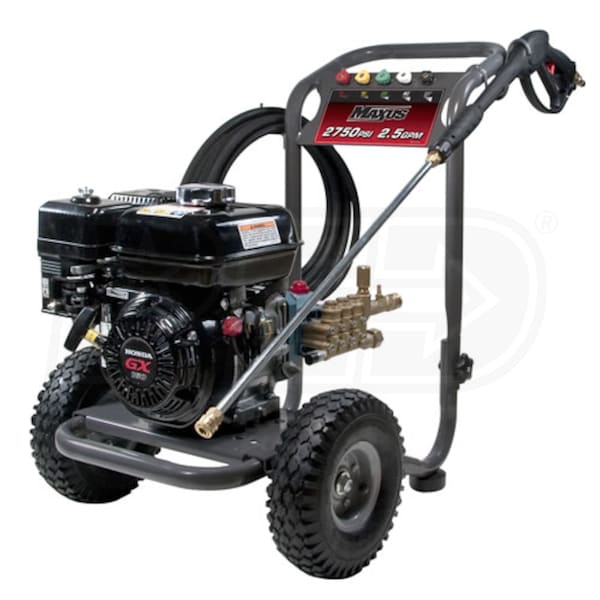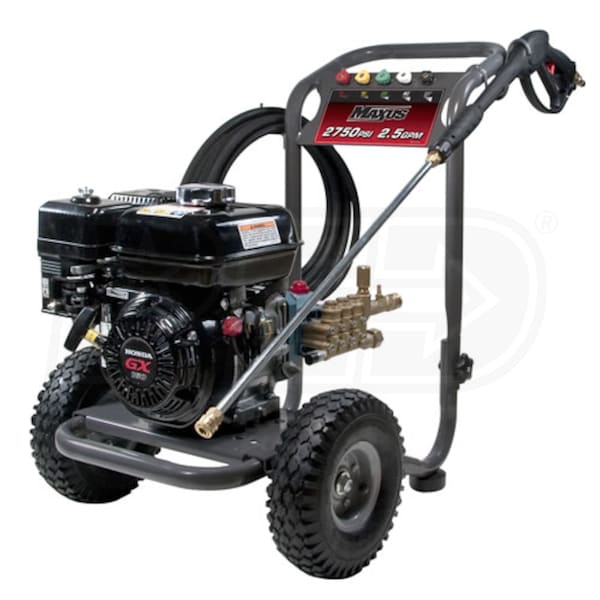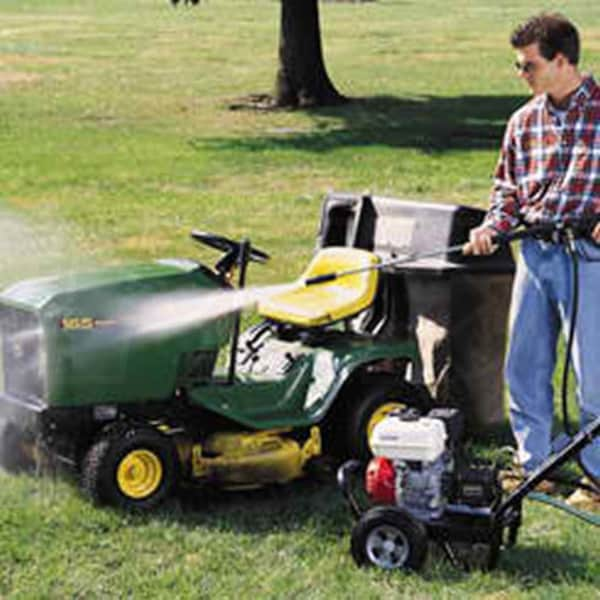 Hover to zoom
1 Of 5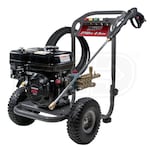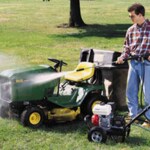 Maxus Prosumer 2750 PSI (Gas-Cold Water) Pressure Washer w/ Honda GX & CAT Pump
Product Description

Specs

9

Reviews

4

Product Q&A

Recommended Accessories

How-To Articles

Manuals
Features
Features
Powerful Honda GX Series Engine

GX160 Engine is easy to start, quiet and durable

High-Quality CAT Brand Pump

CAT 3DNX pump is long lasting and rebuildable

Interchangeable Spray Tips

5 quick connect tips take on homeowner chores with ease

Adjustable Pressure

Tailor the water pressure for the job at hand

Reduce pressure for cleaning lawn furniture, grills, etc.

Thermal Relief Valve

Protects & prolongs the life of the pump

Pneumatic Tires

Heavy duty wheels tackle any terrain

Generous Manufacturer's Warranty

5 year factory warranty covers materials & workmanship

Engine body many be red w/ a white tank; won't affect performance
Specifications
Engine
Fuel Tank Size
3.3 Gallons
Consumer Engine Warranty
3 Years
Pump
Pump Type
Triplex Plunger
Chemical Injection
Siphon Tube
Consumer Pump Warranty
2 Years
Housing
Hose
Hose Connections
Quick-Connect
Spray Gun
Spray Gun Connection
Quick-Connect
Spray Gun Grade
Professional
Spray Gun Wand
Single Wand
Spray Tips
Quick Connect Tips (5)
Turbo Nozzle
Sold Separately
Overview
Consumer Warranty
5 Years
Features
Features
Powerful Honda GX Series Engine

GX160 Engine is easy to start, quiet and durable

High-Quality CAT Brand Pump

CAT 3DNX pump is long lasting and rebuildable

Interchangeable Spray Tips

5 quick connect tips take on homeowner chores with ease

Adjustable Pressure

Tailor the water pressure for the job at hand

Reduce pressure for cleaning lawn furniture, grills, etc.

Thermal Relief Valve

Protects & prolongs the life of the pump

Pneumatic Tires

Heavy duty wheels tackle any terrain

Generous Manufacturer's Warranty

5 year factory warranty covers materials & workmanship

Engine body many be red w/ a white tank; won't affect performance
Specifications
Engine
Fuel Tank Size
3.3 Gallons
Consumer Engine Warranty
3 Years
Pump
Pump Type
Triplex Plunger
Chemical Injection
Siphon Tube
Consumer Pump Warranty
2 Years
Housing
Hose
Hose Connections
Quick-Connect
Spray Gun
Spray Gun Connection
Quick-Connect
Spray Gun Grade
Professional
Spray Gun Wand
Single Wand
Spray Tips
Quick Connect Tips (5)
Turbo Nozzle
Sold Separately
Overview
Consumer Warranty
5 Years
Specifications
Engine
Fuel Tank Size
3.3 Gallons
Consumer Engine Warranty
3 Years
Pump
Pump Type
Triplex Plunger
Chemical Injection
Siphon Tube
Consumer Pump Warranty
2 Years
Housing
Hose
Hose Connections
Quick-Connect
Spray Gun
Spray Gun Connection
Quick-Connect
Spray Gun Grade
Professional
Spray Gun Wand
Single Wand
Spray Tips
Quick Connect Tips (5)
Turbo Nozzle
Sold Separately
Overview
Consumer Warranty
5 Years
Search Product Q&A's
Answered by Jim. the Pressure Washer Expert
Is the Maxus Prosumer 2750 PSI Pressure Washer w/ Honda GX & CAT Pump CARB compliant?
Answer
Yes, this model is CARB compliant. We can absolutely ship this pressure washer to California
Was this answer helpful?
Yes
0
No
0
powerwasher that will use soap at high pressure, so i can wash the house (28') either gas or electric in prosurer model i am 76 years old and do not go up a latter. thank you
Clair MacRae
from Pennsylvania
May 07, 2011
Answer
We don't carry any pressure washers that will dispense soap at a high pressure. In order to keep yourself off the ladder. I would suggest using a high pressure soap shooter. Then you would be able to go with just about any gas pressure washer and add this nozzle as an accessory.

Thanks,

Pressure Washers Direct
Was this answer helpful?
Yes
0
No
0
Does this machine have a warranty?
Jeff
from New Jersey
April 17, 2011
Answer
Yes, all pressure washers that we carry come with a manufacturers warranty. This model comes with a 5 yr limited warranty from Maxus. You could visit www.maxustools.com and click on the support tab for details on the warranty.
Was this answer helpful?
Yes
0
No
0
The Maxus Prosumer 2750 PSI pressure washer, Model MX5223, has a 5 year mfr warranty. Is that on parts and labor for the engine and pump for the entire 5 years? Does the pump have a solid ceramic plunger? How big is the gas tank?
Terry J Hutchinson
from California
April 12, 2011
Answer
Yes this model has a ceramic triplex plunger style pump made by CAT PUMP. It is a very good quality top of the line pump. As for the warranty, the engine is covered by a 3 yr warranty from Honda. The pump has a 5 year warranty on the heads and manifold. The seals are not covered at all, this is common with all brand of pumps. Also, the gun/wand/hose is covered for 90 days. The warranties I listed do include parts and labor. Unfortunately we are not provided the information regarding the size of the gas tank.
I am posting a link below to the Maxus warranty policy:
Maxus Warranty Policy
Was this answer helpful?
Yes
0
No
0
Expert Recommended Accessories
Hand Picked By Our Expert Jim
Required Accessories
Add All Required
+
Ask Jim, Our Product Expert, A Question!
*Required Fields
+
Thank You For Submitting Your Question
Your submission has been sent successfully. Please give our experts up to two business days to respond.
Media Gallery
Maxus Prosumer 2750 PSI (Gas-Cold Water) Pressure Washer w/ Honda GX & CAT Pump